Welcome to my house! Long ago, I had a dream of building and designing my own home. I spent years designing homes for clients, picking out timeless yet on-trend materials for flips, and seeing every type of home the Dallas market had to offer. As I did, I narrowed down my list of must-haves — and I was convinced that building from scratch was the way to go.
When the timing was finally right to design my own home, I was ready. I imagined...
lots of windows that would let natural light stream in
energy efficiency (because why not?)
close proximity my "play area" (AKA where my clients are, south of the beltway)
three bedrooms (one for hubby and me, and two for family and guests who come to stay)
two home offices — a MUST because we both work from home
That's it. Not too much to ask, right? 😉
Once I knew what I wanted, I had to consider how I would go about getting it built. You're probably thinking, "Hire a builder, Keti!" True, but the first thing you should know is that there are actually 3 types of builders out there...
Building a New Home: 3 Types of Builders
1. "Truck-Type Builders"
The first type are the run around "truck-type" builders. You want to stay away from this type of builder. Run the other way, even. Period. Nothing good can come of it.
2. "Spec Builders"
The second type of builder are the "Spec Builders." These guys will give you the custom house of your dreams with all the bells and whistles. Naturally, they cost more and the process is more lengthy. If you are in a hurry to get into a home (or your budget is tight), this might not be the ideal option for you.
The other thing to watch out for... some of them may have a designer on their team who is really good. Some don't. You will want to research their work first. Designers that work in-house with builders have a tendency to over-personalize the fixed elements in the home and specify what's trendy.
Why is this not a great idea? Well, it means that you are spending more money now and getting less equity in the long run, when you are about to sell. Plus, in a few years, if not months down the road, your home will look dated, and it has therefore lost property value as well.
My suggestion is to either make sure their designer will be able to design a timeless home for you OR hire your own designer, one who knows trends, can distinguish between what's on trend (current) and what's trendy, and is able to select all the fixed elements in the home. That way, you will end up with a beautiful home, that's timely yet classic and will stand the test of time.
P.S. If you're knew to the blog, you should know that this is always my mission when I design any space! If you're a blog regular, well... you've heard it all before. 😉
3. Production Builder
The third type of builder is a production builder. They are similar to Spec Builders, but they build homes in larger development communities. This means that there is less room for customization, since the home will need to fit the neighborhood's aesthetic.
Which did I choose?
You better believe the truck-type builders did not make it on the short list. Initially, I also nixed the idea of buying from a production builder, mainly because I love renovating homes and thought I would go that route. Having done it so many times for clients, I was confident I could also do it for myself.
However, I just could not find the right house to renovate. I looked and looked, but nothing popped up that really felt like it could be home. Then, I discovered that a local production builder was building in my desired area, so I had to reconsider. What swung my decision their direction was their reputation: this builder in particular is known for being efficient with their process and for the quality and energy efficiency of their homes.
Even with the design restrictions, I figured, "I will use my tricks of the trade to still get the custom home I want... within their scope of their elevation, floor plan, material selections and finishes, of course."
So I did! Ready to see how it turned out? And how I elevated builder-grade products to a home that feels fresh, custom, and personal? Come take a look!
Updating a Builder-Grade Living Room
Okay, here is what our fireplace looked like when we got the keys...
A corner fireplace was not my first choice. In general, it's always a very tricky configuration to work with, but in this case, I had no choice. With the square footage limitations, it was either "Baby in the corner" or "Baby not in the room at all."
Also, if you're wondering why it looks so plain, that's because the builder would not do any custom work. They would only install one of their templated designs... and honestly, I didn't like any of them. I knew that I would just end up ripping out what they put in, so I saved myself the trouble and had them install the bare minimum. No surround... no mantel... just a blank slate.
Here's what I did with it...
SO MUCH BETTER. I designed it with a tile pattern I love, and my very talented team of trades brought my vision to life. Of course, adding cozy furnishings and plenty of space for seating (I have a big family who likes to visit) makes it feel warm and like home.
Alright, let's move on to the bathroom...
Updating a Builder-Grade Master Bathroom
Okay, here's the thing to know about builder bathrooms. They are be-hind. Like, WAY behind. While interior designers are ripping out platform tubs left and right in favor of free-standing tubs, builders keep putting them into new homes. It baffles me.
In fact, I can show you exactly what I mean. I was in Florida recently, touring a brand new house that builder just finished and put on the market... and there's a platform tub and '90s Tuscan tile. Shield my eyes!!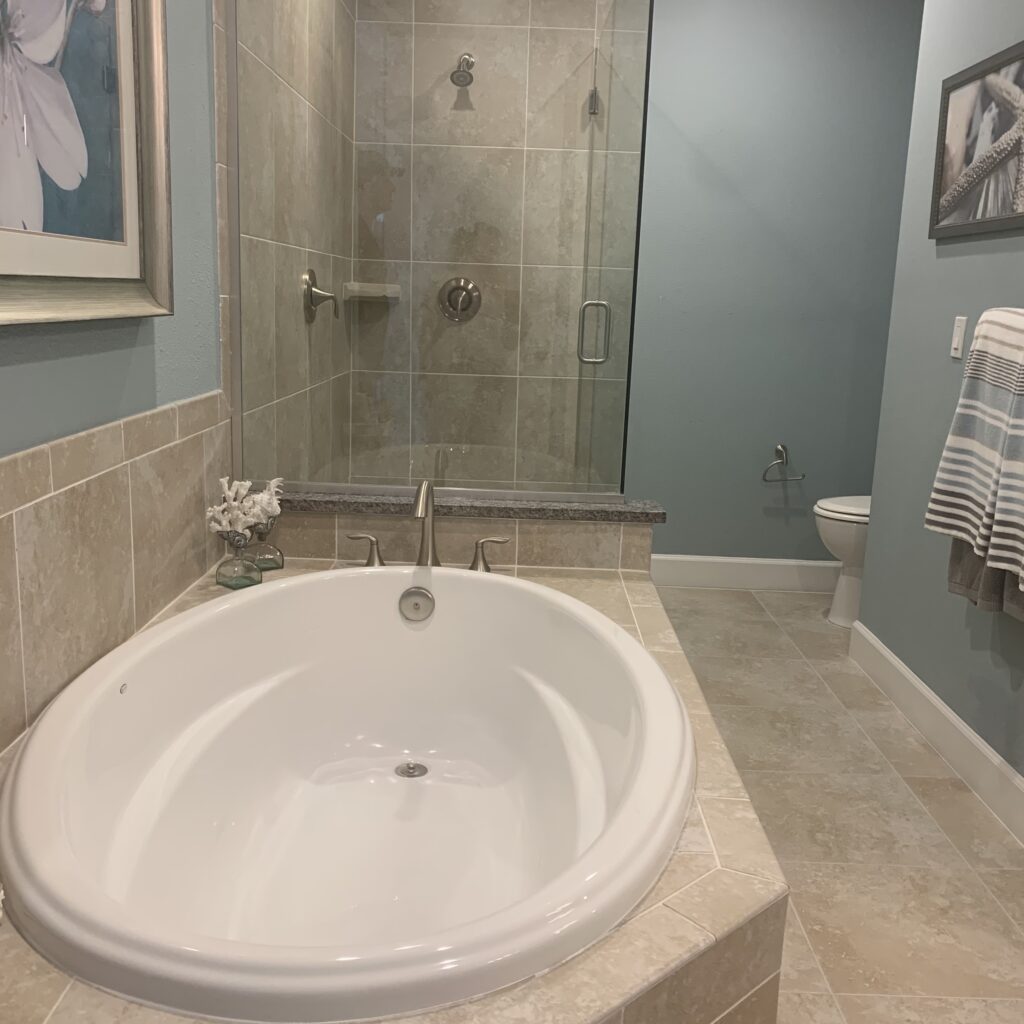 You get the idea. The designer in me is absolutely cringing knowing that the future homeowners are buying something that is already dated. Ouch. Anywayyyy, back to my story. Luckily, I was able to convince my builders that the platform tub was a dealbreaker.
They were kind enough to accommodate me by switching up the floor plan to my liking and installing a free-standing tub. Here's how it turned out: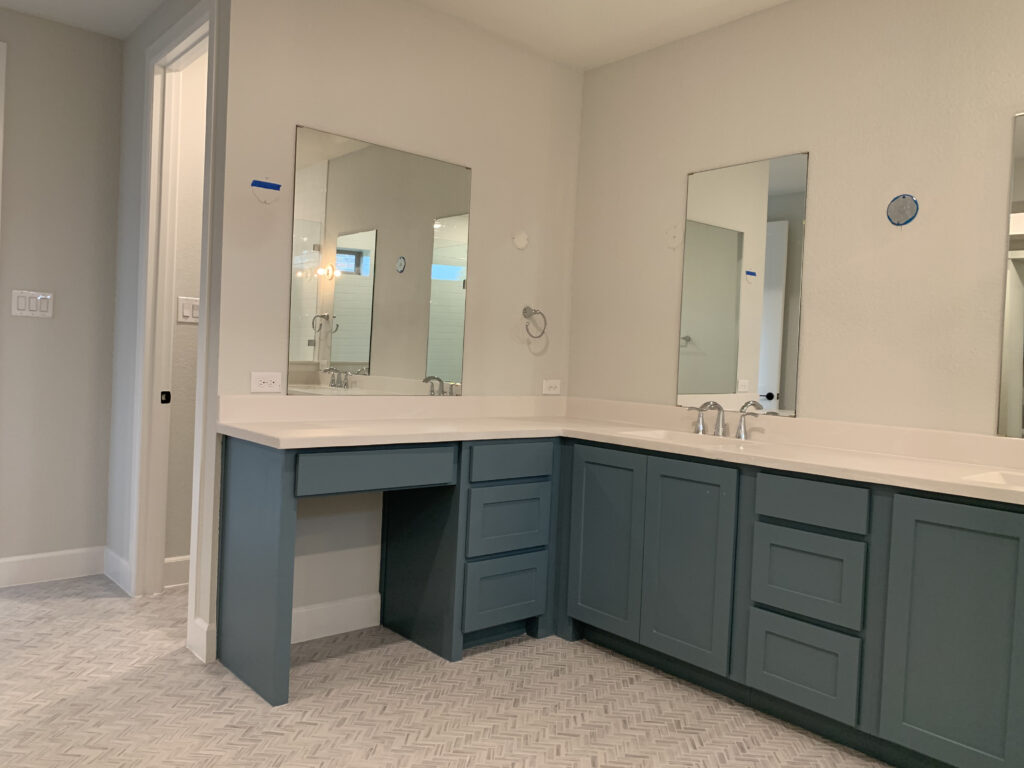 Not a bad starting point. After my team and I put a bit of magic into it — new lighting, mirrors, decor, etc. — here is my master bathroom now...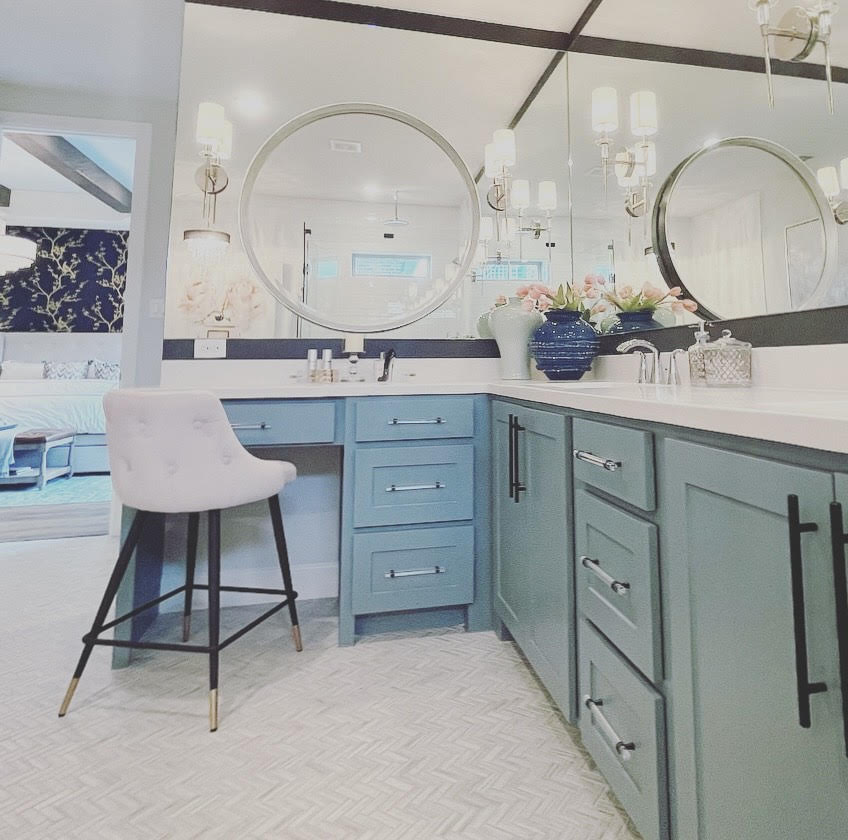 Best part? (Other than getting to enjoy this space, that is.) I did not break the bank. Now you tell me, which bathroom do you see yourself getting ready each morning??
Pro Tip: By the way, don't ever let your builder convince you to skip the tub in favor of a caved-in, walk-in shower. In move-up and luxury homes, a tub is an absolute must!
Transforming Bare Rooms into Home Offices
Yes, we did get the office spaces we wanted. Of course, they started as four white walls and that was it. After it was turned over to me, I designed all the built-ins in the house and my carpenters worked their magic.
Here is a little sneak peak of my hubby's home office. He is averse to sharing his space with others, so I will only let you see a bit of what goes on in there. 😉
And here is where I work and make design magic happen... plus relax and watch some TV when the time is there.
Cozy. Fresh. Bright. Timeless!
I love my home. It's functional. It's beautiful. It's on-trend and timely, and I don't foresee it going out of style any time soon. We scored big! ...and I haven't even shown you the kitchen and dining room yet! But I'll save those for another day. 😉
Until then, download my renovation guide below or reach out to me here to get some help designing your comfortable, livable, and sophisticated home.
— Keti
Have you ever found yourself in a design rut? You know that feeling you get when your space doesn't inspire you anymore? A few months ago, I started feeling that way about my master bedroom design. 
Although it is a lovely space, I felt like it needed a bit of a refresh. The goal was to create a safe haven without breaking the bank. Spoiler alert... we did!
So get comfortable, grab a drink, and let me show you how you can transform your space with a good dose of creativity, ingenuity, and a little bit (not a lot) of money.
Reviving Our Master Bedroom Design
The design goal for my home has always been to create a peaceful and joyful space that inspires every day. I took my time curating design elements, and ended up with an intentionally decorated home. It turned out really well, but not perfect, especially not the master bedroom design.
The master bedroom, unfortunately, has been my least favorite room. Here's a peek...
Before: Master Bedroom Design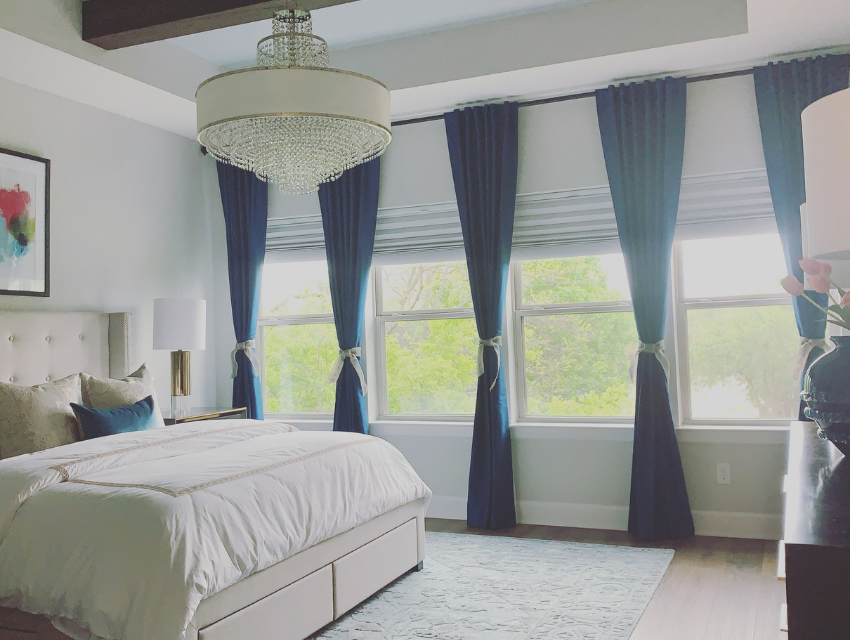 When we were building our house, a standard feature offered by the builder was incorporating beams in the ceiling. I was against it at first, because I felt like it would clash with my modern dresser and nightstands. (While my hubby has more of a traditional design style, I like a more modern contemporary style.) However, my hubby felt strongly about exposed beams, so I let Mr. Traditionalist have them.
After we moved into the finished home and used our existing furniture, the overall master bedroom design was simply off. I did not love it or feel inspired, and it wasn't the safe haven I had in mind.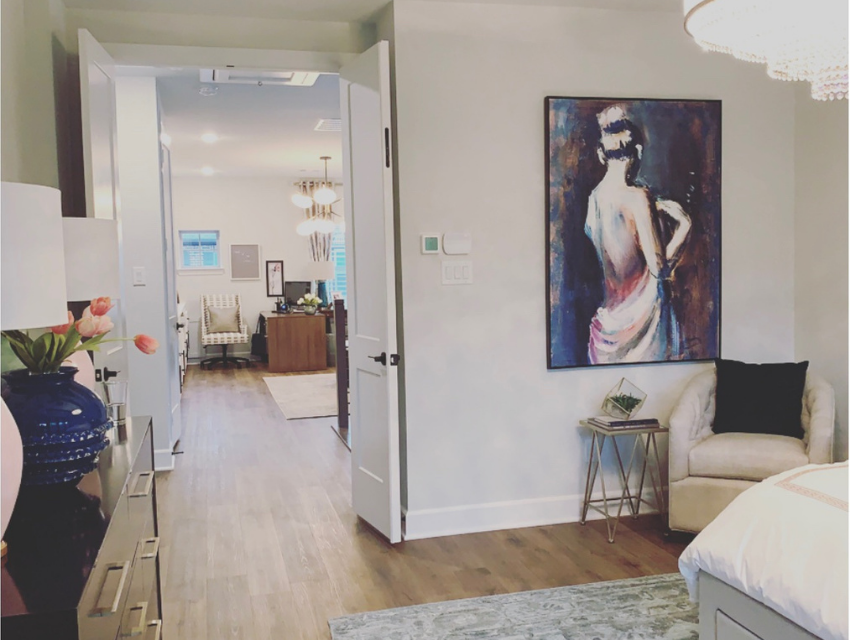 The Design Process
I knew that our master bedroom had tons of potential and that it wouldn't take much to revamp it. It was all about being strategic with the design elements we chose to update. (The same advice I would give any client — strategy first!)
Step 1: Wallpaper
I have always wanted to have wallpaper as part of our bedroom design. Although I have never used it before on any of my clients' projects, I was feeling a bit adventurous. After some research and hours browsing through many options, I came to the conclusion that the right wallpaper needs to be classic, timeless, and inspiring.  (Wallpaper is really in right now, too.) 
When I saw this Black Bird wallpaper in Z-Gallerie, I knew I had to have it! It's dark, sexy, and beautiful. Plus, it is low budget, so there you go.
Step 2: Dresser & Night Stands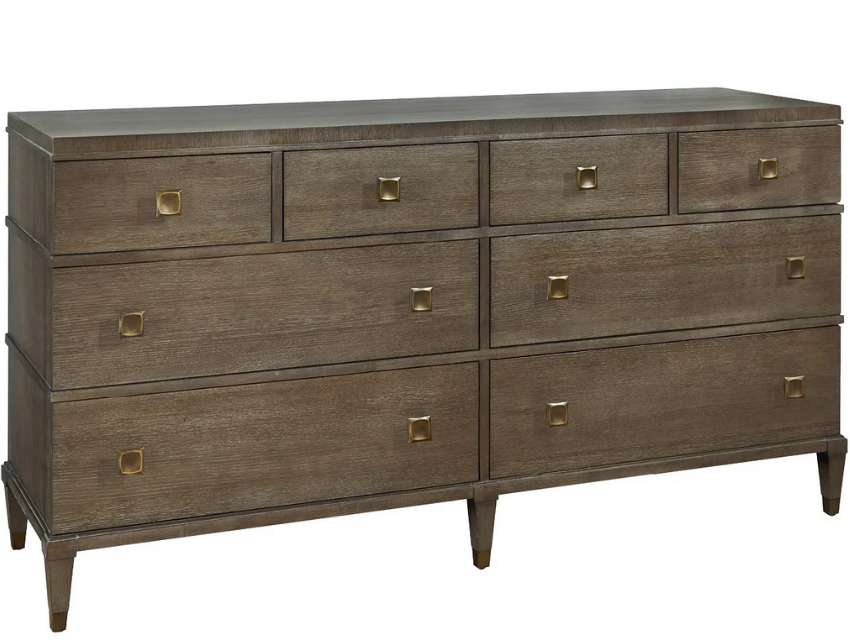 When it came to the dresser, I decided to go with the Playlist from Universal Furniture. It has oak veneers and a walnut inlay that complements the finish on the ceiling beams. It also looks good on the walnut-stained hardwood floor.
I love it… definitely the right choice.
My existing nightstands were from Liberty Furniture. The style works perfectly with the Black Bird wallpaper I picked. The color and finish... not so much.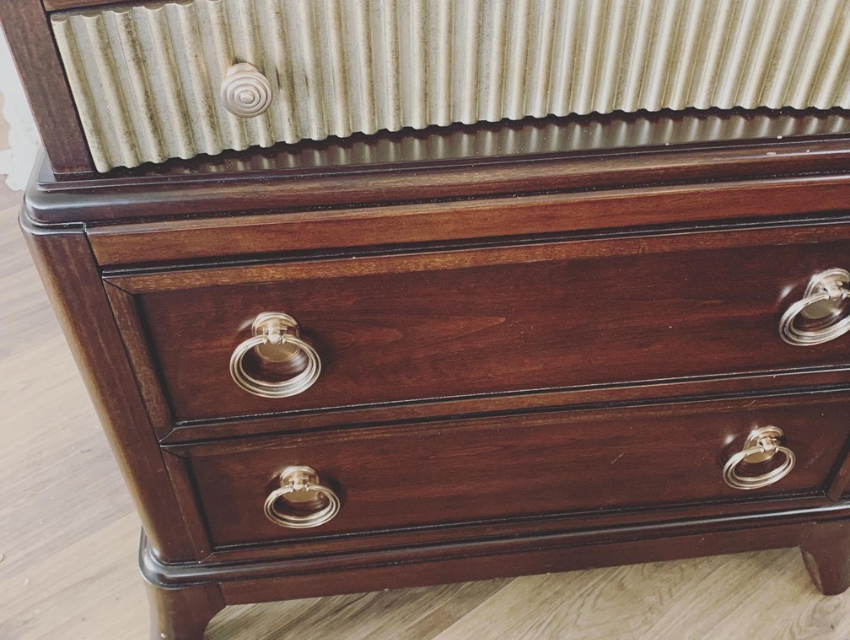 What did I do, you ask? Chalk paint to the rescue! I found a matte charcoal tone that works well with the wallpaper, and then I painted it! (No, I don't paint for clients, but if you need ideas, I can certainly give you some.)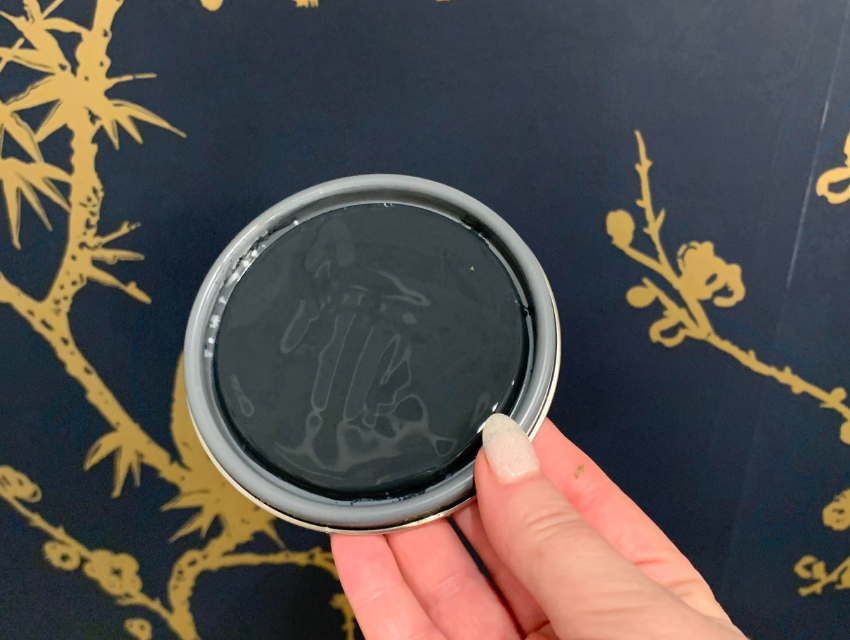 I have to say, this was my very first furniture painting project, and I can't stress enough how important it is to use the right tools, especially when handling chalk paint. You need a designated brush to paint, and a designated brush to wax with. The results were pretty good.
Step 3: Upholstery Update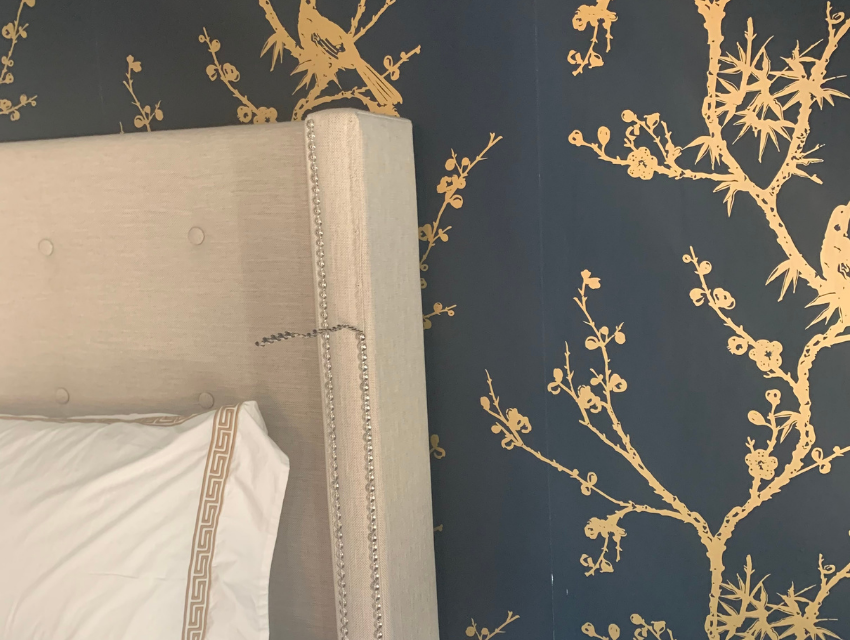 Okay, I admit that I was nitpicking here, but our bed frame's upholstery was really bugging me, especially after we installed the wallpaper. They had these silver finish nail heads that now stuck out like a sore thumb.
By the way, have you heard that joke about lawyers charging you even for the time they're taking a shower? Now, I kind of understand...
Once I noticed how much the upholstery clashed with the wallpaper's vibrant gold pattern I kept thinking of ways to fix it. I didn't want to buy a whole new bed just for that tiny detail. So, where did I get the best idea ever? While taking a shower! Go ahead, you can laugh.
My great idea was to replace those silver nailheads with gold ones. But do they sell nailheads? I took to Amazon, and soon enough, I found nailhead strips already lined up and ready to go! I opted for these antique plated ones.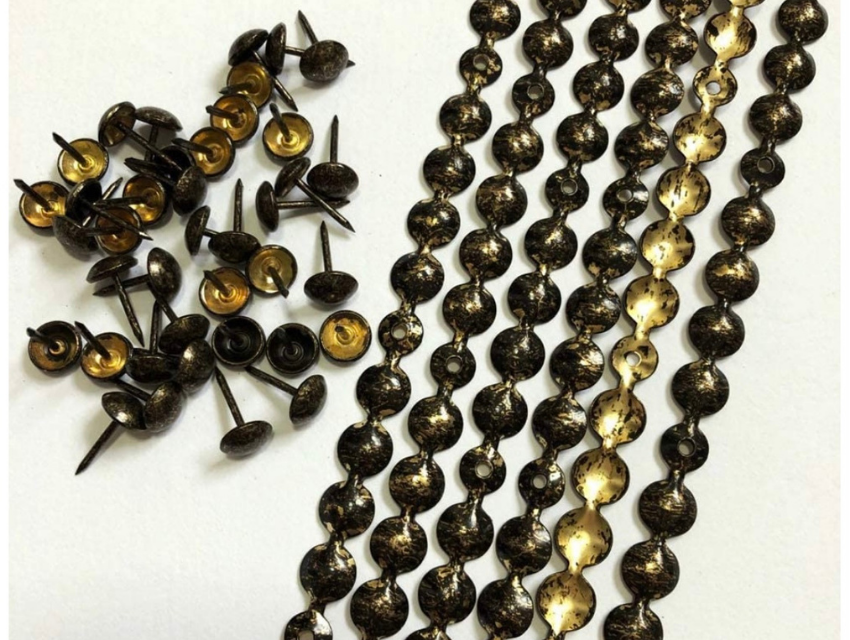 Last but not least, I found some accent pillows at HomeGoods for only $49 each. They tie the whole room together perfectly! My hubby also had this Ralph Lauren bench that I had chosen for him a few years back when we were dating. So he brought it in, and guess what, I like it! I think it works beautifully.
After: Master Bedroom Design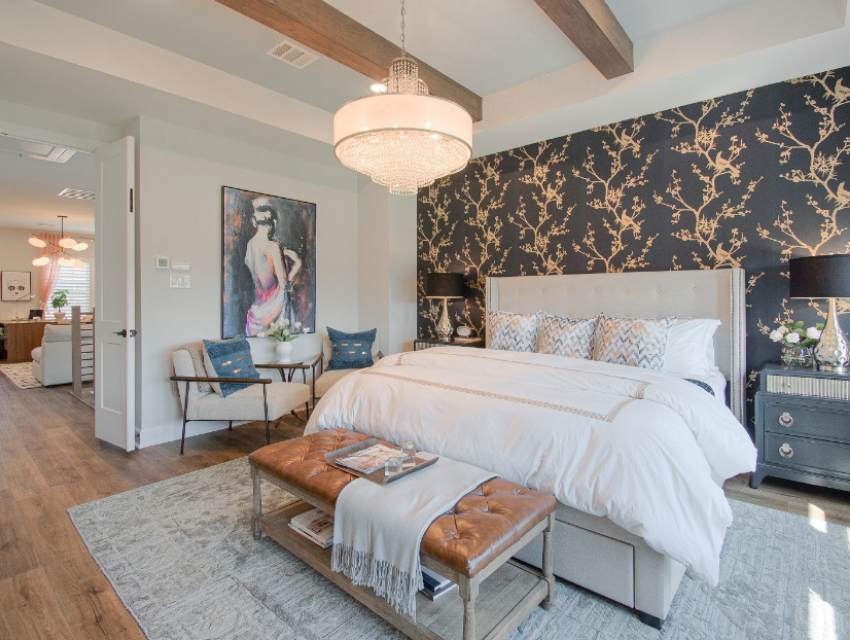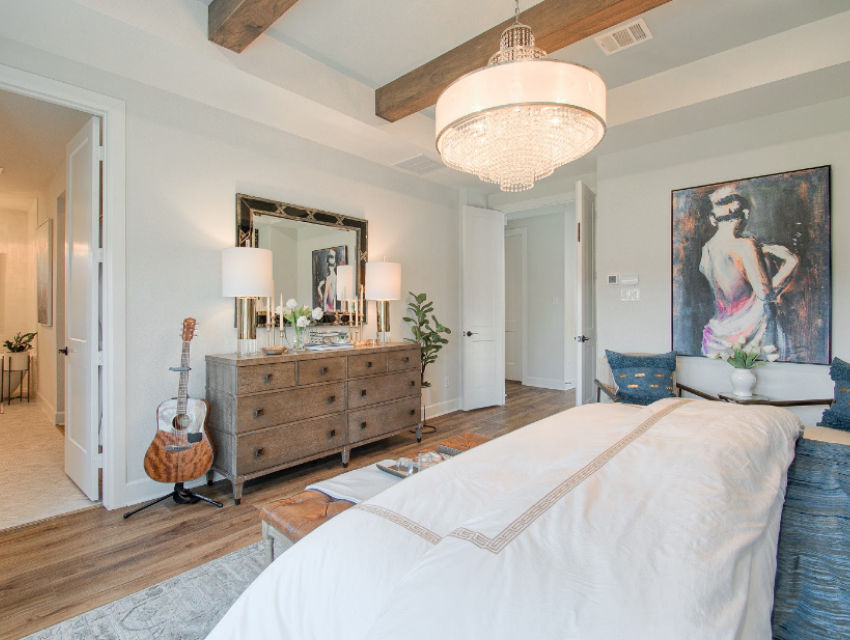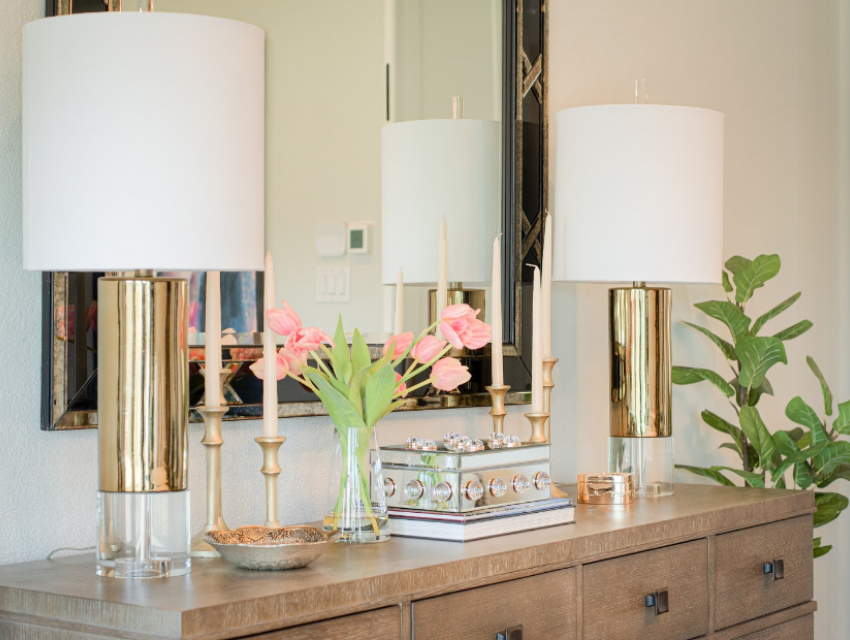 Ta da! I can't tell you how happy I am with our master bedroom and how it all turned out. The budget was quite low compared to a full redesign, but the results are amazing. I love coming in here now! Every room in my house finally feels like it's right for us… and that feels priceless.
How about you? Are you ready to redesign your space? Let's chat!
Keti
Today I am bringing you behind the scenes of our design and renovation process. Renovating your home right before putting it on the market can increase your sale price considerably. However, while you might have an idea for your budget, you need to be mindful of which updates will truly increase your home value and make the investment worth your while.
Lucky for you, that is what I do, and I am the best at it. But don't just take it from me — Design by KETI did receive another year of Houzz awards for Best in Design and Best in Service! Together, these two categories perfectly sum up what we do for our clients, and today, I'm showing you exactly how we do it.
Ready to design and renovate your home? Sit back, relax, and explore our tried-and-true process...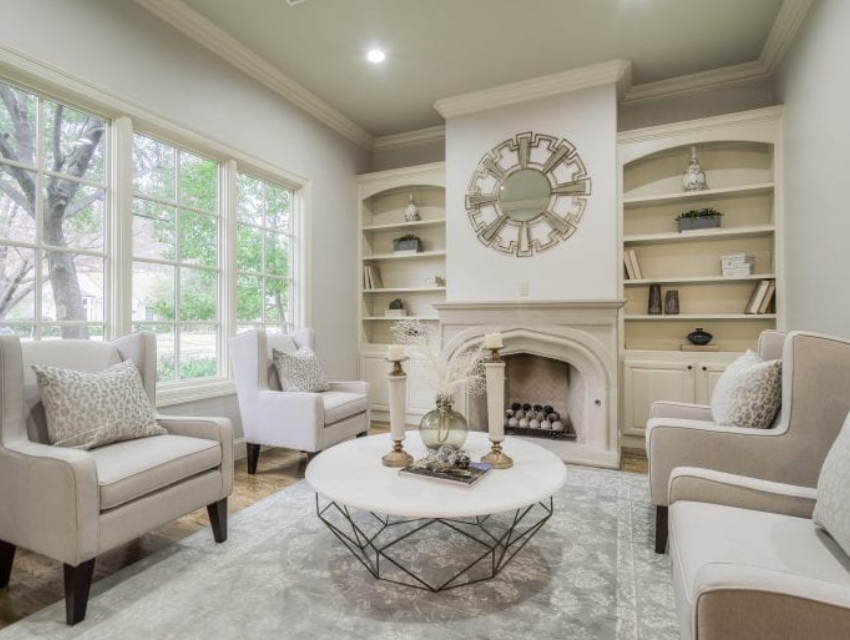 Step 1: Consultation Phase
We always start with a pre-project Consultation or "Work Session" as I like to call it. (Yes, we're already getting to work at this phase!) This is the time where we get to know each other and determine the driving selling points of your home — which are essential to knowing what to renovate.
Here's what we'll cover in this jam-packed session:
1. Identify your target buyers
We need to determine first and foremost who your target buyers are. You might think, "But Keti, I want my home to appeal to everybody." I can understand that line of thinking, but trying to appeal to everyone is going to result in appealing to no one.
When renovating the home, we want to make sure it appeals specifically to the target buyer and their lifestyle. During our discussion, we'll determine how old they are, if they are married, do they have kids, their annual income, etc. Targeting a specific group will make your property stand out to those people and get them to the closing table!
2. Set your design & renovation budget
During this Consultation and Work Session, we will discuss how much you should invest in the renovation as well as the current price point of your home. The purpose of upgrading your home before putting it on the market is obviously to increase its value, so my responsibility is to ensure we target upgrades that maximize your ROI... without pricing the home out of the market. We specialize in finding that sweet spot!
3. Define the scope of your renovation
When it comes to the scope of the renovation, there is no one-size-fits-all solution. Not all design projects are the same; some could be minor upgrades, while others could include intense renovations. Once I know the property and your budget, I'll be able to advise on the best course of action:
Minor Renovation: These entail mostly cosmetic upgrades such as lighting upgrades, revisiting your color palette, changing carpet or flooring, and trading your current hardware for more on-trend, timeless pieces.
Major Renovation: All of the above, plus any floor plan changes or space expansion.
4. Assess the fixed elements of your home
The "fixed elements" of your home refer to items that are physically installed, like countertops, cabinets, flooring, fireplace surround and mantel, trim, etc. Since these elements are stationary, unlike decor, it is important to decide which ones we will be keeping and which ones we will be changing. (Remember, this decision is made based on your target buyers, what suits their lifestyle and most importantly your budget and whether the change makes financial sense.)
5. Create your design concept
You know that feeling you get when entering a newly designed home? When it feels fresh and welcoming? That is the exact experience we want to provide your target buyers with when they tour your home. Using our decisions for scope, budget, and fixed elements, we'll create a design plan that includes on-trend elements that exude freshness and timelessness and will attract your target buyer like bees to honey!
6. Map out the staging plan
The last step of the consultation phase is mapping out the design blueprint for staging your home. We will create a visual of the furniture placement, of the scale of fixtures we will be using, and account for the additional furniture pieces we need to make the home feel spacious and welcoming (using price point appropriate staging furnishings, of course). 
Furniture plays a big role, and we never want to cheapen your home with low-level furnishings, regardless of price point. Staging should be inspirational. At the end of the day regardless of the price point, when people buy things, they always buy up. There is a certain status that goes along with it. I always like to say, no one buys a Rolex because they want to know what time it is... and not one single person buys a Tesla or a Bentley just because they need wheels to make it to their office each day. That's just a bit of human Psychology 101 for you. 😉
Remember, the design elements are what make make the house itself feel timeless, but the furniture and decor is what makes the house feel like the home they always wanted but never had. Emotional connection that inspires buyers to make an offer!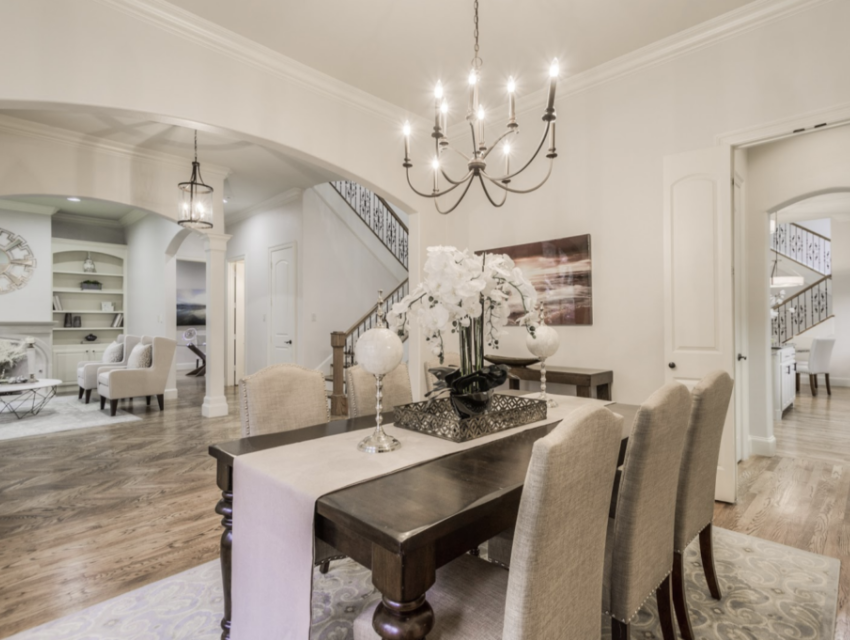 Step 2: Design Phase
Now that we have a clear idea of what the design and renovation project will entail, we move on to my favorite part: the design plan. We start by creating a map for all the minor or major renovations we need to do. The design plan includes two main elements:
1. Color Palette
The color palette is the foundation of your home's design. It should tie all the fixed elements together cohesively, create expansiveness, and appeal to your target buyer. For homes being staged for sale, neutrals (with the correct undertones) are the best way to go.
2. Material Specification
Although we have already established in the Consultation which materials we will need to include in the design, now is the time when we officially select them. We'll source materials for your flooring, fireplace, countertops, cabinets, backsplash, vanities, lighting fixtures, hardware, etc. For many of these items, we'll get quotes from the manufacturers in advance before officially purchasing.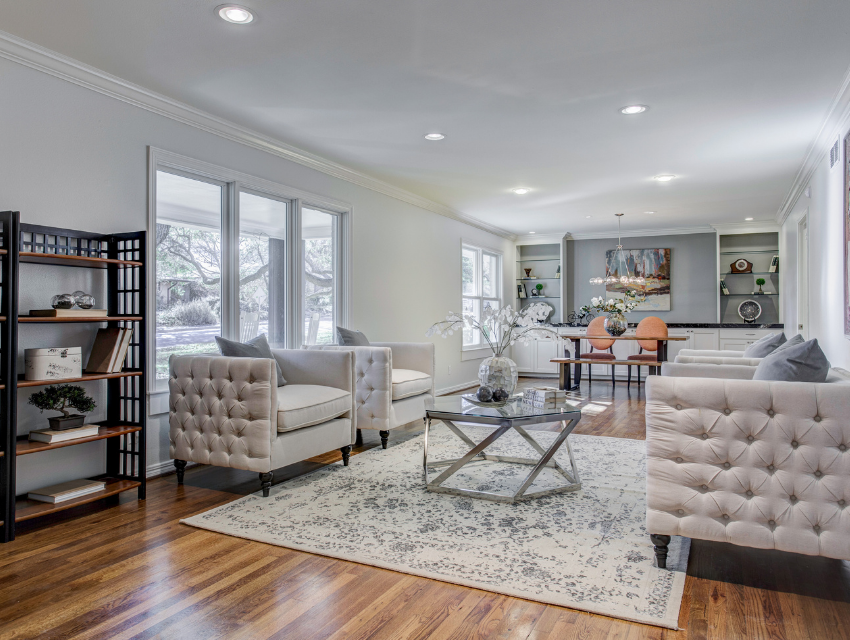 Step 3: Renovation Phase
Once we submit the design plan and we have all agreed on it, it's time to get to work. However, there are multiple ways to proceed:
I can either take over the entire execution of the renovation, including procuring materials, organizing our network of trades, managing the project, etc.
If you already have a general contractor you wish to work with, I am happy to share all the details we've solidified regarding the renovation and materials, so you can pass them along to your team.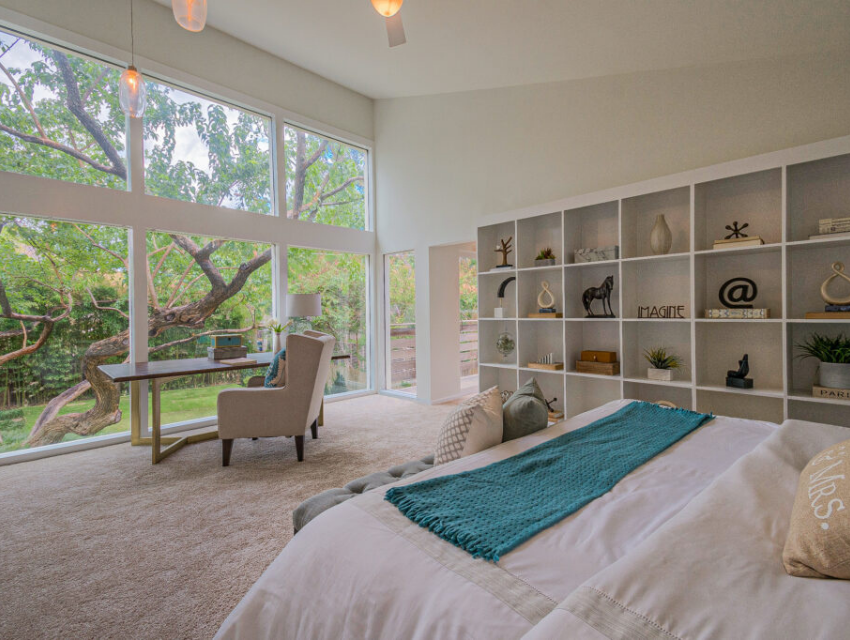 Step 4: Home Staging Phase
This is where our design plan finally comes to life. My team ad I will bring in the elements of the staging, as agreed upon in our Consultation, which includes furnishings, art, and decor in a timeless yet on-trend style. Remember, it's not about what you or I like. It's about what your target buyer likes! (In fact, all of the photos you've seen so far include spaces that we have professionally staged — and they all flew off the market.)
The very last step is getting your home professionally photographed, putting it on the market, and get ready for the offers to come your way!
Final Thoughts
Whether your home has been sitting on the market without any movement — or you're trying to avoid this situation entirely — I am confident that we can freshen up your listing to generate tons of interest and get your property sold in no time. I love interior design, but the strategy behind designing a home for sale is my passion.
I can't wait to help you make back your initial investment… and then some!
Ready to start sprucing up your property listing? Book your 15-minute discovery call with me today!
To you and your best home sale,
Keti
P.S. Don't forget to sign up here for our Guide to a Stress-Free and Profitable Renovation!
One of my clients' most frequently asked questions is "Why do I need home staging services to sell my home?" The answer: Marketing!
We are all familiar with the concept of home staging and how important it is in the selling process. But, you wouldn't believe how many homeowners are still hesitant to invest in revamping their properties before putting them on the market.
To sell your home, you need to market it. And for that, you need to work on your packaging, AKA, staging. This project I'm about to share with you is a special one… and living proof of why you need me! 😉
Project: Matching This Lovely Home with the Right Owners
Our clients were Dallas natives who enjoyed living in this home for some time. After a few years, they decided to sell the home and move on to the next chapter of their lives. Like most of our clients, their main goals were to sell the property fast and at the highest price possible, which is when they called me.
Here is what the property looked like before…
Before Home Staging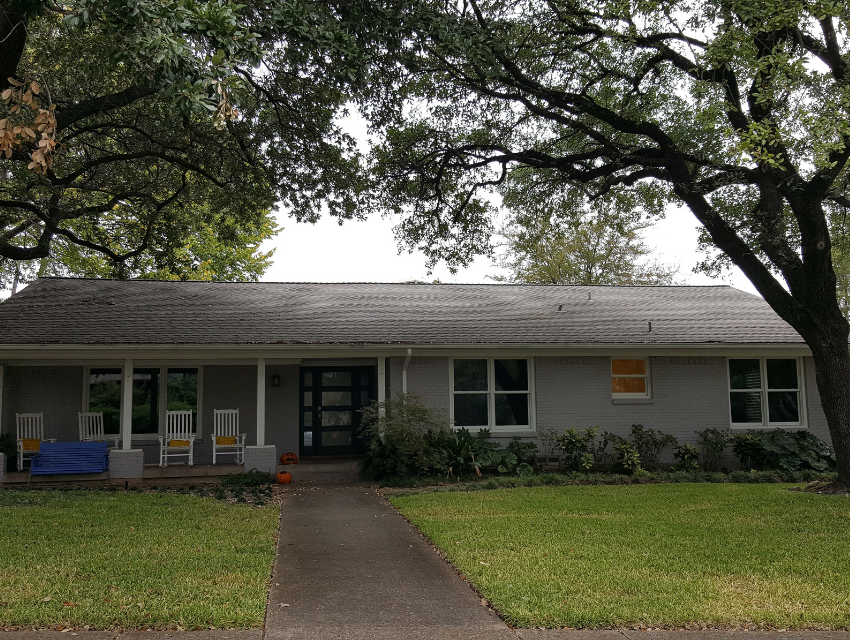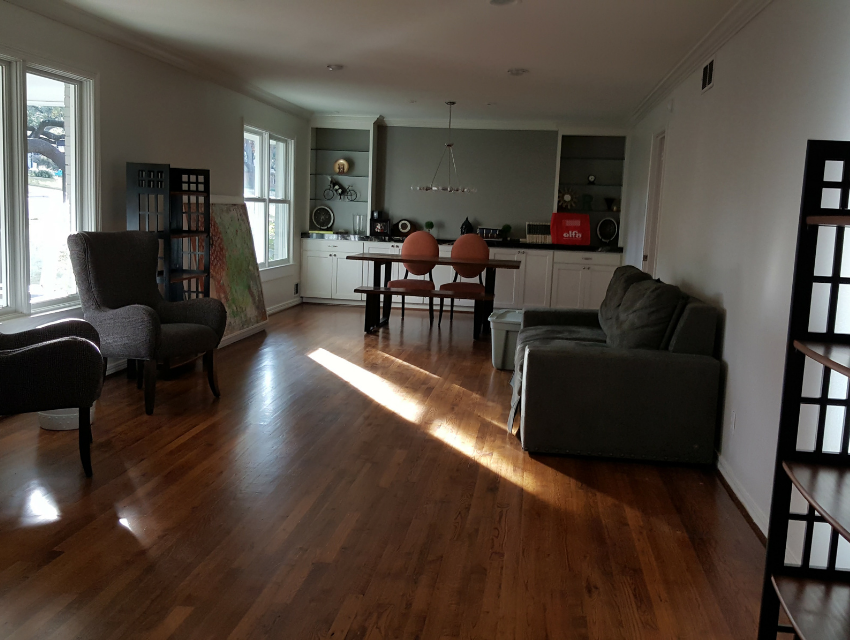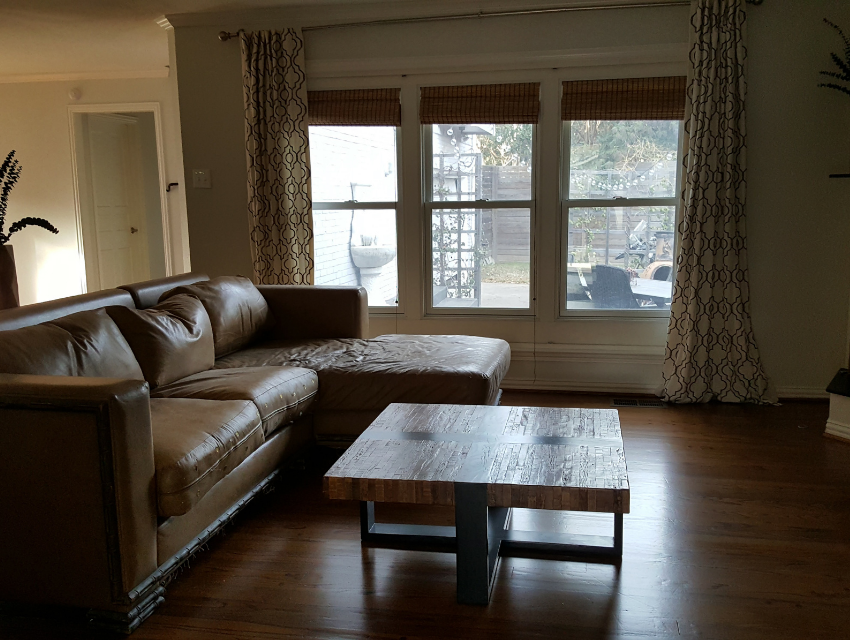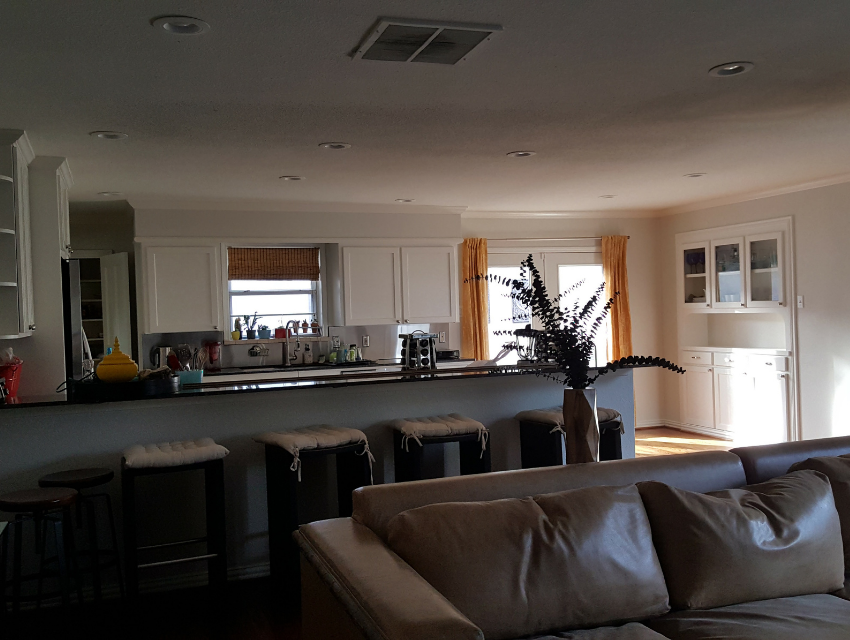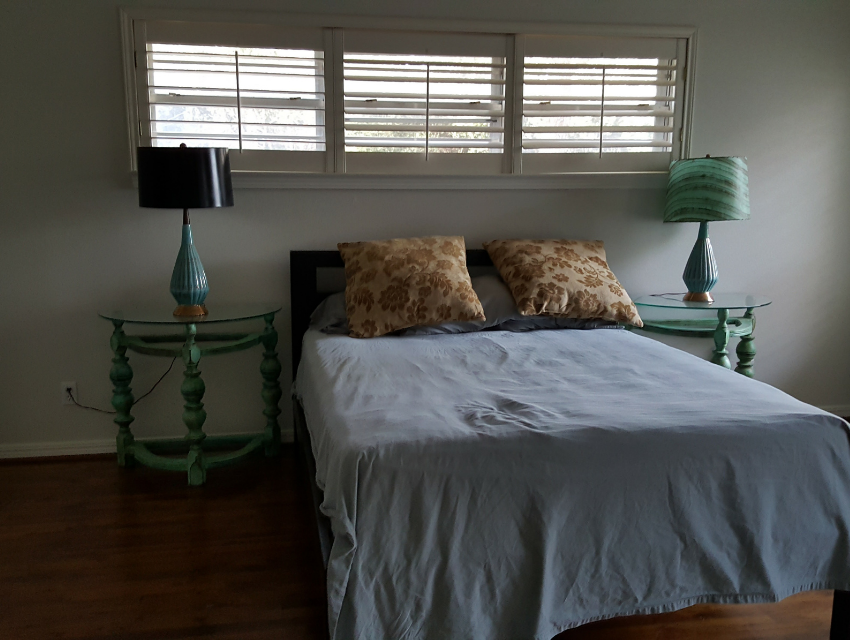 Setting the Design & Staging Strategy
Setting the design and staging strategy is such an important step in our process. It allows us to assess the main architectural components of the home (fixed elements) that we have to take into account when planning the staging design. That's how we create a design that looks cohesive, feels warm and inviting, and is on-trend yet timeless.
The result will be a home that potential buyers can identify with and picture themselves living in.
Identifying the Home's Ideal Buyers
The first step is to identify who we wanted to market this home to. When you know your buyers, you can determine what they need and plan your design accordingly. During our home staging consultation, we discussed who we believe this home would be perfect for.
Because this lovely home is a few miles away from White Rock Lake, near uptown/downtown, and has a great school district, we established that young professionals with children were the best demographic to target.
We knew that with young professionals as our ideal buyer, this home would need to be staged as move-in ready. You can see how this information changes our approach!
Creating the Design Plan
Once we identified our ideal buyers, it was time to get to work. We put a list together of the main areas of the home that needed our attention.
The distinction between interior design and home staging is that we're not renovating a home for the owners to live in, we are marketing it to sell. So our overall plan is driven by the goal of emotionally sparking that aha moment for the buyer, making them think, "This is the one!"
Here's what we did...
After Property Updates & Home Staging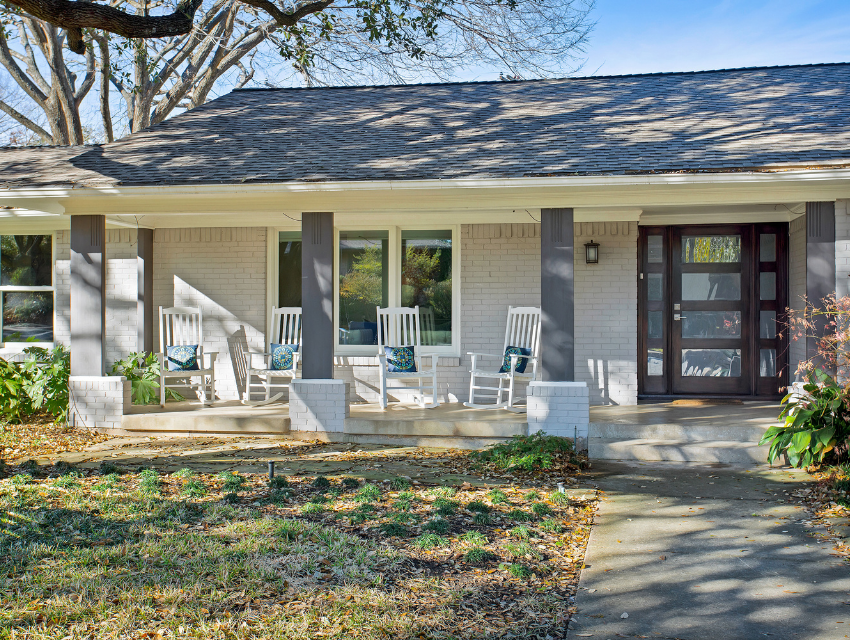 I've said it before, and I'll say it again, focusing on the curb appeal of your property is crucial. That's where all the magic happens. You're not just selling a home — you're selling an experience. Who doesn't find rocking chairs on a covered porch inviting??
We started by updating the wall paint and trim. This is something we always do in these types of projects. A fresh coat of paint is perhaps the easiest and most effective way to revive a space. You can feel it when you walk in the door!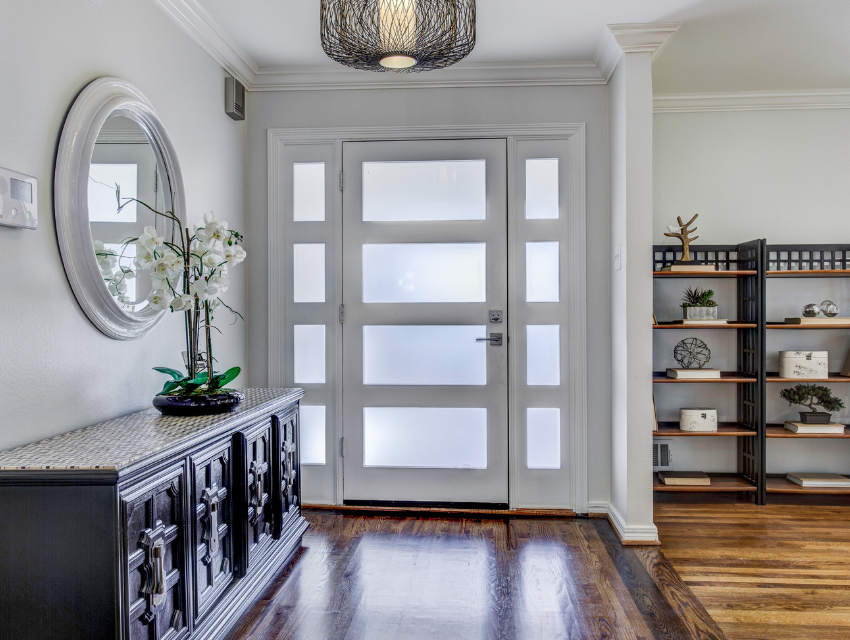 The front entry's open layout felt warm and welcoming, but the former travertine tiles gave it an outdated look. To achieve a more luxurious feel, we got rid of the tiles and replaced them with lightly sanded natural wood. We also stained all hardwood flooring to match everything. It has a slightly warm undertone that pairs perfectly with the cool shade of the walls and trim.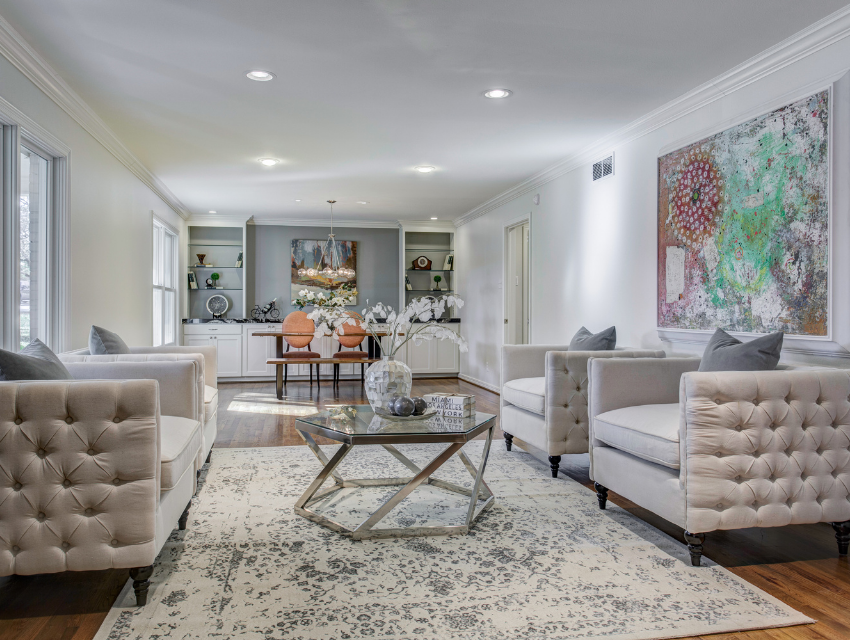 Once the walls and floors were updated, it was time to bring in some furniture. For this project, we used our inventory alongside some of the pieces the homeowners already had. This entry room and formal dining space had bright large windows and nice built-ins. They complemented the overall luxury look we wanted (to match the price point of the home) yet feel warm, welcoming, and delightfully livable.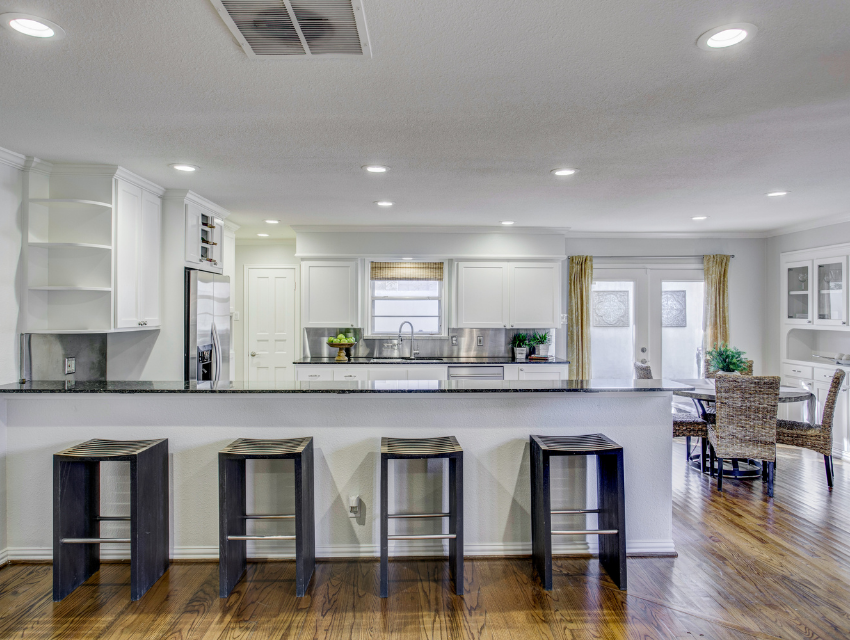 With a few light fixture swaps and furniture additions, the kitchen was revived into the warm family space it was meant to be. Can't you picture yourself cooking and hosting in this open space? How about a morning coffee in that lovely breakfast nook? (This home's eventual buyers certainly could!)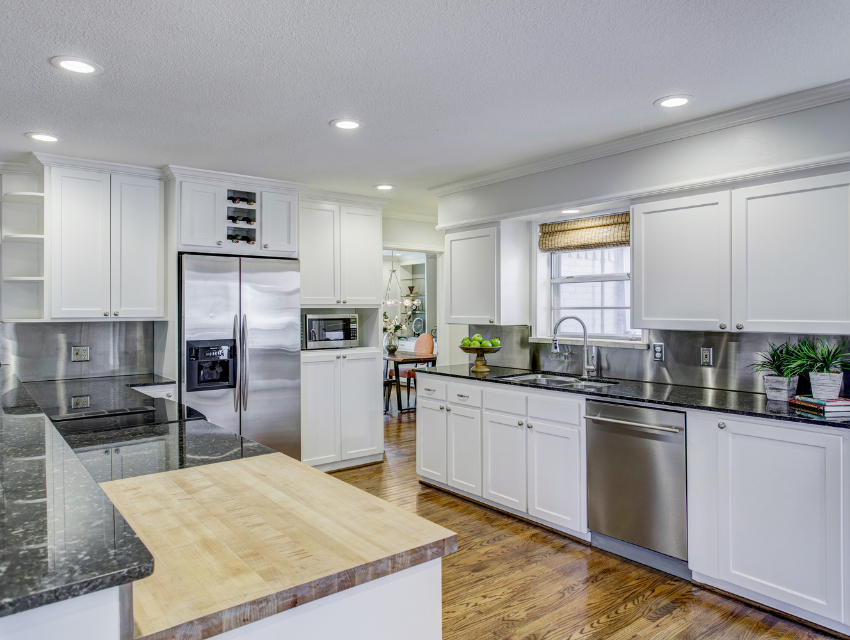 We also shaved off the butcher block that was sticking out previously, and replaced the travertine backsplash with a stainless material to match the rest of the kitchen. So much more current and cohesive now.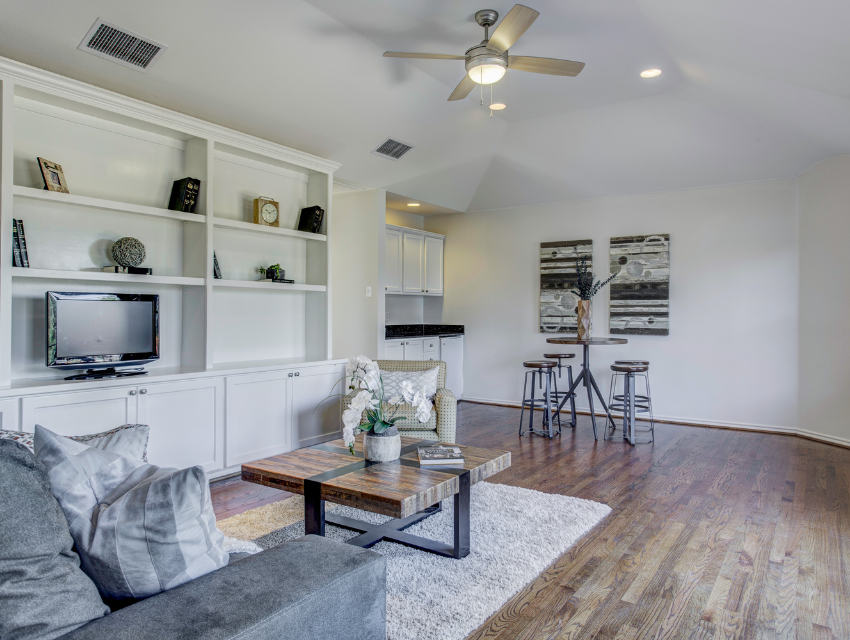 As you make your way upstairs, you are welcomed by another living space with a small wet bar that we upgraded. We added a dining set and a sofa to elevate the space and make it feel warm and welcoming.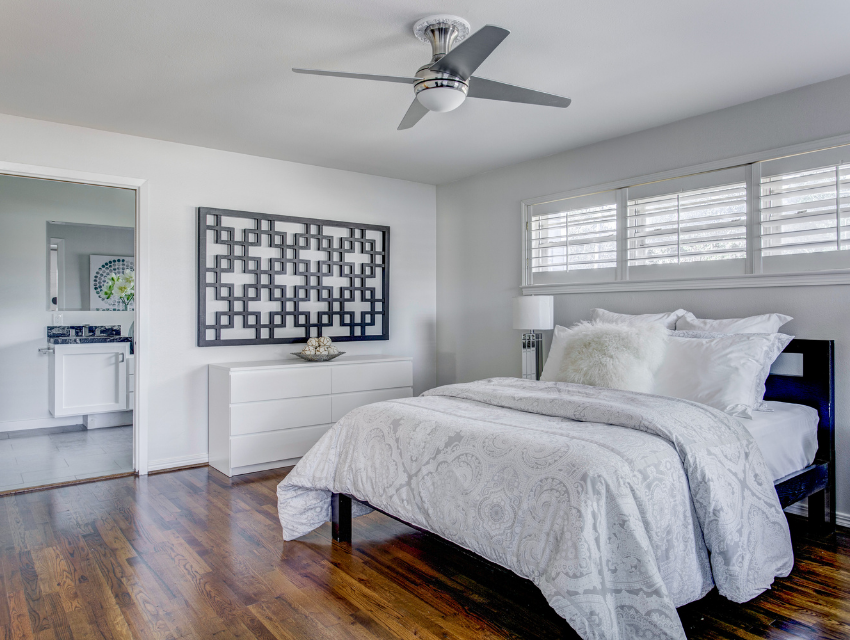 We didn't stage all the bedrooms but chose to focus on this master bedroom. After updating the trim and flooring, we swapped the bed set for a modern looking one to appeal to today's buyers. The room feels spacious and inviting without being overdone.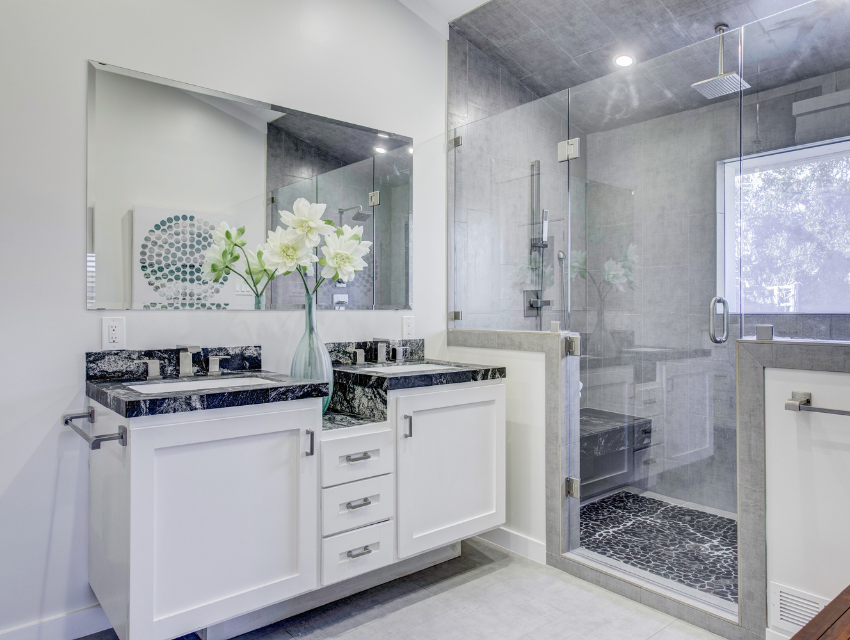 This spa-like master bathroom was the true showstopper. With a large walk-in shower, and a vanity countertop, all we had to do is spruce it up with some staging elements.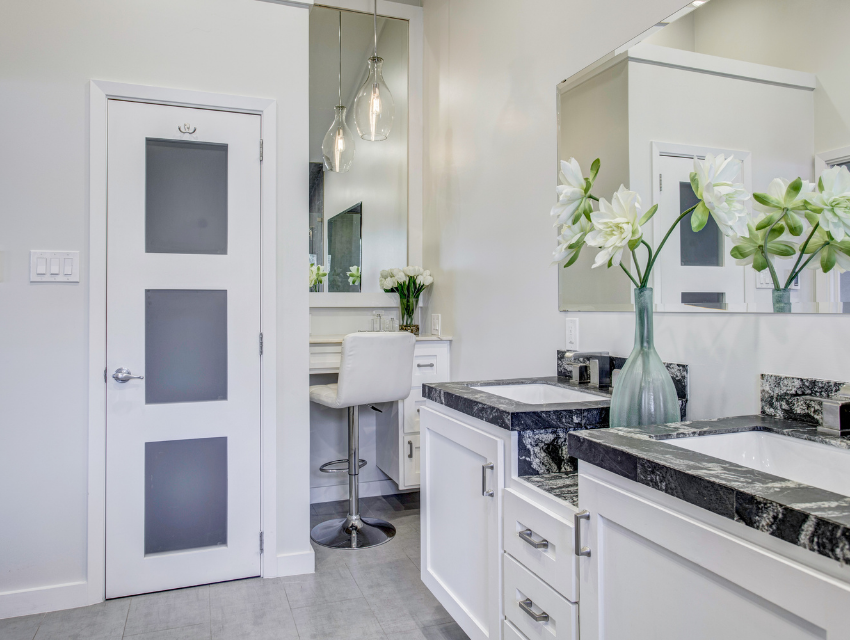 The updated light fixtures and seated vanity area contributed to the overall luxury feel. These are the details that support the home's price point — so making an offer at or above list price feels like a no-brainer to buyers!
What Were the Results?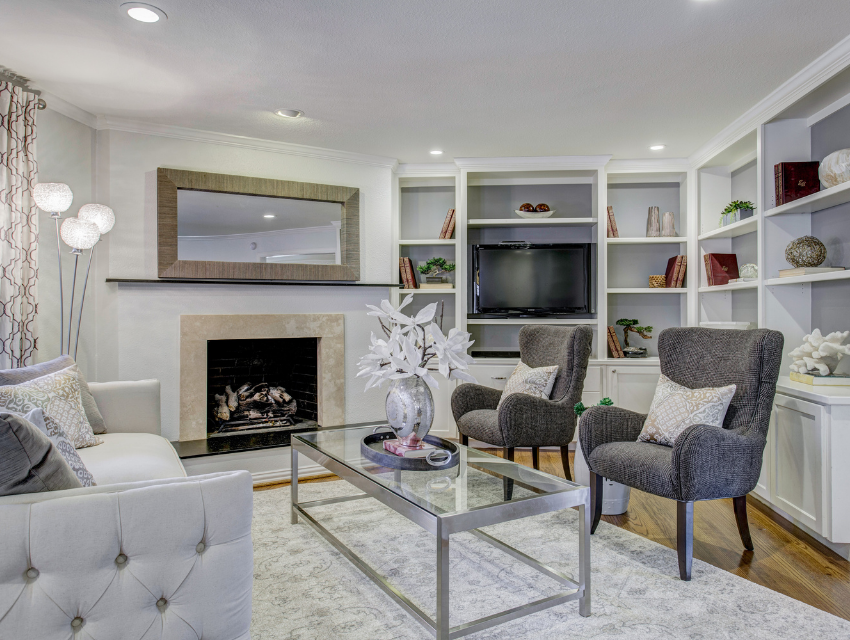 Because every story needs a happy ending, let me fill you in on the results for this particular project. After Design by KETI helped renovate and stage this lovely home..
The house received a lot of interest and tons of positive feedback
It closed within 2 months from listing
The homeowners achieved their ROI goal and listed it at 1 million dollars
The house was even featured in Dallas Culture Map!
Can I let you in on a secret? This project was completed in 2017. That's right, 3 years ago! But guess what? It STILL looks as up-to-date then as it does now.
That is the value of timeless design — and trust me, buyers know when a home is too trendy and won't have resale value years down the road. This is design and staging done right.
If you're having trouble with your listing (or want to make sure you do it right the first time), let's talk. We'll get to know each other, discuss your goals, and come up with a smart plan that pays off.
Keti
P.S. Don't forget to sign up here for our Guide to a Stress-Free and Profitable Renovation!
Today I want to share a project we recently completed with excellent results — a design and home staging ROI of 150%. Yes, I know I've spoiled the grand finale of this transformation, but knowing the final result makes it all the more worth seeing...
Project: Reviving a Dead Listing in Dallas
Our clients were out-of-towners who had been trying to sell this house in Dallas with no luck. They were tired and frustrated but mostly eager to sell the property and move on with their lives.
Here's what the property looked like before…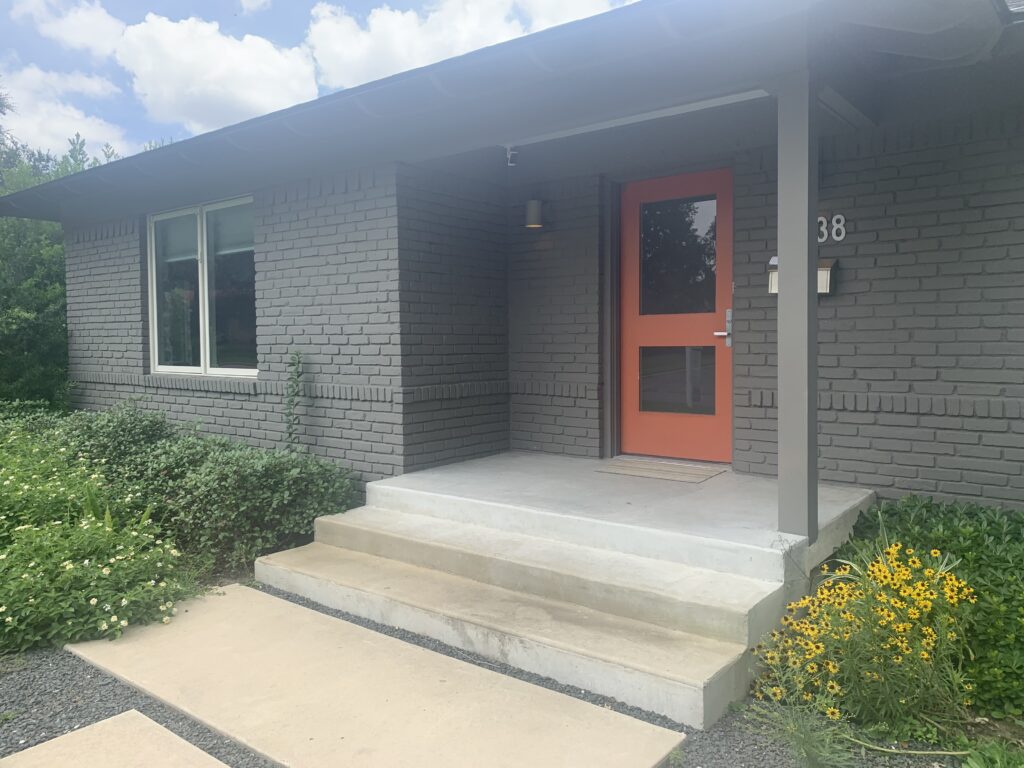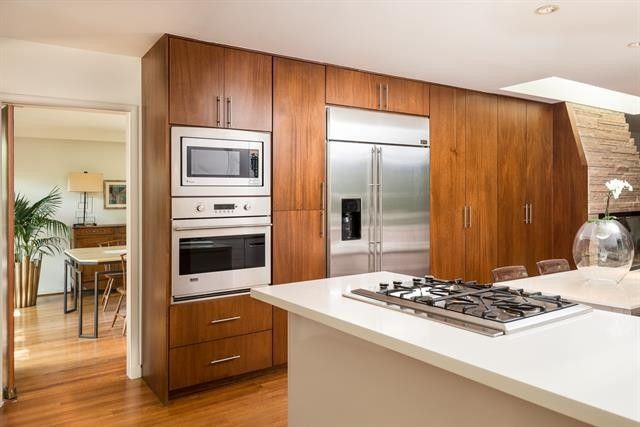 Setting the Design & Staging Strategy
Overall, this home was clearly dated and tailored to a very specific taste, but it also had great potential. Architectural details gave it unique character… if we presented it just right.
Identifying the Home's Ideal Buyers
First, we had to determine how we wanted to market this home. During our home staging consultation, we discussed two options for listing the home: as a bargain home or a move-in ready home. Older homes can be more desirable at a lower price point, but we also know a young professional couple with a family has no time for remodeling or reno work. They are more willing to make an offer on a property that is move-in ready.
Additionally, our clients had already tried the bargain route with no luck. They agreed that designing and staging the home as move-in ready was the way to go.
Creating a Design Plan
Once we reached this decision, we quickly got to work. (We know time is money, and we don't dilly dally!) I put together a design plan for all the make-ready/renovation work that needed to be done.
I provided the design direction and the project management for the staging, whereas my team of subcontractors and tradesmen did the work (which you'll see soon). The plan?
1. The house looked dark, frumpy, and not like it belonged in the luxury home category. We knew we needed to address it right from the curb (appeal) with exterior landscaping and price-conscious paint color selections.
2. With all the fixed features making bold statements, we needed to update the decade-defining features, creating a cohesive interior color palette, and bring light and life into the home.
Ready to see how the home turned out?
Investing in Updates that Pay Big ROI
Welcome to a new front step…
Lighter eaves, better landscaping, and a more inviting front step make this home far more joyful and welcoming to a young family.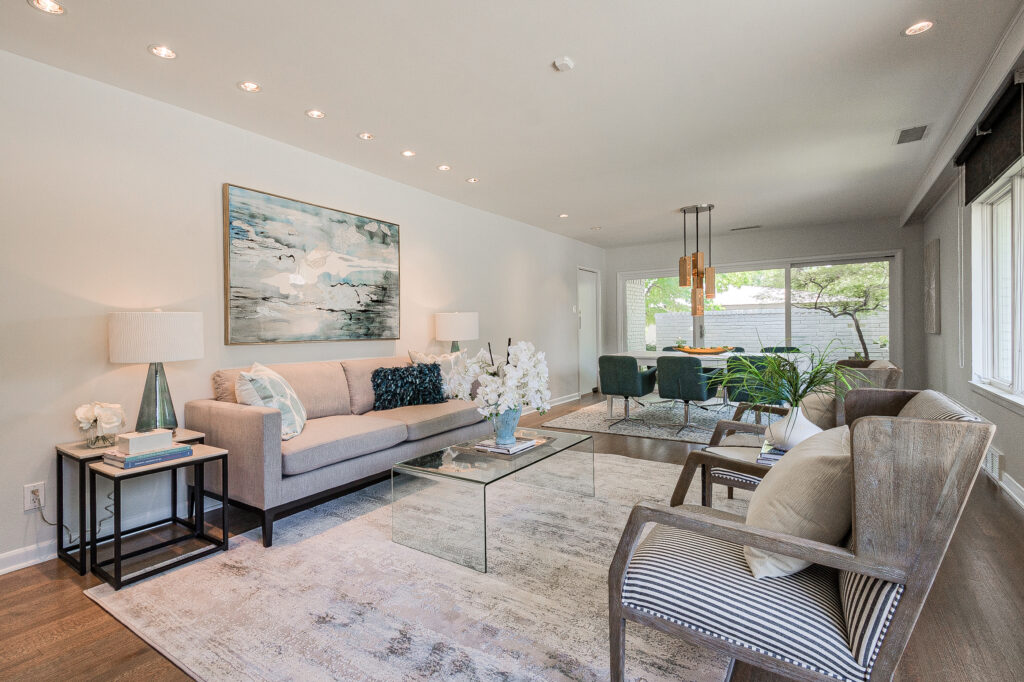 We removed the dark wallpaper and opted for a light blue-gray color, picking up from the blue undertones in the kitchen counters that was used throughout the home. The end result was enormous spaciousness, making it so much lighter, brighter and airy… perfect for today's buyers!
A mix of cool tones in the staging elements and warm lighting help this space feel balanced.
In the living room, more luxurious furnishings in the right scale keep this space looking elevated, not dated.
This dramatic wall feels like a stunning feature instead of an eyesore, largely thanks to lighter flooring and furnishings, and small touches of warm copper in the decor to help it blend in.
Speaking of the flooring, we stripped the wood floors of the old stain and finished them new with a light walnut stain. We know that this stain is on-trend and will be trending at least for the next 10 to 15 years.
Tip: Painting the stair risers the same color as the trim makes for a more classic and timeless look. It was also a great way to blend the light airy feel we wanted to create with the existing warm tones of the wood.
We didn't stage all of the bedrooms (though we certainly got rid of the dated wallpaper), but this master bedroom with a view deserved to be staged for a young couple who may be working from home.
Same with this built-in workspace. As more professionals work from home (and kids "school from home"), spaces like these are essential for selling a home quickly and for profit.
How did this home sell after some strategic design changes and staging?
Well, I know I spoiled the surprise in the beginning, but I'll say it again. After sitting on the market indefinitely, this house sold in less then two weeks of being put back in the market as a newly renovated home.
It listed for $110K more than the old list price.
And — if that wasn't enough — my clients told me that their investment on the reno-work and the repairs paid off BIG time. For every dollar they put into the house via the reno work and staging, they were able to get $1.50 back. That's a 150% return on investment!
Strategic design and home staging work. I can't wait to show you how it can help YOU sell your property and get on with your life, too.
If you're ready to enlist our help in a speedy and profitable home sale, let's talk.
— Keti
Today, I want to share a project with you that perfectly illustrates why preparing your home for the market really matters. And I don't just mean a new coat of paint and home staging. Those are important, but what I really mean is making strategic updates that truly impact your bottom line.
Case in point: The clients who hired us for this project weren't new to staging. In fact, they had already staged their property with another home stager and weren't getting any offers.
Confused and disappointed, they reached out to me for a consultation to figure out what they could do to sell the home and get the price they really wanted for it. Here's the full story and a peek behind the scenes of this transformation…
Why wasn't the home initially selling?
Whenever I come out to a property, there are two aspects of the home I look at. If a home is already listed and it isn't getting offers, we have to ask… what's not working?
In other words, we have to diagnose the situation. In these clients' case, we determined that the style and scale of the existing staging did not meet the home's price point. Potential buyers were walking in and what they saw was not meeting their expectations.
The main problem we identified was that the fixed elements in the home, as well as some of the finishes and the home staging, did not match the price point of the home. It's easy to cut corners and assume that potential buyers won't notice, but the opposite is true. The disjointed feel of the home was off-putting and even made several spaces feel smaller.
So to recap the existing issues...
• the style and scale of previous staging did not meet the price point
• the mismatched color scheme created spaces that felt dated and disconnected
• the fixed elements of the home did not reflect the price point
Now, the second aspect I always consider for a home — what will make it irresistible to ideal buyers?
The answers to this question, as well as to the ones above, give us a good direction for which updates will need to be made. Can you guess what we did in this space?
Before & After: How We Prepared & Staged the Home
Before creating a furniture design plan, I had to find an on-trend wall color to match the existing trim color (this is one trick that saved our clients lots of money because painting baseboards and crown molding, doors and door frames...lets just say it adds up pretty quickly) and update the entire look and feel of the home. Fortunately, I spent considerable time becoming a Certified True Color Expert™ — so finding the right color was a very easy decision to make!
In addition to the walls, we also painted the kitchen cabinets, the wet bar, and the millwork in the living room. These made a HUGE difference to the impression of the space.
We also swapped out the light fixtures in the common areas of the house with more on-trend and style-appropriate finds. These did not break our clients' bank account and all added up to the new luxury look and feel of the home.
But I won't let you just imagine it… let's look at some Before & After photos.
Before: Living Room
The style and scale of the furnishings (who has conversations that far apart?) and the dark millwork and the wine bar to the left, made the space feel smaller and closed off.
After: Living Room
In this room, the light color of the bookshelves brighten this space, and new furnishings create a completely different feel than the one above. Traditional details and mixed metals uplevel the luxury of the space, while the rug adds effortless elegance.
Pro Tip: An easy way to balance the masculine elements in a room, such as tile or wood flooring, would be to always bring an area rug (a feminine element).
Before: Kitchen
Before, this kitchen looked like it belonged in a cottage type home, which this home was not. Remember, most buyers prefer move-in ready homes. Also, it is important that the fixed elements in the home reflect its price point. Buyers are not going to easily part with their hard earned dollars just because we want them to. We have to justify the asking price.
After: Kitchen
Light-colored furniture with luxurious style elevate this space while keeping it livable and welcoming. Oversized light fixtures help create separation between the kitchen and table, which could be used as a breakfast table or even as a work-from-home space.
Plus, now your ideal buyers can imagine how events would play out… hosting guests and sipping wine in the living room (far right)… tasting small bites at the table, and moving to the formal dining room when the meal is ready (far left). THAT is how you design and sell a lifestyle experience!
Before: Home Office
In this photo, you will see that there is a piano tucked away in the corner of this room, which you could not even see from outside and as you looked into the room. Once I toured the property I immediately saw this as a home office. SO we staged it as such.
After: Home Office
SO much better and brighter! It has purpose, feels open and spacious. Plus, the nice thing about staging a home office is that you don't need much really. But the staging does need to be intentional and to clearly relay a message.
Before: Formal Dining Room
Dark, slightly cramped and with dated lighting.
After: Formal Dining Room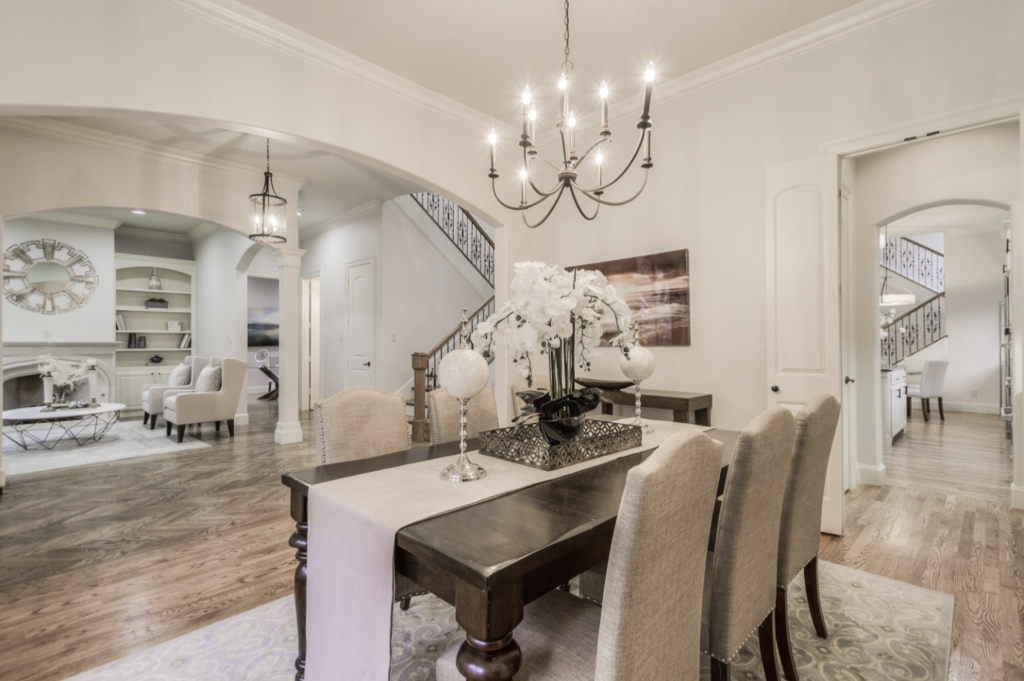 This formal dining room is finally worthy of its name! Updated lighting elevate the elegance, the space isn't overly crowded, and white walls reflect light to keep the room bright and open. Plus, you can easily see the kitchen and the living space for a seamless entertaining experience.
Before: Master Bedroom
These mismatched furnishings weren't working with the home's color scheme and didn't have the aura of livable luxury that would support the property's price point. We also knew we needed to tone down the baby blue on the walls with a more mature look.
After: Master Bedroom
Much better. Here, we upleveled the look with new paint, our own furnishings, and thicker bedding. (See how staging isn't just about putting furniture in a space? There is strategy involved!)
Before: Master Bathroom
Whoops! Forgot to grab a Before photo of this space. But wait until you see the After…
After: Master Bathroom
Now THAT is an elegant master retreat! The space is clear, minimally furnished, and there is harmony between the fixed elements (countertops, floors, hardware) and the wall color.
So, the big question… how well did this home sell?
Case Study Results: After Renovating & Staging
This story is a case study, which means you have to know the happy ending. If you remember, this home sat on the market with NO offers for months before we got our hands on it.
After Design By Keti helped renovate and stage the property...
Our clients received a ton of interest within days of relisting 
The first buyers who toured the property bought it! 
Our clients made back their initial investment and then some
Isn't it amazing what updating and staging a home can do??
If you're having trouble with a lifeless listing, I hope this case study gives you some hope. Selling a home doesn't have to be stressful. With the right approach and an expert strategy, your property CAN sell well on the Dallas market.
Book your 15-minute discovery call, and we'll prove to you that it's true!
To you and your best home sale,
Keti
P.S. Don't forget to sign up here for our Guide to a Stress-Free and Profitable Renovation!
While you may or may not want to start a kitchen renovation right this second, there's no reason not to use this time at home to start planning! And when it comes to planning a remodel, it usually starts with creating a smart investment strategy.
If you've never budgeted for a kitchen renovation before, you might have only a vague idea of what the total investment really looks like. Or maybe you have no idea. Which is also okay. We all start somewhere.
In any case, let's take it from the top...
How to know what to invest in your kitchen renovation
To know how much you'll be investing in your kitchen renovation, you'll need a budget. A budget, not to be confused with your TOTAL investment, is an itemized list of the funds that will be allocated to various aspects of the renovation.
To create a true budget, you will need to…. 
know the scope of your project, often determined with a design professional (like us) and/or with a GC
make a design and renovation plan, including materials selections
get labor and materials quotes for everything involved
add an additional percentage as contingency (best to play it safe!)
You can see that true budgeting requires researching, getting your team together, making a real plan (not a rough one), getting realistic quotes, and of course, TIME...
...which is precisely why it's so difficult for me to give you an accurate cost estimate without looking at the property in question!
So, what's my point? The point is to be aware that this will be the eventual process for a real functioning budget. For now (because I know you're looking for a number), we're going to talk in general investment ranges.
Discover this kitchen's story in our portfolio
What can you expect to invest in a kitchen renovation?
As I said above, it depends on the kitchen, but there are two components to the overall cost of any and EVERY kitchen reno: labor and materials.
Labor Investment
Unless you're renovating a super high-end luxury kitchen that will have all the bells and whistles of a commercial grade kitchen, your investment in LABOR is more or less the same. That makes labor a fixed (and non-negotiable) expense.
Materials Investment
Materials vary widely in cost and therefore contribute most to variations in investments. Before we can estimate or calculate your materials investment, we need to know whether the home we are remodeling is a budget home, a move up home, or a luxury home. Each of these comes with different material choices and slightly different features, which will affect your total investment.
Total Investment: Labor + Materials
Entry Level Kitchen in Dallas: $7-12K
Move Up Kitchen in Dallas: $15-25K
Luxury Kitchen in Dallas: $25K-50K+
Again, these are general, average ranges based on my many years of being involved in Dallas kitchen renovations. Yours might be different, but this is what I've seen to be true.
Hear this kitchen's story in our Portfolio
Where can you control costs in a kitchen renovation?
There are a few ways you can control costs in a kitchen renovation without skimping on style. YES, even a budget renovation can look nice!
As a Homeowner
If you're renovating your kitchen as the homeowner, I highly suggest working with a designer who knows trends in real estate. If so, they will be able to deliver a kitchen that is timely and timeless. (Never let your General Contractor make design decisions!) The idea is that, should you decide to sell your home in the next few years, the home will still hold up its value. I think we all want that, right?
The other benefit of hiring a professional (versus doing it yourself) is in saving on costly mistakes. The cost of a single expensive mistake made on your own could likely have paid for the professional to do it right the first time. And saved you the stress and heartache of investing twice. So I say do your homework and go with a professional you trust.
As an Investor or Builder
Just because you are working on a budget-friendly or move up kitchen it does not mean that it has to look ugly. You can have a well put-together kitchen on a small budget by adding classic elements. Such as an inexpensive subway tile and on-trend hardware and faucets. Even painting the cabinets white will do the trick. 
(Here are some other timeless selling design features in today's housing market.)
This is where hiring a design professional is worth its weight in gold, because your budget-friendly kitchen won't look like it was pieced together — it will look well worth its selling price!
Read this kitchen's story in our Portfolio
I hope this post has given you a foundation for what a kitchen renovation investment looks like, as well as some tips for planning your own.
If you need a professional opinion on what your renovation will take (and how to do it right the first time!), I'd be happy to support you. Book your free discovery call here, and let's chat!
— Keti
P.s. You can grab our Guide to a Stress-Free and Profitable Renovation by signing up for our newsletter below!
This total isolation in place situation has caused a lot of people to rethink their homes — and I bet you're no exception. In one location, we're now having to eat, sleep, work, be entertained, and do everything in between.
But to be honest, this isn't so different from the way housing trends have been going lately. In the last year especially, we've seen buyers gravitating toward amenity-rich homes that "do it all." After the current situation passes, I predict we're going to see this even more.
How Does a Home Deeply Support its Inhabitants?
I think we are all realizing just how much a supportive, comfortable home can change how we feel and live, and in the last month, I have personally found this to be incredibly true. Knowing it is one thing. Experiencing it yourself is another.
For about a year, I have lived in a 1300 square foot apartment waiting for my new house to be built. It felt like my family and I were practically on top of each other. And I'll be honest with you… it was affecting me in a negative way.
Being crowded was part of it, but I'm a person who gets peace and joy from order and beautiful aesthetics — and it was not either of those things. (You know that sort of stretched, irritated feeling you get when you're cramped and the situation is out of your control? That's the one.) Safe to say, I was so looking forward to getting out of there.
I finally made the move at the end of February. I had a couple of weeks to decorate, get furniture in there, and make it both pretty and functional… and not a day too soon!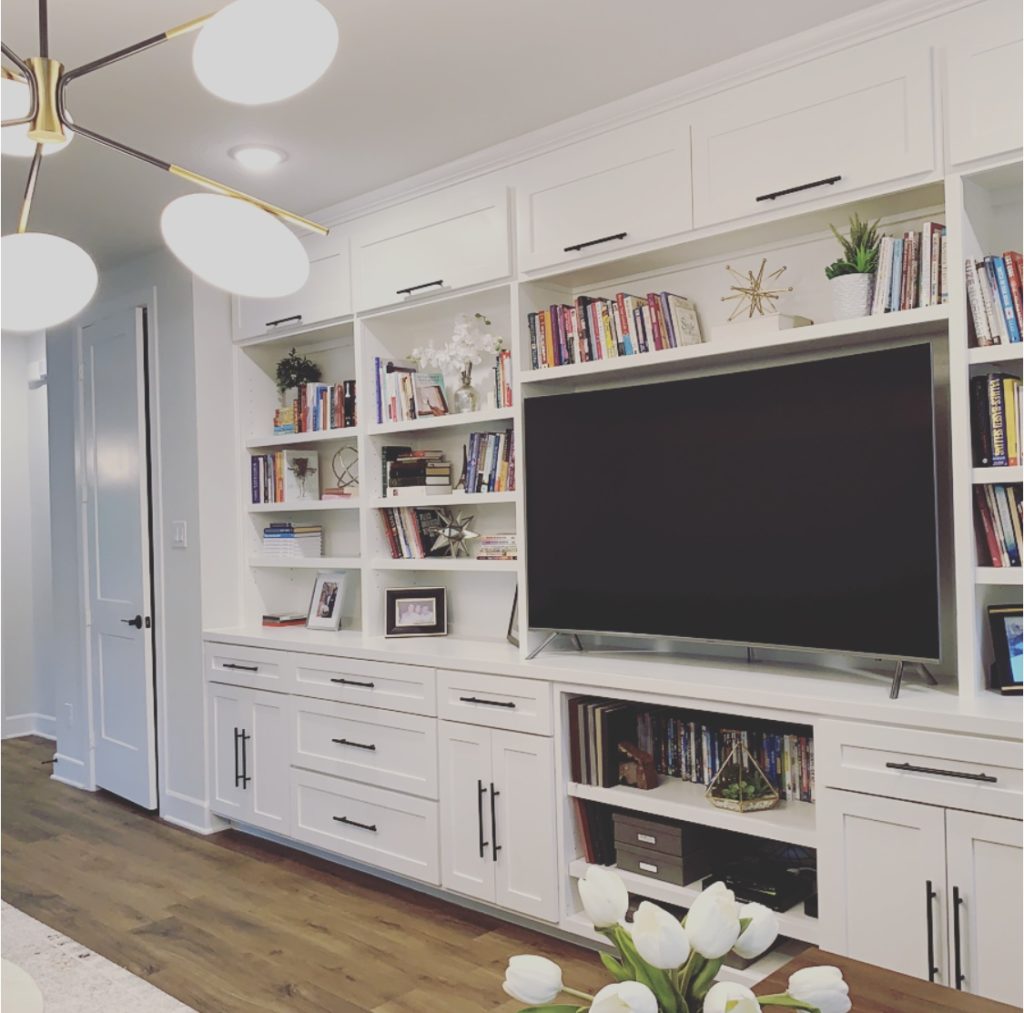 When the "shelter in place" order came in for Dallas, we were ready to go. And by go, I mean STAY, of course!
Since then, we've been so, so grateful to have our home during this time. One of my family members has the office on the 1st floor, and my workspace is on the second. We both have our privacy, ability to focus on work, and if we need some alone time (as all humans do), the option is there.
Overall, the house is supportive and functional. Peaceful and relaxing. And lets us do anything and everything we could dream up to do with this extended time in isolation.
THIS is the experience that buyers want these days when they purchase a home!
For this month's blog post, I want to share some of the features and amenities that are making our home supportive and a place we love to be, even when under order. And it's not just about beauty. Beauty and function should ALWAYS work together!
1. Home Office
I bet this one doesn't surprise you. Two allocated home office/work spaces have been revolutionary. In this day, having at least ONE home office is very important to buyers, two is even better. So many of us work from home (or will in the future), even if it's just once per week.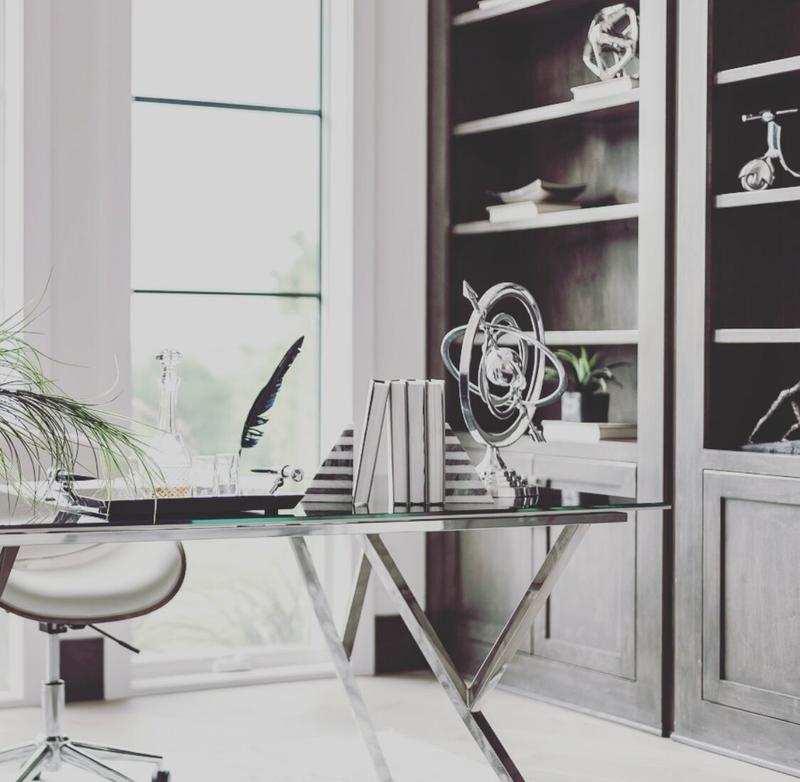 2. Natural Light
It is not an understatement to say that natural light sells homes. Sure, your home buyer might not say that the natural light was the motivator of their purchase, but I guarantee that it contributed. Natural light promotes mental health, creates a feeling of being able to breathe, and makes the home look more spacious. In other words: windows.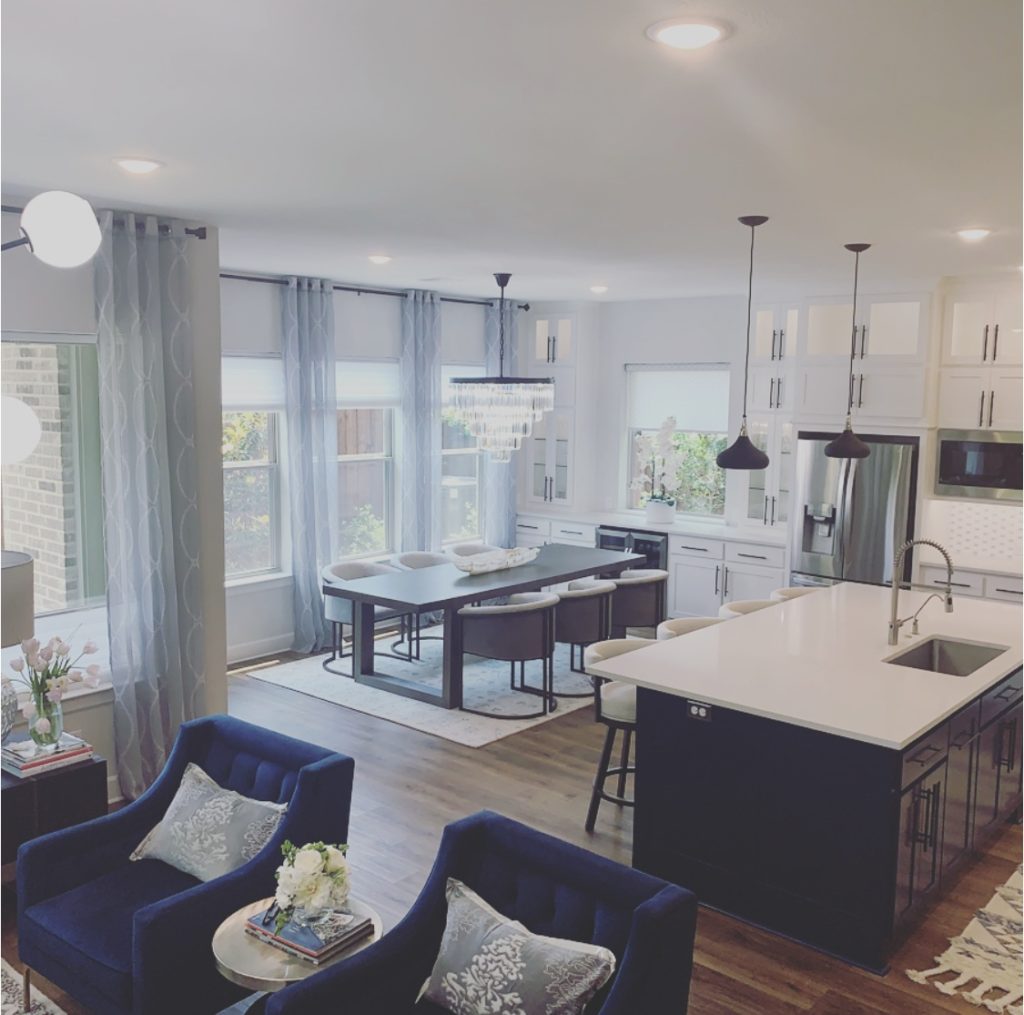 3. Outdoor Living Space
In this blog post, I mentioned that many millennial buyers have pets and are looking for homes with outdoor spaces. But whether your ideal buyers are millennials or not, an outdoor living space is essential, and it doesn't have to be fancy. Add a table, chairs, and inviting landscaping (if possible) and potential buyers are sure to be impressed.
4. Ensuite Bathrooms
Yes, ensuite bathrooms, and not just in the master bedroom. Can you imagine all of the families stuck at home right now with multiple children sharing one bathroom space in the hallway? Trust me, harmony at home starts with personal space.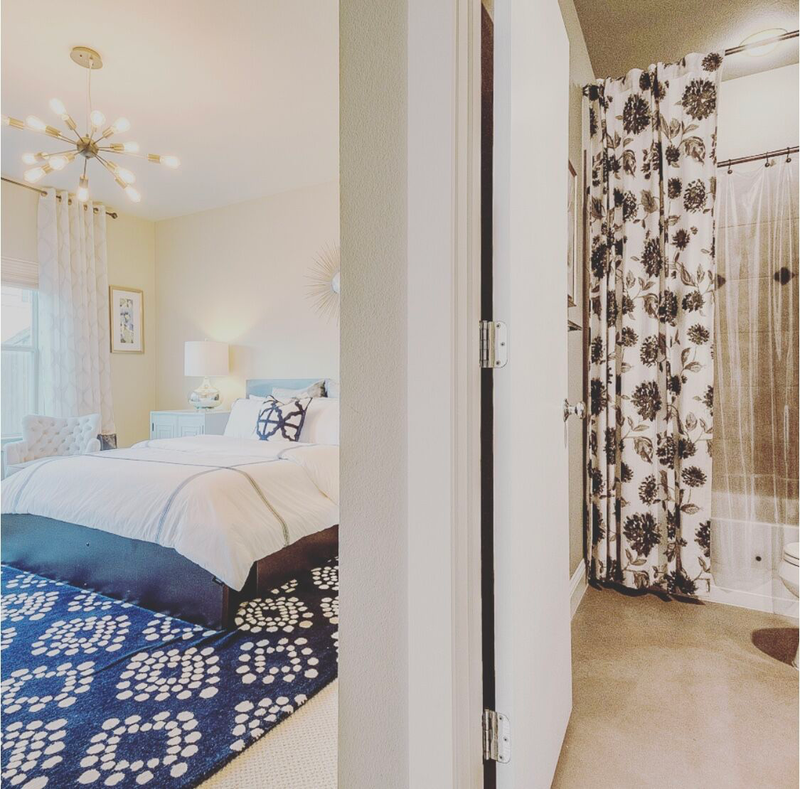 5. Super Spacious & Large Kitchens
Spacious kitchens are another amenity that sells homes. The kitchen is the hub of the home in today's age, not just for cooking. Families gather in the kitchen, people entertain in the kitchen, and it's become a place to enjoy, create, and connect. (See timeless and sellable kitchen styles here.)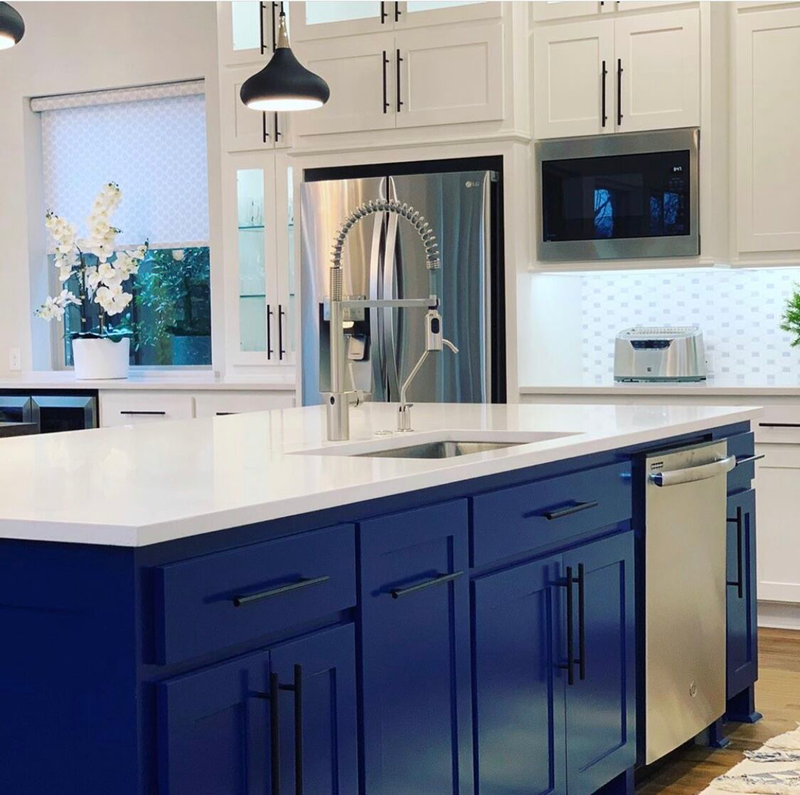 6. Built-ins
Built-ins are important as they address the storage issue. It doesn't matter who your ideal buyer is, they will NEED storage, and I've never met a person who said they had too much of it. It helps a house look well put together and in order… and an orderly house and environment translate to tranquility and peace of mind!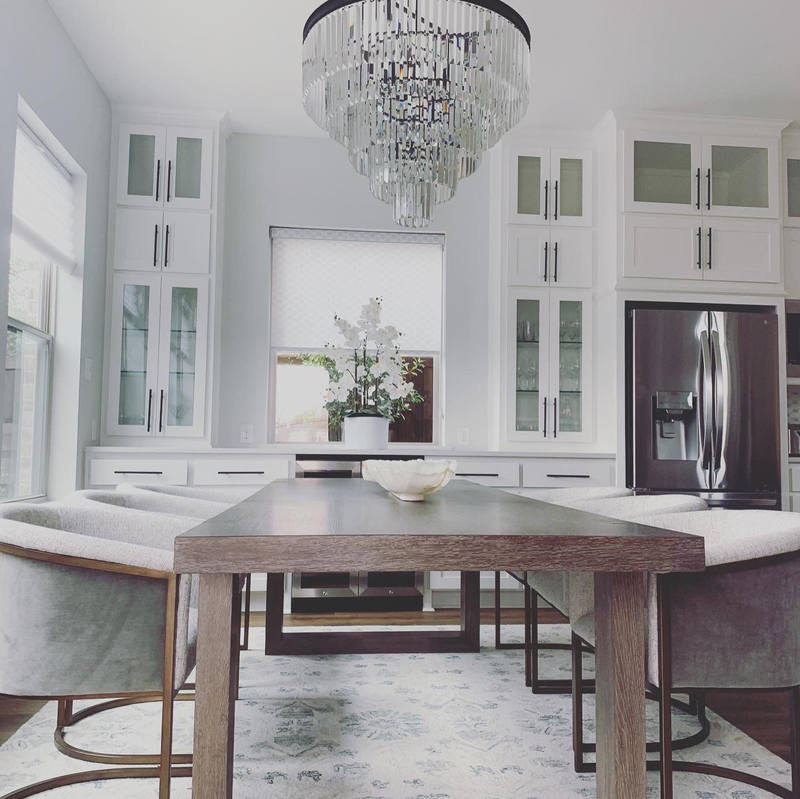 7. Fireplace
We get all the seasons in Dallas, and having a fireplace has made such a huge difference in how comfortable and supported we feel at home. I have really enjoyed it on the days when the temperatures have gone down. It's a small thing that has such great mental health benefits!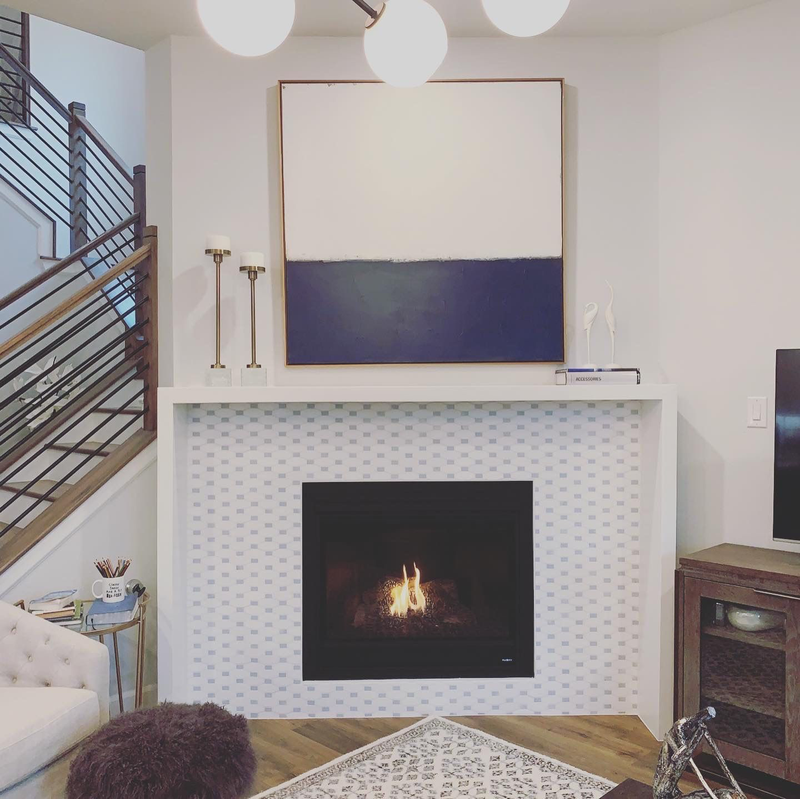 8. Calming Colors and Patterns
Our homes are our escape from the busy world outside, and design is one way to bring those feelings of peace and calm into the home. Whether in the fixed elements of the home or in the decor, opt for soothing colors and patterns, such as nudes, warm grays, blues, and even greens.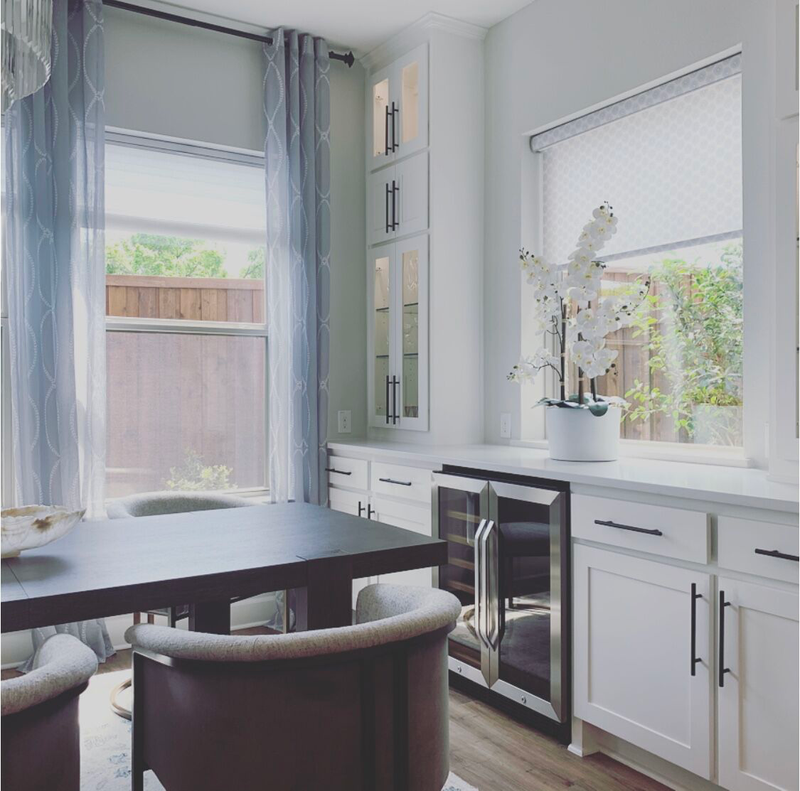 9. Thoughtful Amenities
LARGE FRIDGE
Along with that large kitchen, for move-up to high-end homes, I also highly suggest having a large refrigerator or a freezer somewhere in the house. In a large home, the appliances should match. Otherwise, you're not creating a space that supports the people who live there. And as we've all found out these past couple weeks — we need our homes' support!
REVERSE OSMOSIS WATER FILTRATION SYSTEM
Another simple and completely satisfying amenity. For move-up to high-end homes, a reverse osmosis water filtration system is yet another way to elevate your offering (and sale price) and create a home that truly does everything your clients could want.
WINE ROOM OR BEVERAGE FRIDGE
This one is less of a staple and more of a simple way to elevate your offering. Yes, I'm talking about a wine room or beverage fridge. As a wine lover (give me a Malbec any day), I can tell you that having a room/fridge feels luxurious and was worth every penny.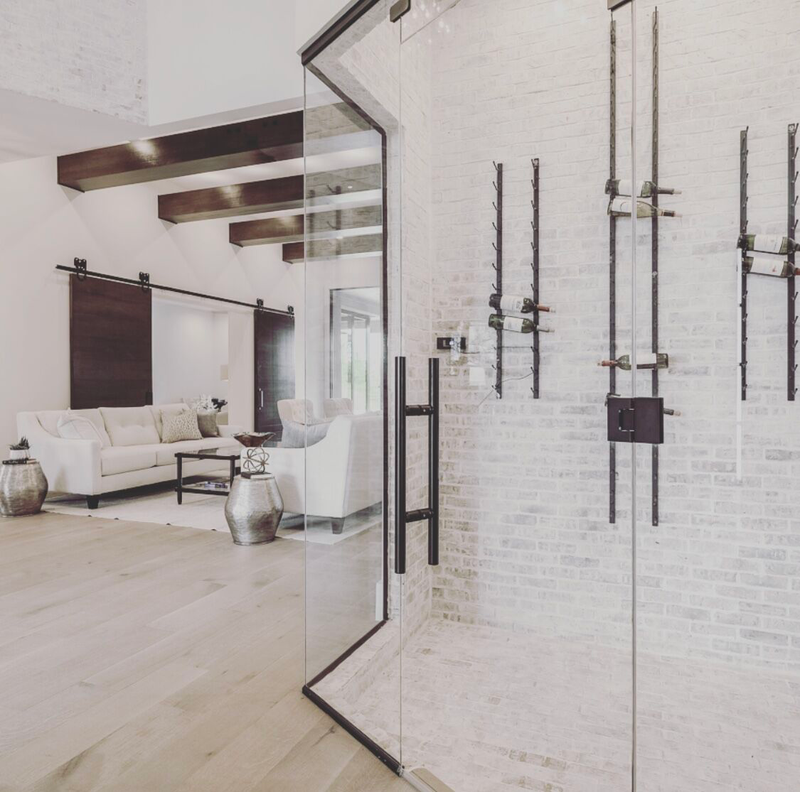 If you're flipping or renovating a home for sale, it's important to consider WHO will be buying the home and WHAT they are looking to get from it. Then you can design for those amenities and make it a property they won't be able to resist. (And yes, this is where an experienced property designer is worth their weight in gold!)
If you have a property to design and renovate, and you need to hit the ground running as soon as the current situation passes, let's talk.
— Keti
Do you know which design trends are going to boost your bottom line, and which are going to sink it? 
In my last post, we talked about some of the features that today's buyers want most in a home. These were mainly related to spatial desires, such as a sociable kitchen, designs for joy, smart homes, etc.
Today, I'm going to talk about the MATERIALS that are on-trend, timeless, and going to support a great bottom line for your renovation. 
Note, this post is hot on the heels of my trip to the International Builders' Show (IBS) and Kitchen and Bath Industry Show (KBIS), where experts meet to talk trends, market shifts, and the latest in home design. 
Timely vs. Timeless Trends
It's important to note that just because a beautiful slab of stone or oversized modern lighting are on display at KBIS doesn't necessarily make them a prime candidate for a profitable renovation. 
Not everyone is designing to sell. Some are designing to live. So it's important that I use my experience and judgment to assess the trends that everyone is gushing over.
Some trends are timely but will have a short lifespan. Others are timely as well as TIMELESS (Meaning future buyers aren't going to be worried about their interiors having an expiration date.)
The trick to profit-driven interior design is that it is equal parts timely AND timeless.
Knowing which trends are profitable (and which aren't) is an area where I excel. So, what's the verdict?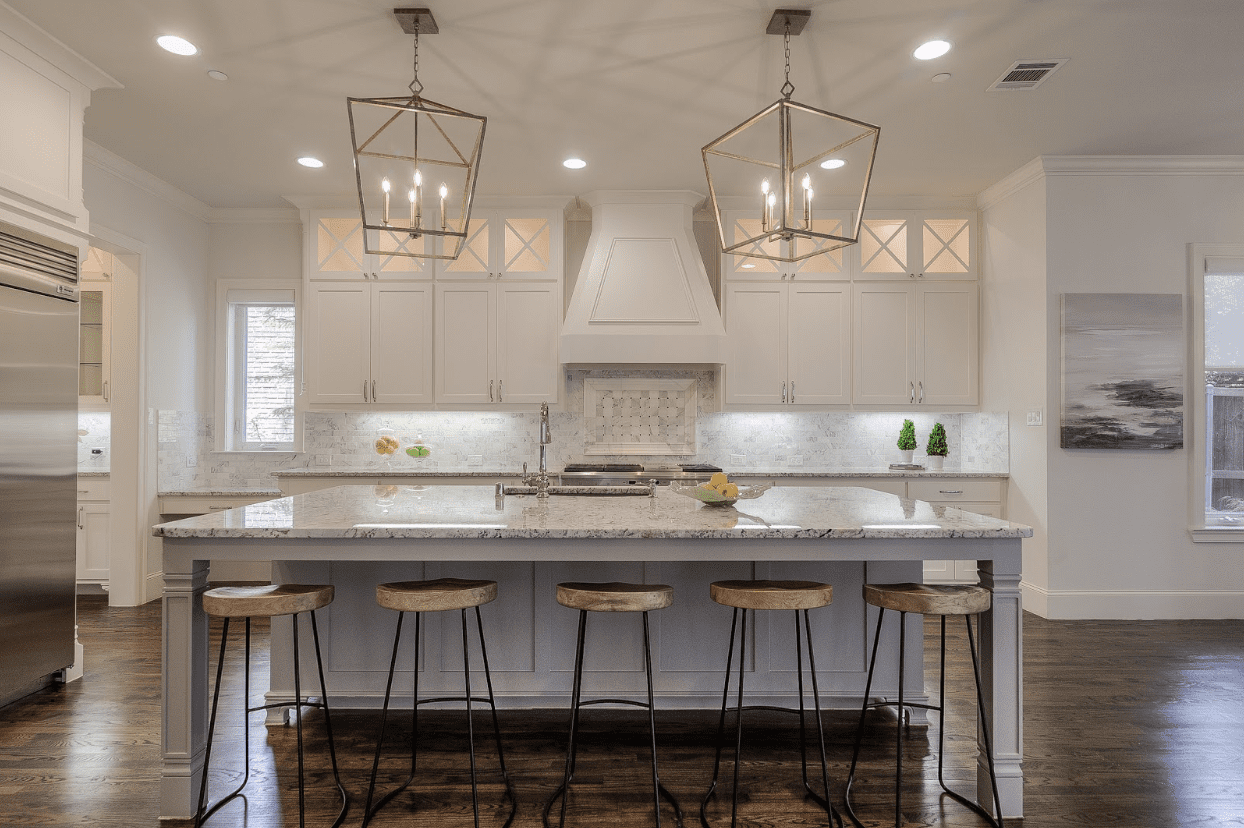 1. Choose Kitchen Cabinets in White or Warm Wood
White kitchens are incredibly on-trend right now, but I wouldn't call them "trendy." White is timeless and can make well-lit spaces look larger. Another tip is to take those cabinets all the way up to the ceiling. They make the room seem taller, in addition to adding more, desirable storage space.
If you're selecting wood cabinets, go with a warm tone. It makes the space feel more inviting, social, and comfortable.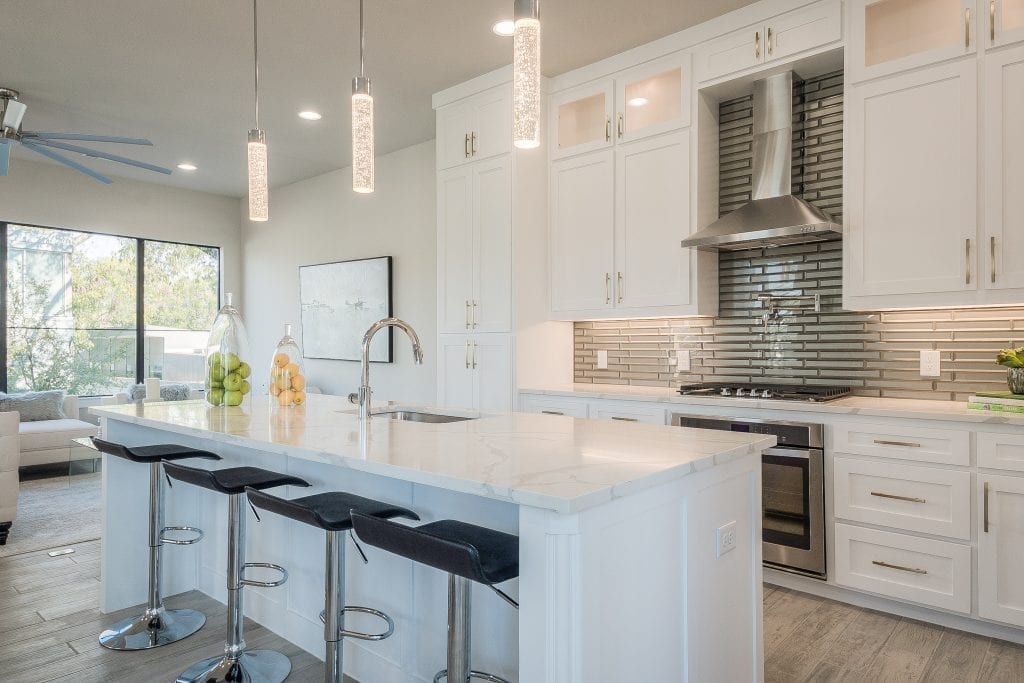 2. Black is Back in Home Design
Black is another timely and timeless color that can be used to create elegant impact in a home. It's best used as an accent color, either in some of the furniture used in a home staging, or as part of the hardware of a home, such as an elegantly slim curtain rod, light fixtures, or window frames.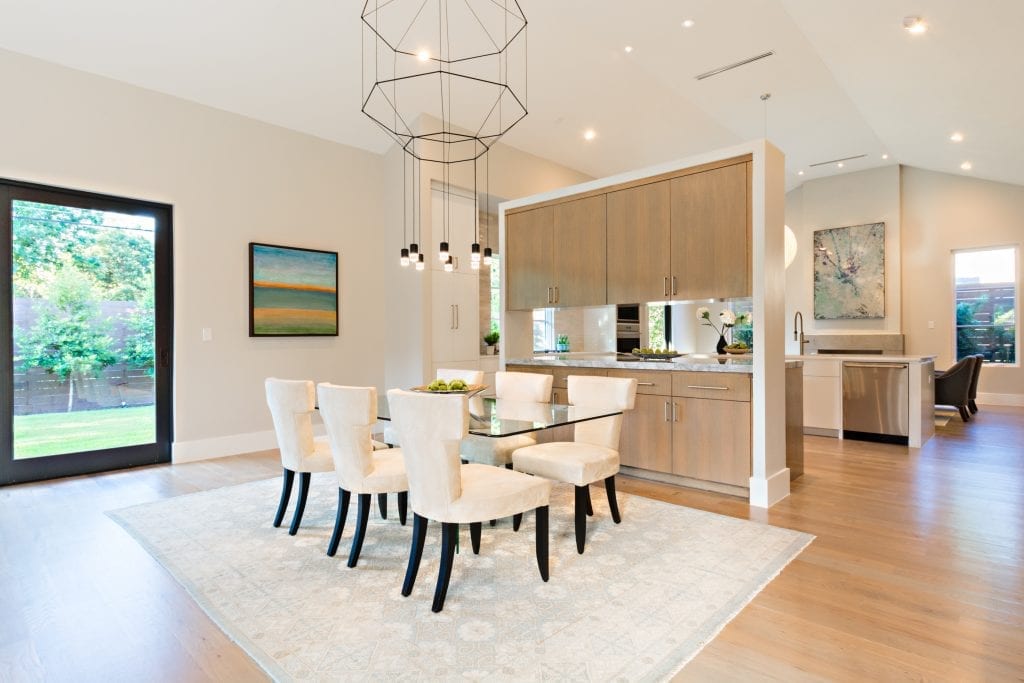 3. Green is Taking Over Interiors
Much like blue did in 2019, green is taking over homes in 2020. Color is always timely and timeless, but should be used tastefully when selling a home. I like to add pops of color with pillows and decor, or in the case of this year's color, fresh greenery.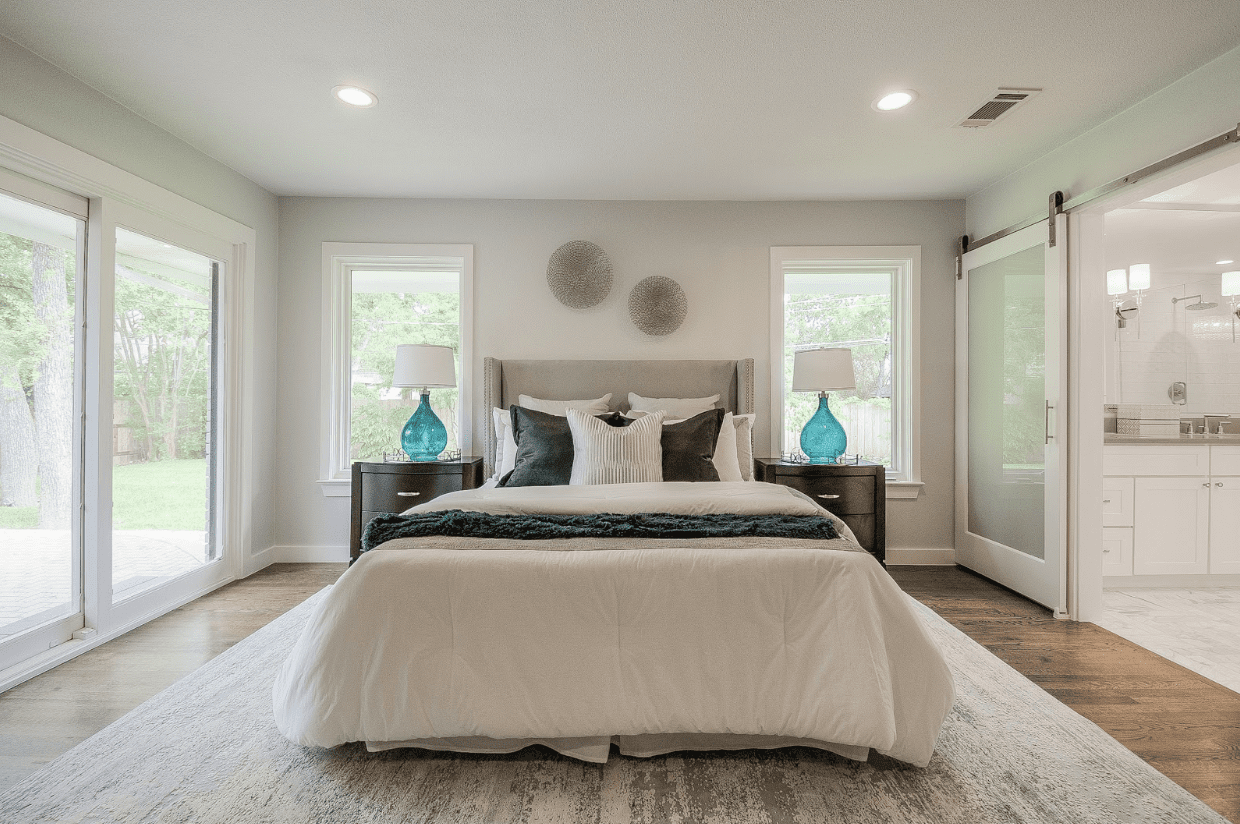 Spring green accents are tasteful and inviting. (Design by KETI)
4. Light fixtures are the jewels of the home
Light fixtures are incredibly underrated – they are the jewels of the home, and you shouldn't sell a home without great-looking ones! 
Below are a few that we've chosen for dramatic impact. And yes, they sold quickly!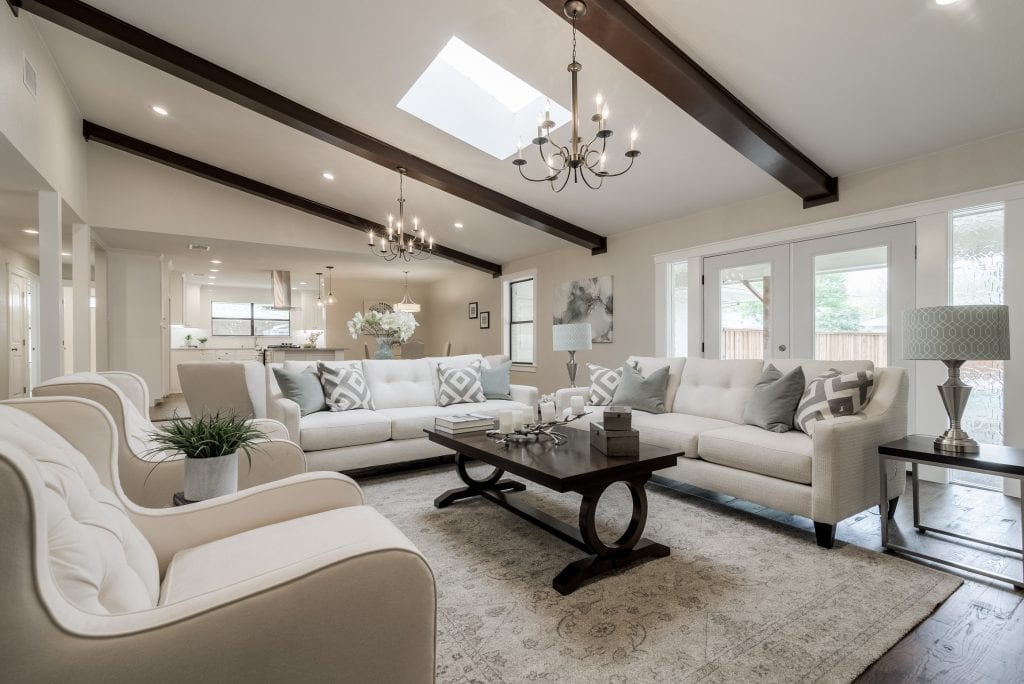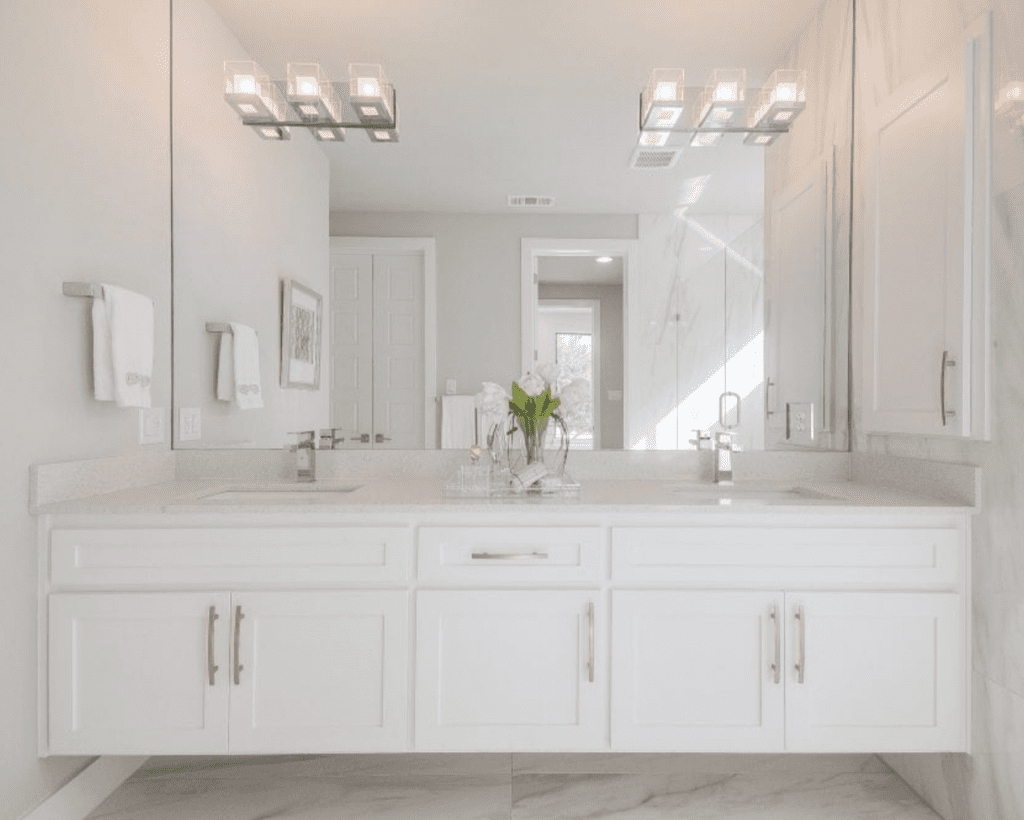 Living room or bathroom, lighting matters! (Design by KETI)
5. Bringing the outside in
This trend applies more to the home staging than the renovation, but is equally important. A home without some semblance of the outdoors will feel cold and lifeless. With today's shift toward design for joy, bringing the outdoors in is ESSENTIAL!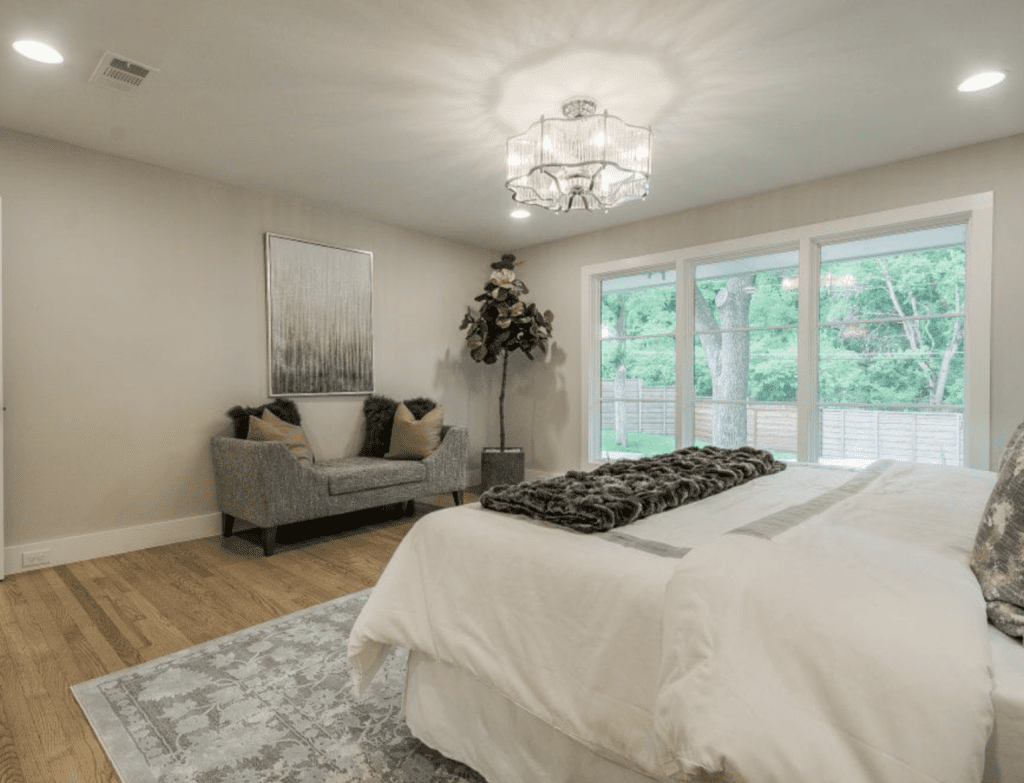 I like to use flowers, small potted plants, indoor trees, or succulents. (Design by KETI)
6. Mixing patterns (timely, NOT timeless!)
This is the only trend on our list that is timely but NOT timeless. You might be tempted to install a backsplash of beautiful patterned tiles that are completely on-trend right now… but not only are you taking the risk of the homeowner not liking the pattern, it may go out of style quickly.
This is why I suggest pattern mixing in the home staging, not in the renovation itself. Keep your backsplashes and tiles more neutral.
Mixing patterns with the area rug and pillows are timely and tasteful. (Design by KETI)
In my next post, I'm going to break down what a kitchen renovation costs and how to budget for it. 
Until then, download our free guide to profitable staging or contact us here for help with your project!
— Keti
Every year, I see large and small shifts in the housing trends that buyers want most in their homes. This is true of aesthetics — such as color, material, and style  — but also functionality, HOW people are using their homes.
As someone who designs homes to sell (for homeowners, builders, investors and flippers), it's extremely important for me to stay in-the-know about these housing trends and give my clients the upper hand.
Part of staying educated includes attending conferences and industry events, and I recently returned from two that were held in January in Las Vegas:
International Builders' Show (IBS).

Experts from around the world meet to discuss the biggest shifts we're seeing in consumer desires. 

Kitchen and Bath Industry Show (KBIS):

Where the latest designs for kitchen and baths were on display and available to test. 
So, what features are Dallas homebuyers loving most in 2020?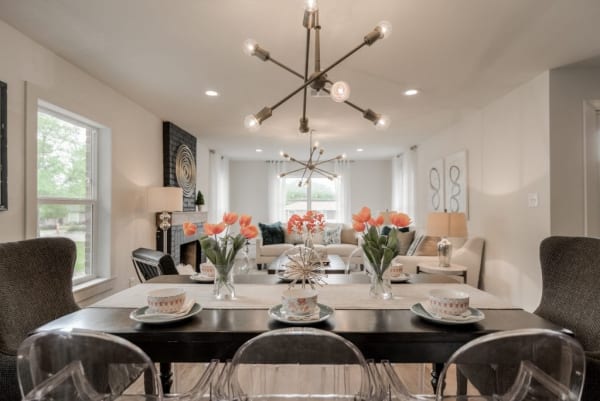 Staged by Design by KETI
1. Millennials are the largest population of home buyers
Today's market buyers are mostly millennials, and gone are the days of the big mansions. It's challenging to sell a 5000 square foot home to a millennial, even if they have the cash to buy it. In fact, the ideal home in 2019 was about 2,500 sq-ft with 3 bedrooms.
Home features millennials love:
Most millennials buy homes because they want a place/yard for their pet. 

They want smart homes and designs that appeal to their senses.

They have a time poverty mentality and will pay for convenience.

They are attached to homes designed for joy.
Allow me to elaborate…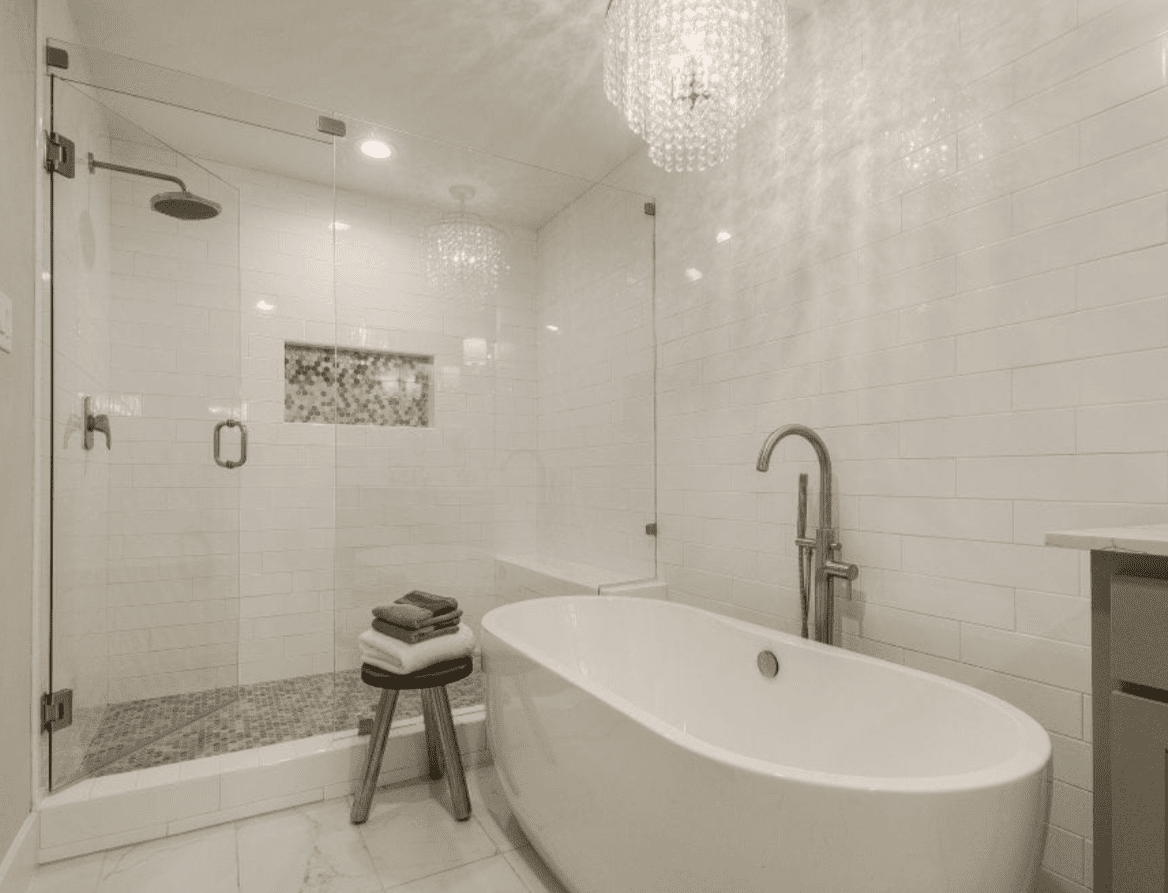 Designed by KETI
2. Homes are no longer about having a roof over your head
It's sad but true that people are lonelier than ever before. Nearly 80% of Americans say they are unhappy. There is rising emotional anxiety. 
Naturally, a trend to design for joy has taken root and flourished in the housing market. Health and quality of life has taken precedence amongst the builder community because that's what their buyers are asking for. 
How can you capitalize on this housing trend?
Design the home to be a safe haven, a place for people to take time to decompress. This can be achieved in how you stage the home (creating restful spaces), as well as the attention given to materials in private areas, such as a master bathroom in cool, soothing colors designed for relaxing. 
As I said before,  when you design a home that appeals to the senses, millennials are not the only buyers who will be impressed.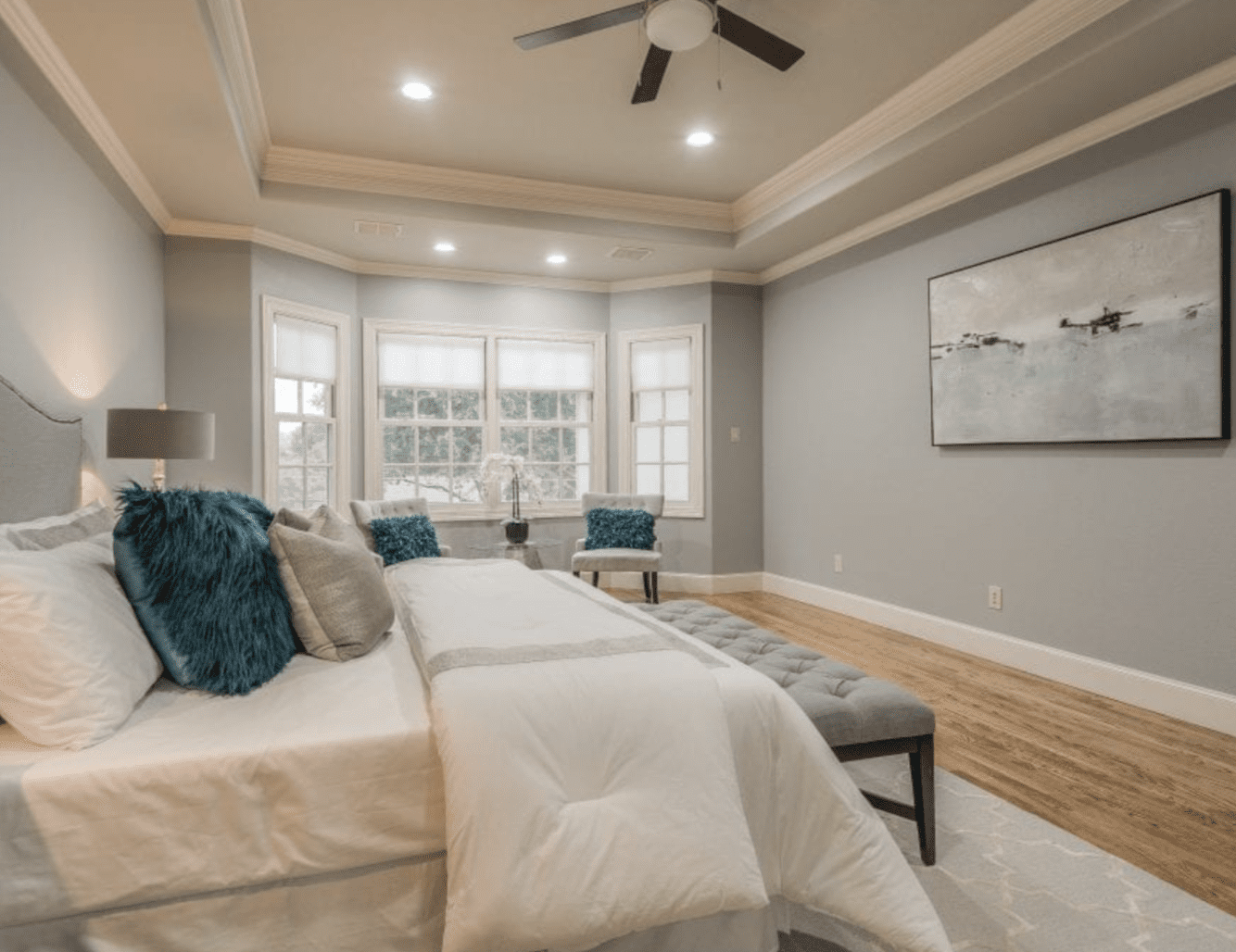 Designed by KETI
3. Home features that follow social trends
Another aspect of housing trends is the way we use the different spaces in our homes. Here's a quick room-by-room breakdown of the changes that are happening in the 2020 market:
KITCHEN
Along the lines of Americans feeling lonely, the kitchen has made a 180-degree turn in how it's being used day to day. No longer a place for the chef to retreat, kitchens have become a place for gathering, socializing, and entertaining. 
The most desirable kitchens are spacious, have islands, and offer a variety of seating conducive to gatherings and socializing. 
DINING ROOM
For a period, it was not trendy to have a formal dining room. Now it's a comeback! 
MUDROOMS
We're seeing mudrooms becoming a highly desirable feature, even more so than the entryway. Why? Because today's homeowners rarely get into the house via the front door. 
FLEX SPACE
These days, buyers are eating up "flex spaces," a room or area that is left up to the buyer to decide what to do with it. That said, you should always STAGE a flex space with a design that appeals to your target buyer. Leaving it vacant won't inspire anyone's imagination.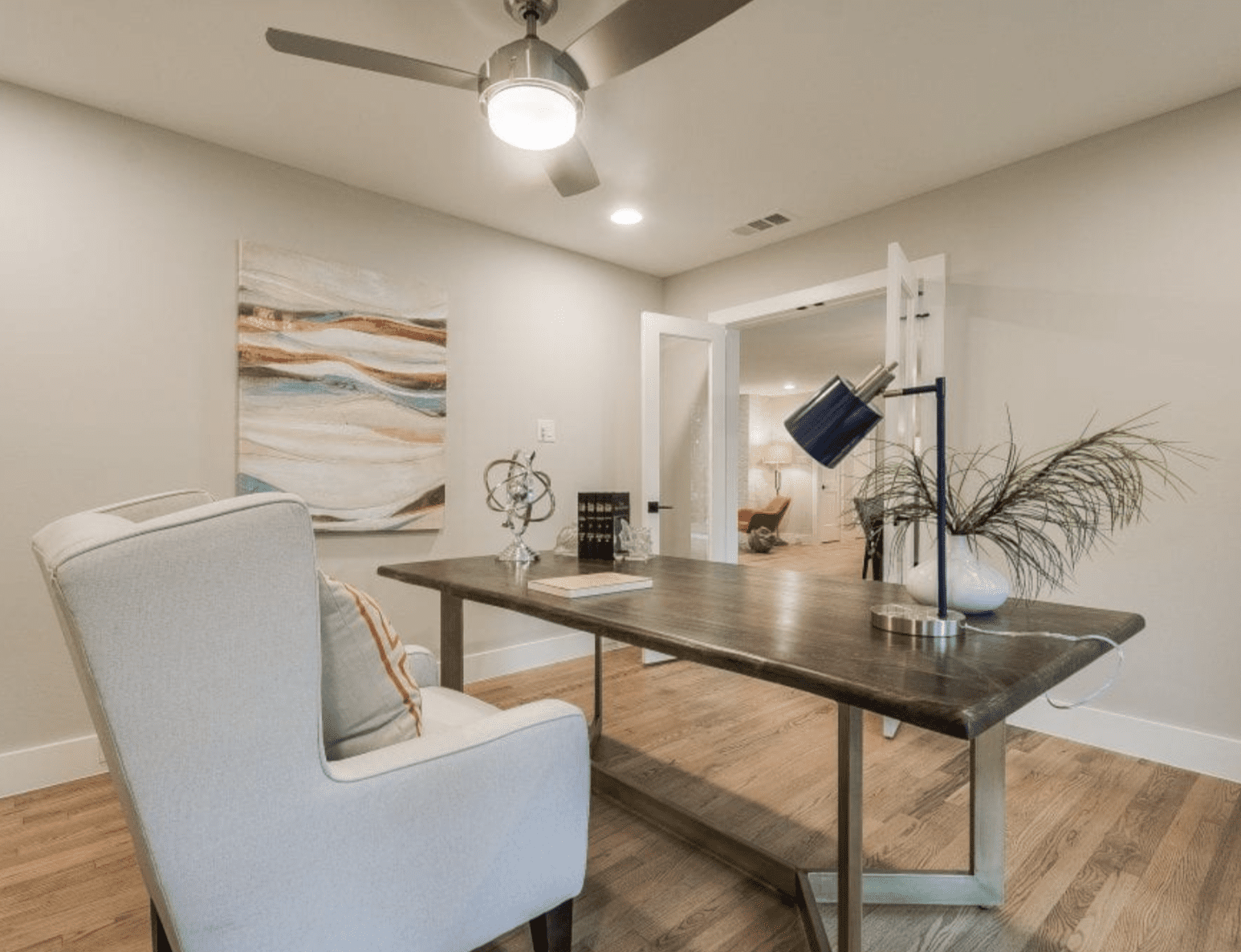 We styled this flex space as an office, since buyers in the area are mainly business professionals who often work from home.
4. Home features that are getting more intelligent
Today's consumers (mostly millennials) are all about the smart home and the home's role in battling time poverty. Now, you can talk to a faucet to start it, start dinner while in your car driving home, take a therapeutic bath in a free standing jetted tub, and the bath mat will weigh you each morning. 
How can you capitalize on this housing trend?
Regardless of how you feel about technology in the home (or seeing your weight first thing in the morning), today's consumers are interested in tech. Yet, the volume builders are not providing it in homes!!
Adding smart features to your property will put you above the competition, help your home appeal to the largest population of buyers, and usher you even faster to the closing table.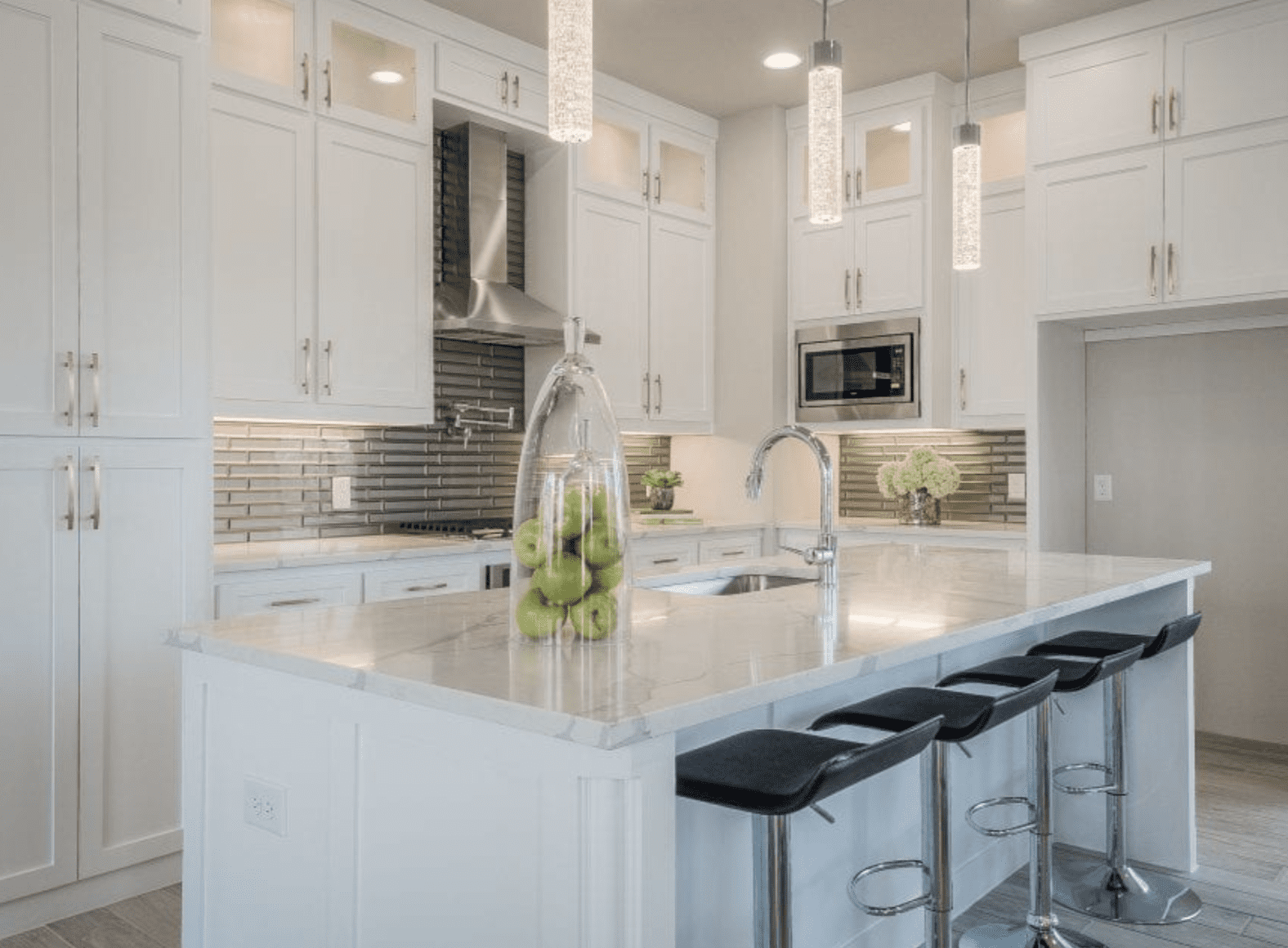 Designed by KETI
5. Luxury design is lighter than ever
This one can include millennials but also branches out into the Gen X'ers. I'm talking about billionaires. More billionaires have cash than ever before, but we're not seeing a trend toward opulence or heavy luxury in homes. 
These days, luxury is light and livable. Luxury is classic and timeless. Luxury doesn't need to be loud because it speaks for itself.  
How can you capitalize on this housing trend?
If you're designing for a luxury client, focus on materiality. For example, an incredible piece of marble around the fireplace speaks volumes.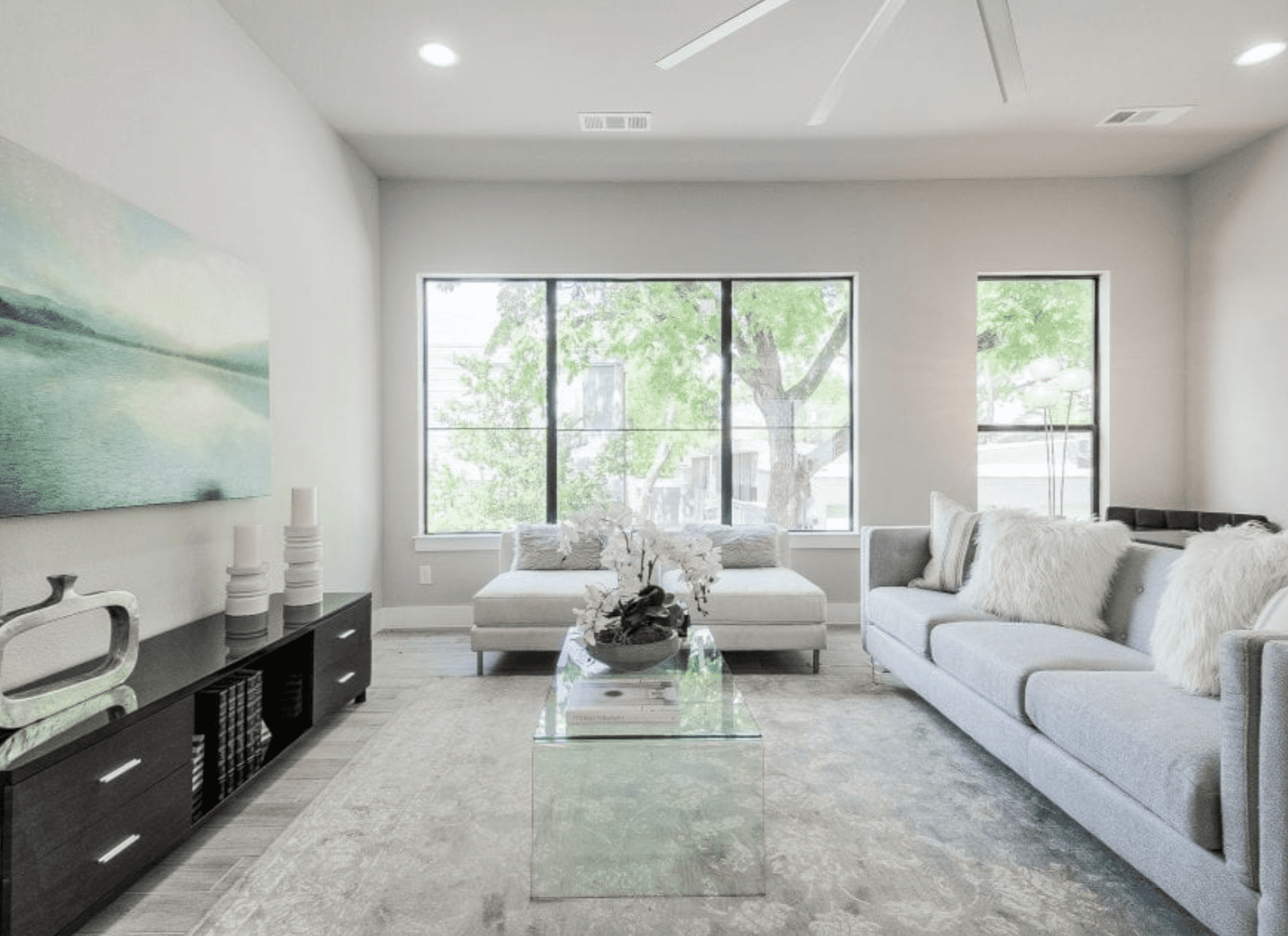 Designed by KETI
Since we talked about the most desirable housing trends in this post, my next post is going to share some of the best TIMELY and TIMELESS materials for your bottom line.
Until then, download our free guide to profitable staging!
— Keti
You might think a great floor plan, location, or square-footage will sell a property, but trust me, important as that might be, great real estate design is what sells homes. Buyers care what the home looks like, and if it doesn't meet their criteria, they won't be headed to the closing table any time soon. 
I know because we've encountered many situations where homes with great bones and floor plans sat on the market indefinitely until we came in and helped with some much-needed improvements. Design MATTERS. 
Here's what great design can do to sell your property:
Reflects the home's price point but still looks comfortable and livable

Matches what targeted buyer demographics are looking to buy in the area

Plays up the best features of the home (and play down any negative elements the space might have  )

Makes a killer first impression that wins buyers over from the start
If you don't believe me, here's the proof!

Who should you hire to get a professional real estate design for your flip or reno?
If you're serious about your ROI, you'll want to hire a professional in the field. Your first instinct might be to hire an interior designer, but I would caution you against it.  Interior designers, while extremely talented, are experts at creating spaces that are highly personal and specific to the people already living in the home. 
Designing a flip or renovation to sell requires a very different approach. 
Instead of asking the homeowners how they use the space and want to live in it, we have to consider the design from a profit-driven perspective:
Who is the target buyer for this property? Are they career professionals or entrepreneurs? Do they work from home or do they go to their office every day? Is the house located in a great school district and ideal for families with kids? Is the neighborhood seeing high interest from young business professionals? Etc.
What are the selling features of the home, the ones that will make buyers say, "Wow, I can't wait to live here."
What is your investment budget? The amount that you can invest in the home will, of course, dictate what can and can't be done. This is another piece of the puzzle that must be taken into account from the start!
Once these questions have been answered, a real estate design and staging professional will create the right aesthetic AND prioritize your bottom line. 
It's design, but it's also expert business strategy. Your pocket book and future will thank you! 

How do you ensure you have a real estate design that addresses these selling priorities?
If you work with a design and real estate staging professional, they should take you through three steps: a consultation, a design plan, and the final staging to bring everything together. 
The renovation and design consultation is a strategy session. It's the first step to a successful project and is not to be taken lightly! During this on-site meeting, we'll…

During this phase we get into all the design-related specifics, or the HOW of our renovations plan. We'll make all the selections for any new or updated features such as paint, flooring, counter tops, tile, back splash, lighting, hardware, plumbing, etc. 
We will present you with all the specifics of the renovations design plan at which time, we can either source all the material selections for you, or you can do so in collaboration with your GC. During the renovation process we can also make ourselves available to your crew for any installation and design specific inquiries.
Extra step: If desired, our trusted team of subcontractors can carry out the agreed-upon updates and renovations with speed and professionalism. Relax and enjoy letting experts take the wheel!

The design of the home doesn't stop with hardware, flooring, and countertops — what's inside your home matters too. To complete the transformation, you will definitely want to stage the home. (Whether you choose us or not, we still suggest it! It is SO worth it.)
With us, while the minor improvements and renovations are underway, we'll present you with a vacant home staging proposal that highlights the home's selling features and is worthy of its listing price. 
Once the renovations have been finalized, we will begin staging your investment property. This is the moment when the magic happens… the home is transformed and ready to steal the hearts of potential buyers!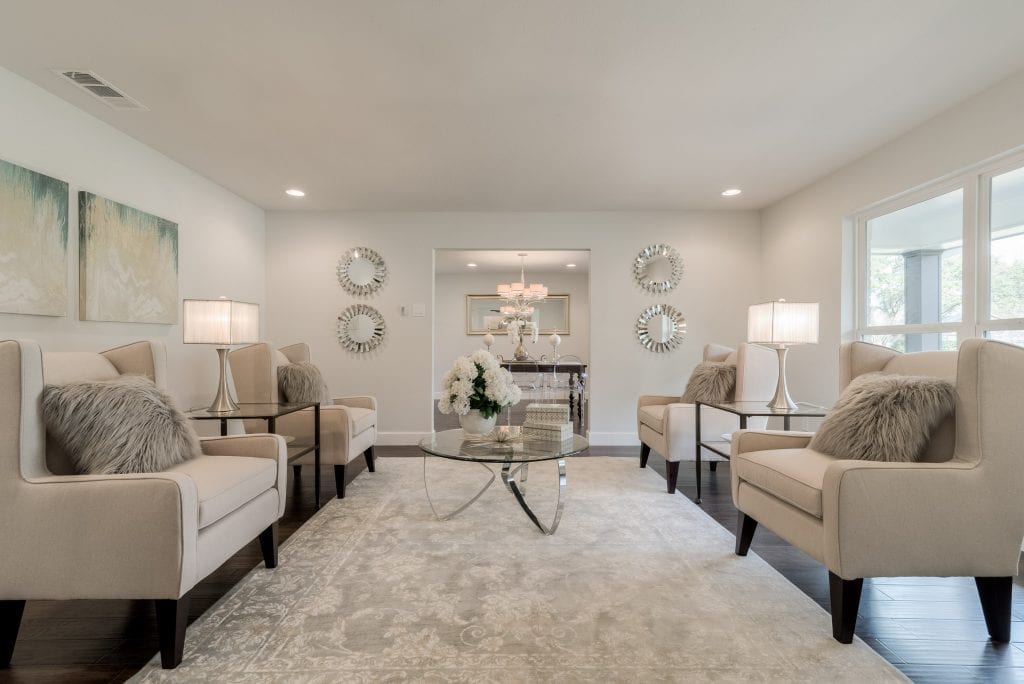 For the best results, we recommend bringing in a design professional from the very beginning, before any updates are made, and taking your project step by step. (This is our Complete Concierge service for investors or homeowners.) 
But if you're looking for design help somewhere in the middle of your project, you can still find any of these as a stand-alone service and see drastic impact. 
Next month, I'll be back here to share a bit more about what really goes on at a home staging consultation. Spoiler… more than you think!
Until then, sign up HERE to grab our free download, How to Prepare for a Remodel!
— Keti
Luxury Vinyl Planks 101
Hardwood has long since been a hallmark in high end, quality homes. Its rich, earthy texture and natural beauty have made it a no-brainer, resulting in refinishing vs. replacing whenever possible to avoid the high cost of replacement.
However, hardwood has caused no small amount of anxiety to homeowners with children and pets. Because hardwood floors can be warped by excess moisture or noticeably scratched, they aren't always the best or most sensible option for busy households.
What is hardwood-loving homeowner to do?
Meet the Luxury Vinyl Plank (LVP).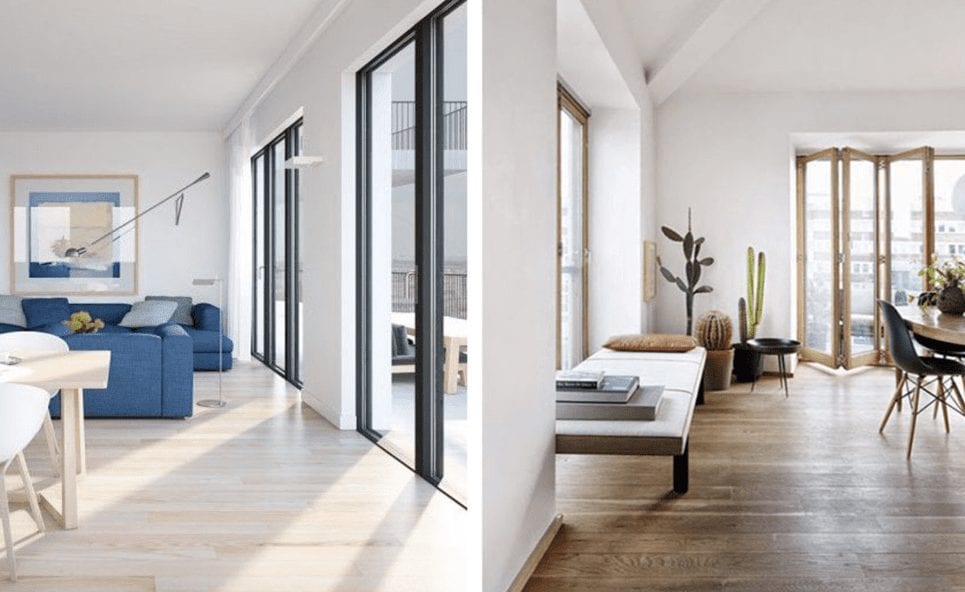 NO MORE SCRATCHES OR MOISTURE DAMAGE
Luxury vinyl planks make for excellent flooring in every room, especially high-moisture areas like kitchens, bathrooms, and laundry rooms. The wood-like appearance of LVP adds warmth and character without succumbing to spilled liquids, heavy use, or frequent cleanings.
Quality LVP will last anywhere from 10-15 years, though could last even longer depending on how it is treated. It also doesn't need to be refinished - ever - and is available in a variety of faux wood species, including maple, oak, walnut, and hickory. Wide and narrow planks are available as well, making it easy to create a truly custom floor.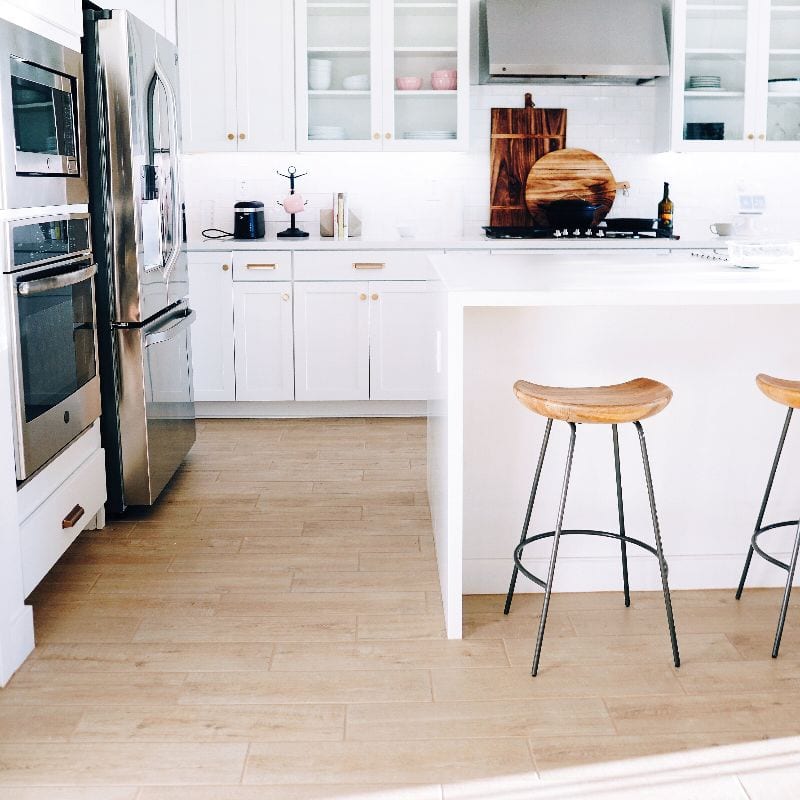 EASY AND QUICK TO INSTALL
Ease of installation matters, even if you're hiring a company to handle the professional installation of your LVP flooring. The more convenient it is for the installers, the faster they will work and the more pleasing your final invoice will be. Happy installers make for good projects - trust us!
LVP snaps together effortlessly but does require some pre-planning, measuring, and cutting to ensure the joints don't end up all in a row (yep, just like hardwood). For best results, use an installer who works with LVP and hardwood frequently.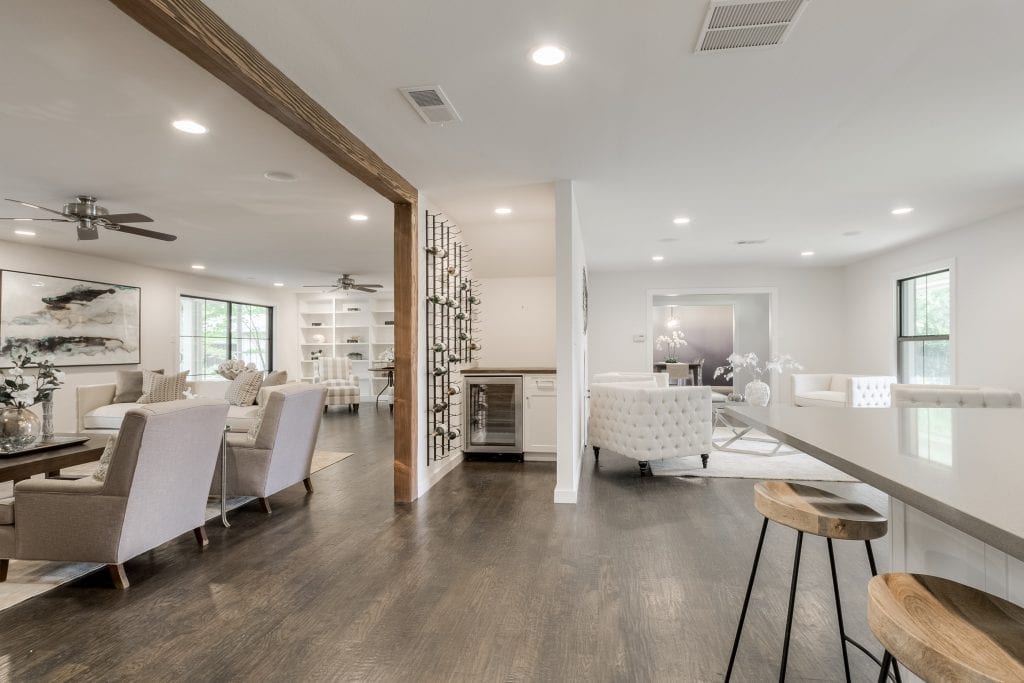 PLAYS NICE WITH YOUR BUDGET
We never suggest that you get stingy when it comes to more permanent materials like flooring, but we also have to admit that LVP is a significantly smaller investment than hardwood.  Happy accident? Not really.
LVP was developed to be an aesthetically pleasing, durable, and affordable alternative to hardwood. It ranges from $2-5 per square foot, while hardwood rings up the bill at $8-25 per square foot. Homeowners who opt for LVP often end up having more funds leftover for other luxuries, such as a curbless shower or elaborate back splash tile.
DESIGN HIGHLIGHTS
LVP Components
Faux wood and waterproof flooring are trending - and for good reason. LVP can often contain recycled PVC, which adds to its durability.
TIP OF THE MONTH
Chemical sensitivities
If you or someone in your home suffers from chemical sensitivities, be sure to treat your new LVP as you would any other building material, allowing it to off-gas in a climate controlled space.
Cheers,
Keti
O: (214) 814 – 5967
E-mail: info@designbyketi.com