Every year, I see large and small shifts in the Dallas home features that buyers want most. This is true of aesthetics — such as color, material, and style  — but also functionality, HOW people are using their homes.
As someone who designs homes to sell (for homeowners, builders, investors and flippers), it's extremely important for me to stay in-the-know about these housing trends and give my clients the upper hand.
Part of staying educated includes attending conferences and industry events, and I recently returned from two that were held in January in Las Vegas:
International Builders' Show (IBS).

Experts from around the world meet to discuss the biggest shifts we're seeing in consumer desires. 

Kitchen and Bath Industry Show (KBIS):

Where the latest designs for kitchen and baths were on display and available to test. 
So, what features are Dallas homebuyers loving most in 2020?
1. Millennials are the largest population of home buyers
Today's market buyers are mostly millennials, and gone are the days of the big mansions. It's challenging to sell a 5000 square foot home to a millennial, even if they have the cash to buy it. In fact, the ideal home in 2019 was about 2,500 sq-ft with 3 bedrooms.
Home features millennials love:
Most millennials buy homes because they want a place/yard for their pet. 

They want smart homes and designs that appeal to their senses.

They have a time poverty mentality and will pay for convenience.

They are attached to homes designed for joy.
Allow me to elaborate…
2. Homes are no longer about having a roof over your head
It's sad but true that people are lonelier than ever before. Nearly 80% of Americans say they are unhappy. There is rising emotional anxiety. 
Naturally, a trend to design for joy has taken root and flourished in the housing market. Health and quality of life has taken precedence amongst the builder community because that's what their buyers are asking for. 
How can you capitalize on this housing trend?
Design the home to be a safe haven, a place for people to take time to decompress. This can be achieved in how you stage the home (creating restful spaces), as well as the attention given to materials in private areas, such as a master bathroom in cool, soothing colors designed for relaxing. 
As I said before,  when you design a home that appeals to the senses, millennials are not the only buyers who will be impressed.
3. Home features that follow social trends
Another aspect of housing trends is the way we use the different spaces in our homes. Here's a quick room-by-room breakdown of the changes that are happening in the 2020 market:
KITCHEN
Along the lines of Americans feeling lonely, the kitchen has made a 180-degree turn in how it's being used day to day. No longer a place for the chef to retreat, kitchens have become a place for gathering, socializing, and entertaining. 
The most desirable kitchens are spacious, have islands, and offer a variety of seating conducive to gatherings and socializing. 
DINING ROOM
For a period, it was not trendy to have a formal dining room. Now it's a comeback! 
MUDROOMS
We're seeing mudrooms becoming a highly desirable feature, even more so than the entryway. Why? Because today's homeowners rarely get into the house via the front door. 
FLEX SPACE
These days, buyers are eating up "flex spaces," a room or area that is left up to the buyer to decide what to do with it. That said, you should always STAGE a flex space with a design that appeals to your target buyer. Leaving it vacant won't inspire anyone's imagination.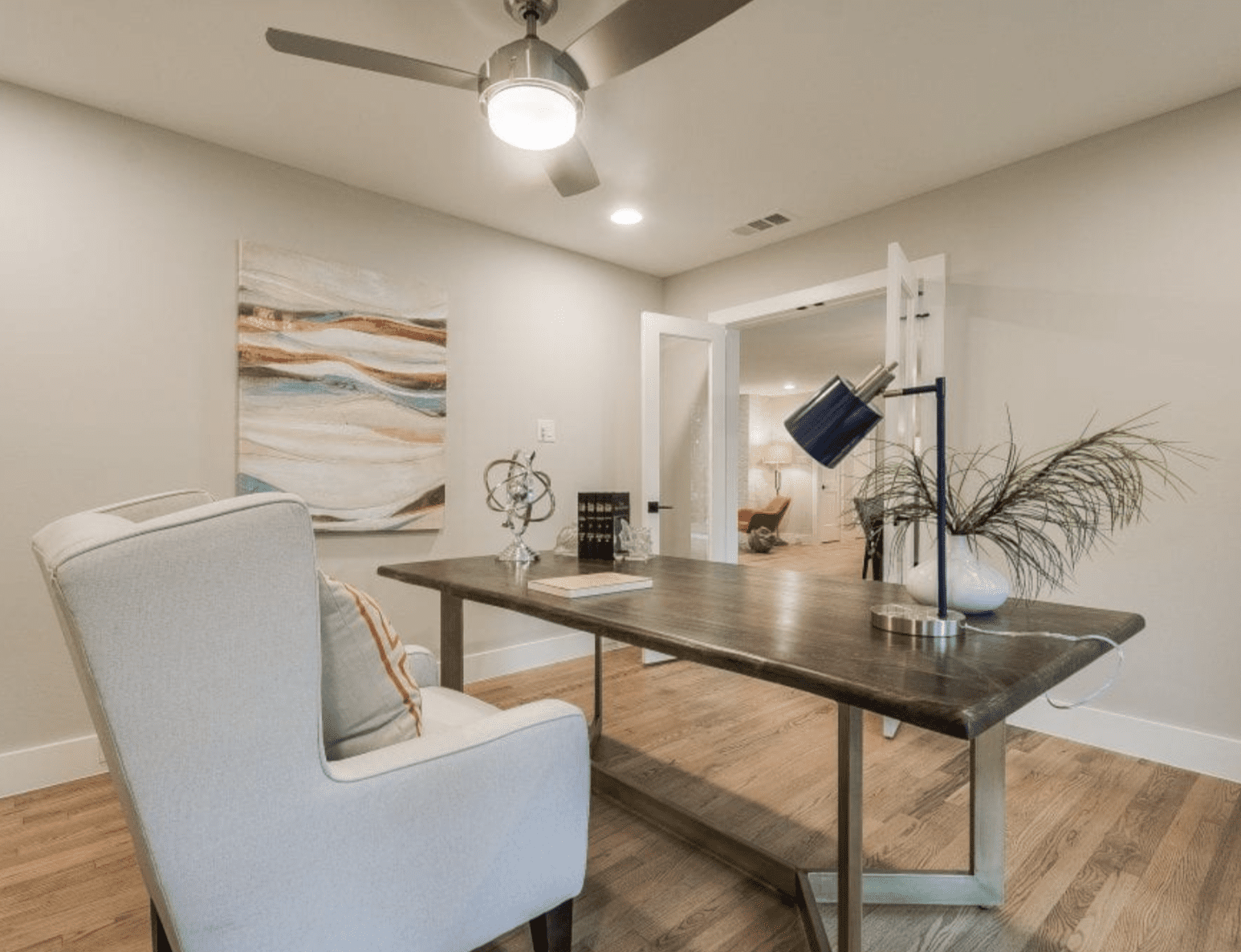 We styled this flex space as an office, since buyers in the area are mainly business professionals who often work from home.
4. Home features that are getting more intelligent
Today's consumers (mostly millennials) are all about the smart home and the home's role in battling time poverty. Now, you can talk to a faucet to start it, start dinner while in your car driving home, take a therapeutic bath in a free standing jetted tub, and the bath mat will weigh you each morning. 
How can you capitalize on this housing trend?
Regardless of how you feel about technology in the home (or seeing your weight first thing in the morning), today's consumers are interested in tech. Yet, the volume builders are not providing it in homes!!
Adding smart features to your property will put you above the competition, help your home appeal to the largest population of buyers, and usher you even faster to the closing table.
5. Luxury design is lighter than ever
This one can include millennials but also branches out into the Gen X'ers. I'm talking about billionaires. More billionaires have cash than ever before, but we're not seeing a trend toward opulence or heavy luxury in homes. 
These days, luxury is light and livable. Luxury is classic and timeless. Luxury doesn't need to be loud because it speaks for itself.  
How can you capitalize on this housing trend?
If you're designing for a luxury client, focus on materiality. For example, an incredible piece of marble around the fireplace speaks volumes.
Since we talked about the most desirable housing trends in this post, my next post is going to share some of the best TIMELY and TIMELESS materials for your bottom line.
Until then, download our free guide to profitable staging!
— Keti