Do you know which design trends are going to boost your bottom line, and which are going to sink it? 
In my last post, we talked about some of the features that today's buyers want most in a home. These were mainly related to spatial desires, such as a sociable kitchen, designs for joy, smart homes, etc.
Today, I'm going to talk about the MATERIALS that are on-trend, timeless, and going to support a great bottom line for your renovation. 
Note, this post is hot on the heels of my trip to the International Builders' Show (IBS) and Kitchen and Bath Industry Show (KBIS), where experts meet to talk trends, market shifts, and the latest in home design. 
Timely vs. Timeless Trends
It's important to note that just because a beautiful slab of stone or oversized modern lighting are on display at KBIS doesn't necessarily make them a prime candidate for a profitable renovation. 
Not everyone is designing to sell. Some are designing to live. So it's important that I use my experience and judgment to assess the trends that everyone is gushing over.
Some trends are timely but will have a short lifespan. Others are timely as well as TIMELESS (Meaning future buyers aren't going to be worried about their interiors having an expiration date.)
The trick to profit-driven interior design is that it is equal parts timely AND timeless.
Knowing which trends are profitable (and which aren't) is an area where I excel. So, what's the verdict?
1. Choose Kitchen Cabinets in White or Warm Wood
White kitchens are incredibly on-trend right now, but I wouldn't call them "trendy." White is timeless and can make well-lit spaces look larger. Another tip is to take those cabinets all the way up to the ceiling. They make the room seem taller, in addition to adding more, desirable storage space.
If you're selecting wood cabinets, go with a warm tone. It makes the space feel more inviting, social, and comfortable.
2. Black is Back in Home Design
Black is another timely and timeless color that can be used to create elegant impact in a home. It's best used as an accent color, either in some of the furniture used in a home staging, or as part of the hardware of a home, such as an elegantly slim curtain rod, light fixtures, or window frames.
3. Green is Taking Over Interiors
Much like blue did in 2019, green is taking over homes in 2020. Color is always timely and timeless, but should be used tastefully when selling a home. I like to add pops of color with pillows and decor, or in the case of this year's color, fresh greenery. 
Spring green accents are tasteful and inviting. (Design by KETI)
4. Light fixtures are the jewels of the home
Light fixtures are incredibly underrated – they are the jewels of the home, and you shouldn't sell a home without great-looking ones! 
Below are a few that we've chosen for dramatic impact. And yes, they sold quickly!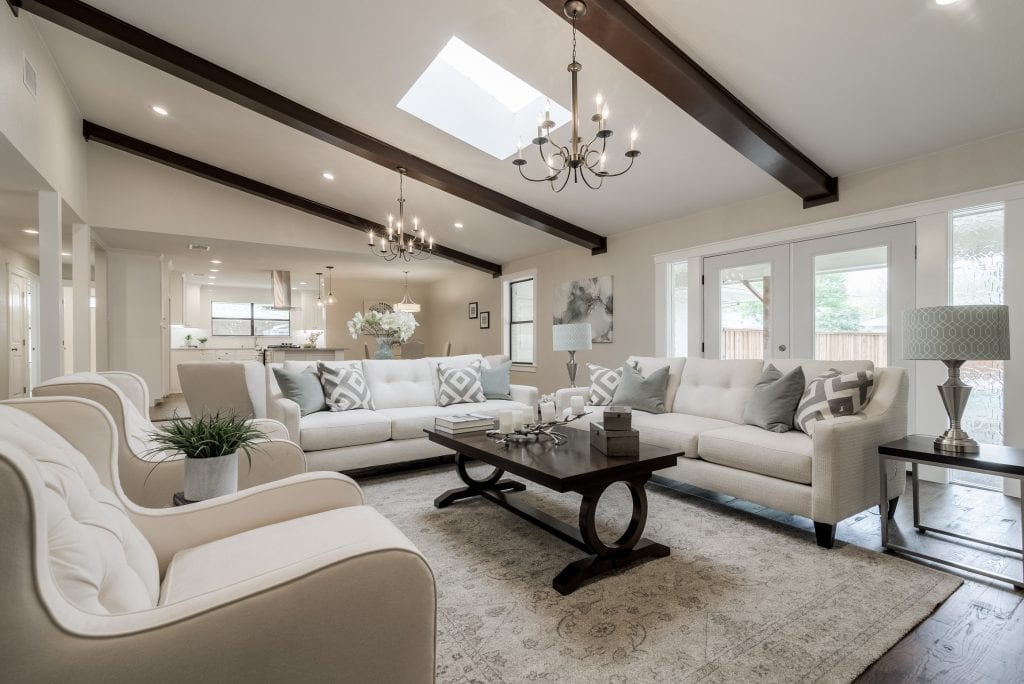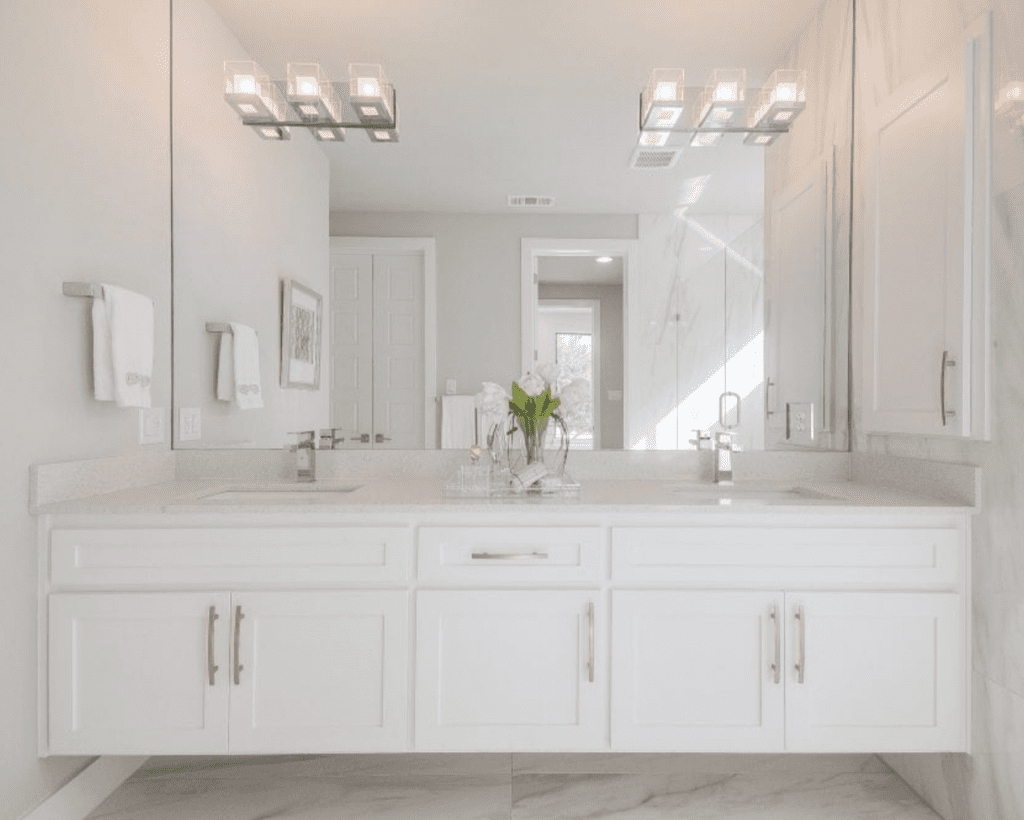 Living room or bathroom, lighting matters! (Design by KETI)
5. Bringing the outside in
This trend applies more to the home staging than the renovation, but is equally important. A home without some semblance of the outdoors will feel cold and lifeless. With today's shift toward design for joy, bringing the outdoors in is ESSENTIAL!
I like to use flowers, small potted plants, indoor trees, or succulents. (Design by KETI)
6. Mixing patterns (timely, NOT timeless!)
This is the only trend on our list that is timely but NOT timeless. You might be tempted to install a backsplash of beautiful patterned tiles that are completely on-trend right now… but not only are you taking the risk of the homeowner not liking the pattern, it may go out of style quickly.
This is why I suggest pattern mixing in the home staging, not in the renovation itself. Keep your backsplashes and tiles more neutral.
Mixing patterns with the area rug and pillows are timely and tasteful. (Design by KETI)
In my next post, I'm going to break down what a kitchen renovation costs and how to budget for it. 
Until then, download our free guide to profitable staging or contact us here for help with your project!
— Keti