Potential Dallas homebuyers are most likely to make up their minds about your property based on the appearance of… the kitchen, the living room, and the master bathroom. Before you list your property, you have the chance to make these spaces stand out!
Last month, we talked about budget-friendly kitchen makeovers, and I showed you how to revive your living spaces here. So today… let's talk about budget-friendly bathroom makeovers.
Whenever you're updating your property to sell, you don't want to break the bank. The good news — there are many inexpensive yet impactful ways to update your bathroom before listing. People usually assume that upgrading their bathroom is an intensive endeavor that would take tearing it all down and starting from scratch. Not necessarily.
Sometimes the smallest details are what make the design in any space. You just have to be smart with your investment and address the design elements that have the biggest impact. In fact, I'd say you can get away with spending anywhere from $250 to $5,000 to revive an outdated bathroom.
Today, I'm sharing my top 5 budget-friendly tips for a bathroom makeover, of course, using one of our latest projects. Come take a look!
Before: Outdated Bathroom Before Listing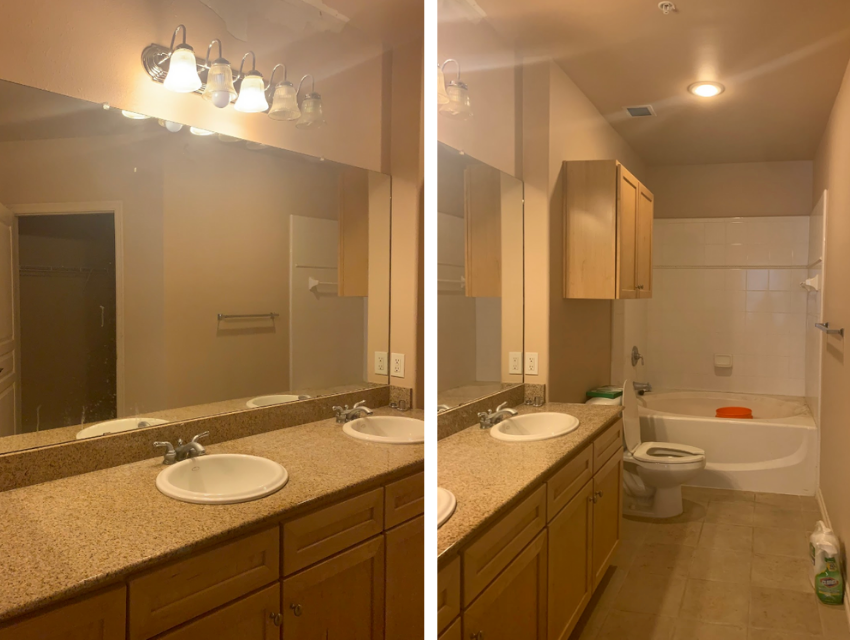 Before even thinking of putting their condo on the market, the owners reached out to me for a renovation and staging consultation and feedback. But what's wrong with it? It is a perfectly functional space and has everything a bathroom needs, but… the walls feel dark, the lighting isn't impressing anyone, and the bathtub feels like a relic of the 1990s. All mixed in with that Tuscan-inspired travertine floor.
When I saw this bathroom, I knew that an update would positively impact the home's overall value. (Spoiler Alert: it did!) And we didn't break the bank to get there...
Tip 1: Paint the Walls a Fresh, Light Color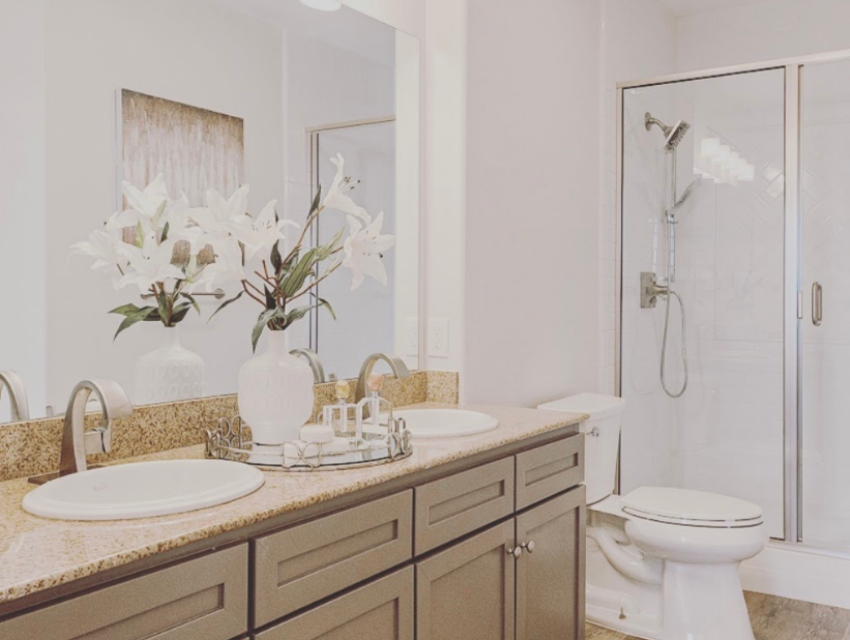 If you've been following me for a while you probably know that I always like to start with a fresh light canvas, AKA bright walls. We painted the walls a light green gray, and instantly, the whole space felt fresh and open. Simply change, completely different feel.
Tip 2: Address Any Functionality Issues, if you can
One thing to keep in mind is that a bathroom makeover is an excellent time to address any functionality or layout issues. Take this bathroom, for instance, My clients both admitted that they had no use for the bathtub and would rather have a decent sized shower. If that's how they feel, future homeowners are likely to feel the same way.
We knew that getting rid of the tub/shower combination would solve two issues in one: it visually opened up the space and made it more functional. We even went one step further and ripped out the dated travertine floor tile and brought in highly-functional and cost-effective LVP. (talk about LVP, Check out my post on why high end homes are giving up hardwood by going HERE)
Bigger investment than painting the walls? Yes. Worth the increase in property value? Absolutely.
Tip 3: Upgrade the Vanity, Lighting & Mirror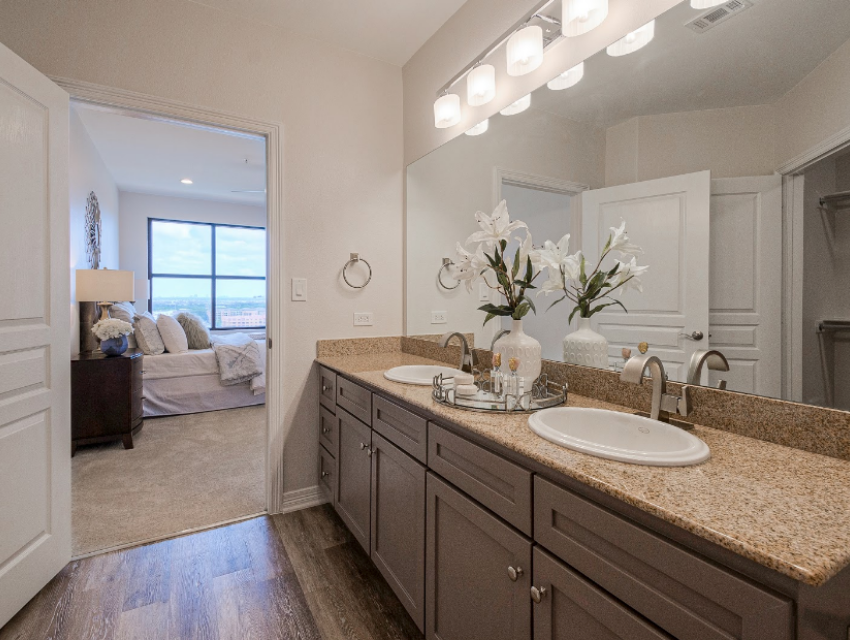 Ah, the vanity, lighting, and mirror! These are the things that can transform your bathroom from builder grade to livable luxury that Dallas homebuyers are willing to pay for. We took out the traditional, lantern-looking lighting that was there previously and installed this more modern fixture in brushed chrome.
We decided to paint the vanity cabinets, as well. With the new flooring, granite counter, and light green gray walls, the color palette (specifically the vanity color) felt a bit off. As a True Color Expert, I was able to pick a neutral shade with an undertone that ties it all together and makes the countertop not look dated at all. Now, it feels light, warm and inviting!
As for the mirror, we actually kept the original mirror in this space because it made the room feel larger. If you're adding your own, bigger is better, so it reflects more light and opens up the space. I suggest picking a mirror with a simple yet classic frame.
Tip 4: Update Faucets & Hardware
If there is one takeaway from this blog post, it's this: no bathroom makeover is complete until you've updated your faucets and cabinet pulls. I know, these items are small, functional elements and easily overlooked — but you wouldn't believe how much of an impact they have on the overall design of the space. Plus, they are easy to swap out (you can even do it yourself) and are budget-friendly. So trust me on this one.
I suggest opting for more modern-style hardware in a metal that complements the color palette of the space.
Tip 5: Update Shower Wall
Painting the bathroom walls a light green gray brought instant freshness and modernity to the space, so we needed to extend that color (or lack of color) to the shower wall, as well. This bathroom originally had subway tiles, but they looked a bit dingy, and we knew they had to go!
No need for Demo Day... we simply glazed the tiles for a cohesive look. Fresh, classic, timeless — wouldn't you agree?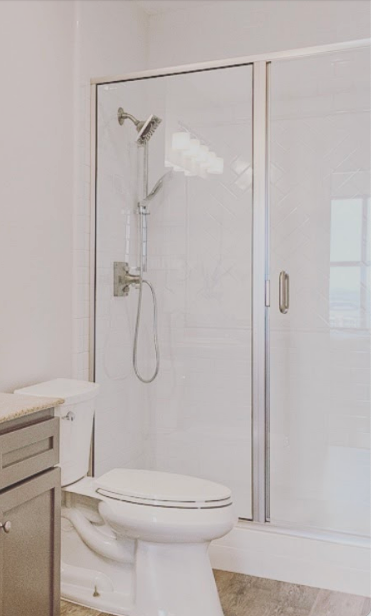 What was the ROI of this redesigned listing?
And now the moment that you've been waiting for...
Once we put the property on the market, it sold in about 5 days from listing! Not only that, we nailed the staging… so much that the new buyer even bought some of our inventory items. How amazing is that?!
If you have a property that's been sitting on the market for months, or if you want to renovate your bathroom (so that it doesn't sit on the market for ages!), I would be delighted to support you.
Book your free discovery call with me here, and let's chat!
— Keti
P.S. Don't forget to sign up here for our Guide to a Stress-Free and Profitable Renovation!
The first thought that probably comes to mind when you're ready to put your property on the market is... do I need to make any renovations? Naturally, you want to appeal to your ideal buyers, but you also want to increase the value of your property.
Then comes the subject of the budget. How much should you invest in the renovation? What ROI will you get? What part of the property should you focus on?
Let's answer the easiest question first: the kitchen.
No matter what you do or how extensive your renovation project is, always make sure to update your kitchen before putting your house on the market.
Renovating the kitchen is the best way to increase your property value. In fact, it is the one room that is most likely to sell the home.
Whenever I meet up with new clients and they walk me through their home, I always pay extra attention to the kitchen and the living space around it. Once we define your ideal buyers, we need the home to be a reflection of the space they would want to live in.
The tricky part getting the homeowners on board. But let's take a little tour for a minute...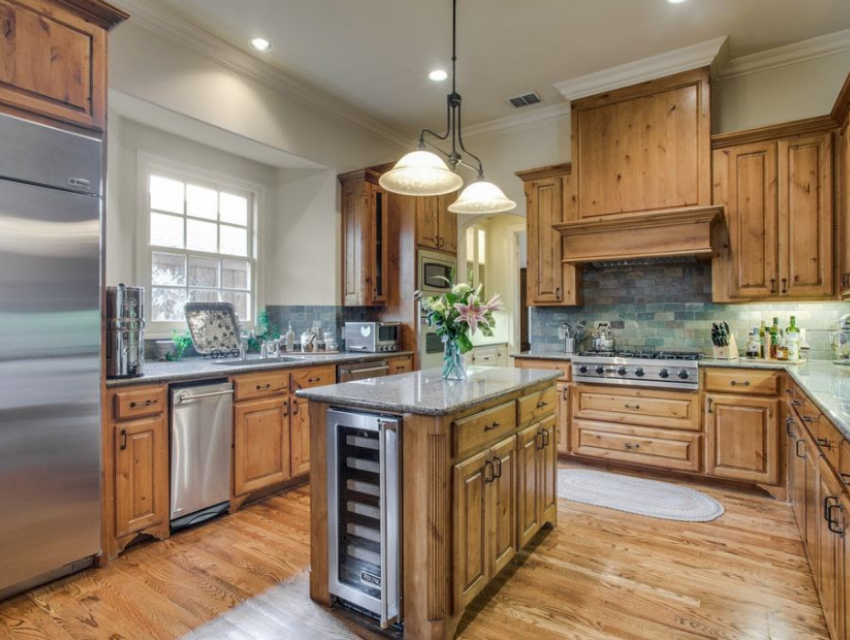 Take the kitchen above, for example. This is such a lovely kitchen, isn't it? The open layout, the beautiful granite, the textured backsplash. It even has a wine fridge! You know how much I like my wine. 😉
However, it also looks outdated. It needs a bit of a modern refresh to be market-ready. Do you want to know how I know that?
One, because I've been designing homes that sell for years. Two, because this house sat on the market for over a year without selling!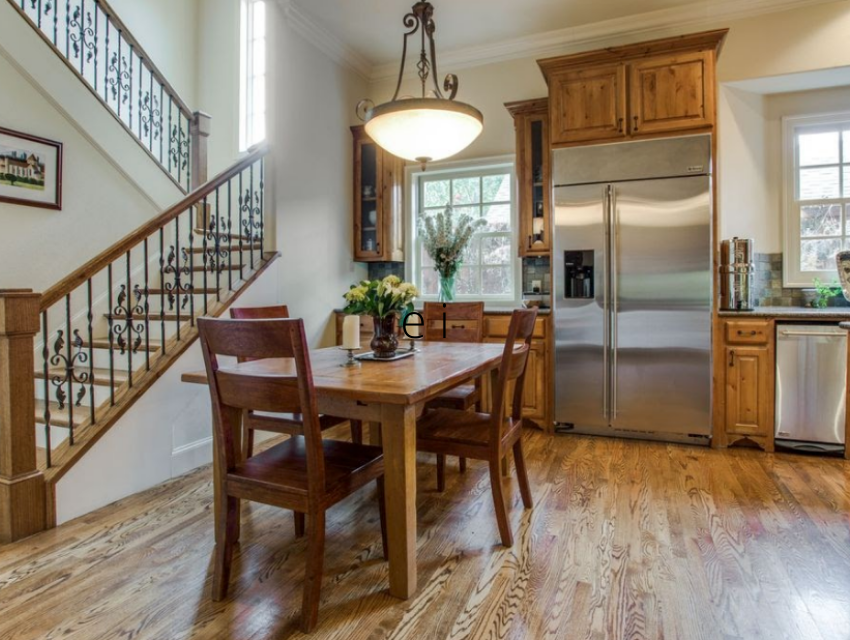 Once the clients brought me into this specific home, I could see exactly what needed to be done to transform this kitchen. We knew the Dallas market and the ideal buyers we were targeting. They wanted fresh and updated — and luckily we had a great floor plan to work with!
Okay, now let's move on to the next question… how much should you invest in kitchen updates?
The good news — there are many ways to update your kitchen before listing without necessarily breaking the bank. Your renovation project could take $150 to install new hardware, or up to $5K for a full kitchen makeover.
(If that $5k is going to increase your sale price by $10k, it's worth it. That's the value of getting an expert's opinion FIRST.)
For today, though, I'm going to use this project to show you my top 4 tips for a budget-friendly kitchen makeover. Can you guess what they are? And can you guess how quickly the home sold afterward?
Tip 1: Paint the Cabinets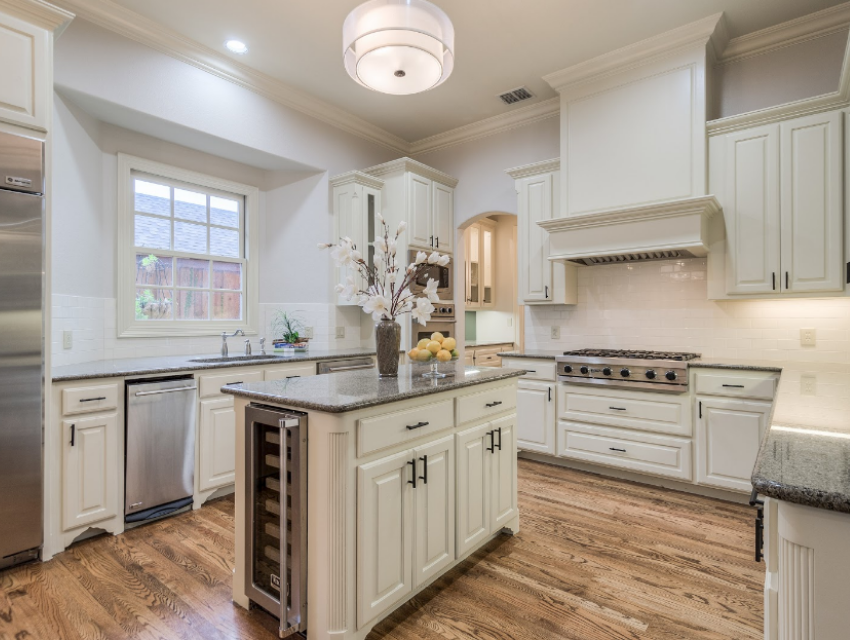 White is very in right now, especially for kitchen cabinets. When you scroll through your favorite Instagram feed (aka Design by KETI), don't you feel drawn to light and bright design aesthetics? This is because lighter colors on the walls make the room feel larger.
And it's not just a trend. Take it from this staging expert, homebuyers perceive white interiors as a blank and timeless canvas they can work with. It gives them space to picture themselves living in the house — and that's when they're most likely to make an offer.
Tip 2: Change the Backsplash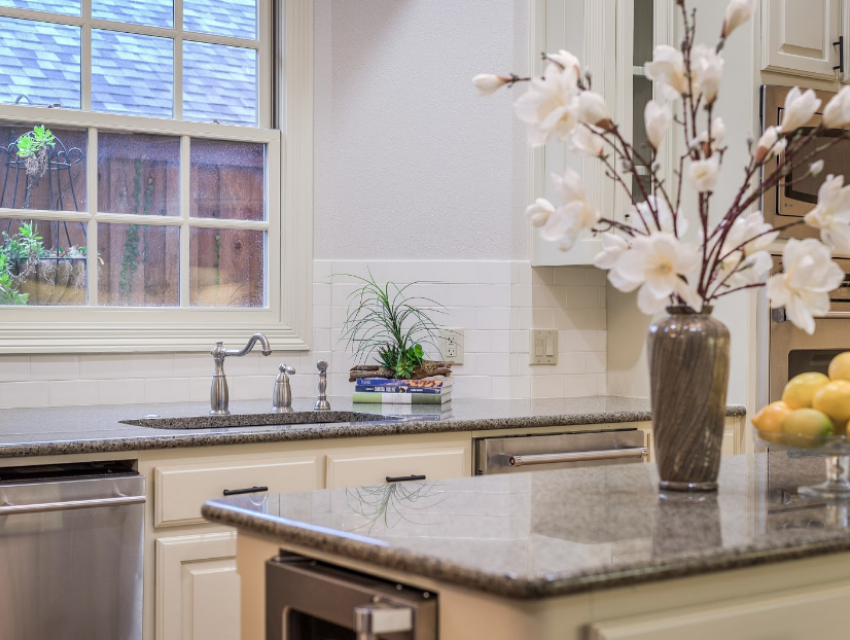 Backsplashes get dated, which is perfectly normal. However, you don't have to break the bank to update them. There are many low-budget and pretty tile options these days.
Pro Tip: I usually like to create a contrast between the backsplash and the countertop. I either go for a solid color to accentuate a colorful countertop, or a fun pattern to drift the attention from the minimalist kitchen surface.
Tip 3: Update the Hardware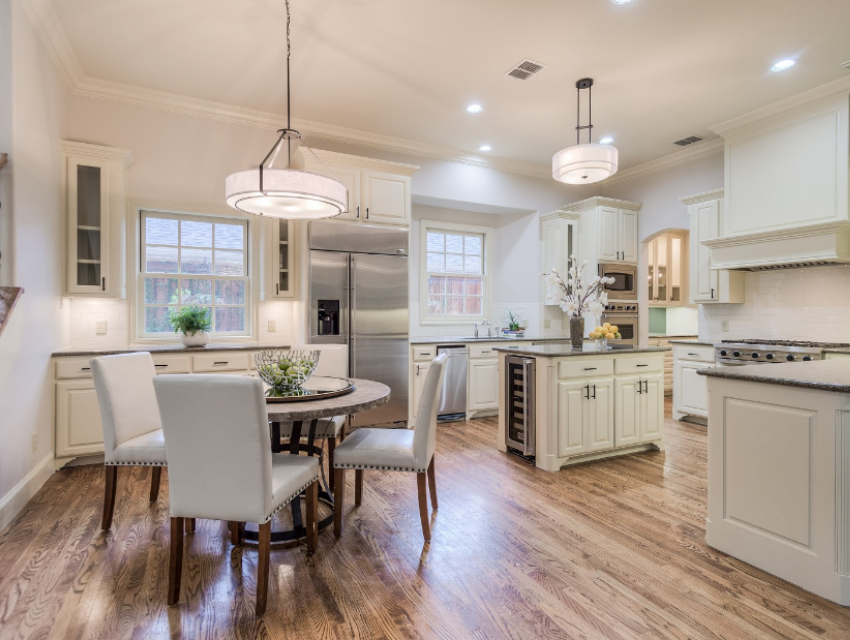 If you are guilty of forgetting how essential hardware is to the kitchen aesthetic, raise your hand. Yep, you'd be in the majority! 🙂
Yes, the hardware is a functional feature, and no, it doesn't have to be fancy and expensive, but updated finishes make a visible difference in the perceived "newness" of the kitchen. And you can still play around with colors and finishes within budget.
Pro Tip: When you paint your cabinets white or any lighter color, you always want your hardware to create a contrast, not to blend in. I usually pick a darker finish for the hardware. When working with white cabinets, matte black is the way to go.
Tip 4: Install New Faucets & Light Fixtures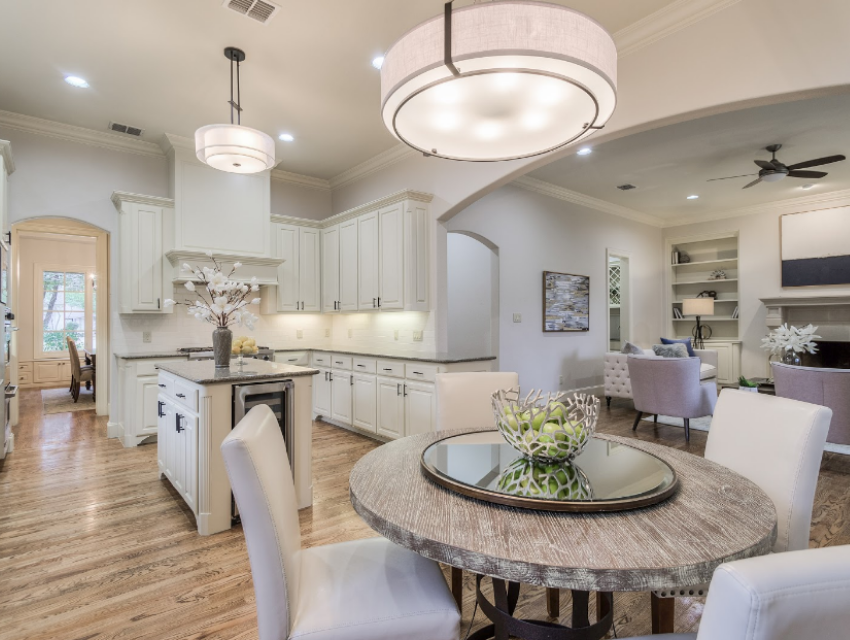 Tip 4 is a crucial one, and another that often gets forgotten. To illustrate, do me a favor and look up. Play along with me here... if you are at home right now, just look up at the ceiling.
What does your light fixture look like? Does it come from this decade? Or is it a 90s vibe kinda fixture?
Don't get me wrong, I love a moody light fixture when it's cohesive with the overall design. However… if you have come all this way and modernized your home for today's buyers, how out of place would that 90s light fixture look? You guessed it. It would drag down the design and date the home.
Long story short, get up-to-date fixtures in there, pronto! Again, this doesn't have to be out of your budget, there are many options available to you. Just make sure your overall design is cohesive, and you're good to go.
What Was the ROI for This Redesigning Listing?
The minute we put the house back on the market, we got our first visitors. The day they toured the property was the day they put in an offer... and they bought it! That's right — just a few cosmetic updates and this home sold IMMEDIATELY!
Updating the kitchen did not only sell the house, it increased the value of the home for a minimal investment. How incredible is that?
If you have a property that's been sitting on the market for months, or you want to renovate your kitchen (so that it doesn't sit on the market for ages!), I am more than happy to support you.
Book your free discovery call with me here, and let's chat!
— Keti
P.S. Don't forget to sign up here for our Guide to a Stress-Free and Profitable Renovation!
You might think a great floor plan, location, or square-footage will sell a property, but trust me, important as that might be, great real estate design is what sells homes. Buyers care what the home looks like, and if it doesn't meet their criteria, they won't be headed to the closing table any time soon. 
I know because we've encountered many situations where homes with great bones and floor plans sat on the market indefinitely until we came in and helped with some much-needed improvements. Design MATTERS. 
Here's what great design can do to sell your property:
Reflects the home's price point but still looks comfortable and livable

Matches what targeted buyer demographics are looking to buy in the area

Plays up the best features of the home (and play down any negative elements the space might have  )

Makes a killer first impression that wins buyers over from the start
If you don't believe me, here's the proof!

Who should you hire to get a professional real estate design for your flip or reno?
If you're serious about your ROI, you'll want to hire a professional in the field. Your first instinct might be to hire an interior designer, but I would caution you against it.  Interior designers, while extremely talented, are experts at creating spaces that are highly personal and specific to the people already living in the home. 
Designing a flip or renovation to sell requires a very different approach. 
Instead of asking the homeowners how they use the space and want to live in it, we have to consider the design from a profit-driven perspective:
Who is the target buyer for this property? Are they career professionals or entrepreneurs? Do they work from home or do they go to their office every day? Is the house located in a great school district and ideal for families with kids? Is the neighborhood seeing high interest from young business professionals? Etc.
What are the selling features of the home, the ones that will make buyers say, "Wow, I can't wait to live here."
What is your investment budget? The amount that you can invest in the home will, of course, dictate what can and can't be done. This is another piece of the puzzle that must be taken into account from the start!
Once these questions have been answered, a real estate design and staging professional will create the right aesthetic AND prioritize your bottom line. 
It's design, but it's also expert business strategy. Your pocket book and future will thank you! 

How do you ensure you have a real estate design that addresses these selling priorities?
If you work with a design and real estate staging professional, they should take you through three steps: a consultation, a design plan, and the final staging to bring everything together. 
The renovation and design consultation is a strategy session. It's the first step to a successful project and is not to be taken lightly! During this on-site meeting, we'll…

During this phase we get into all the design-related specifics, or the HOW of our renovations plan. We'll make all the selections for any new or updated features such as paint, flooring, counter tops, tile, back splash, lighting, hardware, plumbing, etc. 
We will present you with all the specifics of the renovations design plan at which time, we can either source all the material selections for you, or you can do so in collaboration with your GC. During the renovation process we can also make ourselves available to your crew for any installation and design specific inquiries.
Extra step: If desired, our trusted team of subcontractors can carry out the agreed-upon updates and renovations with speed and professionalism. Relax and enjoy letting experts take the wheel!

The design of the home doesn't stop with hardware, flooring, and countertops — what's inside your home matters too. To complete the transformation, you will definitely want to stage the home. (Whether you choose us or not, we still suggest it! It is SO worth it.)
With us, while the minor improvements and renovations are underway, we'll present you with a vacant home staging proposal that highlights the home's selling features and is worthy of its listing price. 
Once the renovations have been finalized, we will begin staging your investment property. This is the moment when the magic happens… the home is transformed and ready to steal the hearts of potential buyers!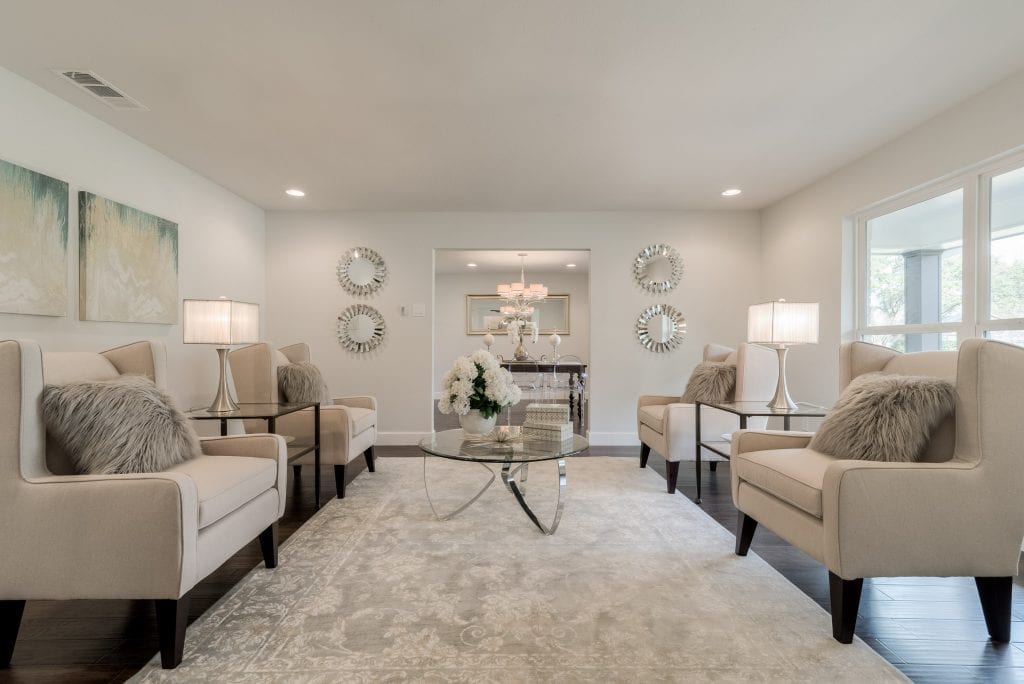 For the best results, we recommend bringing in a design professional from the very beginning, before any updates are made, and taking your project step by step. (This is our Complete Concierge service for investors or homeowners.) 
But if you're looking for design help somewhere in the middle of your project, you can still find any of these as a stand-alone service and see drastic impact. 
Next month, I'll be back here to share a bit more about what really goes on at a home staging consultation. Spoiler… more than you think!
Until then, sign up HERE to grab our free download, How to Prepare for a Remodel!
— Keti
I have seen this trend recently where some stagers are advertising and claiming that they will stage your home - and because they own their own inventory - they will not charge you any rental fees.
As a professional home stager myself and as someone who is dedicated to running a successful staging and design business whose services will benefit many clients for many years to come, I wanted to write about this trend and clarify some things.
My goal and desire is that all you who are seeking staging services - where the stager claims they will use their props and inventory and not charge you for it - will be better educated in making the right decision that best addresses your staging needs.
First I would like to make you all aware of the fact that Home Staging is not a regulated business. What that means to you as a consumer and as a seeker of staging services is that anyone can put a shingle out there and claim to be a "professional home stager", but that does not necessarily make them so.
For anyone to achieve the highly sought "professional" status in any field a few things need to take place. I read once that it takes an average of three years or about 6,000 working hours for someone to hone in their skill set in the profession of their choice.
It is a known fact that a lot of people who claim to be home stagers, stage on the side, and on the weekends mostly. Staging is not their full time profession.
Secondly, like with any other profession, on-going training and education is a must. There is absolutely no way around it, if anyone as a professional is set on providing stellar service and products to all their clients 100% of the time.
As an example of this I have committed to investing up to $5,000 a year towards on-going training as it relates to what I am engaged with on a daily basis and that is, staging, design, and renovations.
Since Staging is not a regulated business, on-going continued education is not required. That is not to say, it is not needed however.
Thirdly results always speak for themselves. Check out their on-line reputation, portfolio and results. Reading reviews  from clients who have actually worked with them in the past would be a great thing to check out.
And as always be weary of stock photos used on ads and websites, as they are not reflective of what  the stager can actually do or accomplish; rather they only speak to the fact that those stagers can pick a pretty picture, no problem.
A professional home stager, one who has done the time so to speak and on an on-going basis hones their professional skills is very well versed in things like, fundamental design elements, what makes a staging design stand out, what does not, scale, balance and symmetry, how the style of the home and the fixed elements in the home dictate how the home is staged etc. For those reasons I am also against verbal staging quotes, but I will have to write another blog on that and why you as a consumer should not fall for it.
Please realize that all those items I listed above dictate how the buyers will respond to your home. Why would you want to risk having the potential buyers focus on bad staging when they should actually focus on your beautiful home?
You are making the buyers experience of touring your home memorable o'right but it is not your  sellable home they will be remembering I can assure you of that.
Case in point, check out these two homes below.
One belongs to the Tuscany brown trend which is no longer trendy now btw. This property was located in Prestonwood in Dallas and it sold in one week once it was professionally staged by Design by KETI and it relisted as such.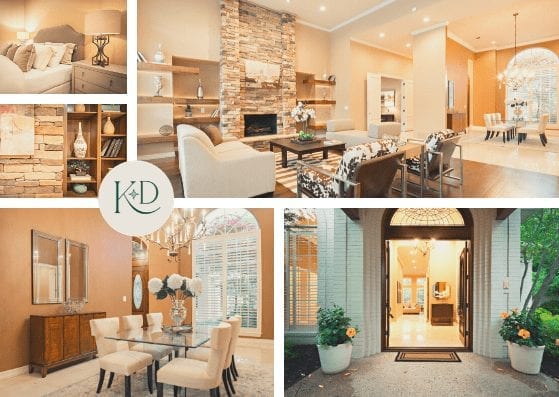 This other home which is located in Preston Hollow in Dallas  belongs to the current Parisian gray trend. This home sold in two weeks after it relisted as a professionally staged home by Design by KETI.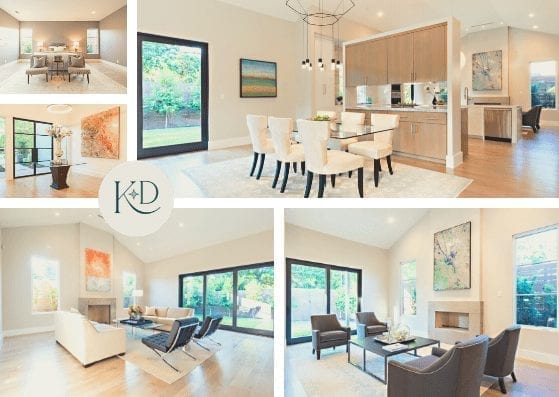 Here are some other examples...
This condo sold and de-staged in less then 30 days...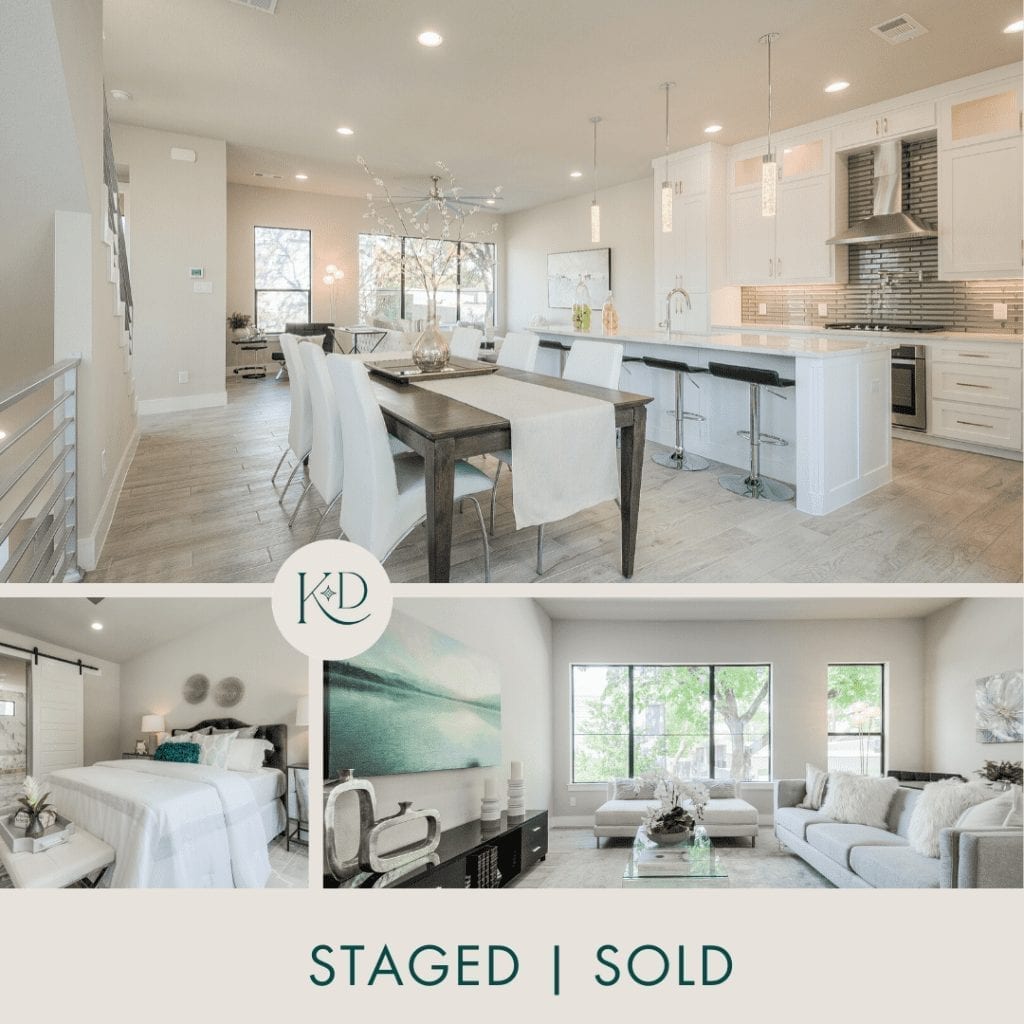 This luxury Home in Lake Highlands sold in three days from being listed as a professionally staged home. It de-staged in less than two months.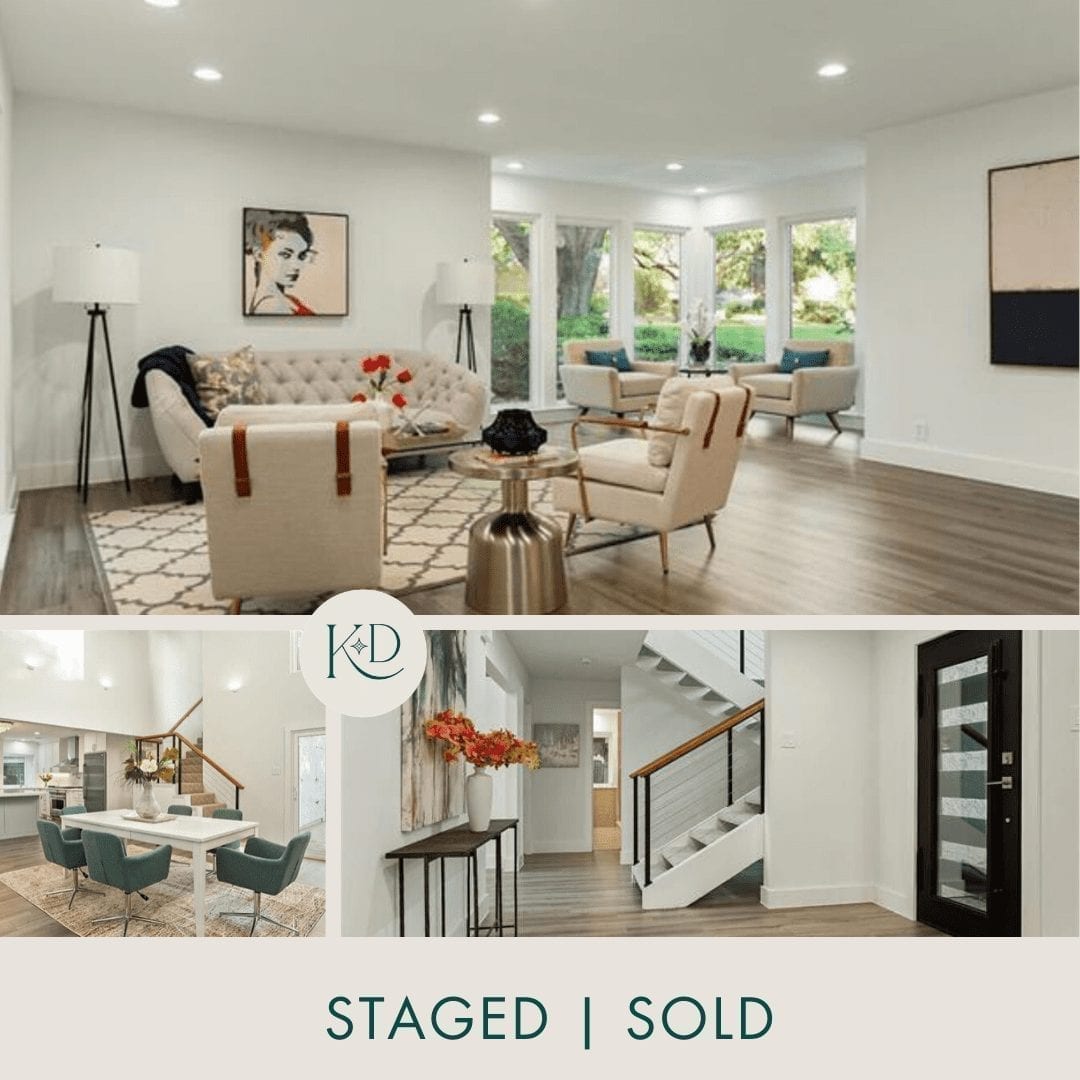 This renovated home in Preston Hollow sold and de-staged in two and a half months...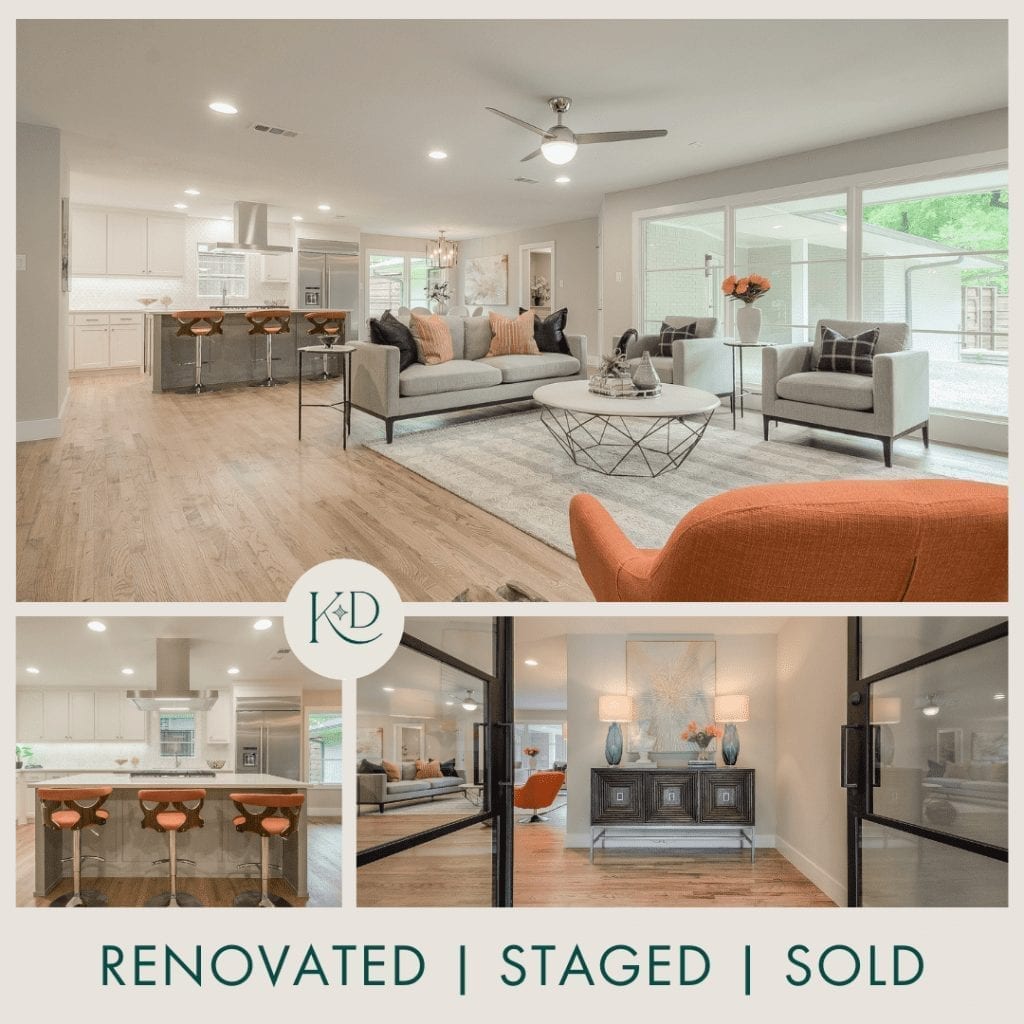 Different type of props, inventory and color schemes were used to stage those homes as the fixed elements and the color scheme  in the home dictate how the home should be staged.
For those reasons – so that you ensure that you hire the right stager for you, whose staging will add value to your home and not take away from it – some good questions to ask would be along the lines of their professional staging background and how much actual time do they dedicate to staging homes on a weekly basis and for how long have they done so.
Some people might excitedly say "staging is my passion". Please understand Passion Is Not Enough.
Although there is nothing wrong with being passionate about staging, having the skill set to also deliver a top staging and design plan that will yield results and that is  to sell your home swiftly and at a desirable price point, is of utmost importance.
Passion does not make you a professional!
For example, I love dancing. I am very passionate about it.  Everybody who knows me on a personal level knows this fun fact about me.
And I exercise this passion of mine by social dancing on a regular basis. On occasion and when my schedule permits it, I will take a group class but that is about it. But IF I want to become a professional dancer however, I would need to dedicate a lot of time and money to it. I would need to allocate time in my schedule to take a lot of private lessons so I can hone my dancing skills, and be really good at it. I also need to practice what I learn during those private lessons, so that one day in the near future I would be able to call myself a professional dancer and make a living out of my dancing.
My point is having passion about something – even staging - is not enough!
Cultivating your passion by dedicating time and resources to it, will elevate you to a professional status in the field of your choice!
Now that you have a little bit of a background on what distinguishes a pro stager from an amateur stager, let me tell you the reasons why we charge rental fees when we use our own props and inventory to stage your home.
We charge rental fees when we use our own props and inventory to stage your home because as professionals we understand the law of diminishing return. This is an economics concept. It states that if one factor of production is increased, while other factors are held constant, the output will eventually diminish. This is otherwise known as negative returns.
Let's apply this to hiring a stager to stage your vacant home and you need not pay rental fees for props and inventory.
Although it appears you may be getting a good deal, in actuality you may be getting a really bad one.
 It pays to invest more in the front end. When you pay a rental fee for props and inventory  to stage your home, you are ensuring you are getting top of the line items that are on-trend, are  ispirational to the buyers and in line with the architecture of your home. Since staging is nothing but packaging and merchandising, it is of utmost importance that the right props and inventory are used to  package and merchandise your home in other words stage your home.
Please understand each added input/benefit (in other words, "free props and inventory") will lead to a decrease in the quality of what you thought the outcome of staging was going to be.
So you find yourself six to eight months down the road and not only do you not get the return on your initial staging investment, you suddenly find yourself losing money because of it. Those losses come in the form of several price reductions, and on-going mortgage, tax, insurance and upkeep payments and fees.
We charge rental fees when we use our own props and inventory to stage your home because cheap will end up costing our staging clients too much.
The quote from John Ruskin comes to mind:
"It's unwise to pay too much, but it's worse to pay too little. When you pay too much, you lose a little money - that's all. When you pay too little, you sometimes lose everything, because the thing you bought was incapable of doing the thing it was bought to do. The common law of business balance prohibits paying a little and getting a lot - it can't be done. If you deal with the lowest bidder, it is well to add something for the risk you run, and if you do that you will have enough to pay for something better."
So I encourage you to pay for something better, all the time.
We charge rental fees when we use our own props and inventory to stage your home because as professionals we have the end result in mind. And that is selling at a stellar time, at the most desirable price point.
3.1 We charge rental fees when we use our own props and inventory to stage your home because not charging accurately for services provided is not a sustainable business model. Specifically such type of business model will drive the business and the business owner into bankruptcy in no time at all.
Let me explain this a bit further. The three basic components that make up a vacant staging price quote are: 1. Staging Design Fee, 2. Moving and Logistics/Packing/Unpacking Fee and 3. Furniture and Accessories Rental Fee.
The staging fee covers things such as putting together a staging design concept, selecting all the props needed to stage the home (things like furniture, accessories, artwork, and soft good, lighting),  and packing and wrapping all such props and inventory, and then setting up on site as well as styling.
The moving fee covers the cost of moving all packed and wrapped props and inventory from the warehouse all the way to your house. And then from your house all the way back to the warehouse when your house sells and it needs to be de-staged.
If you have moved recently you know from experience that it is expensive to hire movers in Dallas. Our experience has been that when staging vacant homes – based on the scope of the project, the rooms we have staged and the distance of the house from our warehouse– moving costs can go anywhere from $700 and up to $2,000 on any vacant staging project.
And then there is the Furniture and Accessories rental fee. Please understand that there is a lot of money that goes into purchasing new inventory items on a regular basis. Inventory purchase and warehousing are two of the largest expenses any staging business has on their books.
We have a special formula in place when it comes to pricing out the rental fee for all items that are needed to stage your home.
What those other stagers are doing when they say "they don't charge rental fees" is no different that you reaching out to some of the furniture rental companies out there and have them let you lease their stuff for free. I can assure  you that will never ever happen. Why because they are a for profit business. An exchange of products (staging props and inventory) for dollars ( inventory rental fee) needs to happen.
That makes a lot of logical, business and financial sense.
Red flags should go up when someone claims they do not bill rental fees. Some valued questions to ask would be, where did they get their props and inventory, how much money they spent towards it, will they bring cardboard furniture to stage your home, are they bringing stuff they got on garage sales to stage your home, or is it their parents oversized peanut butter color leather sofa from the 80's  that will make its debut in the formal living room of your $900K home.
I am mentioning all those things because I have seen them actually happen over and over.
And last but not least do they have insurance for their inventory. And do they have insurance to be working at your home.  Unforeseen/unexpected things happen all the time. And the smart and savvy business owners plan accordingly for such things.
At the end of the day – as a consumer myself – I would be reluctant to hire someone who appears to not understand the intricacies of basic pricing. In my head that is something that would raise flags related to their professionalism, knowledge of real estate and their skill set.
Since they are not capable of doing such elementary thing – meaning pricing their services correctly - I would wonder if they are capable of being a top notch professional who will provide top notch staging designs so that your home is packaged and merchandised the correct way, so that your home sells fast and for top dollar and so that you get your money's worth and return in staging it the professional way by a professional stager.
…those are all my thoughts. What are yours? Please feel free to share your opinion on this. I would love to hear it.
And if you are set on working with a professional home stager to help stage your home the right way, we would welcome the opportunity to be of service. And because we care for results and we care that YOU turn a profit, we will bill you rental fees, not because we are greedy, but because it's a win-win for all parties involved, we are fair, and we are really good at what we do. 🙂
Cheers,
Keti
O: (214) 814 – 5967
E-mail: info@designbyketi.com
The smart and savvy Real Estate sellers realize that putting their home on the market is a two-step process.
First Step Preparation - It includes things like, painting, changing or cleaning carpets, updating hardware and light fixtures, attending to the curb appeal of the home etc.
Next Step Presentation - Otherwise known as Styling and Staging of the home to appeal to the demographic of the neighborhood where the home is located.
Only then your home will outshine the completion in your neighborhood and sell for more and in less time.
Let the experts at Design by KETI help with the entire process and sit back and relax. No need for you to chase after the painter and the carpet guy and the handyman and the professional cleaning crew,  in addition to also finding the right stager for you.
We got it all covered for you!
Our goal is to make your life EASY and make your home selling venture enjoyable and delightful especially once you look back and realize all the extra money you made at the sale of your home, with minimum investment and effort on your part.
Take the home featured in this clip as an example. For a minimum investment and very little effort on the sellers part, it sold shortly after it got relisted as a professionally renovated and staged home.
Cheers,
Keti
O: (214) 814 – 5967
E-mail: info@designbyketi.com
To invite Keti Abazi, to be a speaker at your meeting or function, you may contact info@designbyketi.com.

 Your audience will find her presentations on Home Staging not only educational but also amusing, genuine and refreshing.
As some of you who follow my posts Know, I keep track of all the vacant homes that hit the market in the East Dallas, Oaklawn/Uptown and N. Dallas MLS areas.
Today for example I looked at all the vacant homes that listed in the month of November - 17 of them – in East Dallas. Of the 17 vacant homes that listed for sale in East Dallas in November 2013, as of today, 3 sold, 1 delisted - most likely due to lack of activity and interest, 1 is under contract and the remaining 12 are still on the market.
Statistically speaking, 70% of the vacant homes in East Dallas that hit the market in November 2013 have not sold yet and have at least gone thru one price reduction.
In addition think of how much the lack of a sale has cost these sellers in mortgage payments, taxes, HOA dues, utility and any other maintenance cost associated with owning a house.
The takeaway from this exercise in Home Selling?  Don't list your home vacant. You are reducing your chances of selling within 60 days by  at least 70%. You are also reducing your chances of getting an offer at asking price when your house does not sell within a curtain time frame.  Instead follow the example of these  brilliant sellers in, Lake Highlands, East Dallas and Preston Hollow who brought in Home Staging Dallas - Design by KETI to help sell their home in record time.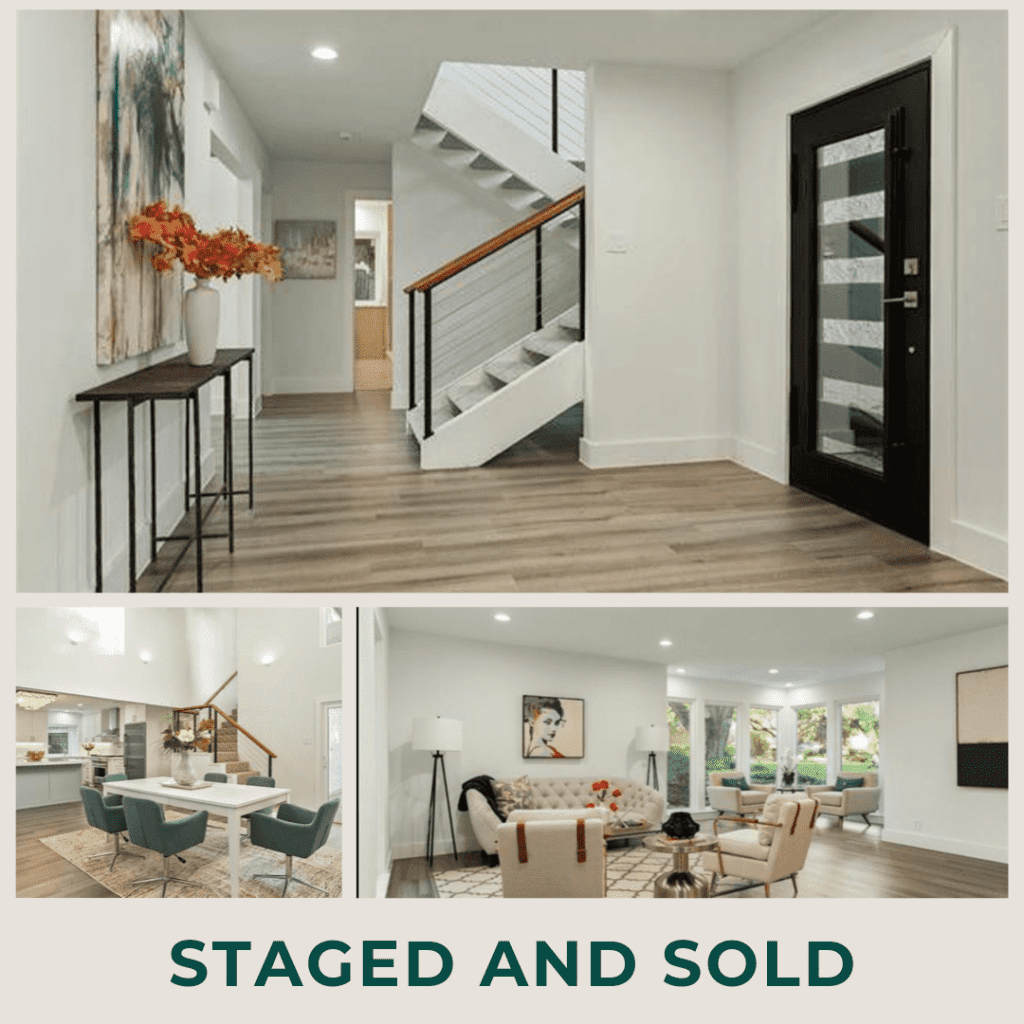 This gorgeous mid-century modern house in Lake Highlands, listed for $900K. It went under contract after three days of being marketed as a staged home. We were able to destage the home in less then two months from staging.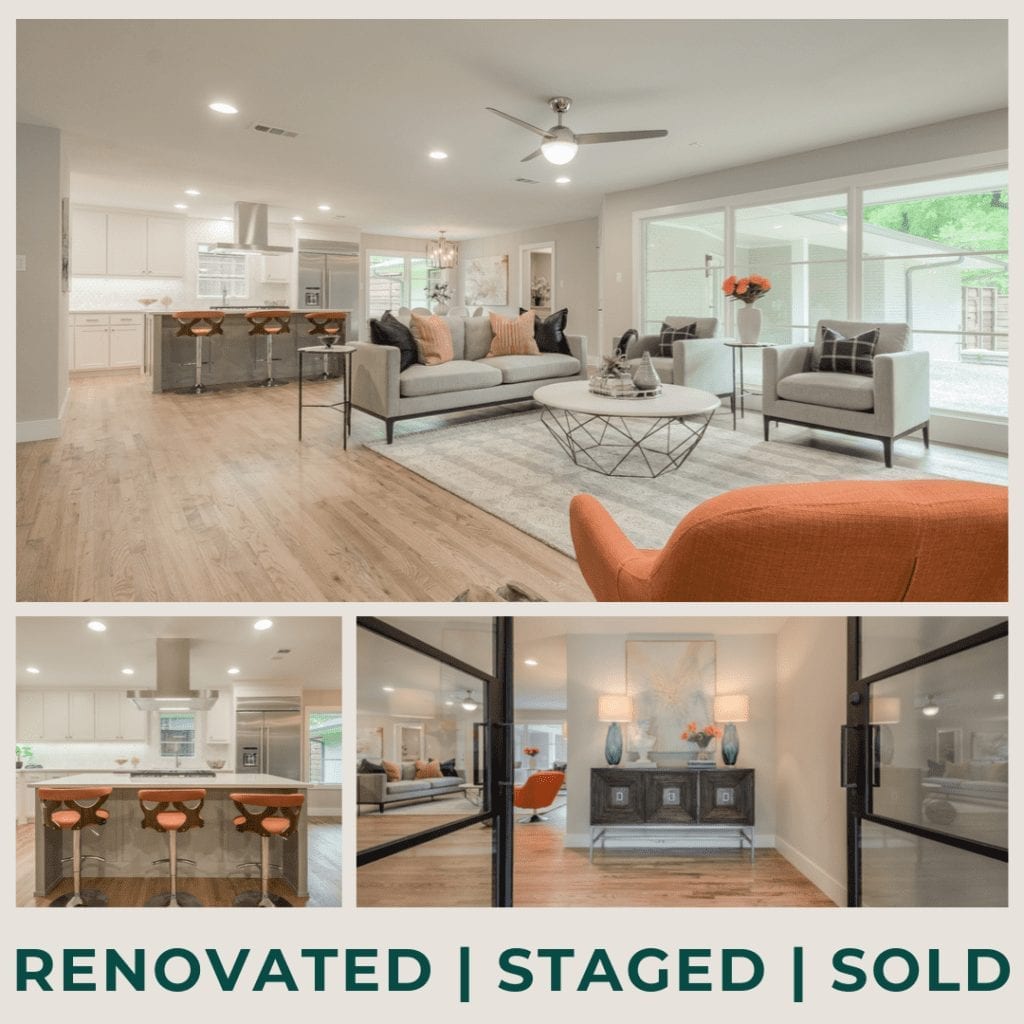 This luxury home on Preston Hollow listed for $1.2M. It sold shortly thereafter and we were able to de-stage the home in less then three months from the list date.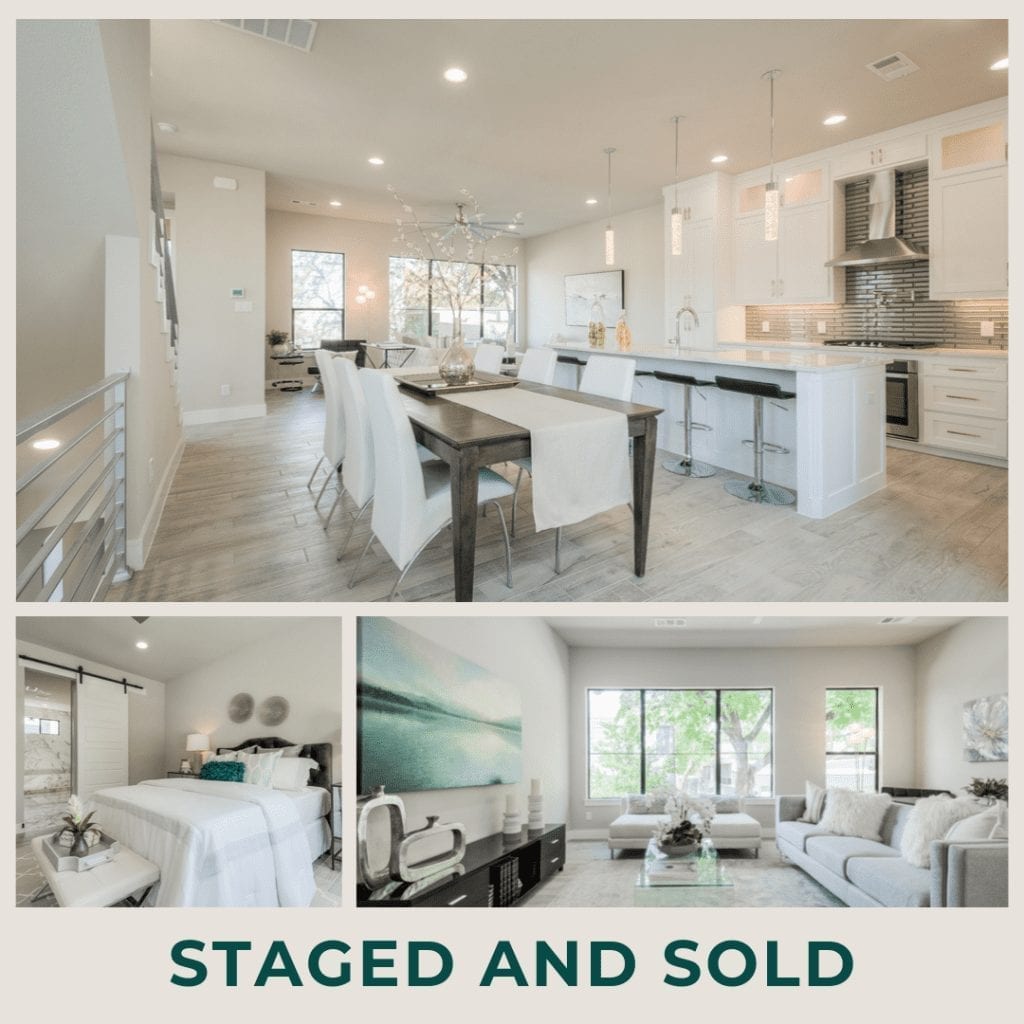 These modern condos in the East Village in Dallas all sold and de-staged with an average of 48 days on market from the day they got staged to the day they got sold and therefore de-staged.
For more info on the benefits of staging a vacant home for sale Click Here:
Cheers,
Keti
O:(214) 814 – 5967
E-mail: keti@designbyketi.com
To invite Keti Abazi, to be a speaker at your meeting or function, you may contact info@designbyketi.com.
Your audience will find her presentations on Home Staging not only educational but also amusing, genuine and refreshing.
If you are a home seller and are thinking about listing your home for sale, one of the things that would benefit you the most is a  Home staging consultation.
By consulting with a professional home stager  -  for a minimal fee  -  you will be tapping into the intellectual property and expertise of someone who is well versed on anything related to target real estate marketing, merchandising and packaging a home for sale. During the consultation you will be given specific instructions on a room by room basis as to what you need to do to prepare the home for the potential buyers; AKA, package and merchandise it.
Check out some before and after pictures of this drastic transformations in Dallas.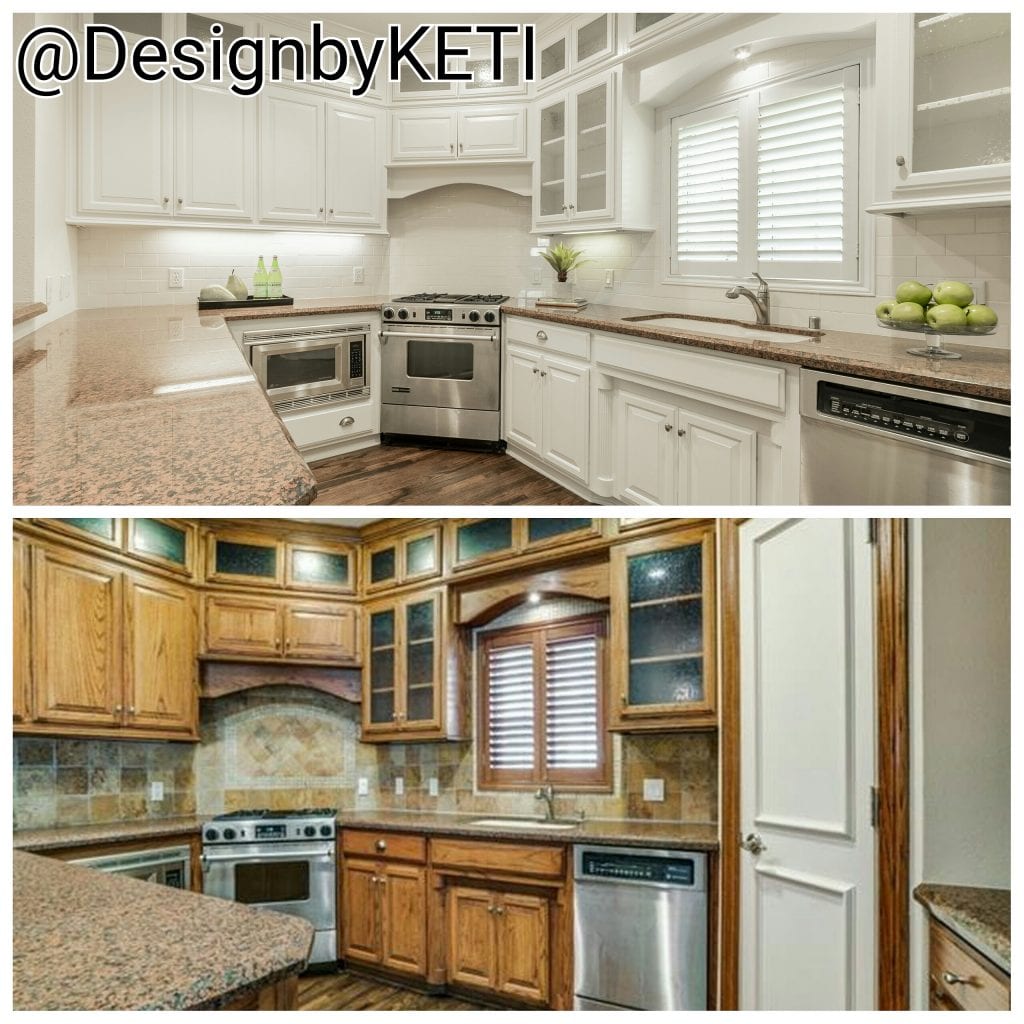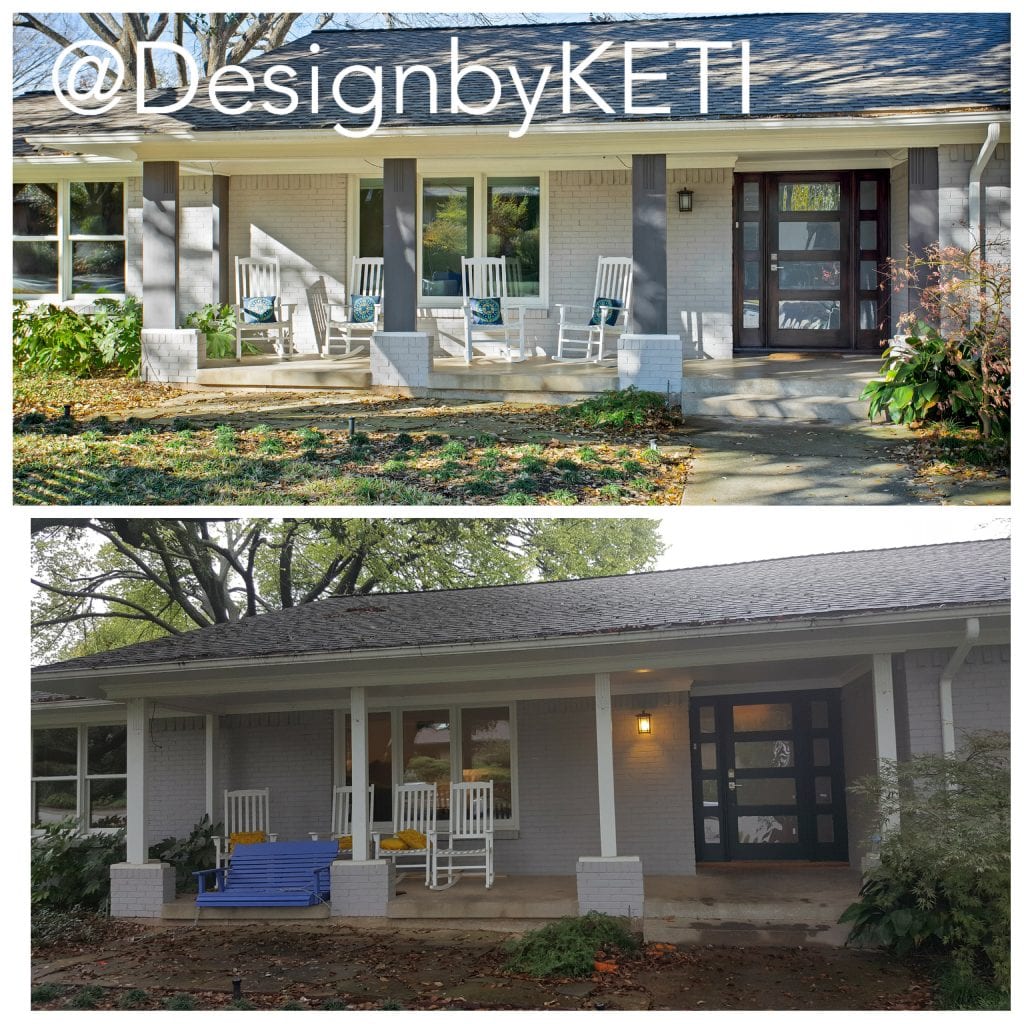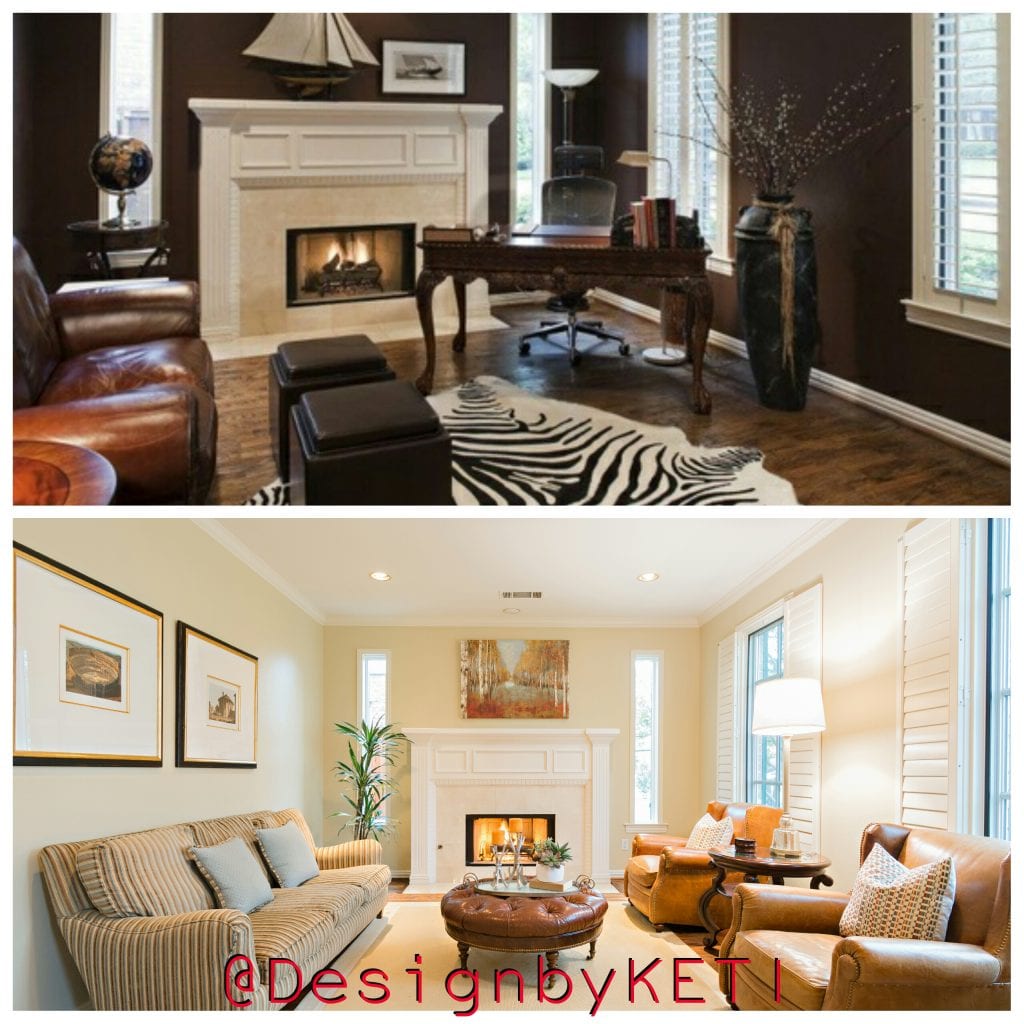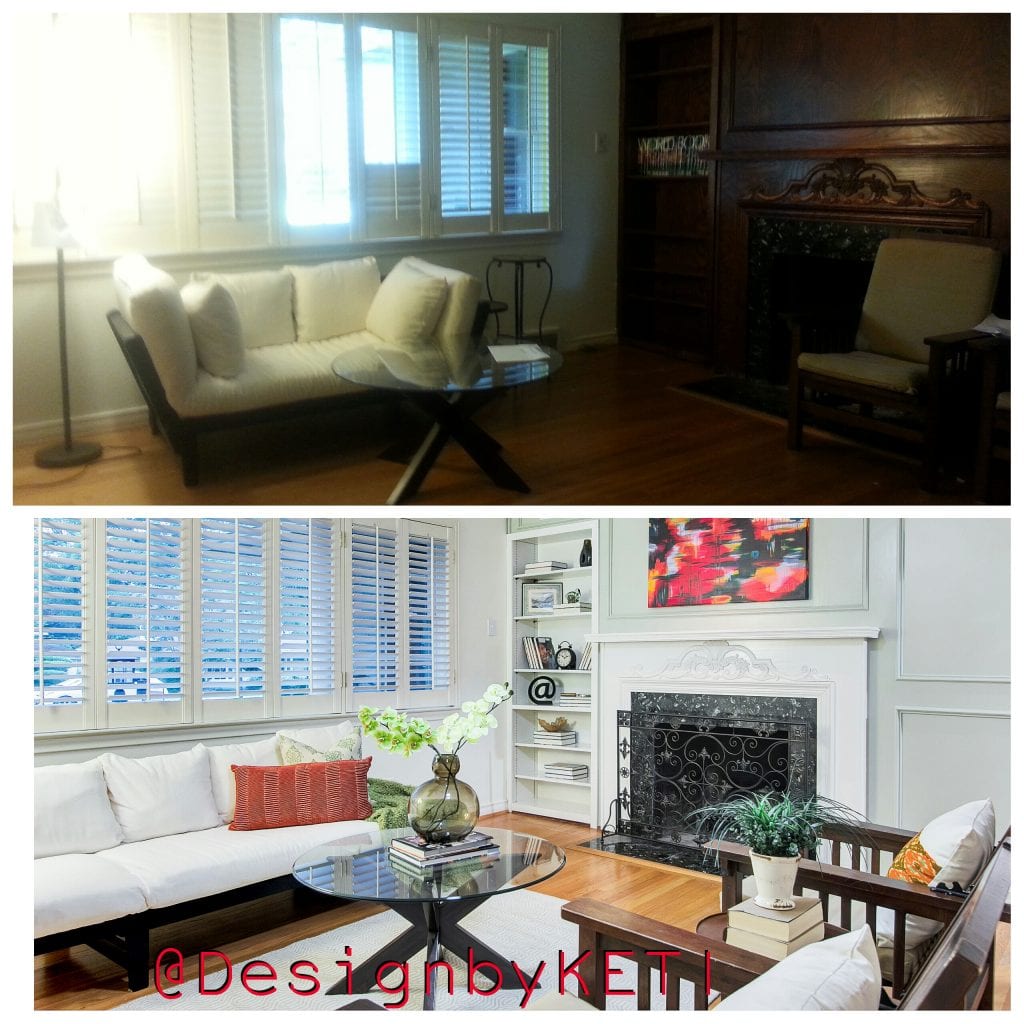 We are so proud of the sellers for implementing 100% of our recommendations.
Cheers,
Keti
O:(214) 814 – 5967
E-mail: keti@designbyketi.com
To invite Keti Abazi, to be a speaker at your meeting or function, you may contact info@designbyketi.com. Your audience will find her presentations on Home Staging not only educational but also amusing, genuine and refreshing.
It's a Seller's market…You hear it everywhere from everybody.
…BUT not all homes are selling FAST and for TOP Dollar!
I would like to propose to you that a Seller's market does not equate a Flea market.
The reason being…
NO MATTER WHAT THE REAL ESTATE MARKET IS, EVERY PROPERTY HAS A TOP DOLLAR VALUE RELATIVE TO THAT MARKET.
Why is that…?
…Because consumers always want the best product, at the best price, that meets their needs.
So what am I trying to say here? What's my point…?
My point is this:  If your home for sale look something like this…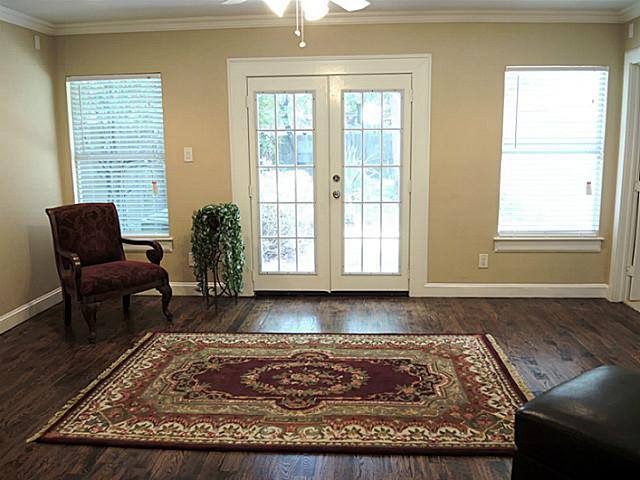 ...or like this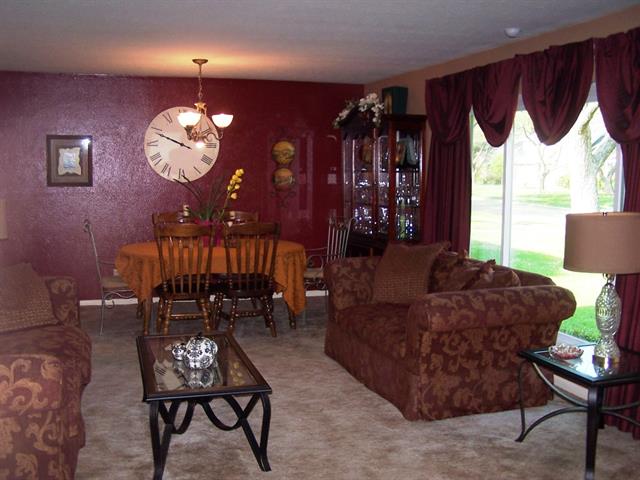 ...or even like this (aka, cheaply, badly staged)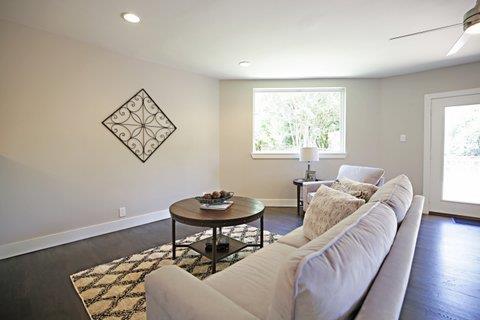 I got some BAD news for you…it will not sell FAST nor for TOP Dollar even in a Seller's market!
The internet has changed how we do life and business. Gonne are the days when a buyer walked into the local real estate agent's office asking for help finding a home.  The internet is now the market place for Real Estate; not the Broker's offices down the street.
When someone decides they want to buy a home they get on line. They do a lil' bit of shopping, decide on what home they want to go visit and then call a Real Estate Agent to help them go see the home in person. And while the buyers are internet shopping, within 20 seconds of browsing thru a listing they will decide whether they want to view your house for sale in person or not. That's all you got, 20 seconds!!
So, after viewing a series of homes on the internet do you think the buyers will want to see these types of homes in person
Or These ones…?  All Professionally Staged and Photographed by the team of Design by KETI.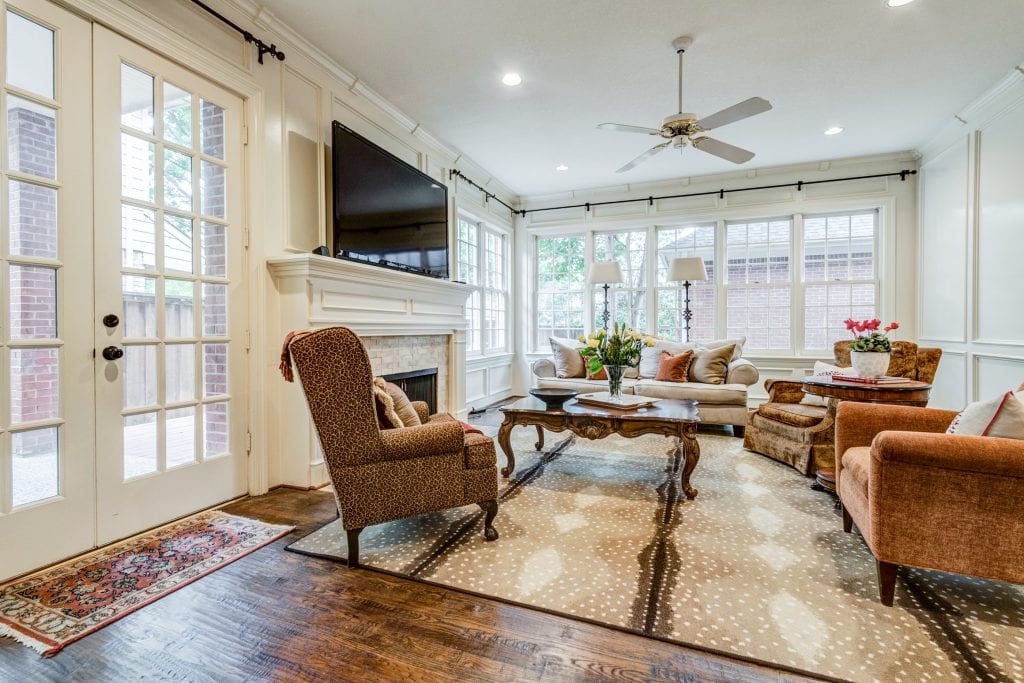 How about this one?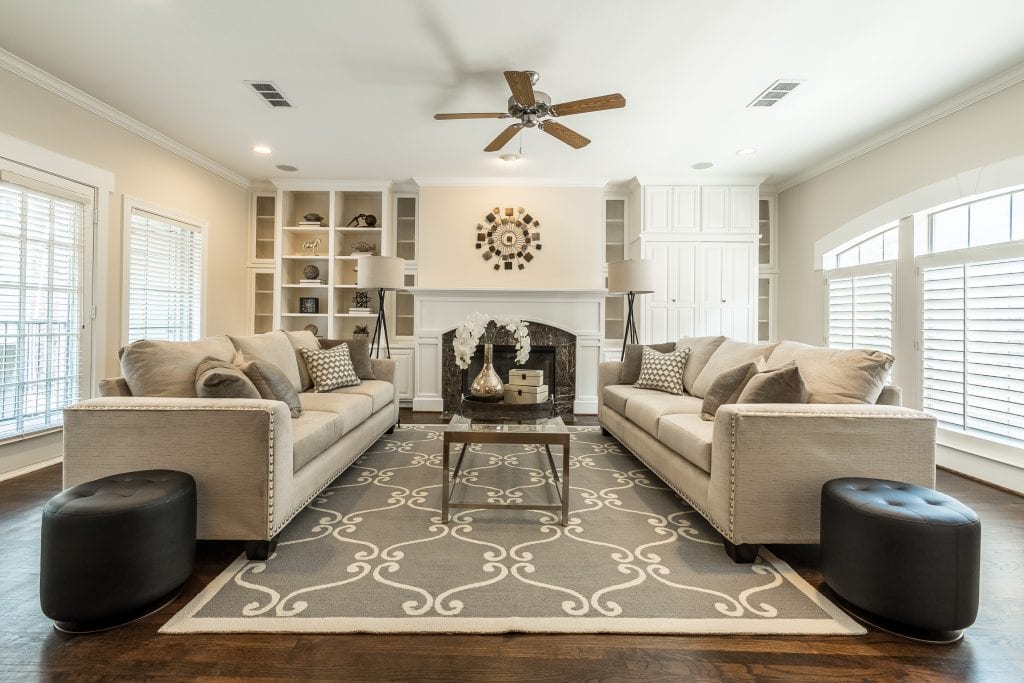 Or this one…?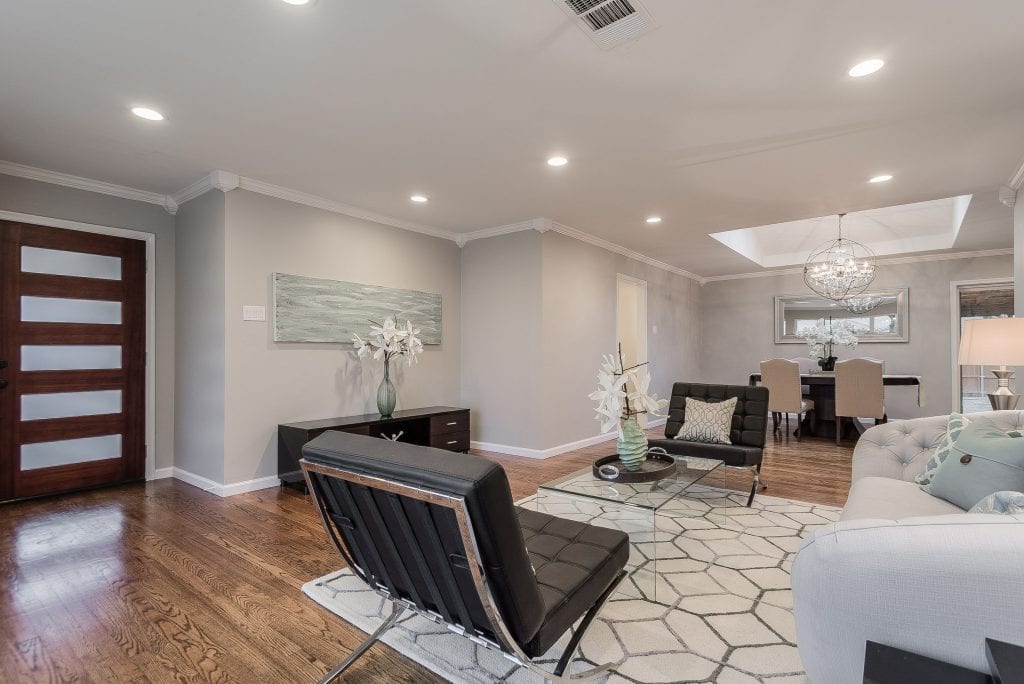 The Real Estate market has changed, it's not business as usual!
Strategic Staging, professional photography, and video are the MOST important ingredients that will sell a home FAST and for TOP Dollar Regardless of what the market trends are!
Remember, a Seller's market does not equate a Flea Market.
Cheers,
Keti
O: (214) 814 – 5967
E-mail: keti@designbyketi.com
To invite Keti Abazi, to be a speaker at your meeting or function, you may contact info@designbyketi.com. Your audience will find her presentations on Home Staging not only educational but also amusing, genuine and refreshing.
When it comes to selling Real Estate, there is a tremendous difference between being In The Market, vs. being on the market.
You would want to be "in the market"and not "on the market".
Here is how you know you are "on the market". By the way, this is NOT a place you want to be if you want to sell your house fast: Your house has been listed for at least two months now, you have had less than 10 private showings and you have had Absolutely No Offers!
If that's the case you need to sit down and re-evaluate your selling strategy. What is causing the lack of traffic and interest? Is it because the house is overpriced or is it because it does not show well. As experts in Property Staging, we can help guide you on some things that you can take specific action on, to assure that your home Shows Well, Sells Fast and for Top Dollar.
Houses that are professionally Staged and photographed Show Well. Because they show well, a lot more potential buyers will be inclined to schedule an appointment to come by and tour it.
The more interest you generate, the more showings you will have. The more showings you will have, the more offers you will have.
Selling your home - like with every thing else in life - is basically a "numbers" game. Once you have priced your house well and you have professionally Staged it -once it hits the market - you should have at least 10 showings within the first week of listing. For every 10 showings that you have, there should also be at least 1 acceptable offer.
So how do you guarantee you are IN THE MARKET?
All you got to do is focus on those 2 things:
1. That your home is Priced Well (Your Real Estate Agent is a great source for this). Check out my blog titled "3.1 Things You Should Do When Choosing a Realtor! for more details on how to select a Realtor that will represent your financial interests the best when selling your home.
2. That your Home Shows Well: that means it is professionally Staged and photographed (call Design by KETI or another Professional Property Stager in your area for assistance with this).
Once those 2 conditions are fulfilled you are on your way to selling Very Fast and for TOP Dollar regardless of what the Real Estate market is.
The reason being, by ensuring that your home is Priced Well and that it Shows Well, you are fulfilling the demand that the buyers have: they want the best product (1) that meets their needs (2) at a great price (3).
Truthfully Yours,
Keti Abazi, MBA, ASP, IAHSP
Owner and Creative Director of Design by KETI
O: ((214) 814 - 5967
E-mail: keti@designbyketi.com
To invite Keti Abazi, to be a speaker at your meeting or function, you may contact info@designbyketi.com. Your audience will find her presentations on Home Staging not only educational but also amusing, genuine and refreshing.
You took the plunge. You decided it was time for you to move to bigger and better   things. One of the things that you need to take care of now is sell your  home. You hired a realtor and the house has been on the market for almost 6 months with  only 3 or 4 showings. Something is wrong with that picture.
Suddenly you are presented with a challenge and you have to tackle it. But what do you do? Ask yourself and your realtor if your House has the PSP Factor…yes, I said the PSP factor, kinda' like the X Factor.
IF the house has the PSP factor, you should be able to have at least 10 showings in the first 1 to 2 weeks of being on the market. For every 10 showings that take place, you should also have an acceptable offer.
If you are not seeing that kind of activity, than most likely your home lacks the PSP Factor.
   
What is the PSP Factor you might ask?
Here it is:
P is for PRICE.
Is the house priced to sell? I know we all take pride in our ownership and a lot of times our idea of what our house is worth might be a bit unrealistic. I hear,  some realtors so as not to lose you – their client - will go along and list your house for what you think is worth and not what research of past sold homes reflects.
Well,   this strategy backfires because for every month that passes by, you still  have that expense of carrying your mortgage payment, tax payment, insurance  and all the other carrying cost that go along with owning a home.

S is for STAGED.
The questions you need to answer are: How does your house show? Does it appeal to   the BROAD target buyer? Yes, I know, that sounds like an oxymoron, (broad, and target) but really it is not. Did your Realtor bring in a Professional Stager to help you prepare your home for Sale? Did you do what you were  advised to do?
Why is this so important? Because once you have decided to sell your home; it  becomes a product; therefore it needs to be merchandised so that it appeals  to a broad range of target buyers. So again, is your house Professionally Staged?
Well you could say: I had a decorator friend help me with my home. Or I have   immaculate taste and my home is perfectly designed or decorated.
I will tell you this: that is not good enough because where as Staging is Attention Directing, Decorating is Attention getting. The last thing you  want is for the potential buyers to "wow" and "wow", after your personal   belongings and not the precious square footage you are trying to sell.
 
P is for PROFESSIONAL PHOTOGRAPHY.
Did your realtor bring in a professional photographer to photograph and produce a   virtul tour of your home so they can start marketing it? Now this can go to two different extremes.
There are some homes I see listed on the MLS (go and do a search on Realtor.com and   you will know what I am talking about) where the realtor took their own  pictures with their cell phone and put them on the MLS to market your home -   which is worth a LOT OF Money, I am sure – and then there are some other   photographs that I see, which are otherwise "professional" but those pictures  are taken from an extra wide angle, or they are photo-shopped, and sometimes   they even look "fuzzy"to me cause they are stretched so much horizontally...sometimes they even look so "exotic"... either way. This could be a  bit of false advertising if you ask me.
SO make sure that the pictures used to advertise your property are professional as   well as an accurate representation of what your home looks like and what the  flow of your home feels like.
Generally  because the properties that Design by KETI Staged, have had the PSP Factor, they have gone under contract within the first week of being on the market.
What have been some of your experiences when you decided to sell your house in the past? Do you feel the above three points accurately capture why a home does  not sell FAST and for TOP Dollar? Would you like to find out if your house  has the PSP Factor? Call us today for a Free Evaluation.
Cheers,
Keti
O: (214) 814 - 5967
E-mail: keti@designbyketi.com
To invite Keti Abazi, to be a speaker at your meeting   or function, you may contact info@designbyketi.com. Your audience will find her presentations on Home Staging   not only educational but also amusing, genuine and refreshing.