The question I get asked more than any other is… what is the cost of home staging? It's a reasonable question, and a smart one. After all, you want to make sure that your investment is well spent and going to serve you well — with a fast property sale and high profit.
But before we talk numbers (yes, we will), let's cover the basics...
What is home staging?
Most people will tell you that home staging is the act of visually preparing a home to attract and appeal to the property's target buyers. This is true, but more importantly, home staging is strategic marketing. It is NOT decorating.
Preparing a home to whisk buyers off their feet is not about matching decor. It's about a design that speaks to these specific buyers' tastes, interests, and priorities. For example, if our client is listing a family-sized home in a great school district, we will design and present that home far differently than we would for a home in a neighborhood of working couples.
To truly get the highest offer for your property, we need to prepare the home in a way that entices target buyers, addresses their needs, and above all... represents the lifestyle they dream of living.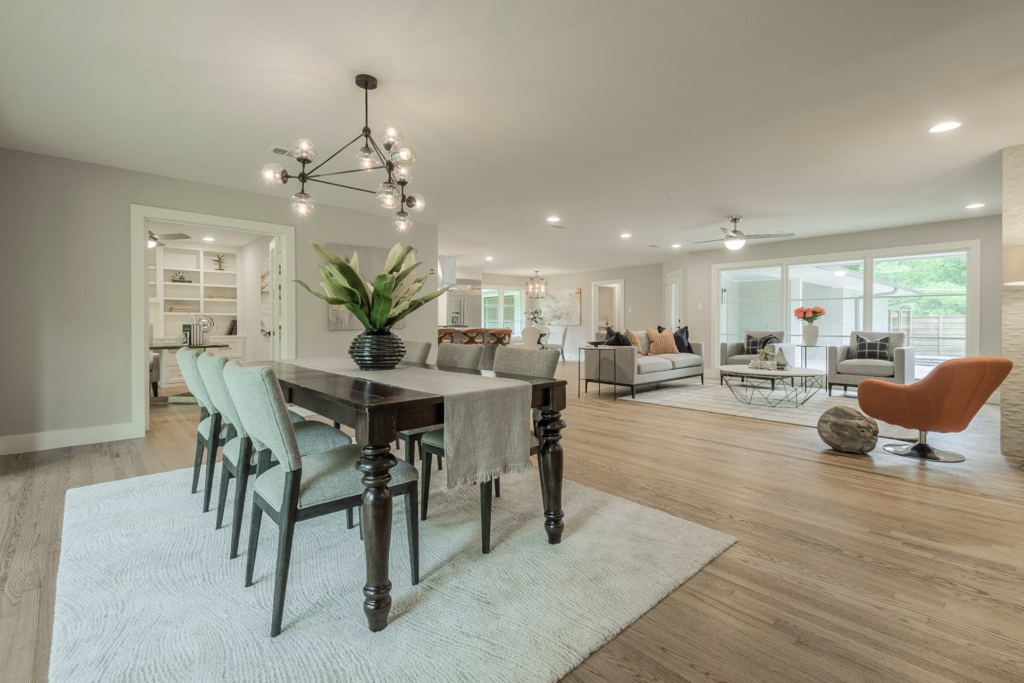 Why do vacant homes need to be staged?
Don't worry, I'll get to home staging investments shortly, but I know that there's a common misconception that vacant homes don't need staging. False. Vacant homes need staging just as much, if not more, than an occupied home. Why? 
Flaws are more visible in vacant spaces
Empty rooms look smaller, not bigger (really)
Vacant homes are not warm or welcoming (and buying is an emotional decision)
Empty spaces rarely live up to the property's price point
Vacant homes have little to see, meaning buyers spend less time on the property (which statistically correlates to fewer offers)
Convinced? Okay, let's look at what's involved in staging a home. After all, you should know everything that your home staging investment is getting you…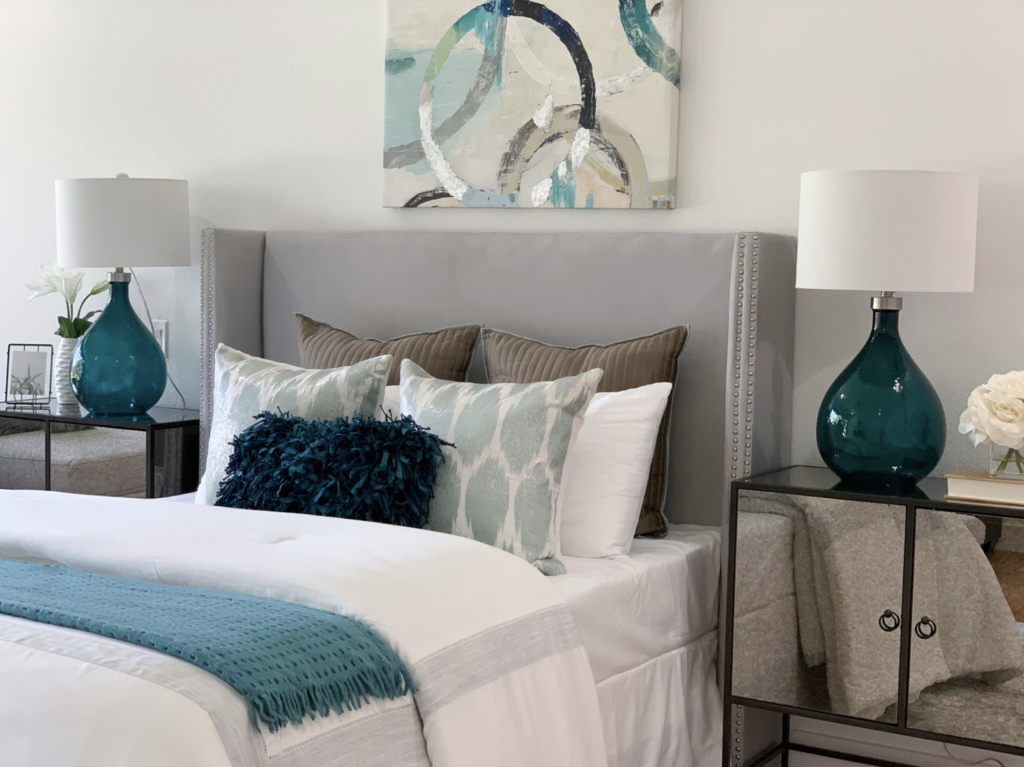 What is involved in staging a vacant home?
Before we can discuss the costs associated with home staging, you should know what's included. First, there's a home staging consultation, which is a 2-hour on-site meeting where we nail down a home staging strategy. During this meeting, we will...
Walk-through the property, assessing its best features and identifying improvements
Identify the property's ideal buyer based the neighborhood, style and state of the home
Discuss your options and ROI for renovating and staging the home
Create a home staging plan for the most important rooms in the house
Once a plan has been approved, and after any necessary or optional renovations, we will stage the home with furniture, bedding, accessories, art, decor, and more.
We also offer professional photography services for an additional fee. I highly suggest this step, because it's more than having a photographer come through to point and shoot.
By that point, no one knows your property better than I do! I will be on-site with our trusted photographer providing art direction services. Being that I myself only have put in a good 8 to 12 hours working on your home, I know the best angles the property will show and will make sure you get them captured for MLS photos.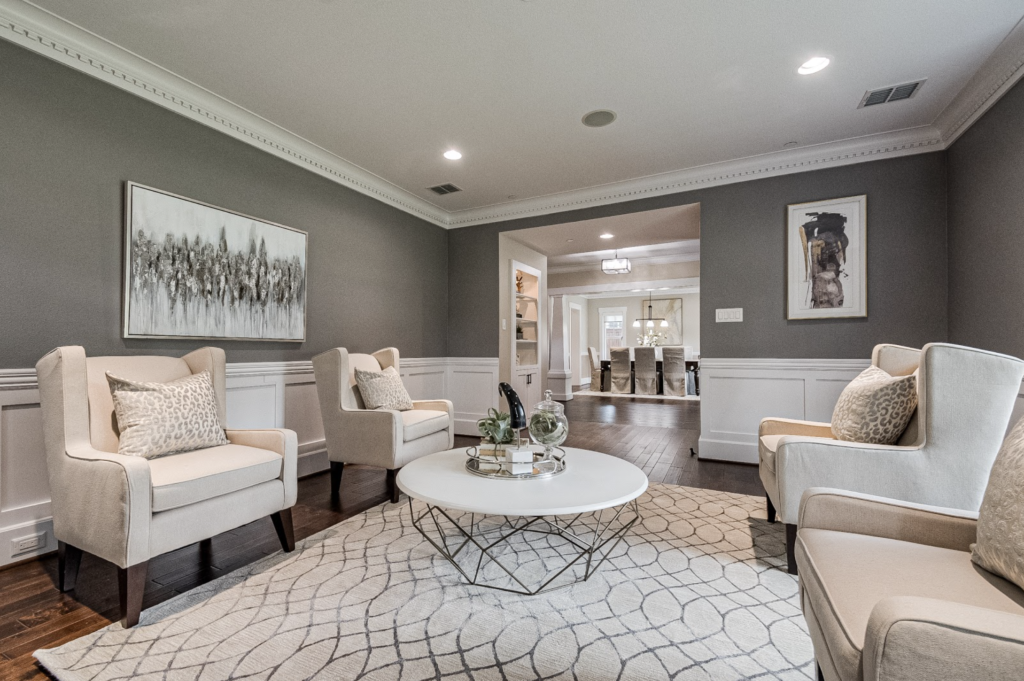 What does home staging cost?
Okay, let's answer the big question: what does home staging cost? First, even though I will give you a general ballpark estimate, please know that it is very difficult to estimate the cost of home staging without seeing the property.
No, I'm not making excuses — this really is the truth. Each home has its own positive and negative aspects (to highlight or minimize) and its ideal price point and buyers, which we would need to address through staging.
Yes, once we speak on the phone and discuss your property, we will give you a general estimate for your project. However, we will give you an official home staging plan and quote only after we have seen the property ourselves.
But hey, we're not on the phone right now. You're reading this blog post and eager for a number! So, what can you expect?
Well, generally speaking, the cost of home staging hovers right around 1% of the listing price of the home, give or take.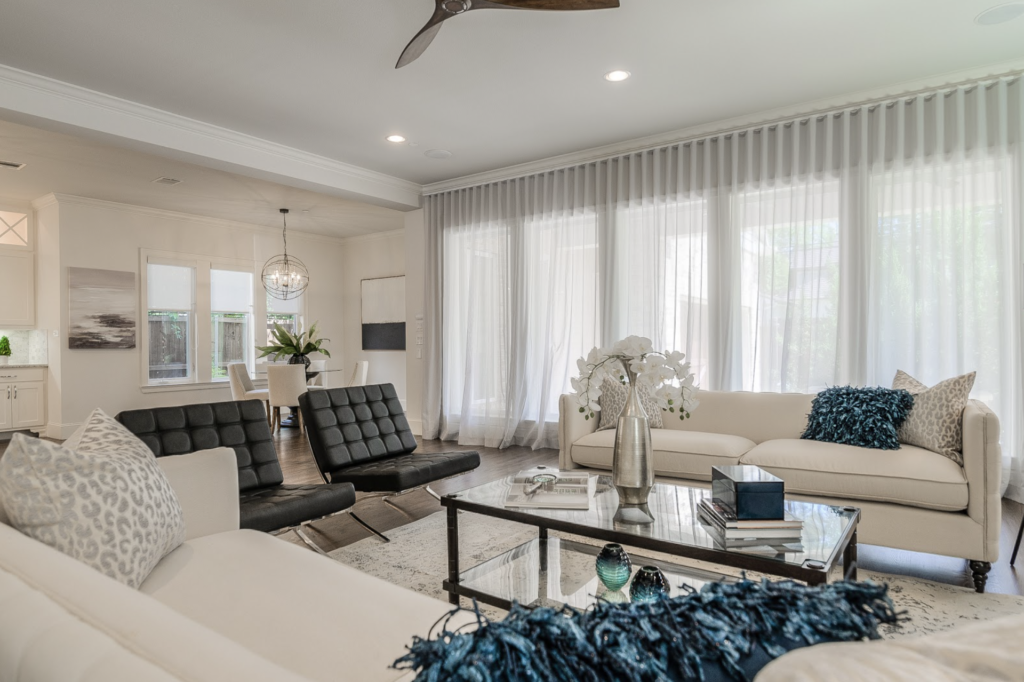 How do we estimate the cost of home staging for our clients?
So, how do we judge the cost of home staging for our clients and create a quote? There are three items taken into consideration when determining the investment range for staging a vacant property:
1. The price point of the home
2. The number of rooms we are staging
3. Similar homes we have staged in your area
1. Your Property's Price Point
It's important to know that staging should reflect the price point of the home. A $200K home will be staged very differently than a $2M home, even if we are to stage the same rooms. As you can imagine, the size and style of a $200k home vs. a $2M home vary drastically. This means we are filling more space, using more elevated furnishings, etc.
2. The Number of Rooms We are Staging
Generally, we will stage the living room, dining room, kitchen, master bedroom, and perhaps an entryway. Sometimes, we will stage a home office (highly desirable right now), or an additional bedroom if we know that it will make the home more desirable.
3. Similar Homes We Have Staged
As I mentioned above, before I set foot on your property for our home staging consultation, I will give you a ballpark estimate based on other projects and homes we have staged in the past that are similar in price point. I will do my best to outline the investment you can expect.
Once we set foot on property, however, we can actually work on a staging blueprint and design plan. As these are presented and finalized, you'll receive an official quote personalized to your project.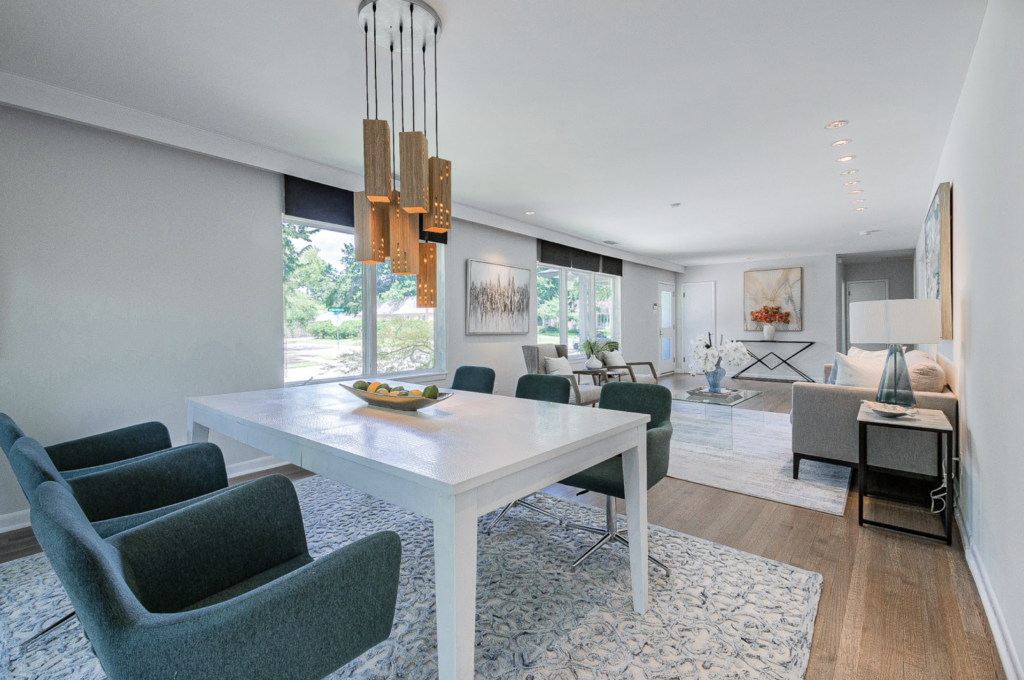 ROI of Home Staging
For sure, home staging costs a whole lot less than the first price reduction you will have to make if the home doesn't sell within two weeks or so. Staging your home costs less than having to carry the property and still pay the mortgage payment, taxes, and insurance, plus all other maintenance fees.
As one of our investor clients put it:
"It's cheaper to pay her [Keti] than the mortgage company each month." — Client, Investor
I couldn't agree more! As far as ROI goes, you are very likely to see your investment made back… and then some. We recently staged this project, which saw an ROI of 150%. That is money well spent!
I will wrap things up here, but I hope this overview has been helpful for judging your expected investment and the home staging process in general. If you have any questions, please don't hesitate to ask!
And if you have a property that you would love to sell quickly and for profit, let's talk.
— Keti
Do you know which design trends are going to boost your bottom line, and which are going to sink it? 
In my last post, we talked about some of the features that today's buyers want most in a home. These were mainly related to spatial desires, such as a sociable kitchen, designs for joy, smart homes, etc.
Today, I'm going to talk about the MATERIALS that are on-trend, timeless, and going to support a great bottom line for your renovation. 
Note, this post is hot on the heels of my trip to the International Builders' Show (IBS) and Kitchen and Bath Industry Show (KBIS), where experts meet to talk trends, market shifts, and the latest in home design. 
Timely vs. Timeless Trends
It's important to note that just because a beautiful slab of stone or oversized modern lighting are on display at KBIS doesn't necessarily make them a prime candidate for a profitable renovation. 
Not everyone is designing to sell. Some are designing to live. So it's important that I use my experience and judgment to assess the trends that everyone is gushing over.
Some trends are timely but will have a short lifespan. Others are timely as well as TIMELESS (Meaning future buyers aren't going to be worried about their interiors having an expiration date.)
The trick to profit-driven interior design is that it is equal parts timely AND timeless.
Knowing which trends are profitable (and which aren't) is an area where I excel. So, what's the verdict?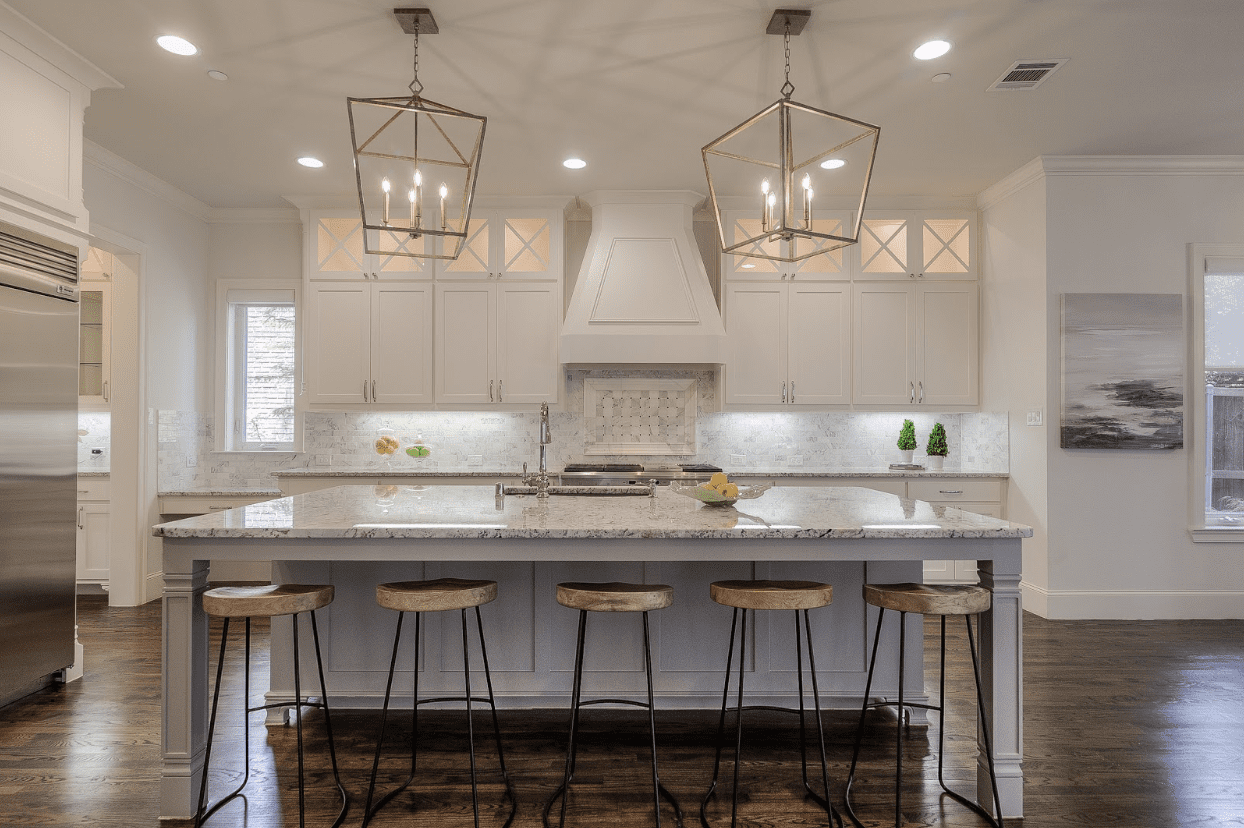 1. Choose Kitchen Cabinets in White or Warm Wood
White kitchens are incredibly on-trend right now, but I wouldn't call them "trendy." White is timeless and can make well-lit spaces look larger. Another tip is to take those cabinets all the way up to the ceiling. They make the room seem taller, in addition to adding more, desirable storage space.
If you're selecting wood cabinets, go with a warm tone. It makes the space feel more inviting, social, and comfortable.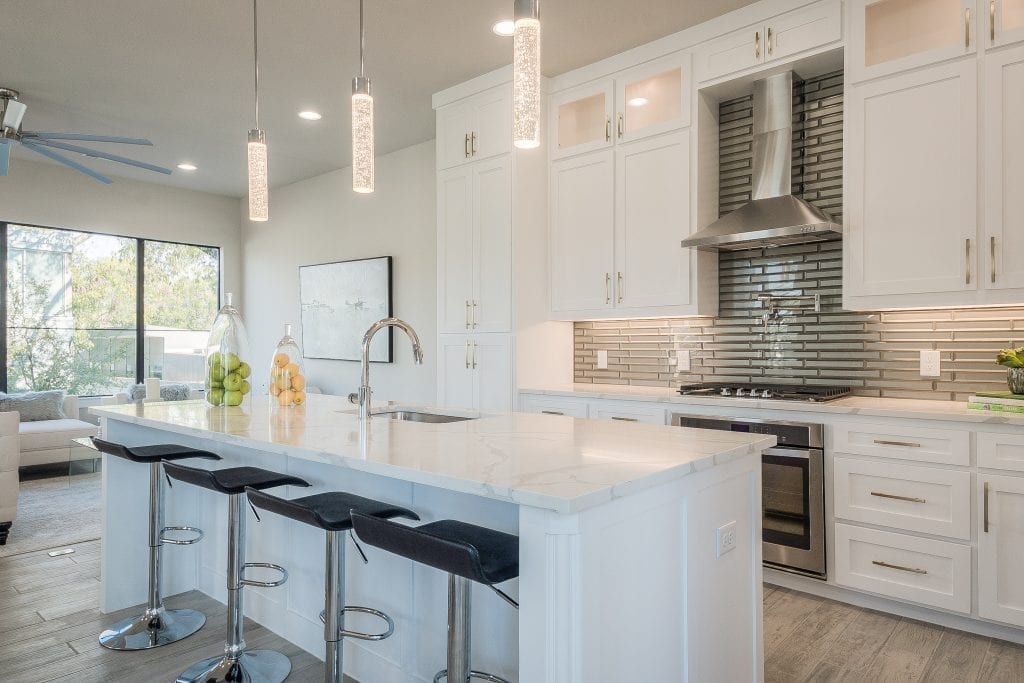 2. Black is Back in Home Design
Black is another timely and timeless color that can be used to create elegant impact in a home. It's best used as an accent color, either in some of the furniture used in a home staging, or as part of the hardware of a home, such as an elegantly slim curtain rod, light fixtures, or window frames.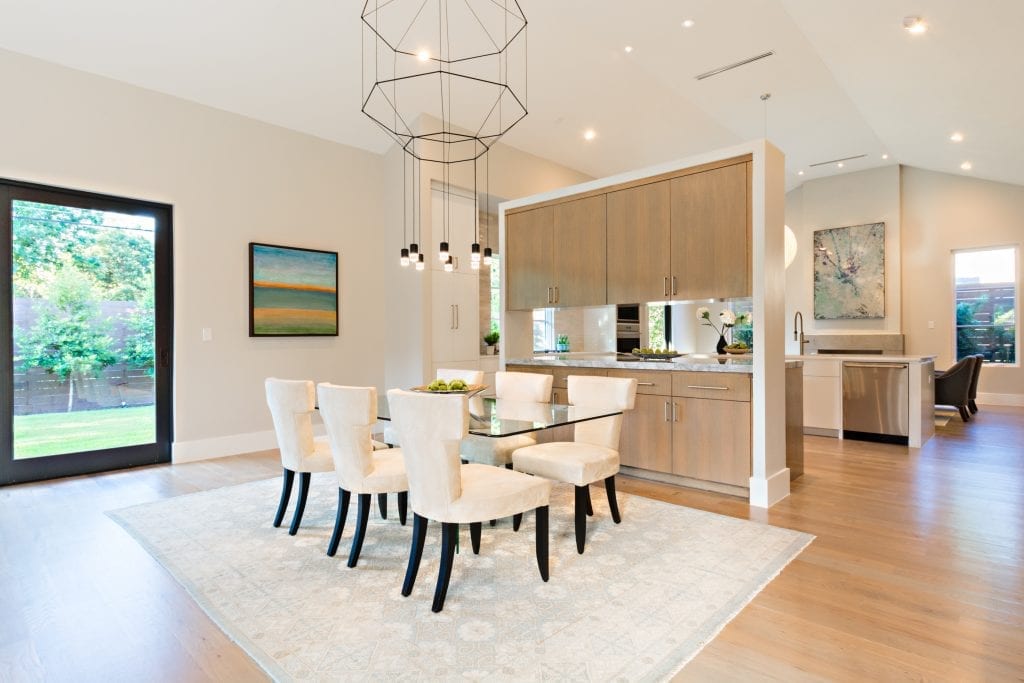 3. Green is Taking Over Interiors
Much like blue did in 2019, green is taking over homes in 2020. Color is always timely and timeless, but should be used tastefully when selling a home. I like to add pops of color with pillows and decor, or in the case of this year's color, fresh greenery.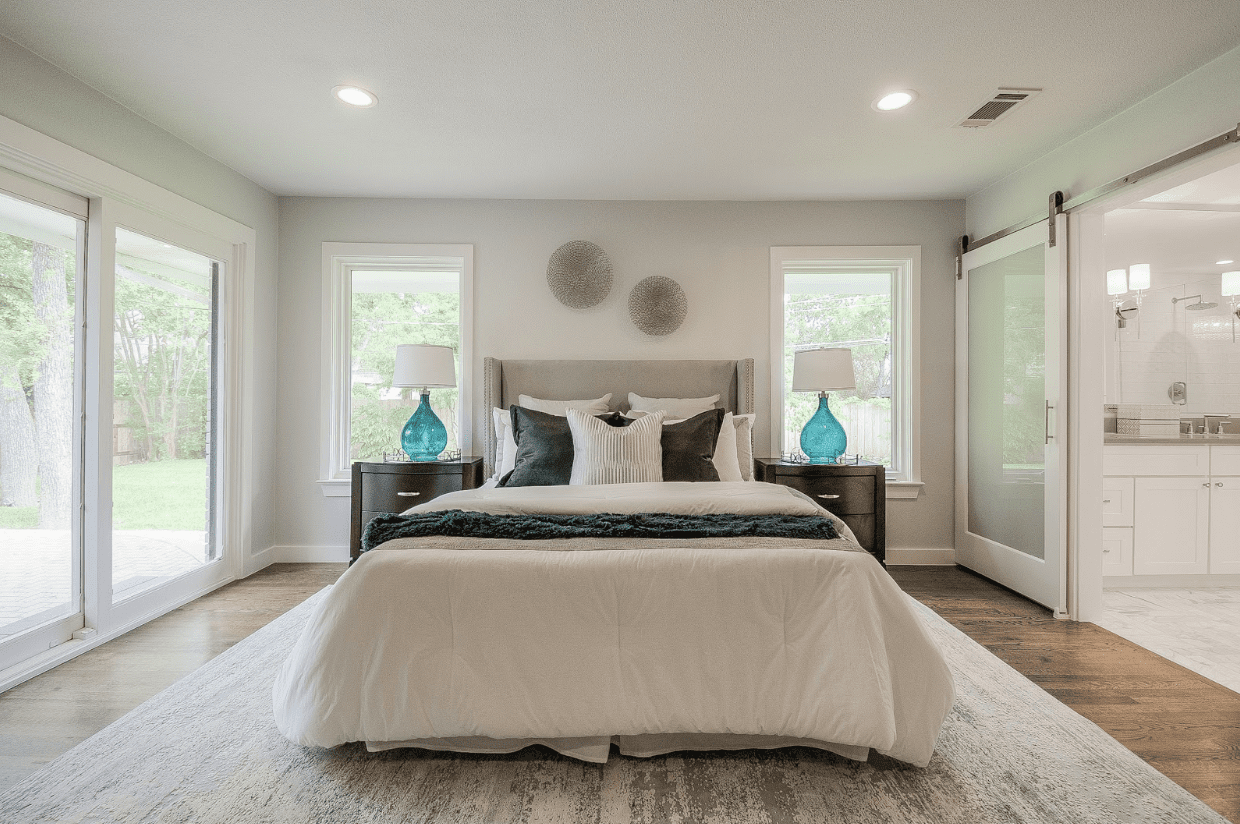 Spring green accents are tasteful and inviting. (Design by KETI)
4. Light fixtures are the jewels of the home
Light fixtures are incredibly underrated – they are the jewels of the home, and you shouldn't sell a home without great-looking ones! 
Below are a few that we've chosen for dramatic impact. And yes, they sold quickly!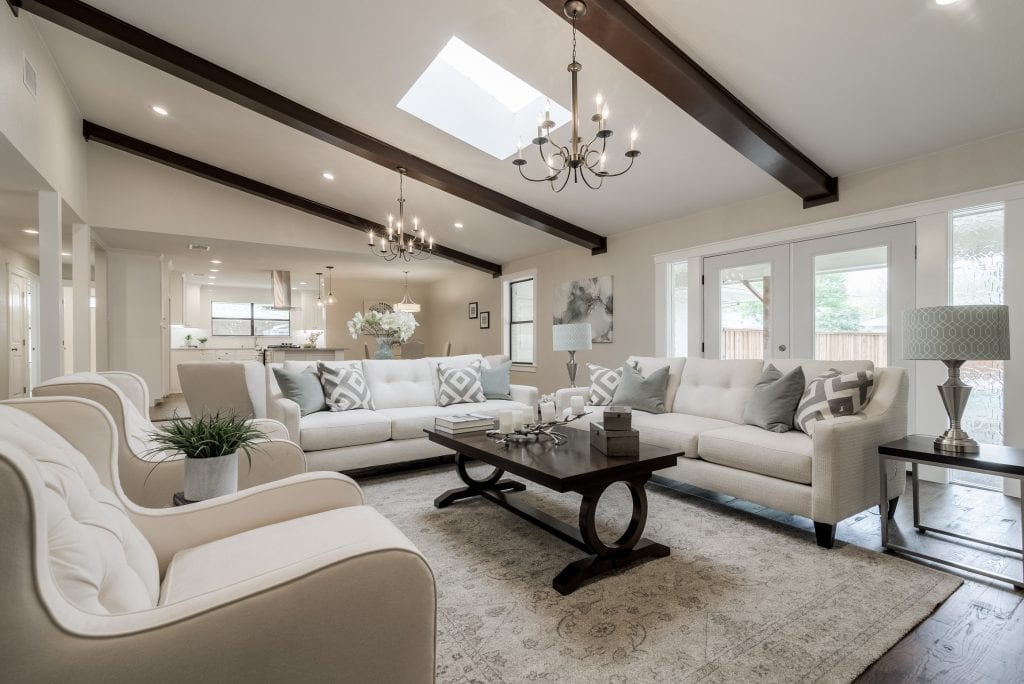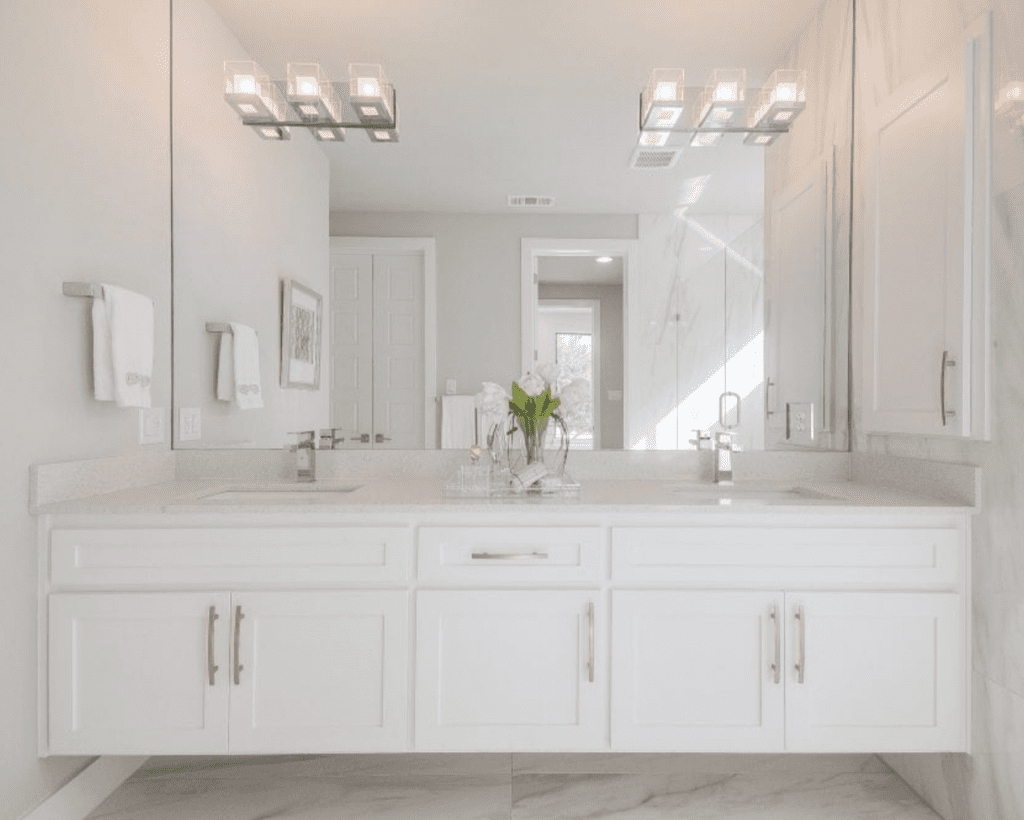 Living room or bathroom, lighting matters! (Design by KETI)
5. Bringing the outside in
This trend applies more to the home staging than the renovation, but is equally important. A home without some semblance of the outdoors will feel cold and lifeless. With today's shift toward design for joy, bringing the outdoors in is ESSENTIAL!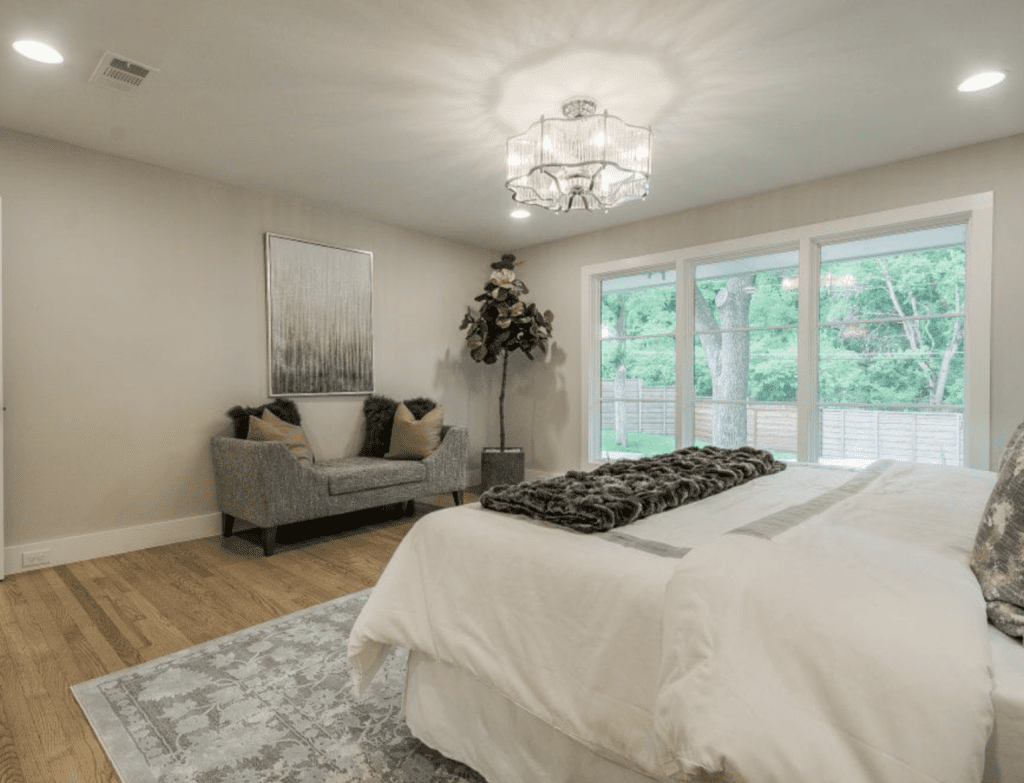 I like to use flowers, small potted plants, indoor trees, or succulents. (Design by KETI)
6. Mixing patterns (timely, NOT timeless!)
This is the only trend on our list that is timely but NOT timeless. You might be tempted to install a backsplash of beautiful patterned tiles that are completely on-trend right now… but not only are you taking the risk of the homeowner not liking the pattern, it may go out of style quickly.
This is why I suggest pattern mixing in the home staging, not in the renovation itself. Keep your backsplashes and tiles more neutral.
Mixing patterns with the area rug and pillows are timely and tasteful. (Design by KETI)
In my next post, I'm going to break down what a kitchen renovation costs and how to budget for it. 
Until then, download our free guide to profitable staging or contact us here for help with your project!
— Keti
You might think a great floor plan, location, or square-footage will sell a property, but trust me, important as that might be, great real estate design is what sells homes. Buyers care what the home looks like, and if it doesn't meet their criteria, they won't be headed to the closing table any time soon. 
I know because we've encountered many situations where homes with great bones and floor plans sat on the market indefinitely until we came in and helped with some much-needed improvements. Design MATTERS. 
Here's what great design can do to sell your property:
Reflects the home's price point but still looks comfortable and livable

Matches what targeted buyer demographics are looking to buy in the area

Plays up the best features of the home (and play down any negative elements the space might have  )

Makes a killer first impression that wins buyers over from the start
If you don't believe me, here's the proof!

Who should you hire to get a professional real estate design for your flip or reno?
If you're serious about your ROI, you'll want to hire a professional in the field. Your first instinct might be to hire an interior designer, but I would caution you against it.  Interior designers, while extremely talented, are experts at creating spaces that are highly personal and specific to the people already living in the home. 
Designing a flip or renovation to sell requires a very different approach. 
Instead of asking the homeowners how they use the space and want to live in it, we have to consider the design from a profit-driven perspective:
Who is the target buyer for this property? Are they career professionals or entrepreneurs? Do they work from home or do they go to their office every day? Is the house located in a great school district and ideal for families with kids? Is the neighborhood seeing high interest from young business professionals? Etc.
What are the selling features of the home, the ones that will make buyers say, "Wow, I can't wait to live here."
What is your investment budget? The amount that you can invest in the home will, of course, dictate what can and can't be done. This is another piece of the puzzle that must be taken into account from the start!
Once these questions have been answered, a real estate design and staging professional will create the right aesthetic AND prioritize your bottom line. 
It's design, but it's also expert business strategy. Your pocket book and future will thank you! 

How do you ensure you have a real estate design that addresses these selling priorities?
If you work with a design and real estate staging professional, they should take you through three steps: a consultation, a design plan, and the final staging to bring everything together. 
The renovation and design consultation is a strategy session. It's the first step to a successful project and is not to be taken lightly! During this on-site meeting, we'll…

During this phase we get into all the design-related specifics, or the HOW of our renovations plan. We'll make all the selections for any new or updated features such as paint, flooring, counter tops, tile, back splash, lighting, hardware, plumbing, etc. 
We will present you with all the specifics of the renovations design plan at which time, we can either source all the material selections for you, or you can do so in collaboration with your GC. During the renovation process we can also make ourselves available to your crew for any installation and design specific inquiries.
Extra step: If desired, our trusted team of subcontractors can carry out the agreed-upon updates and renovations with speed and professionalism. Relax and enjoy letting experts take the wheel!

The design of the home doesn't stop with hardware, flooring, and countertops — what's inside your home matters too. To complete the transformation, you will definitely want to stage the home. (Whether you choose us or not, we still suggest it! It is SO worth it.)
With us, while the minor improvements and renovations are underway, we'll present you with a vacant home staging proposal that highlights the home's selling features and is worthy of its listing price. 
Once the renovations have been finalized, we will begin staging your investment property. This is the moment when the magic happens… the home is transformed and ready to steal the hearts of potential buyers!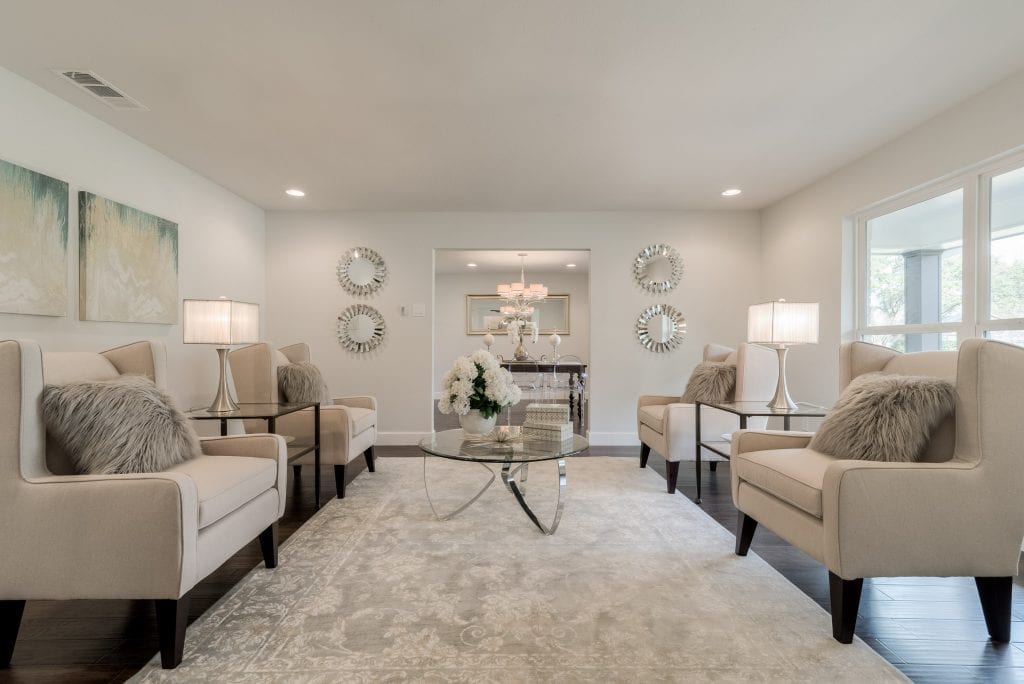 For the best results, we recommend bringing in a design professional from the very beginning, before any updates are made, and taking your project step by step. (This is our Complete Concierge service for investors or homeowners.) 
But if you're looking for design help somewhere in the middle of your project, you can still find any of these as a stand-alone service and see drastic impact. 
Next month, I'll be back here to share a bit more about what really goes on at a home staging consultation. Spoiler… more than you think!
Until then, sign up HERE to grab our free download, How to Prepare for a Remodel!
— Keti
I have seen this trend recently where some stagers are advertising and claiming that they will stage your home - and because they own their own inventory - they will not charge you any rental fees.
As a professional home stager myself and as someone who is dedicated to running a successful staging and design business whose services will benefit many clients for many years to come, I wanted to write about this trend and clarify some things.
My goal and desire is that all you who are seeking staging services - where the stager claims they will use their props and inventory and not charge you for it - will be better educated in making the right decision that best addresses your staging needs.
First I would like to make you all aware of the fact that Home Staging is not a regulated business. What that means to you as a consumer and as a seeker of staging services is that anyone can put a shingle out there and claim to be a "professional home stager", but that does not necessarily make them so.
For anyone to achieve the highly sought "professional" status in any field a few things need to take place. I read once that it takes an average of three years or about 6,000 working hours for someone to hone in their skill set in the profession of their choice.
It is a known fact that a lot of people who claim to be home stagers, stage on the side, and on the weekends mostly. Staging is not their full time profession.
Secondly, like with any other profession, on-going training and education is a must. There is absolutely no way around it, if anyone as a professional is set on providing stellar service and products to all their clients 100% of the time.
As an example of this I have committed to investing up to $5,000 a year towards on-going training as it relates to what I am engaged with on a daily basis and that is, staging, design, and renovations.
Since Staging is not a regulated business, on-going continued education is not required. That is not to say, it is not needed however.
Thirdly results always speak for themselves. Check out their on-line reputation, portfolio and results. Reading reviews  from clients who have actually worked with them in the past would be a great thing to check out.
And as always be weary of stock photos used on ads and websites, as they are not reflective of what  the stager can actually do or accomplish; rather they only speak to the fact that those stagers can pick a pretty picture, no problem.
A professional home stager, one who has done the time so to speak and on an on-going basis hones their professional skills is very well versed in things like, fundamental design elements, what makes a staging design stand out, what does not, scale, balance and symmetry, how the style of the home and the fixed elements in the home dictate how the home is staged etc. For those reasons I am also against verbal staging quotes, but I will have to write another blog on that and why you as a consumer should not fall for it.
Please realize that all those items I listed above dictate how the buyers will respond to your home. Why would you want to risk having the potential buyers focus on bad staging when they should actually focus on your beautiful home?
You are making the buyers experience of touring your home memorable o'right but it is not your  sellable home they will be remembering I can assure you of that.
Case in point, check out these two homes below.
One belongs to the Tuscany brown trend which is no longer trendy now btw. This property was located in Prestonwood in Dallas and it sold in one week once it was professionally staged by Design by KETI and it relisted as such.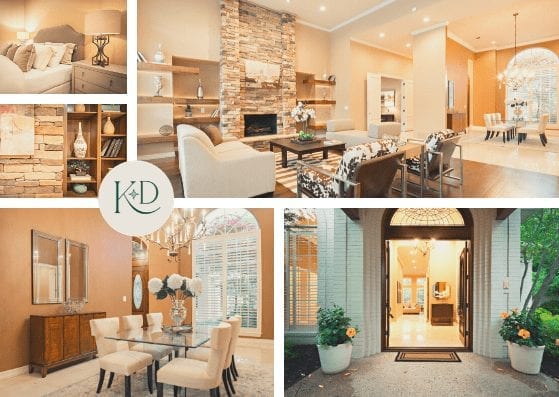 This other home which is located in Preston Hollow in Dallas  belongs to the current Parisian gray trend. This home sold in two weeks after it relisted as a professionally staged home by Design by KETI.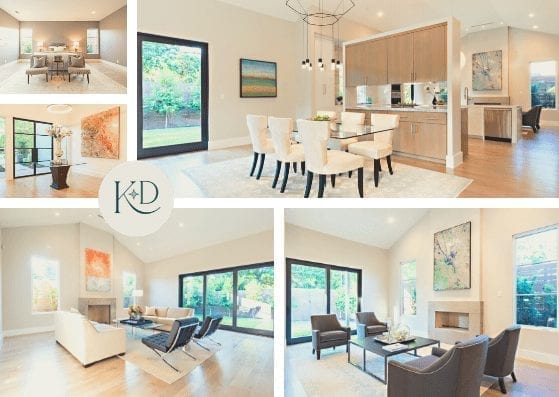 Here are some other examples...
This condo sold and de-staged in less then 30 days...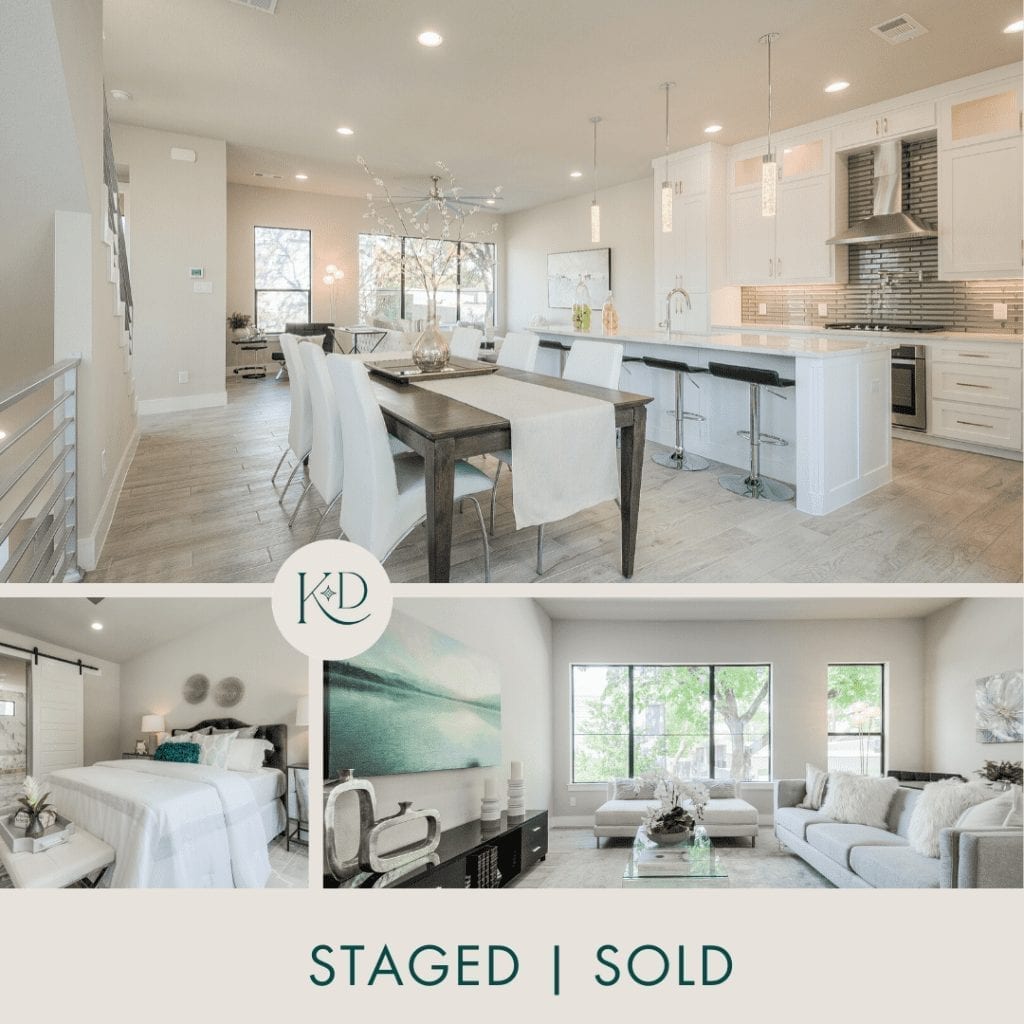 This luxury Home in Lake Highlands sold in three days from being listed as a professionally staged home. It de-staged in less than two months.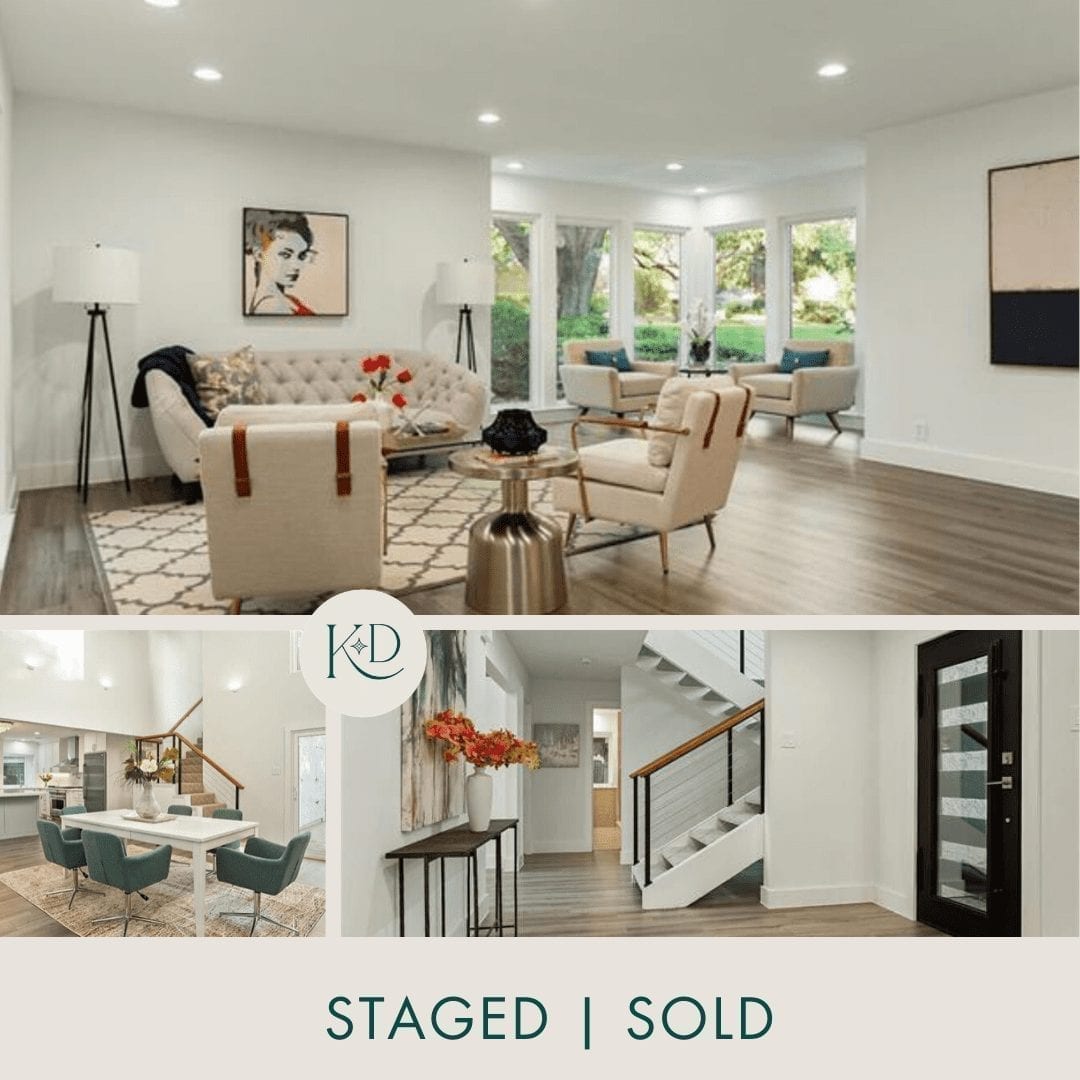 This renovated home in Preston Hollow sold and de-staged in two and a half months...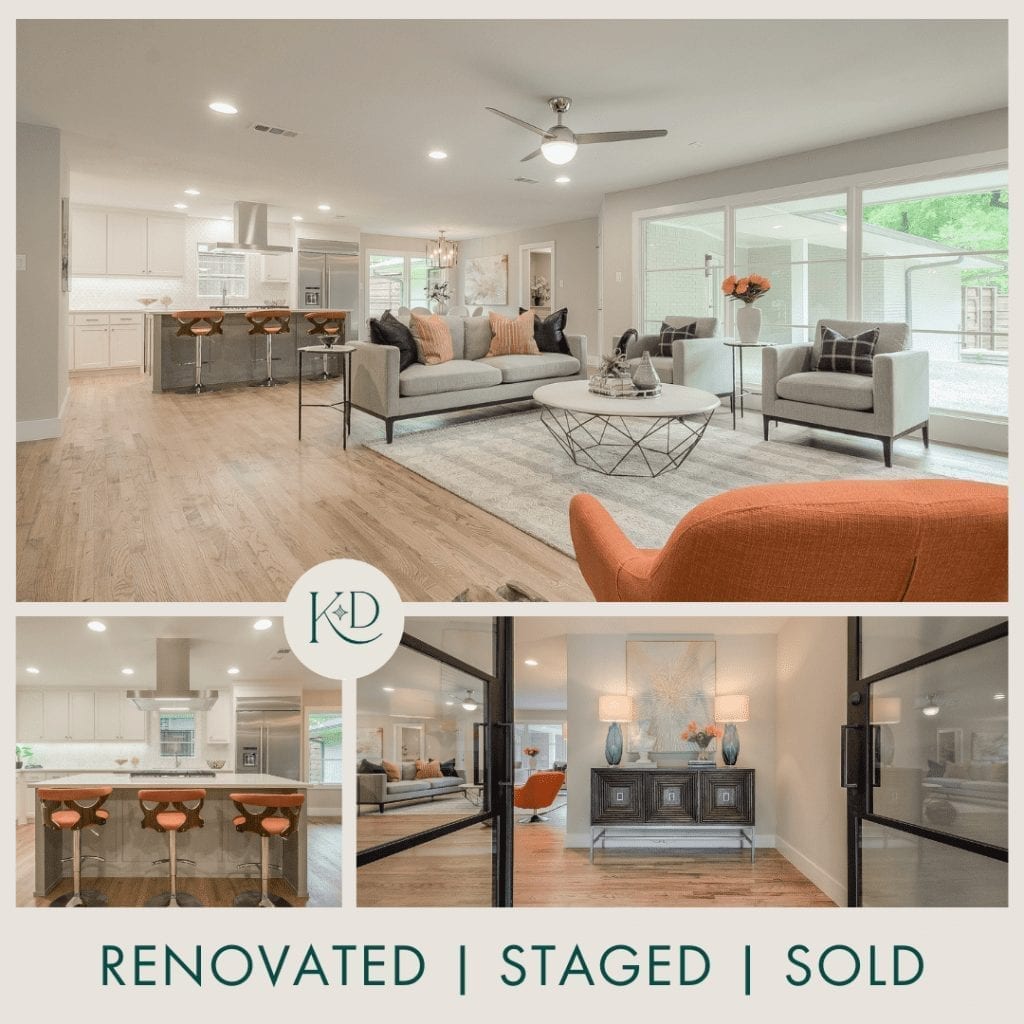 Different type of props, inventory and color schemes were used to stage those homes as the fixed elements and the color scheme  in the home dictate how the home should be staged.
For those reasons – so that you ensure that you hire the right stager for you, whose staging will add value to your home and not take away from it – some good questions to ask would be along the lines of their professional staging background and how much actual time do they dedicate to staging homes on a weekly basis and for how long have they done so.
Some people might excitedly say "staging is my passion". Please understand Passion Is Not Enough.
Although there is nothing wrong with being passionate about staging, having the skill set to also deliver a top staging and design plan that will yield results and that is  to sell your home swiftly and at a desirable price point, is of utmost importance.
Passion does not make you a professional!
For example, I love dancing. I am very passionate about it.  Everybody who knows me on a personal level knows this fun fact about me.
And I exercise this passion of mine by social dancing on a regular basis. On occasion and when my schedule permits it, I will take a group class but that is about it. But IF I want to become a professional dancer however, I would need to dedicate a lot of time and money to it. I would need to allocate time in my schedule to take a lot of private lessons so I can hone my dancing skills, and be really good at it. I also need to practice what I learn during those private lessons, so that one day in the near future I would be able to call myself a professional dancer and make a living out of my dancing.
My point is having passion about something – even staging - is not enough!
Cultivating your passion by dedicating time and resources to it, will elevate you to a professional status in the field of your choice!
Now that you have a little bit of a background on what distinguishes a pro stager from an amateur stager, let me tell you the reasons why we charge rental fees when we use our own props and inventory to stage your home.
We charge rental fees when we use our own props and inventory to stage your home because as professionals we understand the law of diminishing return. This is an economics concept. It states that if one factor of production is increased, while other factors are held constant, the output will eventually diminish. This is otherwise known as negative returns.
Let's apply this to hiring a stager to stage your vacant home and you need not pay rental fees for props and inventory.
Although it appears you may be getting a good deal, in actuality you may be getting a really bad one.
 It pays to invest more in the front end. When you pay a rental fee for props and inventory  to stage your home, you are ensuring you are getting top of the line items that are on-trend, are  ispirational to the buyers and in line with the architecture of your home. Since staging is nothing but packaging and merchandising, it is of utmost importance that the right props and inventory are used to  package and merchandise your home in other words stage your home.
Please understand each added input/benefit (in other words, "free props and inventory") will lead to a decrease in the quality of what you thought the outcome of staging was going to be.
So you find yourself six to eight months down the road and not only do you not get the return on your initial staging investment, you suddenly find yourself losing money because of it. Those losses come in the form of several price reductions, and on-going mortgage, tax, insurance and upkeep payments and fees.
We charge rental fees when we use our own props and inventory to stage your home because cheap will end up costing our staging clients too much.
The quote from John Ruskin comes to mind:
"It's unwise to pay too much, but it's worse to pay too little. When you pay too much, you lose a little money - that's all. When you pay too little, you sometimes lose everything, because the thing you bought was incapable of doing the thing it was bought to do. The common law of business balance prohibits paying a little and getting a lot - it can't be done. If you deal with the lowest bidder, it is well to add something for the risk you run, and if you do that you will have enough to pay for something better."
So I encourage you to pay for something better, all the time.
We charge rental fees when we use our own props and inventory to stage your home because as professionals we have the end result in mind. And that is selling at a stellar time, at the most desirable price point.
3.1 We charge rental fees when we use our own props and inventory to stage your home because not charging accurately for services provided is not a sustainable business model. Specifically such type of business model will drive the business and the business owner into bankruptcy in no time at all.
Let me explain this a bit further. The three basic components that make up a vacant staging price quote are: 1. Staging Design Fee, 2. Moving and Logistics/Packing/Unpacking Fee and 3. Furniture and Accessories Rental Fee.
The staging fee covers things such as putting together a staging design concept, selecting all the props needed to stage the home (things like furniture, accessories, artwork, and soft good, lighting),  and packing and wrapping all such props and inventory, and then setting up on site as well as styling.
The moving fee covers the cost of moving all packed and wrapped props and inventory from the warehouse all the way to your house. And then from your house all the way back to the warehouse when your house sells and it needs to be de-staged.
If you have moved recently you know from experience that it is expensive to hire movers in Dallas. Our experience has been that when staging vacant homes – based on the scope of the project, the rooms we have staged and the distance of the house from our warehouse– moving costs can go anywhere from $700 and up to $2,000 on any vacant staging project.
And then there is the Furniture and Accessories rental fee. Please understand that there is a lot of money that goes into purchasing new inventory items on a regular basis. Inventory purchase and warehousing are two of the largest expenses any staging business has on their books.
We have a special formula in place when it comes to pricing out the rental fee for all items that are needed to stage your home.
What those other stagers are doing when they say "they don't charge rental fees" is no different that you reaching out to some of the furniture rental companies out there and have them let you lease their stuff for free. I can assure  you that will never ever happen. Why because they are a for profit business. An exchange of products (staging props and inventory) for dollars ( inventory rental fee) needs to happen.
That makes a lot of logical, business and financial sense.
Red flags should go up when someone claims they do not bill rental fees. Some valued questions to ask would be, where did they get their props and inventory, how much money they spent towards it, will they bring cardboard furniture to stage your home, are they bringing stuff they got on garage sales to stage your home, or is it their parents oversized peanut butter color leather sofa from the 80's  that will make its debut in the formal living room of your $900K home.
I am mentioning all those things because I have seen them actually happen over and over.
And last but not least do they have insurance for their inventory. And do they have insurance to be working at your home.  Unforeseen/unexpected things happen all the time. And the smart and savvy business owners plan accordingly for such things.
At the end of the day – as a consumer myself – I would be reluctant to hire someone who appears to not understand the intricacies of basic pricing. In my head that is something that would raise flags related to their professionalism, knowledge of real estate and their skill set.
Since they are not capable of doing such elementary thing – meaning pricing their services correctly - I would wonder if they are capable of being a top notch professional who will provide top notch staging designs so that your home is packaged and merchandised the correct way, so that your home sells fast and for top dollar and so that you get your money's worth and return in staging it the professional way by a professional stager.
…those are all my thoughts. What are yours? Please feel free to share your opinion on this. I would love to hear it.
And if you are set on working with a professional home stager to help stage your home the right way, we would welcome the opportunity to be of service. And because we care for results and we care that YOU turn a profit, we will bill you rental fees, not because we are greedy, but because it's a win-win for all parties involved, we are fair, and we are really good at what we do. 🙂
Cheers,
Keti
O: (214) 814 – 5967
E-mail: info@designbyketi.com
If you are a home seller and are thinking about listing your home for sale, one of the things that would benefit you the most is a  Home staging consultation.
By consulting with a professional home stager  -  for a minimal fee  -  you will be tapping into the intellectual property and expertise of someone who is well versed on anything related to target real estate marketing, merchandising and packaging a home for sale. During the consultation you will be given specific instructions on a room by room basis as to what you need to do to prepare the home for the potential buyers; AKA, package and merchandise it.
Check out some before and after pictures of this drastic transformations in Dallas.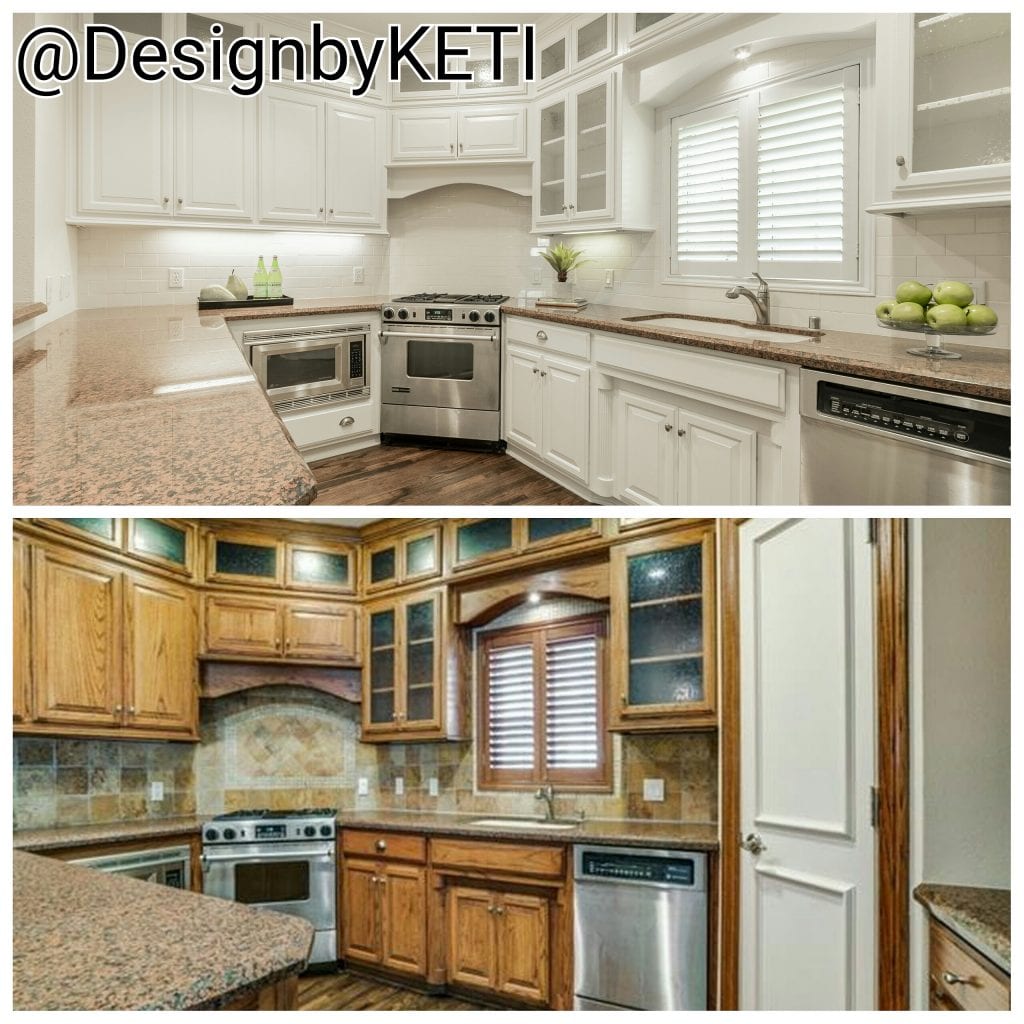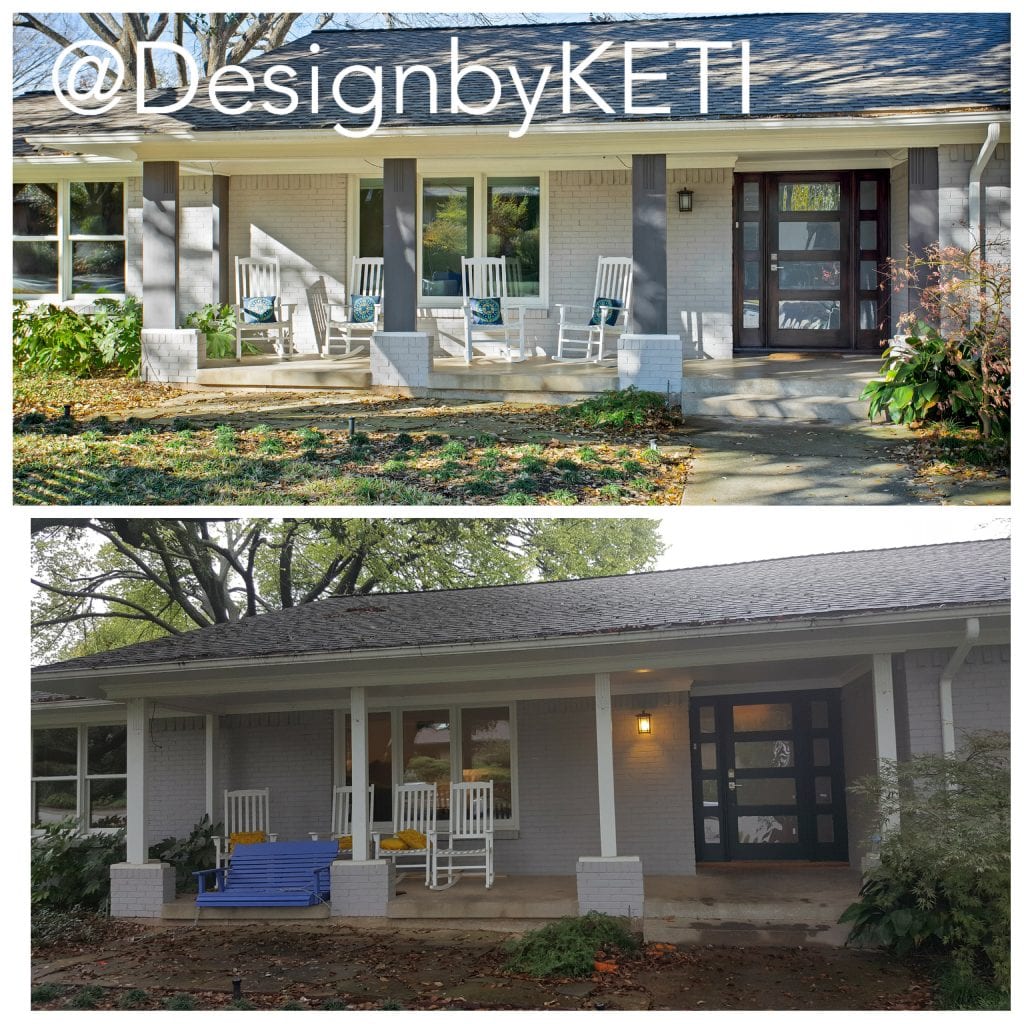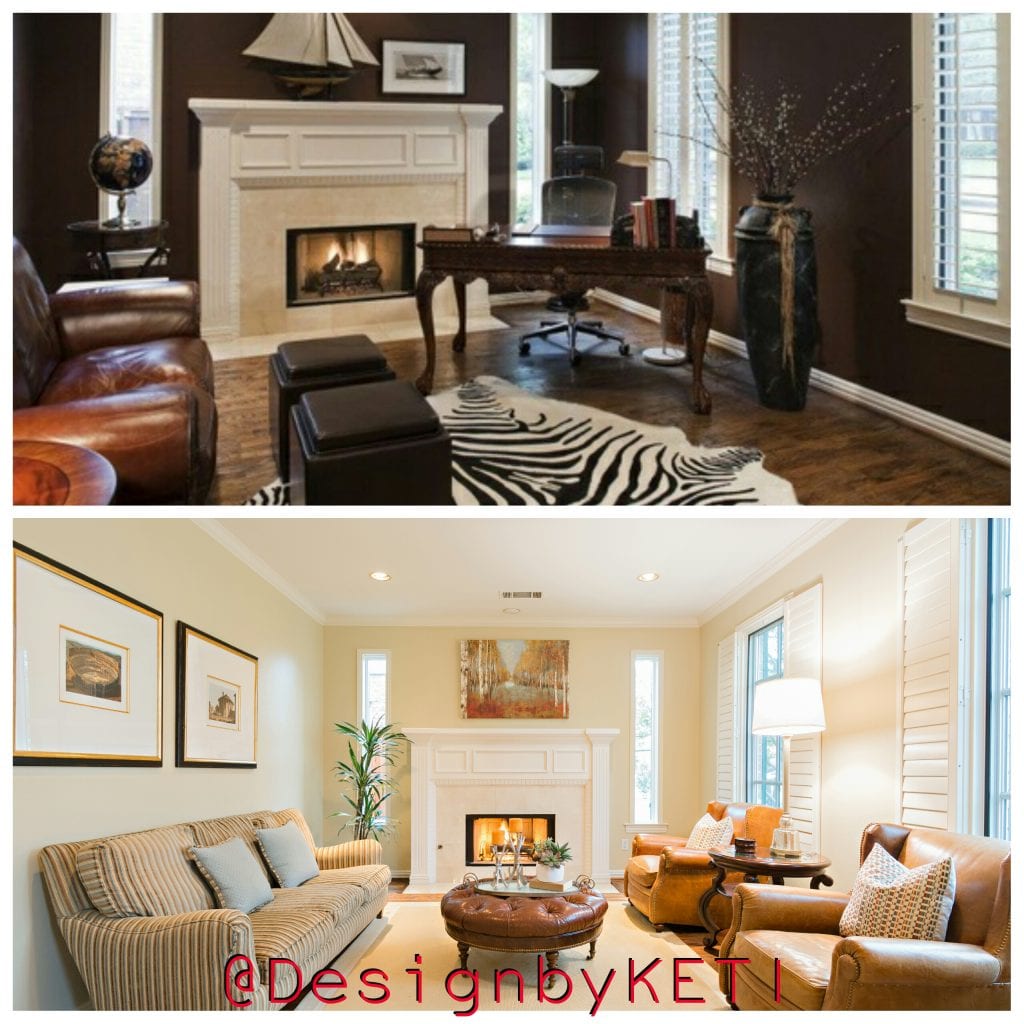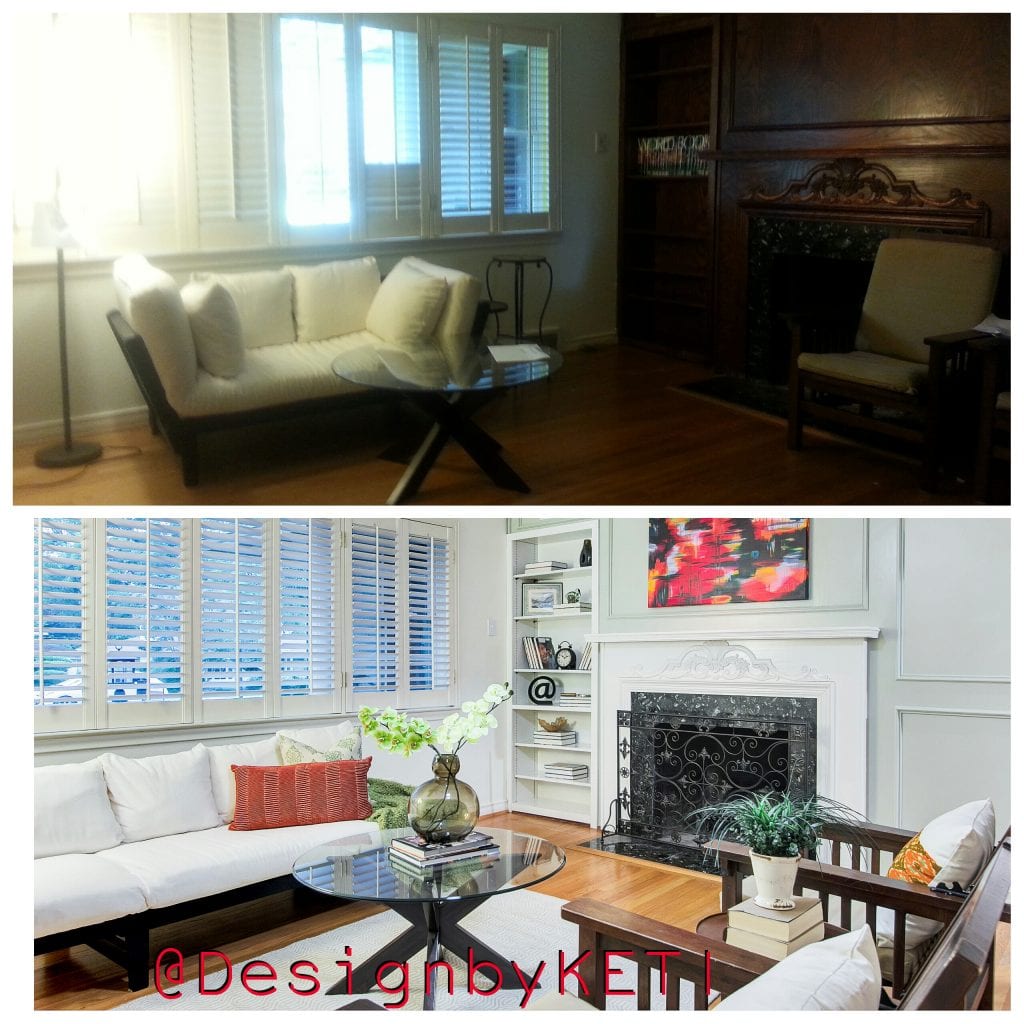 We are so proud of the sellers for implementing 100% of our recommendations.
Cheers,
Keti
O:(214) 814 – 5967
E-mail: keti@designbyketi.com
To invite Keti Abazi, to be a speaker at your meeting or function, you may contact info@designbyketi.com. Your audience will find her presentations on Home Staging not only educational but also amusing, genuine and refreshing.