Another day, another before and after — this time for an updated listing in Winterlake. This is a home we resuscitated after it sat on the market for a few good months. Yikes! Spoiler alert: this story has a happy ending. After we were through with the updates and re-staging, the house sold in just 5 DAYS.
I know I've spoiled the grand finale, but I wanted you to know exactly what each of the updates below have helped achieve. But first, every home update and staging needs a smart plan...
Step 1: Meet at the House & Diagnose the Problem Areas
This house belongs to an investment property client we had worked with in the past. They had been trying to sell it as-is with no luck. Since we were able to help them with another property, they decided to reach out to us and trust us with this one. I'm so glad they did! The outside is lovely and charming.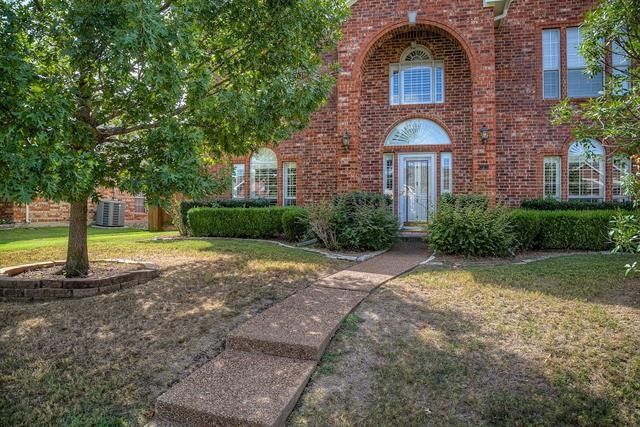 The inside, which you will see in just a minute, felt dated and designed for a very specific taste. We also found damaged flooring, dirty carpets, unsightly wall colors and wall paper, old fixtures, and more. Luckily, the layout of the home had great potential. I knew that strategically updating some of the fixed elements would make this home really shine.
Step 2: Identify the Target Buyers
As soon as we knew what could be improved in this home, we had to consider the ideal buyers. After all, knowing who we will market the home to determines how we will make certain updates. During our consultation, we came to the conclusion that if we were going to invest in renovating this home, it should be marketed to someone who's looking for a move-in ready place, and who's willing to pay a little extra for that.
We decided that young families and first-time home buyers were our target audience. This home would be perfect for them, because it would be easier to spread out the extra cost when getting a mortgage, as opposed to coming up with the hard cash to do the renovation work themselves prior to moving in.
Step 3: Create a Design Plan for the Updated Listing
Once we determined how we would market the home, we got to work! Our design plan was pretty straightforward because most of the issues that needed to be addressed were design-defining elements that would transform the aesthetic of the home. First, we would paint the walls and get rid of wallpapers. Then we would address flooring and carpet. After that, we would update fixtures and bring in furniture.
It all sounds simple enough when you list it out like that, but in reality, it took coordination, strategy, and work — on our part. Our clients got to sit back and relax as we made the magic happen. 😉
Ready to see it? Come take a look at the updated listing...
Before & After: Entryway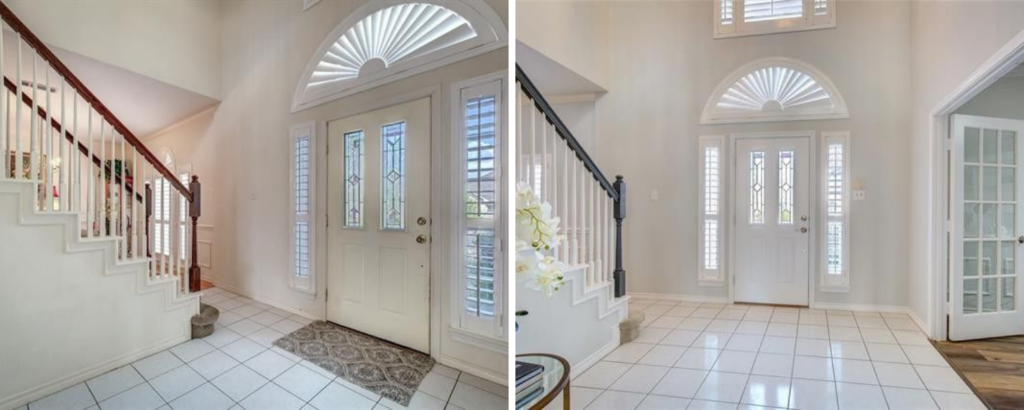 The home had a great open foyer, but I could see that it needed a fresh coat of paint to feel new. If you look at the door and stairway edges (left), you can see that the paint looks tired. Repainted (right), we have a brighter entryway that definitely feels more fresh and inviting, especially in person!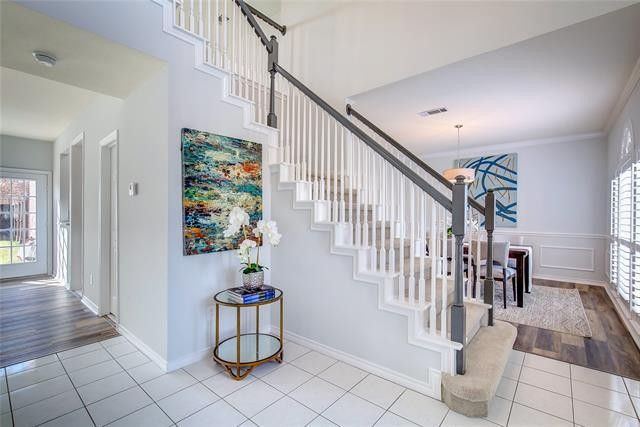 For the staging, we styled the space with more modern and contemporary furnishings, using art and small accessories to add soothing touches of color. Pro Tip: The best colors for staging homes are blues and greens, which are most likely to put homebuyers at ease.
Before & After: Living Room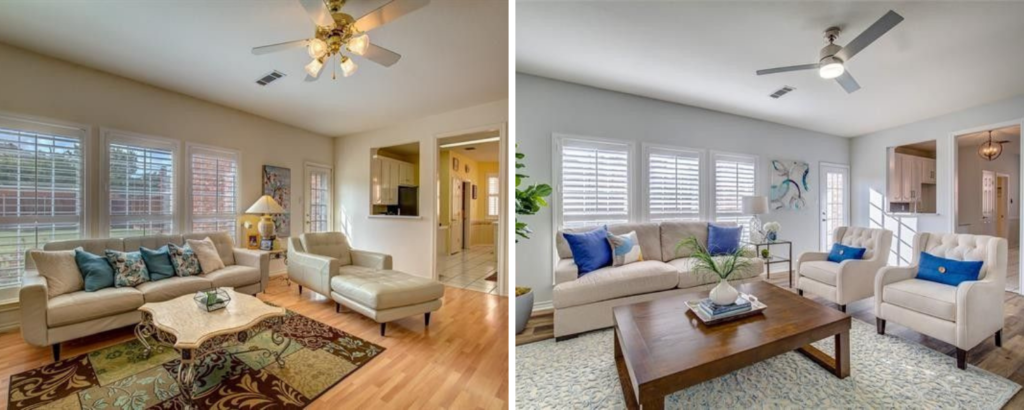 In the original living room, the furniture was way too taste-specific for an updated listing, and the wood flooring needed replacing. The original rug is also too small for this space. With furniture floating around it, it makes the space feel disjointed, dated, and incomplete.
On the right, the living room furniture I selected makes the space feel more open and welcoming. (See how at least two legs of each furniture item is on the rug? That's how it should be!) We used a vibrant blue as an accent color for interest and, of course, brought in some plants for a touch of life and warmth.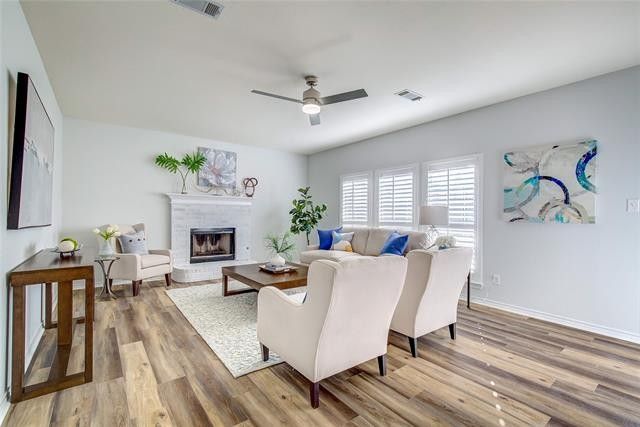 Here's another angle. Doesn't the flooring look so much better?? The flooring was number one on our priority, and we traded the previous engineered wood for this stained oak beauty. The muted tones create a sense of softness in the space that is instantly welcoming. We also refaced (painted over dated brick) the fireplace for a more contemporary look.
Before & After: Kitchen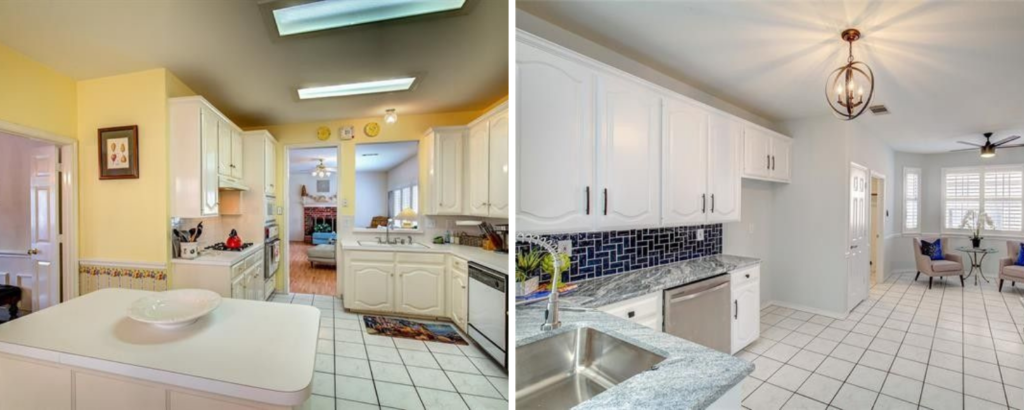 The original kitchen was definitely out of this era, from the yellow walls to the counters to the flooring. For an updated listing, neutrals are your friend! On the right... hello, new kitchen! The kitchen got a full revamp with new countertops, timeless yet on-trend backsplash, and fixtures. We used cool tones to continue the overall sense of freshness in the home.
Before & After: Breakfast Nook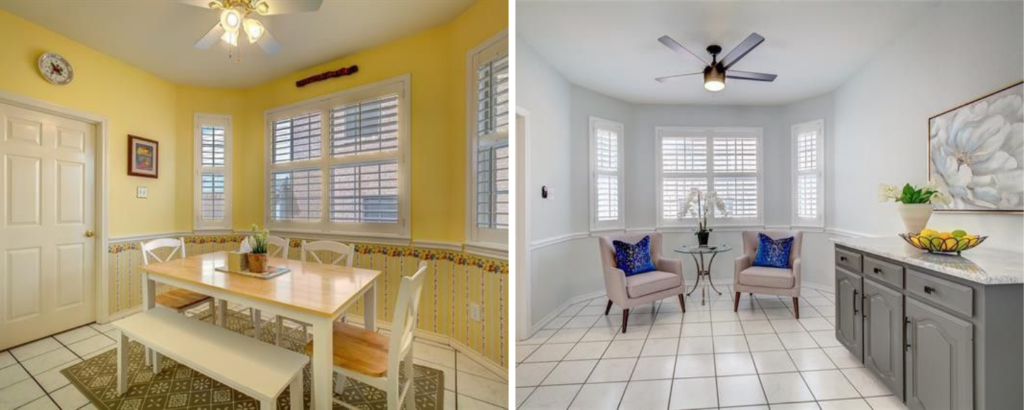 Just off the kitchen, we have the breakfast nook. Originally, the light fixture and wallpaper looked very outdated, and the walls needed updating. After... gone are the yellow walls and scary wallpaper! Welcome to a more modern breakfast nook, where homebuyers can imagine their mornings sipping coffee or reading a good book.
Before & After: Master Bedroom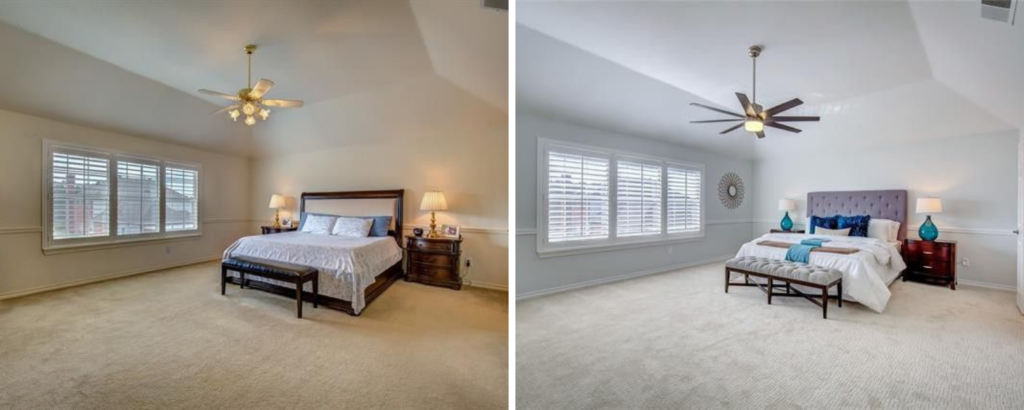 The master bedroom was actually not too bad. It had a lot of space and potential. We added a fresh coat of paint, new lighting, new carpet and less traditional furnishings. Much better!
Before & After: Master Bathroom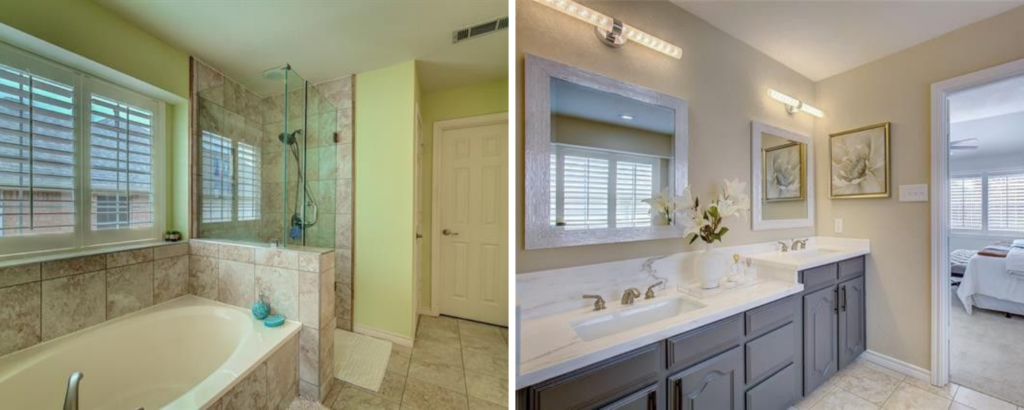 Another spacious room but definitely outdated stylistically. We got rid of the lime-colored walls, added a stylish new countertop, painted the existing vanity and installed these modern cabinet pulls, light fixtures and mirrors. This home has now joined the world in this decade!
Before & After: Home Office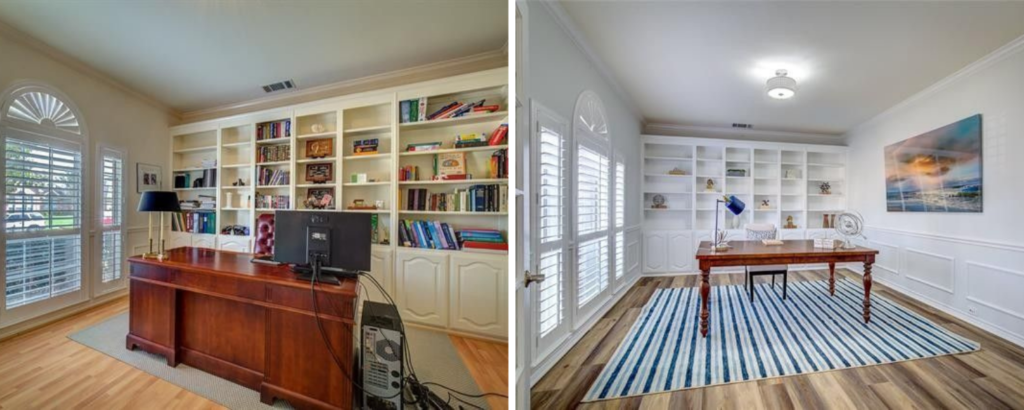 The home office was probably in the best shape of all the rooms. The flooring and color scheme just needed some love. Fresh paint, art, and more oak wood flooring transformed this office instantly!
How Did The Home Sell? What was the ROI?
Well, I know I spoiled the surprise at the beginning, but let me say it again. After sitting stagnant on the Dallas market with zero movement for a long while, this home sold in 5 days after re-listing! Not only that, our client saw a 57% return on their investment to get this home move-in ready. In what stock market do you get that kind of return? 
So what did we learn today? Strategic design and home staging work... and we have the numbers to back it up!
Do you have a property to list? (Or RE-list?) I can't wait to show you how I can help YOU sell your property and get on with your life, too. If you're ready to enlist our help in a speedy and profitable home sale, let's talk.
— Keti
In today's Dallas real estate market, the majority of buyers want make-ready homes. We're seeing less desirability for "fixer uppers" and more attraction to homes that are move-in ready, full of amenities, and tailored to a comfortable lifestyle.
The good news is that if you're selling a home, it doesn't have to be difficult to get your property up to these standards. It just takes some attention and expertise around two important steps. Do these, and your final sale price is almost guaranteed a boost.
What are the 2 steps? Preparation and Presentation. 
Step 1: Preparing Your Home for Sale
Staging your home is important, but preparation is what happens BEFORE home staging ever takes place — and it is extremely important. I know that we stagers can do many magical things, but even the best stagers can't distract from damaged paint and battered doors, floors and trim.
If updates or upgrades will require $5k investment, but the payoff is a $15k increase in the sale price, that is wise investment. In my experience, 9.9 times out of 10, it's The Best Money you will ever spend.
AFTER!
How do you know what to prepare?
The trick is knowing where and how to invest, and that's where a professional stager comes in. During our initial consultation with you, we weigh the pros and cons of your space. We will let you know which type of buyers are eager for a home like yours, the features they want, and we'll tell you exactly which investments are wiser than others.
You'll walk away from our meeting with a prioritized plan for updating or upgrading your space wisely and staying within budget.
Who should you hire for upgrades?
You are welcome to call in your favorite handyman or the one you found on Google last week… or, you could let our extended team do it for you!
In our case, all we ask is that you give us a little time, and we will bring our painters, the flooring and carpet installer, the electrician, and even the cleaner when the work is complete. What buyer doesn't love walking into that fresh, new smell and the feeling that they will be the first to live in the home?
Step 2: Presentation that Stands Out
Staging your home for the potential buyers is another great investment, because it allows the buyers to connect with the home and see themselves living in it.
I've found that sometimes home sellers and even listing agents believe that they were born with special gifts in home decorating, and they will try to stage the home themselves. Please, even if you have a gift (I believe it!) doing the staging yourself to save a few bucks is a mistake. ⁠
Why? Because...
Staging is not decorating.
Staging a home for the market is a lot more complicated than bringing furniture in and fluffing pillows. ⁠Yes, it requires one to not only know how to fluff pillows and bring furniture in.⁠
But you need to be trained on certain things, too, like giving each space a purpose, staging for the ideal buyer, creating focal points and interest where there are none, showing potential clients how they can live in your home, and most importantly… staging so that the house photographs well!
The way the human eye and the camera lens perceives space is so far off from each other. ⁠And if you think about it, it makes perfect sense. (Why do you think the big bucks companies hire visual merchandisers to market their products?⁠)
Your home is a product for sale.
Please know this, when you decide to put your house on the market, it is no longer your home. It is now a product that you would want to get top dollar for. So leave it to the professionals (and not necessarily the cheapest one) to get it done the right way, because you only have one chance to make the right impression.
Buyers will either love or hate your home in the first 3 to 6 seconds, whether they saw photos online or toured it in person.⁠
3 to 6 seconds. That's all you've got. SO, my friends... choose wisely!
— Keti
Have questions about staging or need your home prepared by professionals? Let's chat! (469) 210-1067
Do you know which design trends are going to boost your bottom line, and which are going to sink it? 
In my last post, we talked about some of the features that today's buyers want most in a home. These were mainly related to spatial desires, such as a sociable kitchen, designs for joy, smart homes, etc.
Today, I'm going to talk about the MATERIALS that are on-trend, timeless, and going to support a great bottom line for your renovation. 
Note, this post is hot on the heels of my trip to the International Builders' Show (IBS) and Kitchen and Bath Industry Show (KBIS), where experts meet to talk trends, market shifts, and the latest in home design. 
Timely vs. Timeless Trends
It's important to note that just because a beautiful slab of stone or oversized modern lighting are on display at KBIS doesn't necessarily make them a prime candidate for a profitable renovation. 
Not everyone is designing to sell. Some are designing to live. So it's important that I use my experience and judgment to assess the trends that everyone is gushing over.
Some trends are timely but will have a short lifespan. Others are timely as well as TIMELESS (Meaning future buyers aren't going to be worried about their interiors having an expiration date.)
The trick to profit-driven interior design is that it is equal parts timely AND timeless.
Knowing which trends are profitable (and which aren't) is an area where I excel. So, what's the verdict?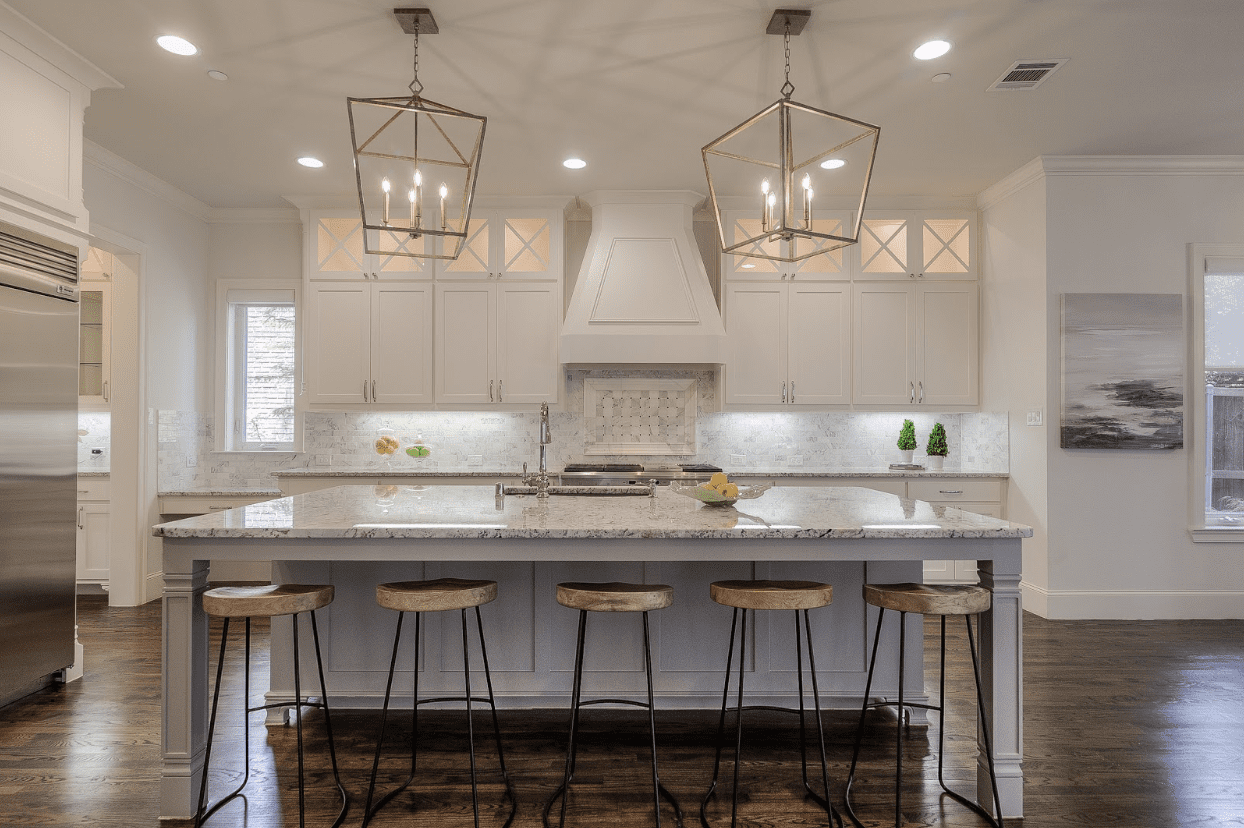 1. Choose Kitchen Cabinets in White or Warm Wood
White kitchens are incredibly on-trend right now, but I wouldn't call them "trendy." White is timeless and can make well-lit spaces look larger. Another tip is to take those cabinets all the way up to the ceiling. They make the room seem taller, in addition to adding more, desirable storage space.
If you're selecting wood cabinets, go with a warm tone. It makes the space feel more inviting, social, and comfortable.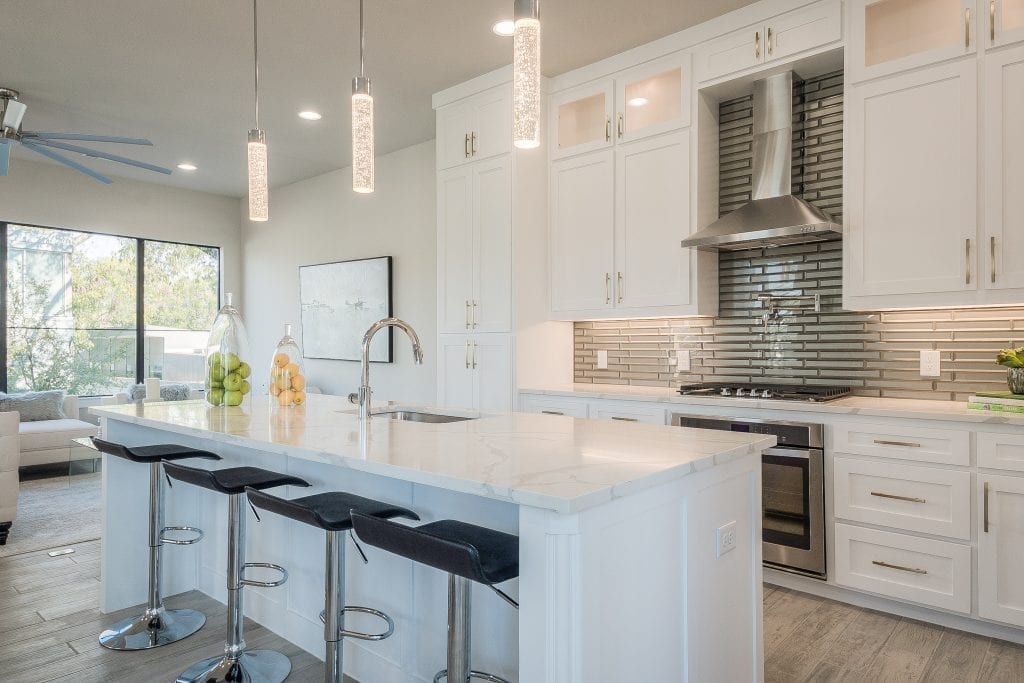 2. Black is Back in Home Design
Black is another timely and timeless color that can be used to create elegant impact in a home. It's best used as an accent color, either in some of the furniture used in a home staging, or as part of the hardware of a home, such as an elegantly slim curtain rod, light fixtures, or window frames.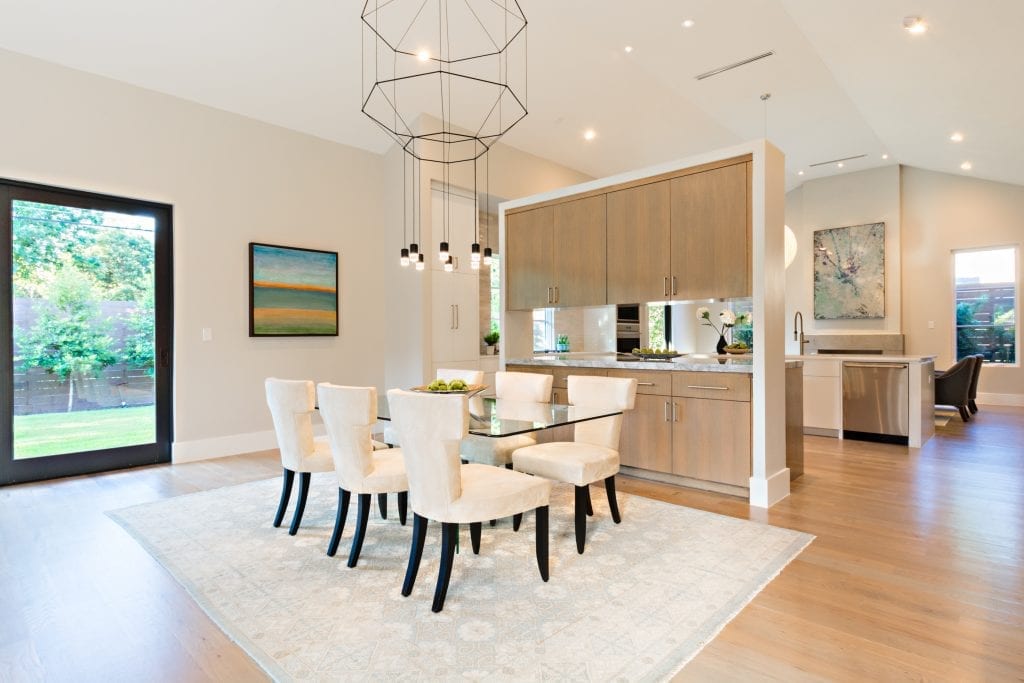 3. Green is Taking Over Interiors
Much like blue did in 2019, green is taking over homes in 2020. Color is always timely and timeless, but should be used tastefully when selling a home. I like to add pops of color with pillows and decor, or in the case of this year's color, fresh greenery.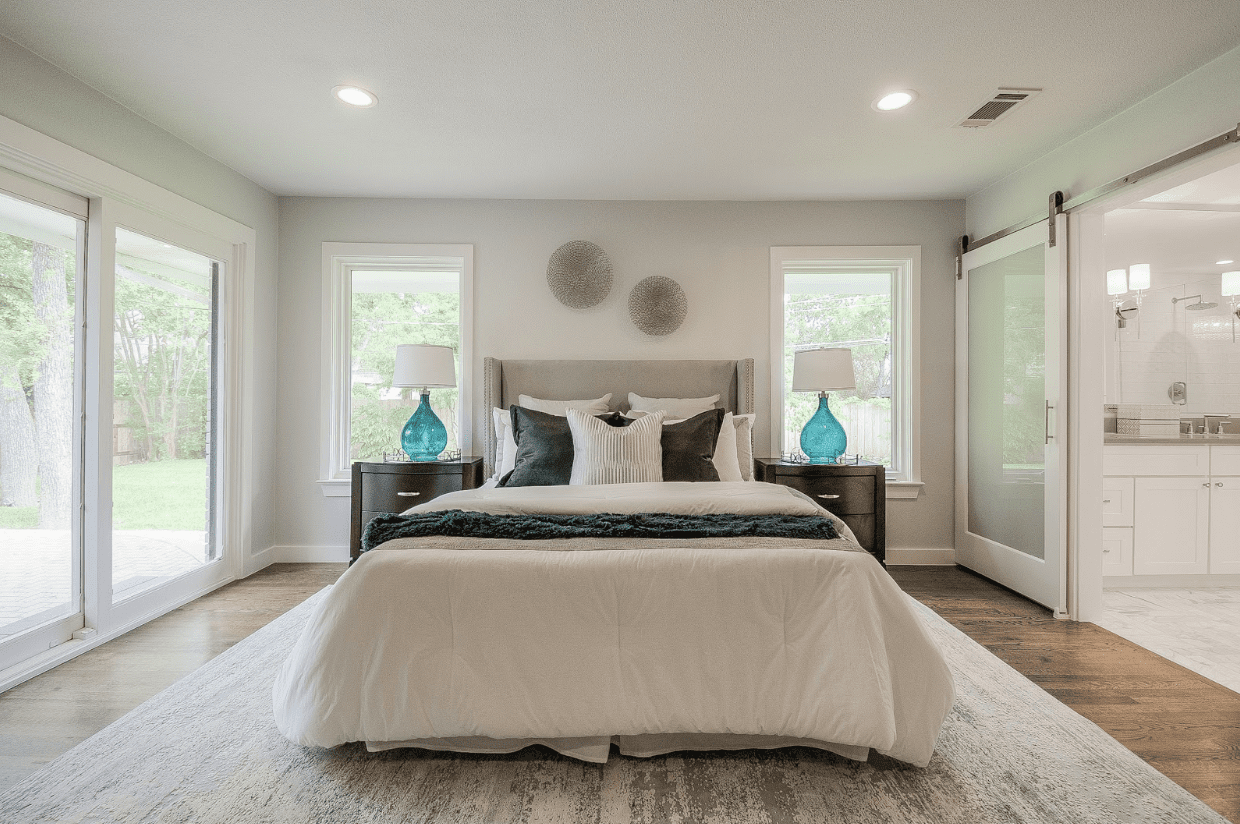 Spring green accents are tasteful and inviting. (Design by KETI)
4. Light fixtures are the jewels of the home
Light fixtures are incredibly underrated – they are the jewels of the home, and you shouldn't sell a home without great-looking ones! 
Below are a few that we've chosen for dramatic impact. And yes, they sold quickly!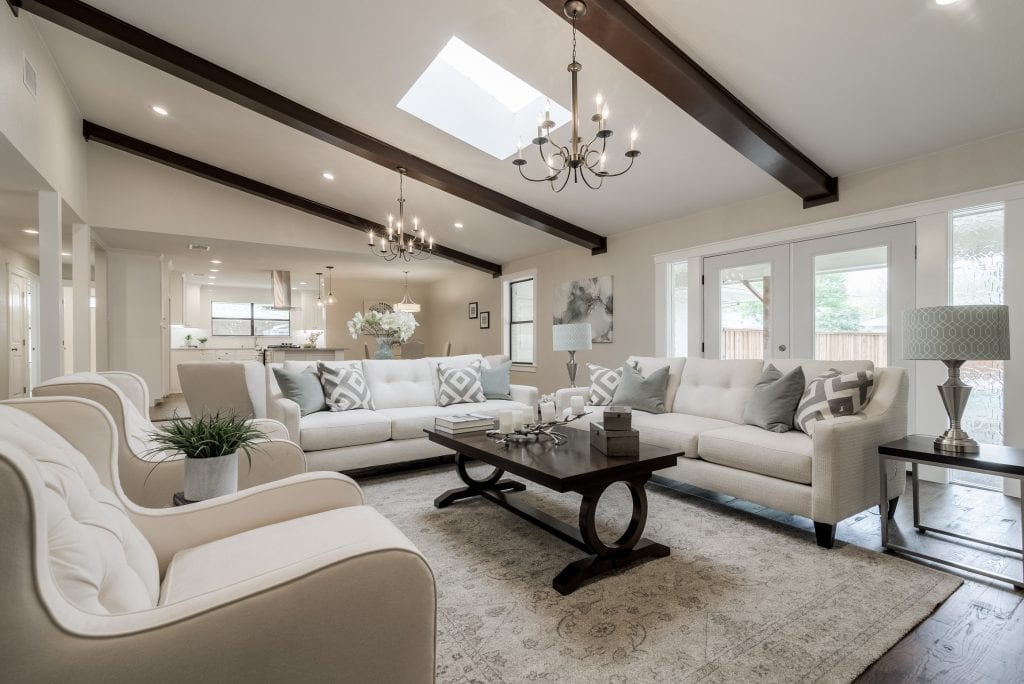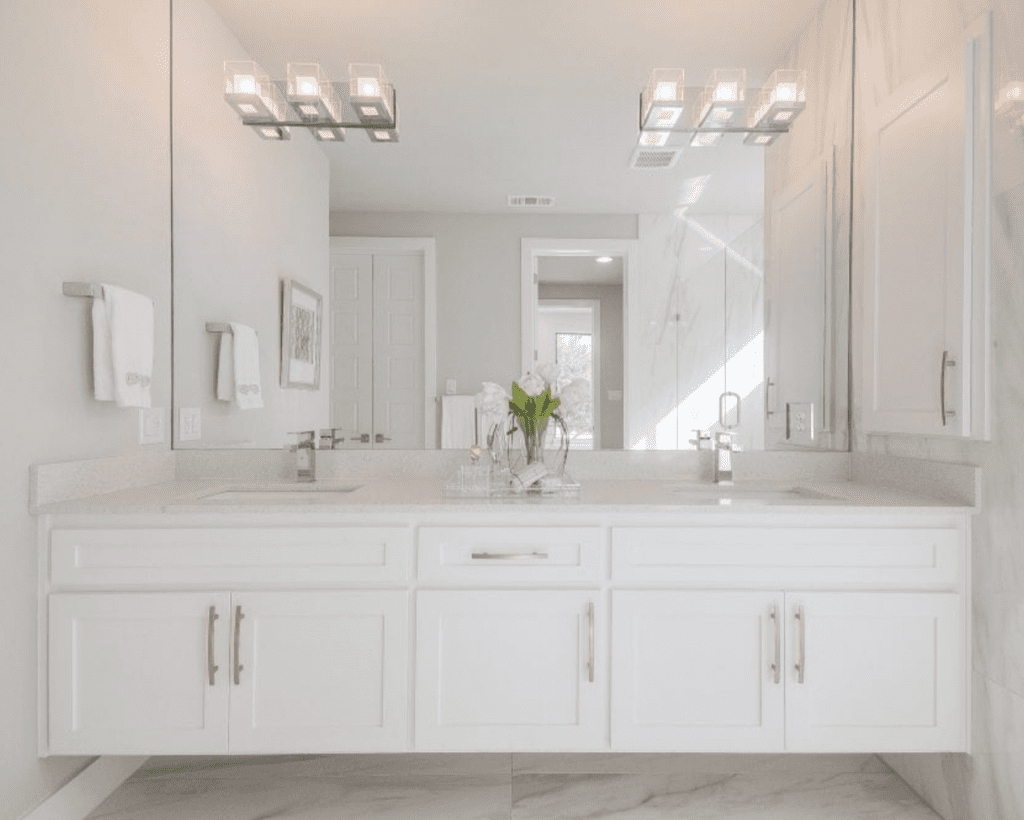 Living room or bathroom, lighting matters! (Design by KETI)
5. Bringing the outside in
This trend applies more to the home staging than the renovation, but is equally important. A home without some semblance of the outdoors will feel cold and lifeless. With today's shift toward design for joy, bringing the outdoors in is ESSENTIAL!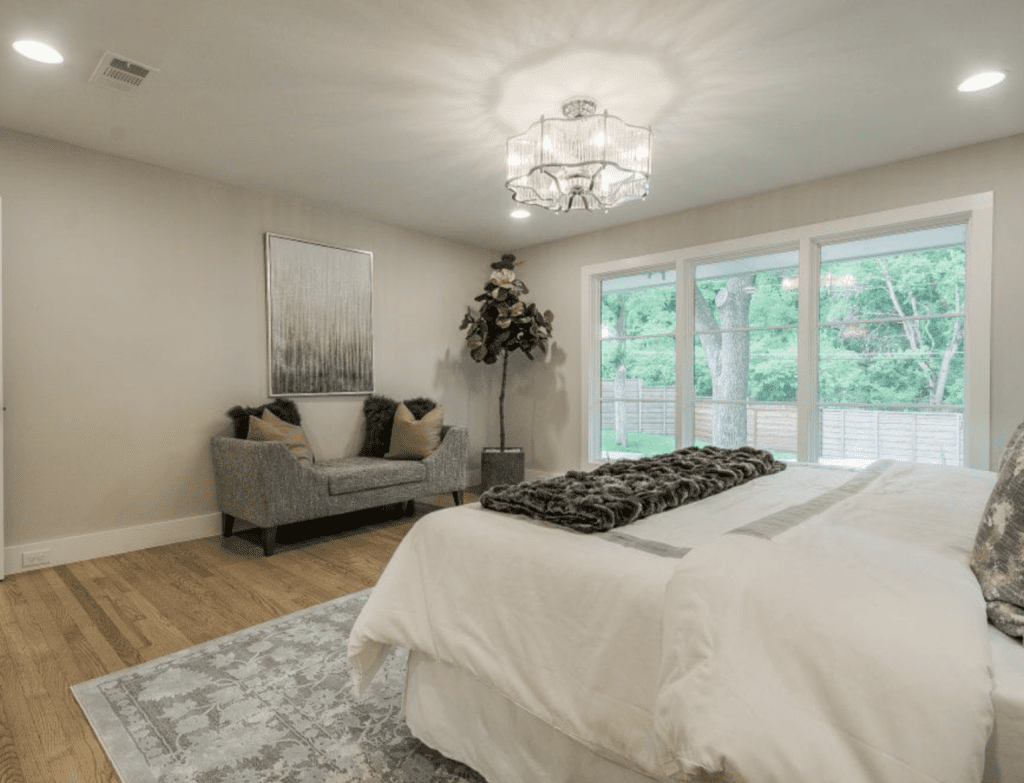 I like to use flowers, small potted plants, indoor trees, or succulents. (Design by KETI)
6. Mixing patterns (timely, NOT timeless!)
This is the only trend on our list that is timely but NOT timeless. You might be tempted to install a backsplash of beautiful patterned tiles that are completely on-trend right now… but not only are you taking the risk of the homeowner not liking the pattern, it may go out of style quickly.
This is why I suggest pattern mixing in the home staging, not in the renovation itself. Keep your backsplashes and tiles more neutral.
Mixing patterns with the area rug and pillows are timely and tasteful. (Design by KETI)
In my next post, I'm going to break down what a kitchen renovation costs and how to budget for it. 
Until then, download our free guide to profitable staging or contact us here for help with your project!
— Keti
You might think a great floor plan, location, or square-footage will sell a property, but trust me, important as that might be, great real estate design is what sells homes. Buyers care what the home looks like, and if it doesn't meet their criteria, they won't be headed to the closing table any time soon. 
I know because we've encountered many situations where homes with great bones and floor plans sat on the market indefinitely until we came in and helped with some much-needed improvements. Design MATTERS. 
Here's what great design can do to sell your property:
Reflects the home's price point but still looks comfortable and livable

Matches what targeted buyer demographics are looking to buy in the area

Plays up the best features of the home (and play down any negative elements the space might have  )

Makes a killer first impression that wins buyers over from the start
If you don't believe me, here's the proof!

Who should you hire to get a professional real estate design for your flip or reno?
If you're serious about your ROI, you'll want to hire a professional in the field. Your first instinct might be to hire an interior designer, but I would caution you against it.  Interior designers, while extremely talented, are experts at creating spaces that are highly personal and specific to the people already living in the home. 
Designing a flip or renovation to sell requires a very different approach. 
Instead of asking the homeowners how they use the space and want to live in it, we have to consider the design from a profit-driven perspective:
Who is the target buyer for this property? Are they career professionals or entrepreneurs? Do they work from home or do they go to their office every day? Is the house located in a great school district and ideal for families with kids? Is the neighborhood seeing high interest from young business professionals? Etc.
What are the selling features of the home, the ones that will make buyers say, "Wow, I can't wait to live here."
What is your investment budget? The amount that you can invest in the home will, of course, dictate what can and can't be done. This is another piece of the puzzle that must be taken into account from the start!
Once these questions have been answered, a real estate design and staging professional will create the right aesthetic AND prioritize your bottom line. 
It's design, but it's also expert business strategy. Your pocket book and future will thank you! 

How do you ensure you have a real estate design that addresses these selling priorities?
If you work with a design and real estate staging professional, they should take you through three steps: a consultation, a design plan, and the final staging to bring everything together. 
The renovation and design consultation is a strategy session. It's the first step to a successful project and is not to be taken lightly! During this on-site meeting, we'll…

During this phase we get into all the design-related specifics, or the HOW of our renovations plan. We'll make all the selections for any new or updated features such as paint, flooring, counter tops, tile, back splash, lighting, hardware, plumbing, etc. 
We will present you with all the specifics of the renovations design plan at which time, we can either source all the material selections for you, or you can do so in collaboration with your GC. During the renovation process we can also make ourselves available to your crew for any installation and design specific inquiries.
Extra step: If desired, our trusted team of subcontractors can carry out the agreed-upon updates and renovations with speed and professionalism. Relax and enjoy letting experts take the wheel!

The design of the home doesn't stop with hardware, flooring, and countertops — what's inside your home matters too. To complete the transformation, you will definitely want to stage the home. (Whether you choose us or not, we still suggest it! It is SO worth it.)
With us, while the minor improvements and renovations are underway, we'll present you with a vacant home staging proposal that highlights the home's selling features and is worthy of its listing price. 
Once the renovations have been finalized, we will begin staging your investment property. This is the moment when the magic happens… the home is transformed and ready to steal the hearts of potential buyers!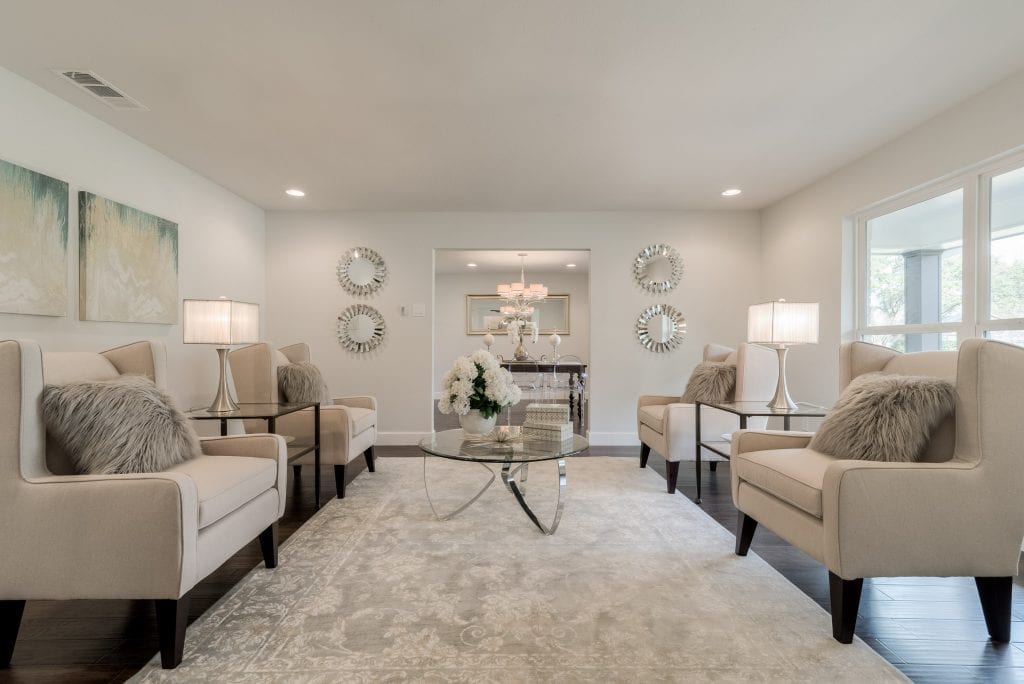 For the best results, we recommend bringing in a design professional from the very beginning, before any updates are made, and taking your project step by step. (This is our Complete Concierge service for investors or homeowners.) 
But if you're looking for design help somewhere in the middle of your project, you can still find any of these as a stand-alone service and see drastic impact. 
Next month, I'll be back here to share a bit more about what really goes on at a home staging consultation. Spoiler… more than you think!
Until then, sign up HERE to grab our free download, How to Prepare for a Remodel!
— Keti
Does your home for sale have outdated kitchen cabinets?
3 Ways to Upgrade Kitchen Cabinets for Resale
 
Kitchen Renovation and Staging Project | Before & After
Instantly Improve the Perceived Value
Instantly Improve the Perceived Value Does your home for sale have cringy or outdated kitchen cabinets? If they don't show significant wear, they are a good candidate for a paint-induced makeover. Remember, kitchens and baths are the main selling points of a home. Ensure that the kitchen, the heart of the home, is looking its best.
Whether you are the homeowner looking to sell or the agent who is handling the listing, the tips we're sharing today will help increase the perceived value of the house, which can result in a higher payoff.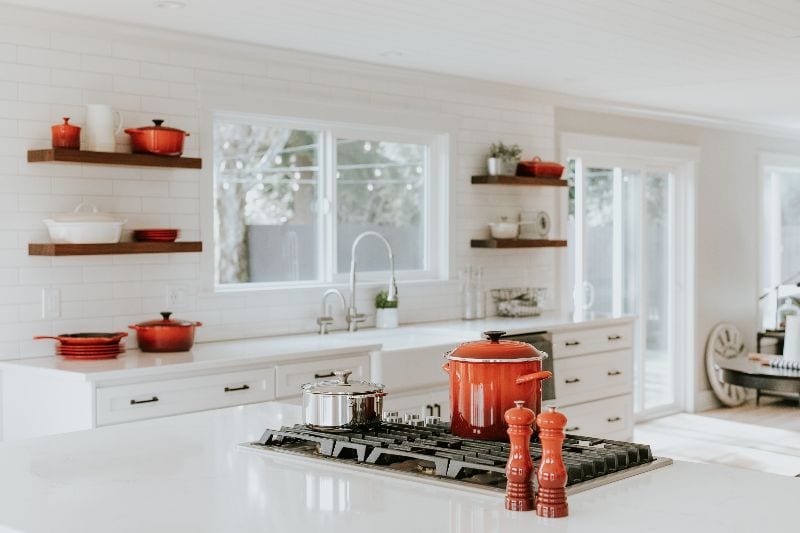 _
SHOULD YOU REPAINT?
Update old or builder-grade kitchen cabinets with high quality paint. If they are already painted, simply refresh their existing color. If they were previously stained, hire a professional re-finisher or take your time to learn the best way to paint your cabinets. Keep in mind that the cabinets must not show significant wear and must not be broken.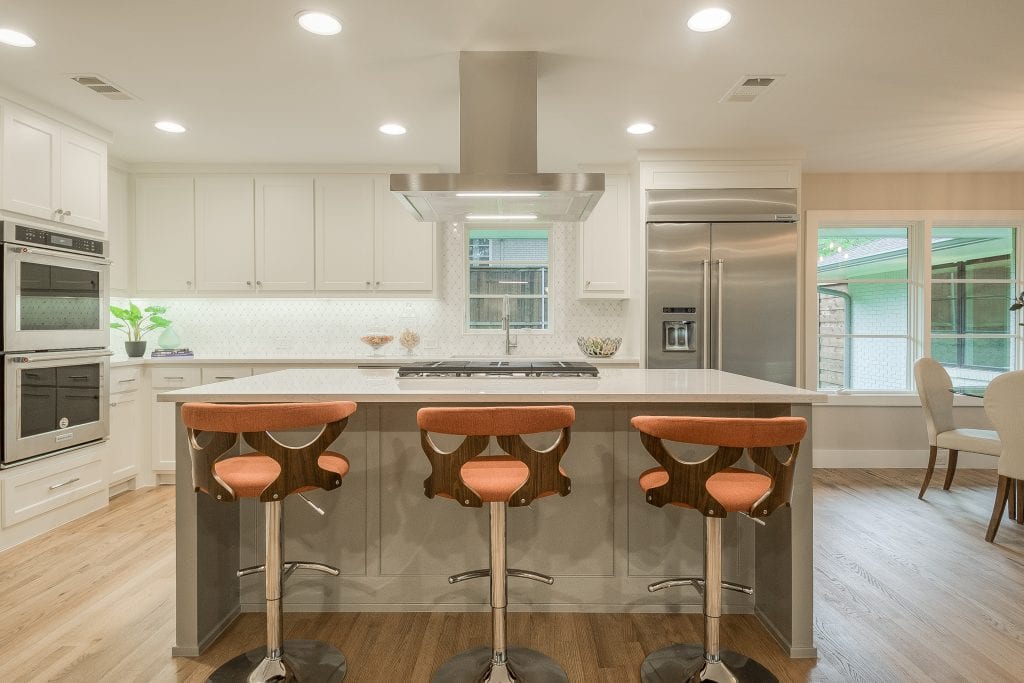 _
PRO PAINT TIPS TO TRY
Make your cabinets look high end by painting a different color on the island or by creating contrasting upper / lower cabinets. (e.g. A tuxedo kitchen has white uppers and black lowers.)
When selecting new paint colors, choose a shade from the existing counter tops and / or back splash tile to ensure that the space still flows well.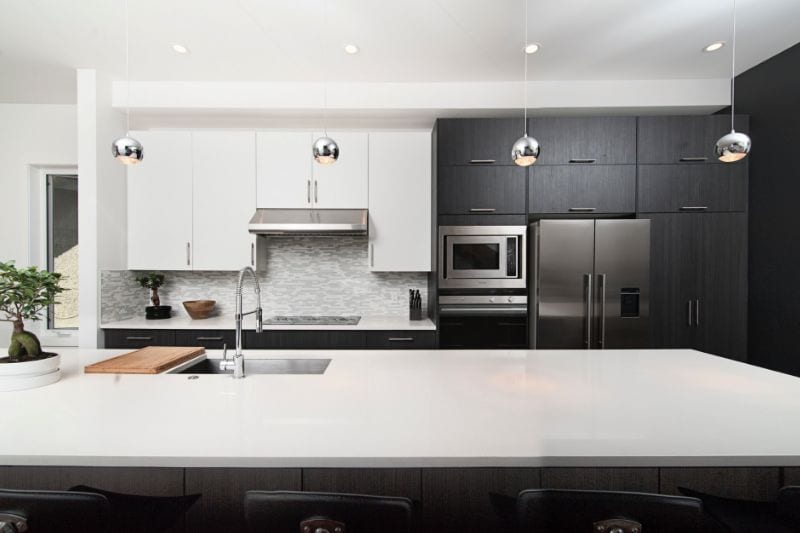 _
ACCESSORIES TO ADD
To further accessorize, line the cabinets with a solid color shelf liner or simply remove any old shelf liners. Your cabinets should look fresh from the inside out. Don't hesitate to give them a thorough interior cleaning.
Lastly, swap out the cabinet and drawer hardware for something new and minimal. This can improve the aesthetic of the entire kitchen by leaps and bounds.
STAGING STATS
95% of home buyers look at MLS photos.
The way your home looks online matters. Ensure that your house gets the attention it deserves (and sells for a great price) by investing in quality staging and styling.
TIP OF THE MONTH
Create a statement piece.
Paint the kitchen island a deep, bold color to make it stand out from the cabinets. Navy, black, or deep green are excellent options.
Cheers,
Keti
O: (214) 814 – 5967
E-mail: info@designbyketi.com
The smart and savvy Real Estate sellers realize that putting their home on the market is a two-step process.
First Step Preparation - It includes things like, painting, changing or cleaning carpets, updating hardware and light fixtures, attending to the curb appeal of the home etc.
Next Step Presentation - Otherwise known as Styling and Staging of the home to appeal to the demographic of the neighborhood where the home is located.
Only then your home will outshine the completion in your neighborhood and sell for more and in less time.
Let the experts at Design by KETI help with the entire process and sit back and relax. No need for you to chase after the painter and the carpet guy and the handyman and the professional cleaning crew,  in addition to also finding the right stager for you.
We got it all covered for you!
Our goal is to make your life EASY and make your home selling venture enjoyable and delightful especially once you look back and realize all the extra money you made at the sale of your home, with minimum investment and effort on your part.
Take the home featured in this clip as an example. For a minimum investment and very little effort on the sellers part, it sold shortly after it got relisted as a professionally renovated and staged home.
Cheers,
Keti
O: (214) 814 – 5967
E-mail: info@designbyketi.com
To invite Keti Abazi, to be a speaker at your meeting or function, you may contact info@designbyketi.com.

 Your audience will find her presentations on Home Staging not only educational but also amusing, genuine and refreshing.
If you are a home seller and are thinking about listing your home for sale, one of the things that would benefit you the most is a  Home staging consultation.
By consulting with a professional home stager  -  for a minimal fee  -  you will be tapping into the intellectual property and expertise of someone who is well versed on anything related to target real estate marketing, merchandising and packaging a home for sale. During the consultation you will be given specific instructions on a room by room basis as to what you need to do to prepare the home for the potential buyers; AKA, package and merchandise it.
Check out some before and after pictures of this drastic transformations in Dallas.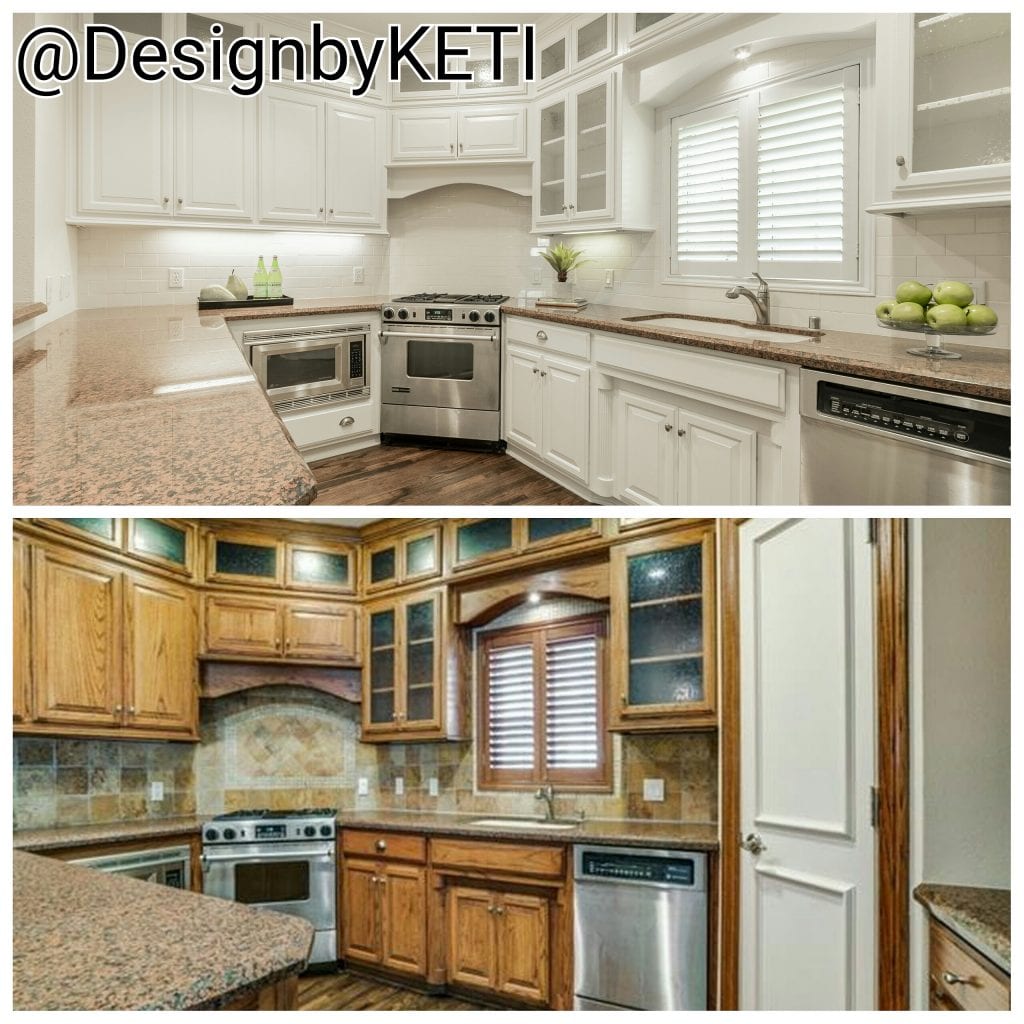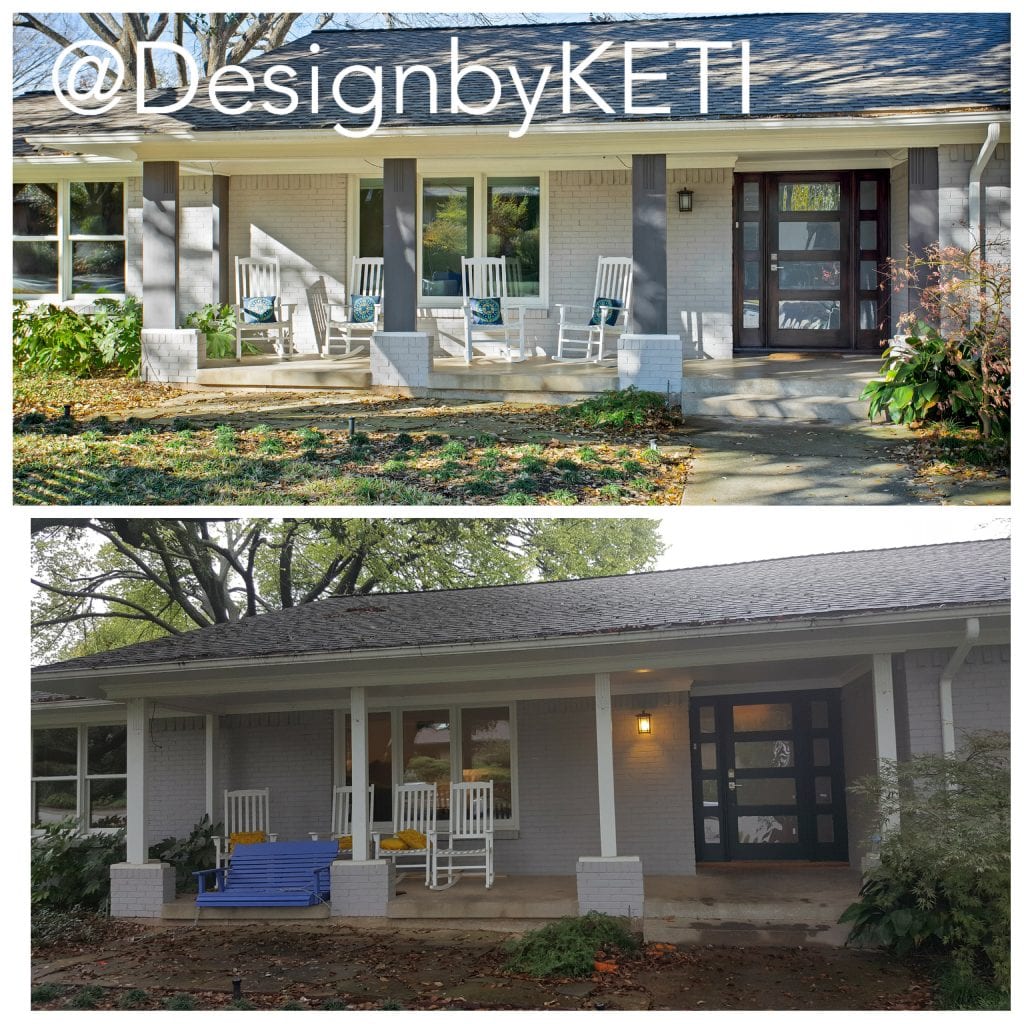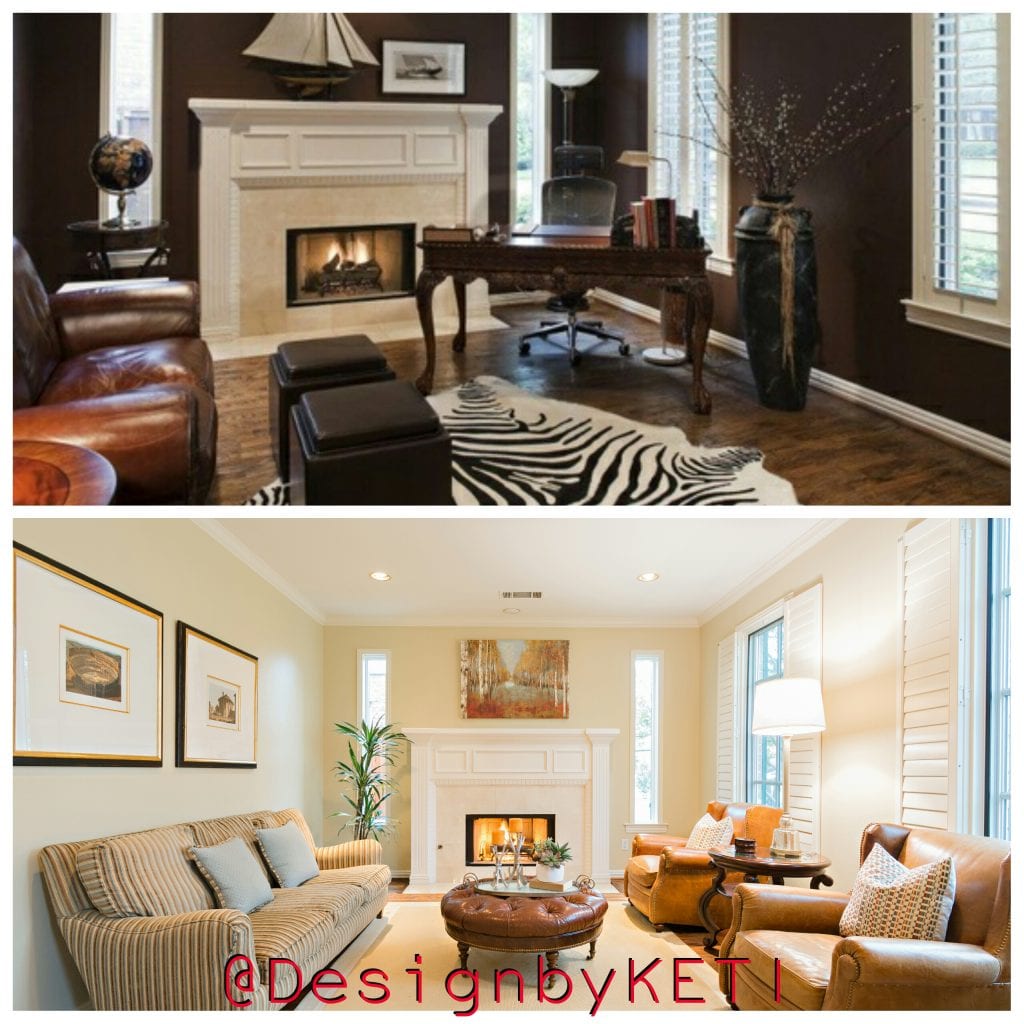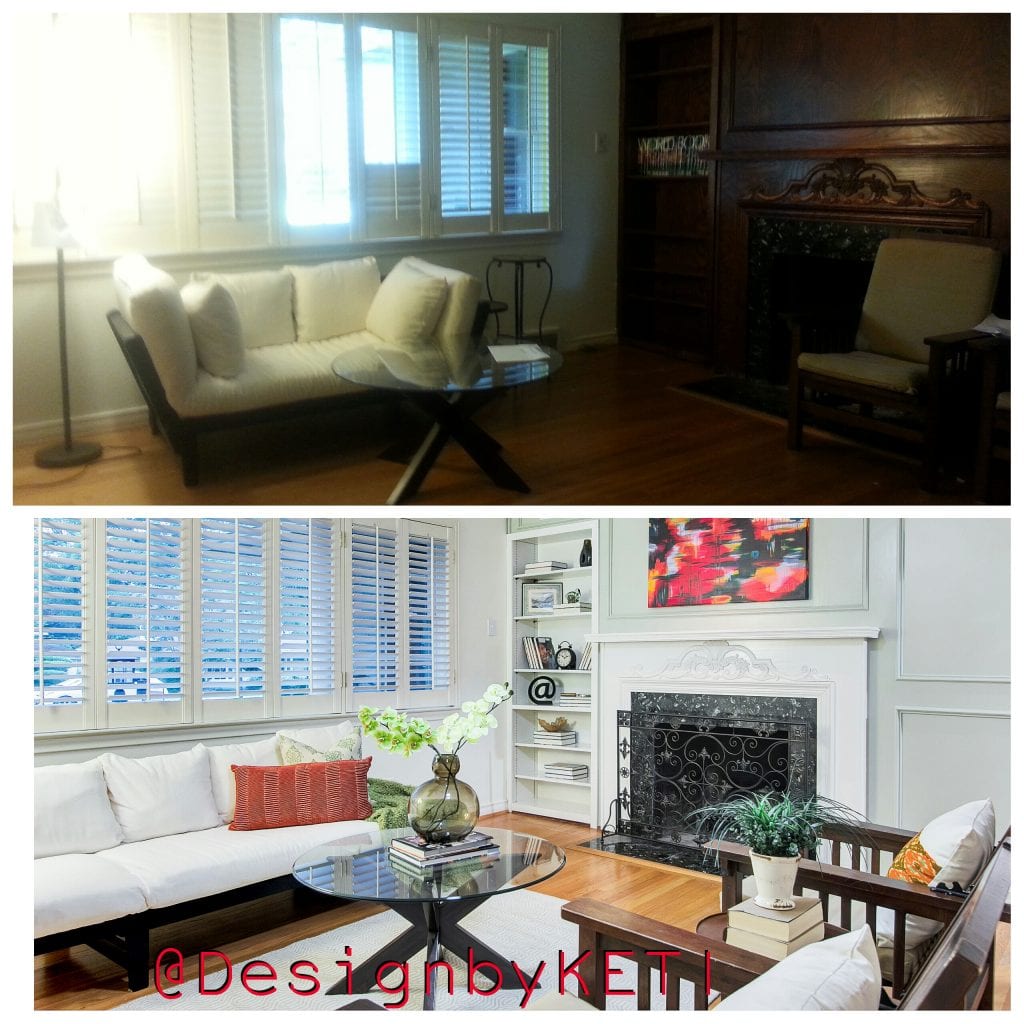 We are so proud of the sellers for implementing 100% of our recommendations.
Cheers,
Keti
O:(214) 814 – 5967
E-mail: keti@designbyketi.com
To invite Keti Abazi, to be a speaker at your meeting or function, you may contact info@designbyketi.com. Your audience will find her presentations on Home Staging not only educational but also amusing, genuine and refreshing.
It's a Seller's market…You hear it everywhere from everybody.
…BUT not all homes are selling FAST and for TOP Dollar!
I would like to propose to you that a Seller's market does not equate a Flea market.
The reason being…
NO MATTER WHAT THE REAL ESTATE MARKET IS, EVERY PROPERTY HAS A TOP DOLLAR VALUE RELATIVE TO THAT MARKET.
Why is that…?
…Because consumers always want the best product, at the best price, that meets their needs.
So what am I trying to say here? What's my point…?
My point is this:  If your home for sale look something like this…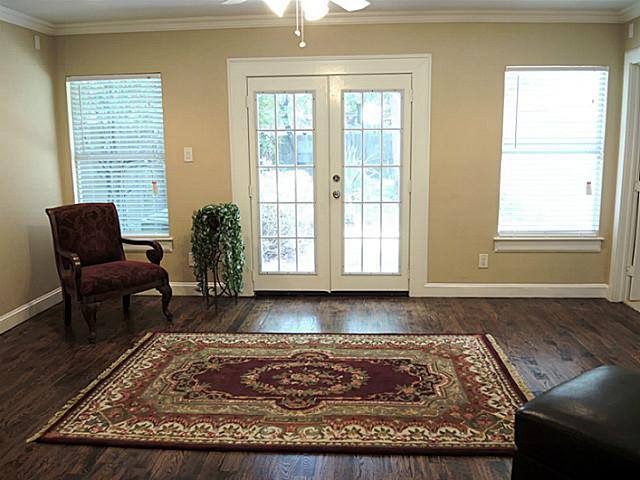 ...or like this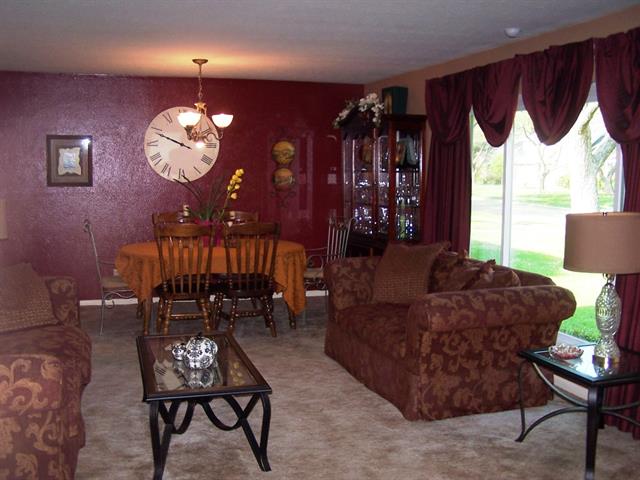 ...or even like this (aka, cheaply, badly staged)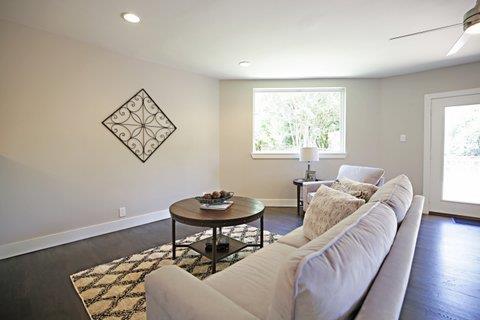 I got some BAD news for you…it will not sell FAST nor for TOP Dollar even in a Seller's market!
The internet has changed how we do life and business. Gonne are the days when a buyer walked into the local real estate agent's office asking for help finding a home.  The internet is now the market place for Real Estate; not the Broker's offices down the street.
When someone decides they want to buy a home they get on line. They do a lil' bit of shopping, decide on what home they want to go visit and then call a Real Estate Agent to help them go see the home in person. And while the buyers are internet shopping, within 20 seconds of browsing thru a listing they will decide whether they want to view your house for sale in person or not. That's all you got, 20 seconds!!
So, after viewing a series of homes on the internet do you think the buyers will want to see these types of homes in person
Or These ones…?  All Professionally Staged and Photographed by the team of Design by KETI.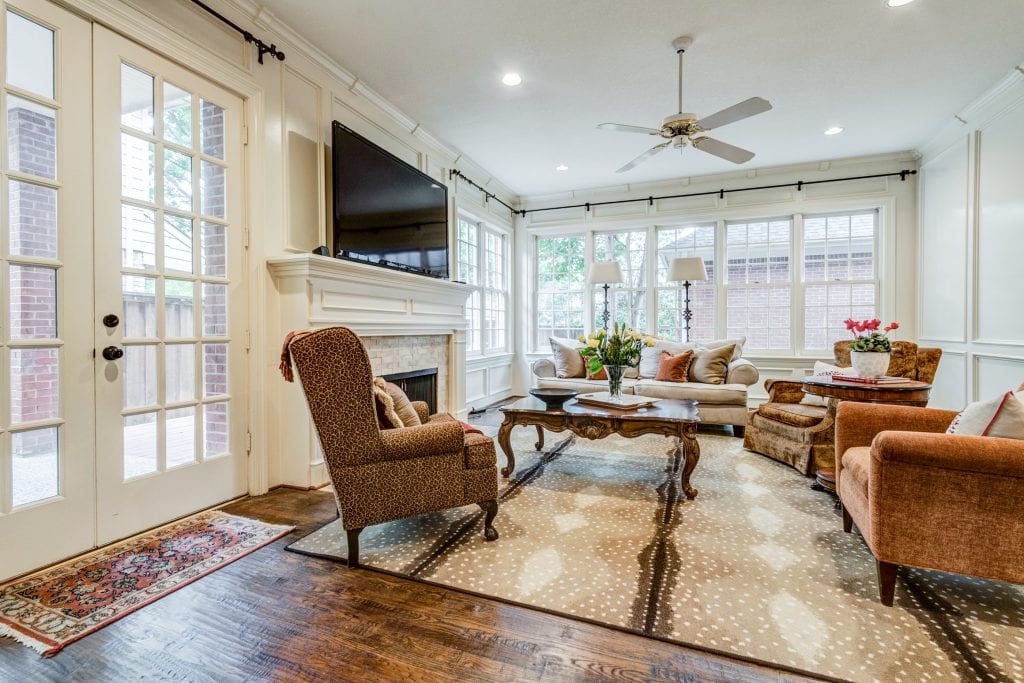 How about this one?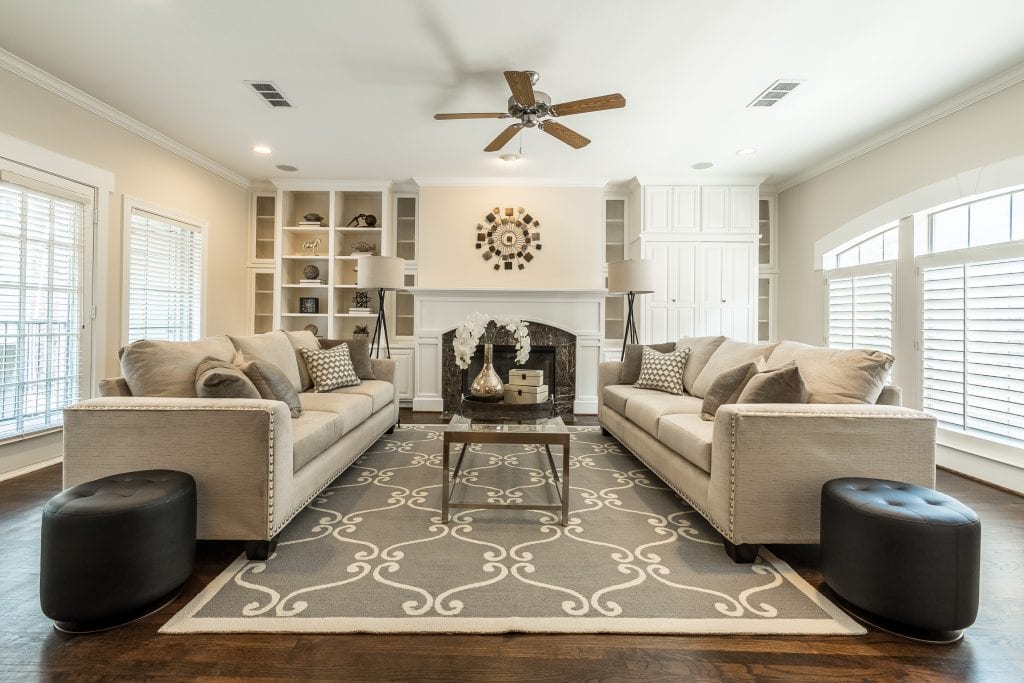 Or this one…?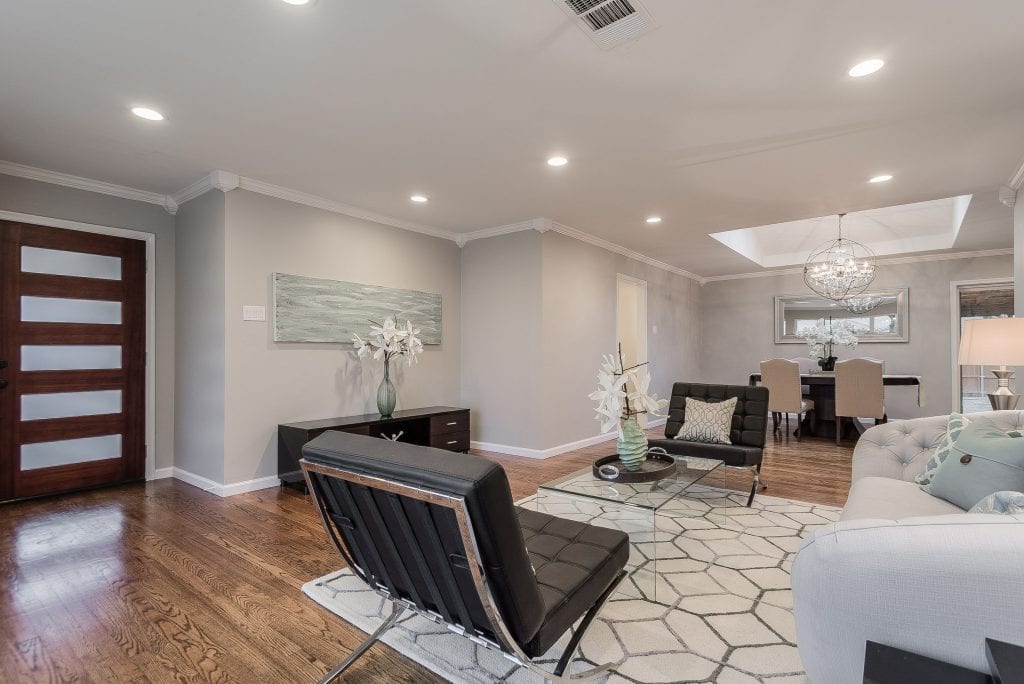 The Real Estate market has changed, it's not business as usual!
Strategic Staging, professional photography, and video are the MOST important ingredients that will sell a home FAST and for TOP Dollar Regardless of what the market trends are!
Remember, a Seller's market does not equate a Flea Market.
Cheers,
Keti
O: (214) 814 – 5967
E-mail: keti@designbyketi.com
To invite Keti Abazi, to be a speaker at your meeting or function, you may contact info@designbyketi.com. Your audience will find her presentations on Home Staging not only educational but also amusing, genuine and refreshing.
Smart Sellers understand that Professional Home Staging is a powerful marketing tool that when used correctly - it has tremendous FINANCIAL benefits associated with it regardless of what the market looks like. Why? Because a staged home will photograph well, will show well, will enable the buyers to linger in and not move on to the house next door. Basically a well-staged home will attract and entice more buyers to set up an appointment and come see it. The more appointments, traffic and interest your for-sale house generates, the more likely you are to sell it at asking price if not above asking price.
As spring rolled in a few good things happened in real estate in Dallas; home prices started to go up by 6% and up to 8% - some even say - and the big talk in the local media is that "it' a seller's market we are in". Yippee!
Although I am optimistic and inspired by the current trends in real estate I also think that –as sellers- it behooves us to be realistic about those trends.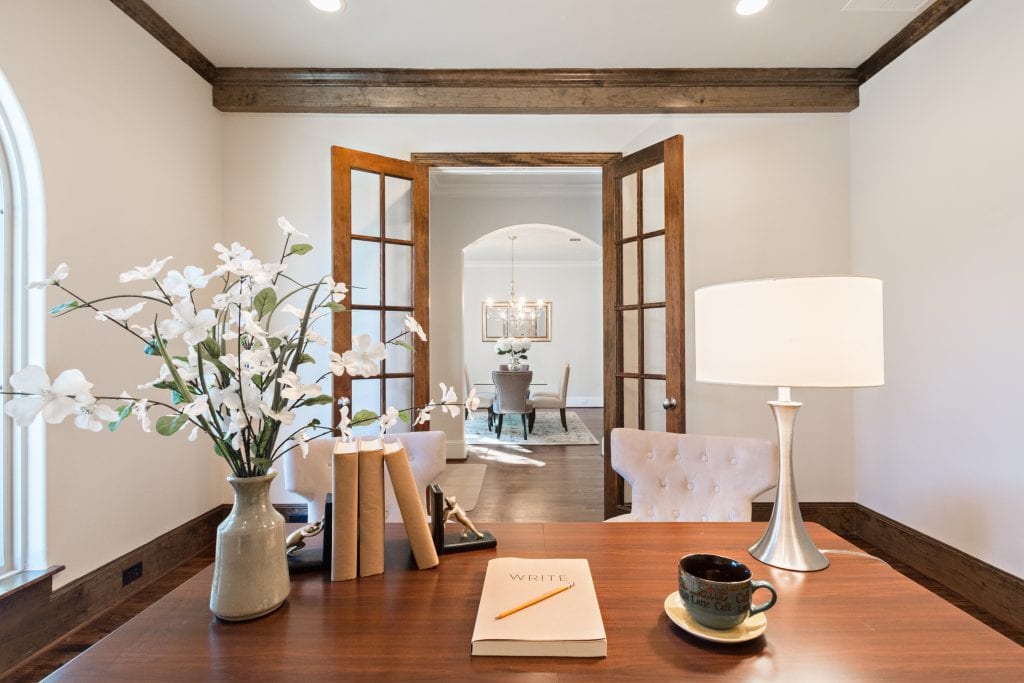 And the reality is this:
Day after day, I have driven by homes with 'For Sale" signs in front of yards for months. I am sure a lot of you share similar sentiments.
Why are not All Homes Selling Fast and for the absolute best price? After all it's a seller's market and the seller calls all the shots. Not necessarily so, and not so fast!
Regardless of what the market is, buyers are smart and they will always look for the best product, in its best condition, that meets their needs (and wants) and that is offered for dollars they are not just willing to part with but even pay more.
So as you contemplate putting your house on the market– as a seller – you need to be asking yourself these two questions because at the end of the day, you won't have a sale unless you have a buyer.
a-) what does the buyer in my area want;
b-) can I deliver on what the buyer wants so my for-sale house outshines the competition in my neighborhood, and so that I get top dollar from the sale of my house?
At the risk of sounding materialistic, I am going to say this: yes, it's true it's all about the mighty dollar! But it's a lot deeper than that. Why would you want to be part of a financial transaction and leave money on the table?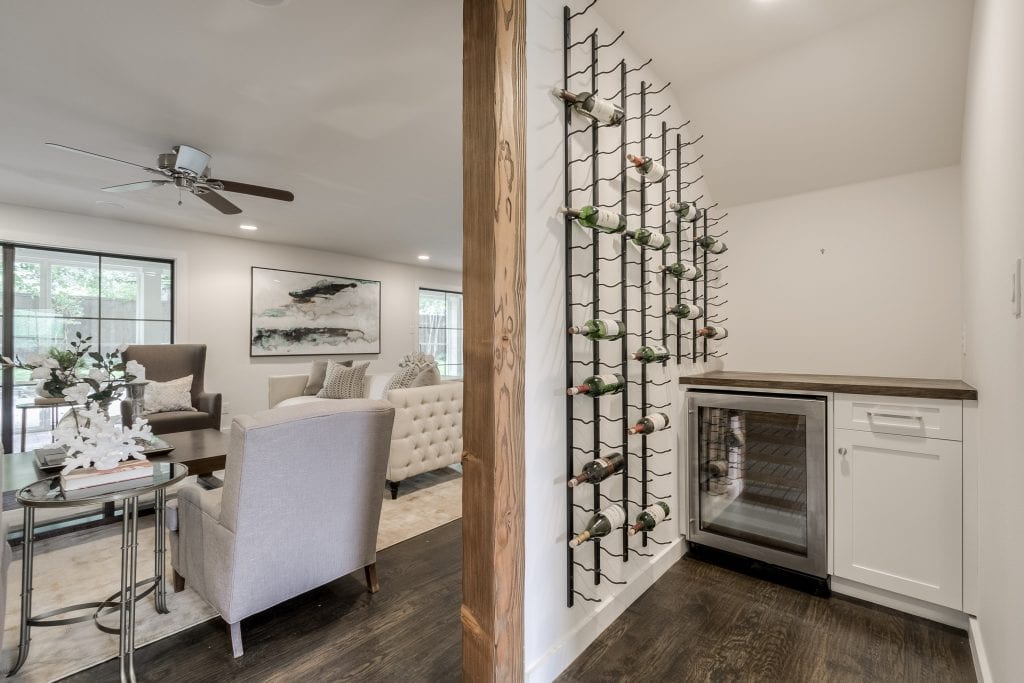 Merely by not merchandising and packaging your home so that it appeals to the target buyer (aka not staging it for sale) you are doing just that - you are leaving money on the table.
The good news is, you don't have to leave money on the table if you play your cards right. So yes, it's sort of a game a little bit, but it's a fun game with great financial return. Part of the game is to be strategic about the sale of your home. That strategy should involve engaging the expertise knowledge and resources of a professional home stager.
Yes it is a seller's market and yes homes are selling fast, but not all of them, and most assuredly NOT for Top Dollar. It would be naïve to make the assumption that ALL homes are selling fast.
These are my thoughts, what's yours?
Cheers,
Keti
O: (214) 814 - 5967
E-mail: keti@designbyketi.com
To invite Keti Abazi, to be a speaker at your meeting or function, you may contact info@designbyketi.com. Your audience will find her presentations on Home Staging not only educational but also amusing, genuine and refreshing.
I would like to share with you an interesting thing that has happened to me during these past few months.
On a few instances I have been brought in for a Staging project by e Realtor "because the seller asked to work with a Professional Stager". That's right, the Seller asked the Realtor to get them in touch with their preferred Professional Property Stager as they prepare their house for the market.
It is truly amazing to see the shift in people's mentalities when it comes to Property Staging. I am thankful for all the smart sellers out there who truly understand that Property Staging is not just about "bringing some furniture into a vacant space", and it's not just about "fluffing their home".
Smart Sellers understand that Property Staging is a powerful marketing tool that when used correctly it has tremendous FINANCIAL benefits associated with it.
We are stepping into a Sellers' market these days and there is a lot of talk about how the sellers are benefiting and how "offers will practically just drop on their lap", because the demand for homes is high and the supply is low.
Although I understand the concept of supply and demand really well, I also do understand that REGARDLESS of what the market is, buyers are smart and savvy these days; they want the Best Product that meets their needs and wants at a dollar amount they are willing to part with.
Let's take this example:
You go to a 5 star restaurant for dinner. You have the most decadent appetizers and entrees one can possibly have in their life. You enjoyed every bite of it…now it is time for dessert. You happen to love Cheesecake and you really want to order some. You talk to your waiter and he gives you your options:
You can have their "Regular Cheesecake",

Plain Cheesecake
or for $1.50 more you can have their "Special Strawberry Cheesecake"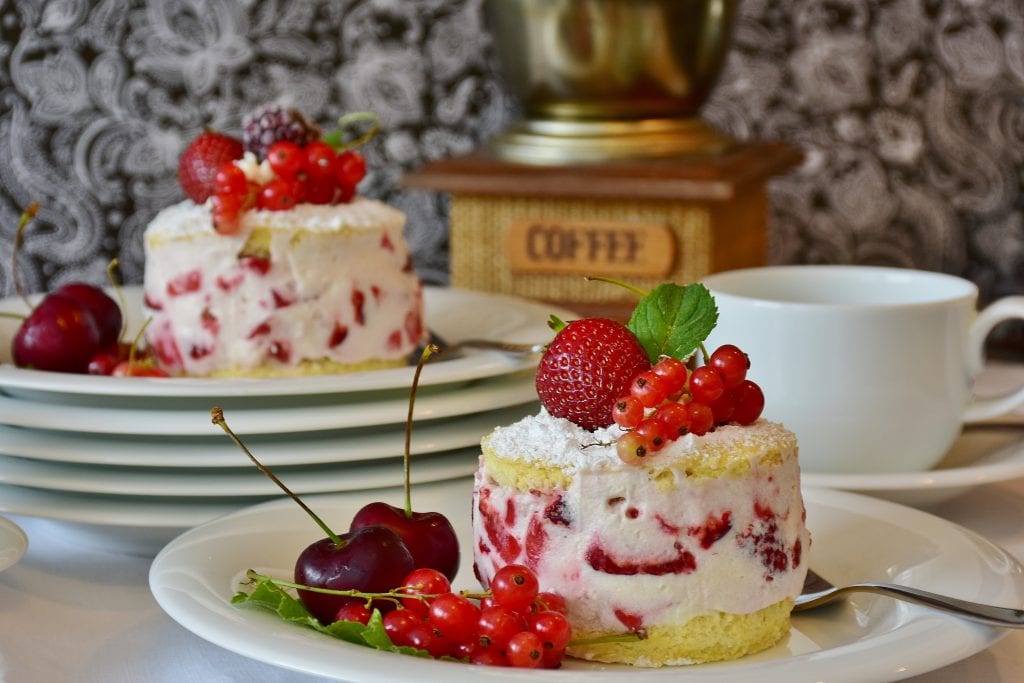 Strawberry Cheesecake
I don't know about you but for only a $1.50 more I definitely want the Strawberry Cheesecake which comes with drizzled chocolate caramel and strawberry sauces topped with whip cream and a glazed strawberry. Yum.
(Oh and btw, I guarantee you; it did not cost the restaurant $1.50 for the toppings).
The strawberry cheesecake creates a feeling within you and it eludes a vision of the reality of having that cheesecake vs. the plain one and you just can't resist it, plain and simple.
That's exactly what Staging does to a property. It presents the buyer with the opportunity to emotionally connect with a property. It also sets your property apart in presentation and value from all the other "cheesecakes" in your neighborhood that are up for sale.
UNLESS you don't want to make more money when it is readily available to you for a minimal investment of time and money (perhaps even some sweat equity on your part) than Property Staging might not be for you!
…therefore you need not read further.
But if you want to make more money when it is readily available to you than read on…
Here are 4.1 reasons why you should Stage your property in a Seller's market:
1. Property Staging is a Practical Real Estate marketing tool.
Once your property is listed on the MLS your job is basically done. All you have to do now is sit back and wait for the buyers to come by, tour it and make an offer on it.
We need to understand that the internet has changed the way we do business in every area of our life – and that includes selling a home. Did you know that 42% of buyers used You Tube to look up houses for sale last year? That means, pictures may no longer be all that valuable. The video and the virtual tours will be! I can only imagine how a home that is not staged would look on video, especially if it is not done by a professional. I read this expression a while back I thought it was so true and also so funny at the same time.
"If you think hiring a professional is expensive, wait till you hire an amateur"!
Property Staging is becoming an essential and irreplaceable marketing tool, like we have never seen before because we live in a day and age where people are taking care of all their social, private and business needs on the internet.
2. Property Staging is a solid investment.
Did you know that for every dollar you put towards preparing and staging your home for sale, the buyer will most likely ask that you pay them $10. I don't know about you, but I would rather pay a $1 now so I can keep $9 in my pocket later.
3. Property Staging is a Win-Win Transaction.
All parties involved in a Property Staging project are winners. It can't get any better than that.
a- Sellers win because they are able to maximize their return on their investment and preserve the equity of their home. Sellers also win because by Staging their property they will drastically reduce their time on market, which will directly reflect on their pocket book.
Less time on market = less mortgage expenses and all the other costs that go along with having a mortgage, such as tax and insurance payments, maintenance cost, etc.
b- Real Estate Agents win because a higher sales price translates into a higher commission payment for them. Real Estate Agents also win referral business if they sell faster and for top dollar. If a Realtor has sold my neighbors house in two weeks, who do you think will be the realtor I will most likely be inclined to do business with when I am ready to put my home on the market?
c- Buyers win because you give them the opportunity to gain their confidence in the property they are buying from you and because you also give them the opportunity to fall in love with the house/property of their dreams.
d-Professional Stagers win because they are given the opportunity to exercise their creativity and gift of knowing how to merchandise a property for sale by Staging it while at the same time being able to financially support themselves and their families. Most Professional Home Staging Businesses are run and operated as a local small business and when you hire a Professional Local Home Stager, you are supporting small local businesses.
4. Staging a Property = a deal done quickly and for more money.
You would want to Stage because you will get the deal done quickly and for more money. Did you know that Staged homes sell 2 to 2.5 times quicker and for 17% more than the non-staged homes?
4.1 Property Staging may also increase the appraisal value of the property which in turn naturally would allow some buyers to qualify for a mortgage easier.
It would make sense to me that you Stage your property 100% of the time, regardless of what the price of the property is and what neighborhood you live in.
These are my thoughts, what are yours?
Cheers,
Keti
O: (214) 814 - 5967
E-mail: keti@designbyketi.com
To invite Keti Abazi, to be a speaker at your meeting   or function, you may contact info@designbyketi.com. Your audience will find her presentations on Home Staging   not only educational but also amusing, genuine and refreshing.
When it comes to selling Real Estate, there is a tremendous difference between being In The Market, vs. being on the market.
You would want to be "in the market"and not "on the market".
Here is how you know you are "on the market". By the way, this is NOT a place you want to be if you want to sell your house fast: Your house has been listed for at least two months now, you have had less than 10 private showings and you have had Absolutely No Offers!
If that's the case you need to sit down and re-evaluate your selling strategy. What is causing the lack of traffic and interest? Is it because the house is overpriced or is it because it does not show well. As experts in Property Staging, we can help guide you on some things that you can take specific action on, to assure that your home Shows Well, Sells Fast and for Top Dollar.
Houses that are professionally Staged and photographed Show Well. Because they show well, a lot more potential buyers will be inclined to schedule an appointment to come by and tour it.
The more interest you generate, the more showings you will have. The more showings you will have, the more offers you will have.
Selling your home - like with every thing else in life - is basically a "numbers" game. Once you have priced your house well and you have professionally Staged it -once it hits the market - you should have at least 10 showings within the first week of listing. For every 10 showings that you have, there should also be at least 1 acceptable offer.
So how do you guarantee you are IN THE MARKET?
All you got to do is focus on those 2 things:
1. That your home is Priced Well (Your Real Estate Agent is a great source for this). Check out my blog titled "3.1 Things You Should Do When Choosing a Realtor! for more details on how to select a Realtor that will represent your financial interests the best when selling your home.
2. That your Home Shows Well: that means it is professionally Staged and photographed (call Design by KETI or another Professional Property Stager in your area for assistance with this).
Once those 2 conditions are fulfilled you are on your way to selling Very Fast and for TOP Dollar regardless of what the Real Estate market is.
The reason being, by ensuring that your home is Priced Well and that it Shows Well, you are fulfilling the demand that the buyers have: they want the best product (1) that meets their needs (2) at a great price (3).
Truthfully Yours,
Keti Abazi, MBA, ASP, IAHSP
Owner and Creative Director of Design by KETI
O: ((214) 814 - 5967
E-mail: keti@designbyketi.com
To invite Keti Abazi, to be a speaker at your meeting or function, you may contact info@designbyketi.com. Your audience will find her presentations on Home Staging not only educational but also amusing, genuine and refreshing.
You took the plunge. You decided it was time for you to move to bigger and better   things. One of the things that you need to take care of now is sell your  home. You hired a realtor and the house has been on the market for almost 6 months with  only 3 or 4 showings. Something is wrong with that picture.
Suddenly you are presented with a challenge and you have to tackle it. But what do you do? Ask yourself and your realtor if your House has the PSP Factor…yes, I said the PSP factor, kinda' like the X Factor.
IF the house has the PSP factor, you should be able to have at least 10 showings in the first 1 to 2 weeks of being on the market. For every 10 showings that take place, you should also have an acceptable offer.
If you are not seeing that kind of activity, than most likely your home lacks the PSP Factor.
   
What is the PSP Factor you might ask?
Here it is:
P is for PRICE.
Is the house priced to sell? I know we all take pride in our ownership and a lot of times our idea of what our house is worth might be a bit unrealistic. I hear,  some realtors so as not to lose you – their client - will go along and list your house for what you think is worth and not what research of past sold homes reflects.
Well,   this strategy backfires because for every month that passes by, you still  have that expense of carrying your mortgage payment, tax payment, insurance  and all the other carrying cost that go along with owning a home.

S is for STAGED.
The questions you need to answer are: How does your house show? Does it appeal to   the BROAD target buyer? Yes, I know, that sounds like an oxymoron, (broad, and target) but really it is not. Did your Realtor bring in a Professional Stager to help you prepare your home for Sale? Did you do what you were  advised to do?
Why is this so important? Because once you have decided to sell your home; it  becomes a product; therefore it needs to be merchandised so that it appeals  to a broad range of target buyers. So again, is your house Professionally Staged?
Well you could say: I had a decorator friend help me with my home. Or I have   immaculate taste and my home is perfectly designed or decorated.
I will tell you this: that is not good enough because where as Staging is Attention Directing, Decorating is Attention getting. The last thing you  want is for the potential buyers to "wow" and "wow", after your personal   belongings and not the precious square footage you are trying to sell.
 
P is for PROFESSIONAL PHOTOGRAPHY.
Did your realtor bring in a professional photographer to photograph and produce a   virtul tour of your home so they can start marketing it? Now this can go to two different extremes.
There are some homes I see listed on the MLS (go and do a search on Realtor.com and   you will know what I am talking about) where the realtor took their own  pictures with their cell phone and put them on the MLS to market your home -   which is worth a LOT OF Money, I am sure – and then there are some other   photographs that I see, which are otherwise "professional" but those pictures  are taken from an extra wide angle, or they are photo-shopped, and sometimes   they even look "fuzzy"to me cause they are stretched so much horizontally...sometimes they even look so "exotic"... either way. This could be a  bit of false advertising if you ask me.
SO make sure that the pictures used to advertise your property are professional as   well as an accurate representation of what your home looks like and what the  flow of your home feels like.
Generally  because the properties that Design by KETI Staged, have had the PSP Factor, they have gone under contract within the first week of being on the market.
What have been some of your experiences when you decided to sell your house in the past? Do you feel the above three points accurately capture why a home does  not sell FAST and for TOP Dollar? Would you like to find out if your house  has the PSP Factor? Call us today for a Free Evaluation.
Cheers,
Keti
O: (214) 814 - 5967
E-mail: keti@designbyketi.com
To invite Keti Abazi, to be a speaker at your meeting   or function, you may contact info@designbyketi.com. Your audience will find her presentations on Home Staging   not only educational but also amusing, genuine and refreshing.
I would like to start by saying I am a big advocate of always using a Realtor when it comes to buying and selling Real Estate. I would not recommend you go "FSBO" (For Sale by Owner) on me, because you might be doing yourself a huge disservice, if you do.Realtors have a wealth of knowledge and expertise that unless you hire them, you won't have access to and benefit from.  With that said however, like with any profession, not all Realtors are created equal.
For example, in my trade – which is Real Estate Staging - I have seen some staging jobs out and about that I don't care for; they are poorly done, out of scale and on the cheap side.
On the other hand, I have also had the opportunity to experience firsthand and get to know in person some wonderful professional Stagers in the area who over time and because of their superb Staging jobs and expertise, have gained my professional and personal respect.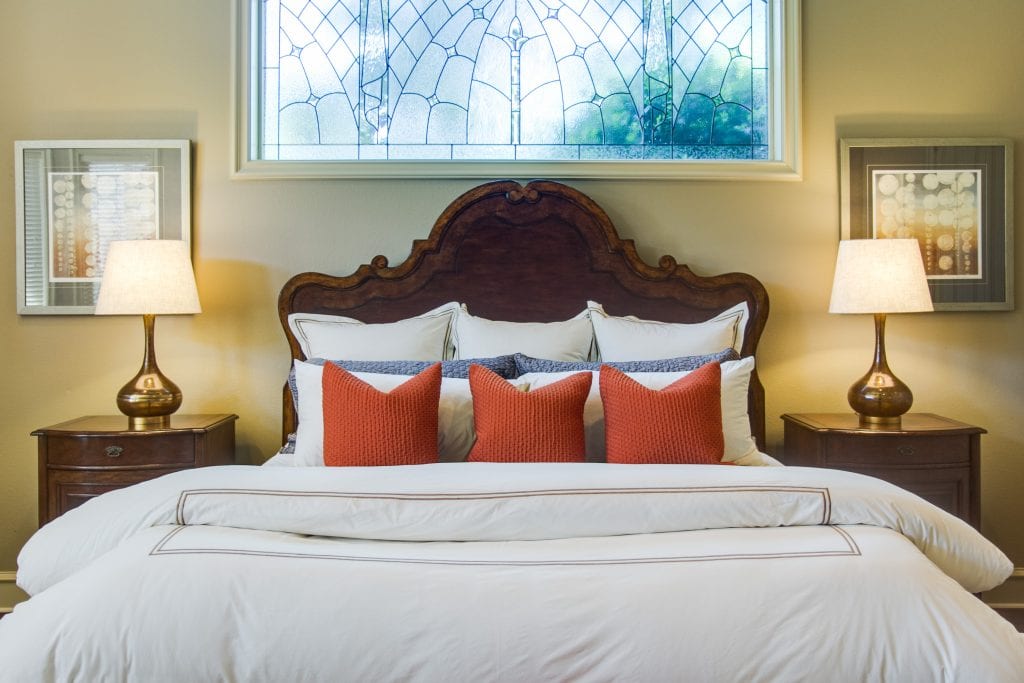 When deciding to put your house on the market - so that you can get the most out of your sale - there are certain things that I highly recommend that you do.
And here is your To-Do List:
1.    Don't just go with that one Realtor someone at the office or at your child's school recommended to you. Drive around the neighborhood and see whose name you see consistently on those"For sale" or "Just Sold" signs.  Interview at least three of them. Find out what sets them apart from the rest of the Realtors in your area.  As the saying goes, past performance is a great indicator of future results.
2. What is their Distinguishing Client Benefit and what is their Competitive Marketing Advantage; what will they do for you that will help YOU sell your house Fast and for Top Dollar. Ask them, how will they Market your property, to whom will they market it.
Selling a home is not just about sticking a sign in the front yard (I have seen this happen many a times) and for sure selling a home is NOT going to be achieved by posting ugly pictures on the MLS (I see this happen more than I care to), that they might take with their I-phone or Android. This is totally unacceptable in my opinion.
And as a Seller if you agree to this, just know, you are doing nothing but selling the house down the road, that Design by KETI or one of the  other Professional Stagers - that I highly regard - Staged  and a Professional Photographer photographed it.
Check out some pictures I have seen on the MLS and compare it to some of the pictures from the properties that Design by KETI Staged.
Being that 96% of the potential buyers resort to the internet and on-line representation before they decide which house they want to tour, which one do you think they will be more inclined to go see?
The one represented by the ugly MLS pictures or the one that is Professionally Staged and Professionally photographed?
Picture of Kitchen in MLS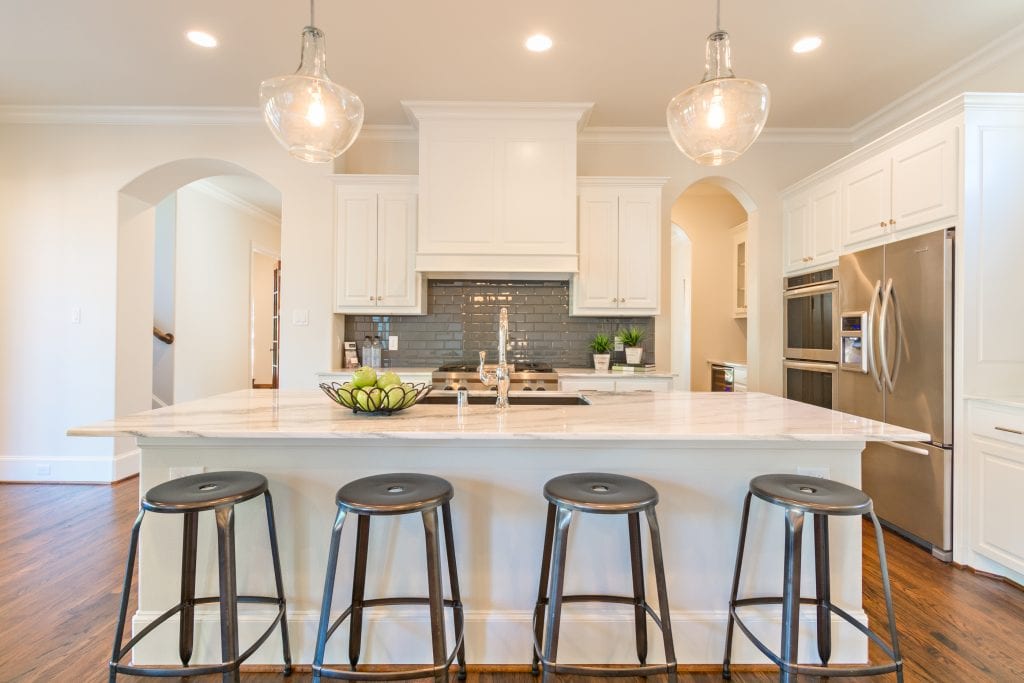 Picture of Kitchen in MLS, Staged by Design by KETI and Professionally Photographed
Picture of Dining in MLS
Picture of Dining in MLS, Staged by Design by KETI and Professionally Photographed!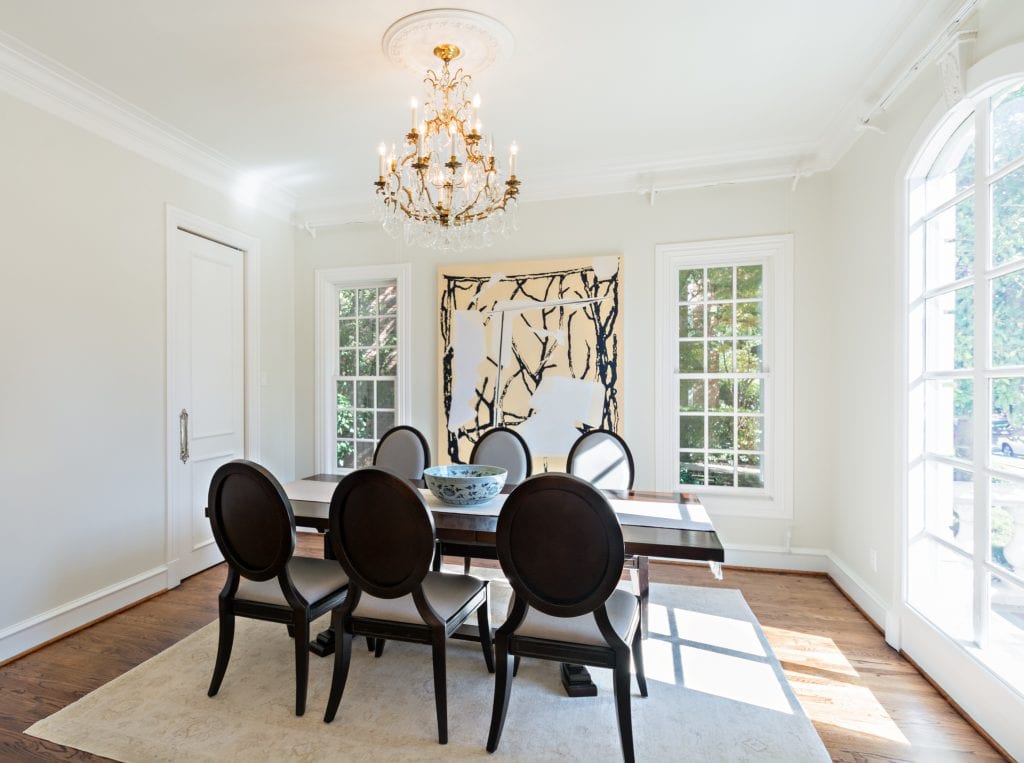 Picture of Bedroom in MLS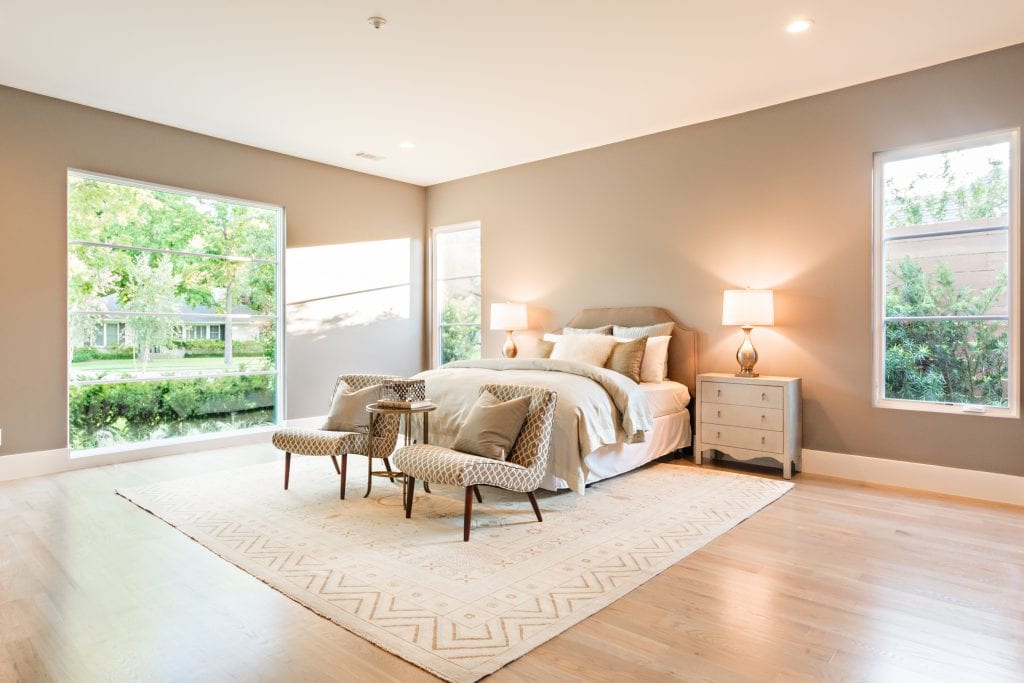 Picture of Bedroom in MLS, Staged by Design by KETI and Professionally Photographed
3.    What is their DOM (Days on Market). The lower their DOM, the better.  If I find out a Realtor's DOM is 175  (that means it has taken them on average 175 days to sell a home) and the other Realtor's DOM is 23, then for sure I will go with the one whose DOM (Days on Market) average is 23.
On the other hand, if they tell you, they don't know what their DOM is or that they have not tracked it, than count that response as a Red Flag.
3.1.     And Last but not Least. Always, always Stage and De-personalize your home (Staging is nothing but packaging and merchandising your home). You see, when you decide to sell your home, it becomes a product – it turns into a house - therefore it needs to be "merchandised" so it appeals to the broad buyer, and Always Always, insist on professional photography.
If your potential Realtor does not want to pay $130 or so in professional photography for you, to ensure superb representation on the internet, than that Realtor does not deserve to get paid $3,000 to $5,000 - or whatever it might be - in commission from the sale of your home, in my opinion.
What's yours?
Cheers,
Keti
O: (214) 814 - 5967
E-mail: keti@designbyketi.com
To invite Keti Abazi, to be a speaker at your meeting   or function, you may contact info@designbyketi.com. Your audience will find her presentations on Home Staging   not only educational but also amusing, genuine and refreshing.
Hi everyone.  I have not had much time to do any blogging recently - thanks to all of you who have kept me busy – but wanted to take some time and write on the cost, or what I like to call the Investment of Staging.
From my discussions with many a Realtor, I have heard it mentioned more than once that although Staging a listing might sound like a great idea, their Seller just can't afford to do so.
In response to that, I always say, the seller cannot afford to not Stage their home for the following reasons:
Once a house goes to market, it becomes a product, therefore in order for it to sell Fast and for TOP Dollar it needs to be Merchandised ( i.e. Stage it)  so it appeals to the broadest buyers;
The way you live in a home and the way you sell your home are two different things. That means, among other things, vacant properties are not going to sell fast either, simply because they have no "soul" about them, and the buyer is unable to make an emotional connection with them. No Emotional Connection = No Offers;
The cost of Staging a home is ALWAYS less than the first price reduction. It's all about showing the numbers to the Sellers and doing the math so to speak. I have yet to talk to a Client/Seller that refused to have the property Staged, after I went over the numbers with them. And the fact that they have gotten offers after being on the market for 3 days or so is proof that Staging works. When working in collaboration with REAs and Sellers I always ask these two things: a-) what price range they perceive the property to be at or list at; b-) who the target buyer is.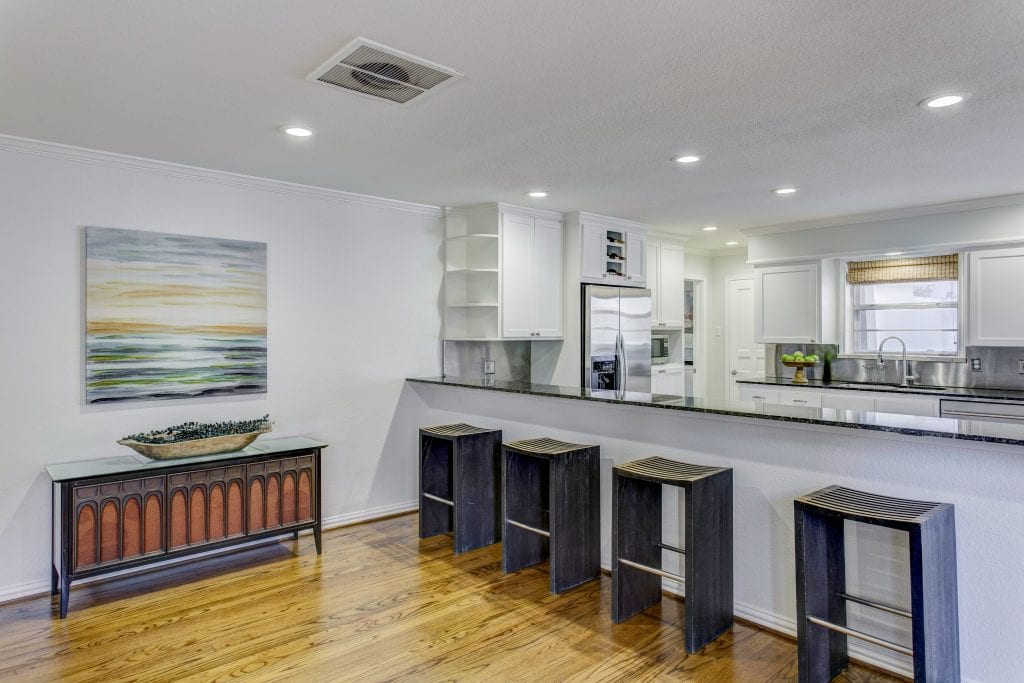 I then Stage the property (package it, merchandise it) in such a way that the Staging design does and will appeal to that specific target buyer, in that specific price range. By Staging the property, the Realtor/Seller are confident on determining where in that range, the property will fall; which 100% of the time, it's on the higher end of that spectrum as it should be. Staging does add on average 5%-20% perceived value to the property.
Now back to my point about showing the numbers and doing the math:
Zillow states that the average home takes 1% in price reductions per month if not sold
Trulia states that the average price reduction during the listing period is 9% for homes under $2M,  for homes over $2M it is 14%
The Real Estate Staging Association (RESA) states that the average DOM reduction is 78% for staged vs. non-staged homes
Stagedhomes.com states that 94% of ASP Staged homes sell in 29 days and up to 45 days or 2 months. Un-Staged homes on the other hand are on the market for an average of 263 days or 9 months
For example purposes will look at a property with a Listing Price of $250,000.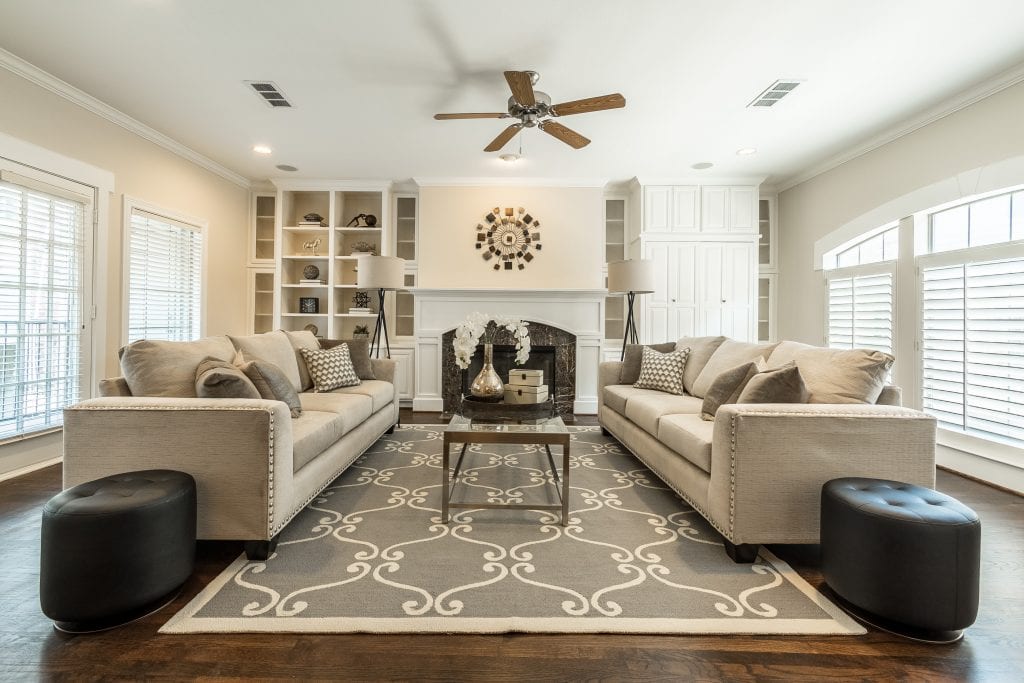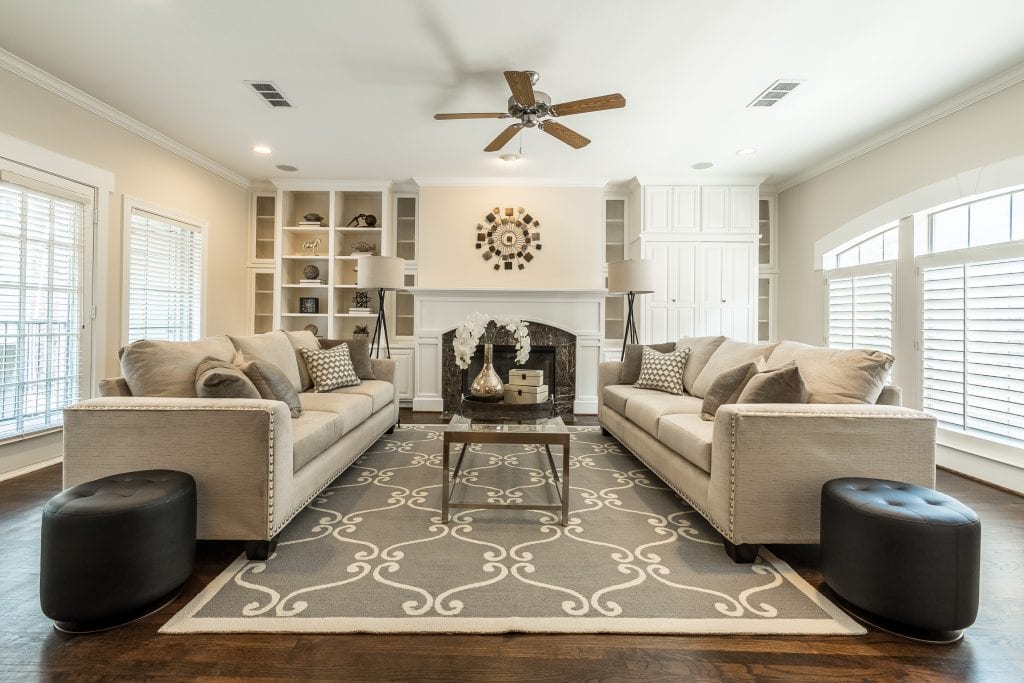 Cost to Seller when the property is NOT Staged:
-         Since Un-Staged properties stay on the market an average of 9 months or so and assuming monthly mortgage carrying costs of about $2,300/month, that would cost the Seller an additional $20,700 ($2,300 x 9 = $20,700)
-         Average price reduction is about 1% per month so, $2,500 x 9 = $22,500
Cost to Seller when property is NOT Staged: $43,200 ($20,700+$22,500)
Cost to Realtor when the property is NOT Staged:
-         Commission before Price Reductions: $250,000 x 3% = $7,500
-         Commission after price reduction: $227,500 x 3% = $6,825
-         Cost to Realtor: $7,500-$6,825 = $675
-         Add to it the opportunity cost and another $250 or so a month ($250 x 9 = $2,250) in Marketing Cost
Total average Cost to the Realtor is $2,925 ($675+$2,250)
And now for the Savings that both the Seller and the Realtor realize and how Staging is an Upfront Investment worth making:
-         Knowing that Staged homes sell in about 29 to 45 days in the current market - translates into about two months of mortgage carrying cost to the Seller ($2,300 x 2 = $4,600)
-         Staging Investment of $175 to $3,000  (consultations start at about $175, and Vacant Staging projects  for properties in the $250K  price could go up to $3,000)
Total Cost to Seller if Property is Staged = $7,600.
So, when it is all said and done, is Staging worth it? Absolutely, enthusiastically "Yes". The net savings in this example is likely to be around $35,600 for the Seller and about $3,000 in additional commission money to the Realtor. Eventually, with or without Staging, money will be spent.  The question is how much and for what? Will it be spent in additional mortgage costs, price reductions, money brought to the closing table, continuous monthly Marketing cost, or Staging it and actually selling it now, so you EARN MORE MONEY?
Cheers,
Keti
O: (214) 814 - 5967
E-mail: keti@designbyketi.com
To invite Keti Abazi, to be a speaker at your meeting   or function, you may contact info@designbyketi.com. Your audience will find her presentations on Home Staging   not only educational but also amusing, genuine and refreshing.
I have been going on a lot of MLS tours lately. I have seen many a listings and here is what I have discovered:  Savvy Realtors, who consistently use Stagers to Stage their listings, are seeing far more SOLD signs than their competition who don't. If you're not staging all of your listings, occupied and vacant, you're not doing yourself or your sellers justice. Stage your listings and leave the competition behind.
I am sure you would all agree that Buying and Selling Real Estate is such an emotional transaction. I have yet to hear someone tell me the reason they bought a house was because it had three bathrooms, two and a half baths and a pool. Every time I ask someone why they bought the house they live in, the answer is "I fell in love with that house". It's funny how many people make an emotional decision about buying and selling Real Estate and then they go back and logically walk you thru why they made their emotional decision. Makes me smile each time!
I have lived in the Uptown/Downtown are of Dallas at least for twenty years now. I know exactly what the urban sophisticated and quirky buyer is looking for when they decide to buy Real Estate in the area. Unfortunately I can't say that I see that portrayed on 100% of the listings. I really have not seen the properties being Staged to where the property appeals to the "lifestyle" of the urban dweller.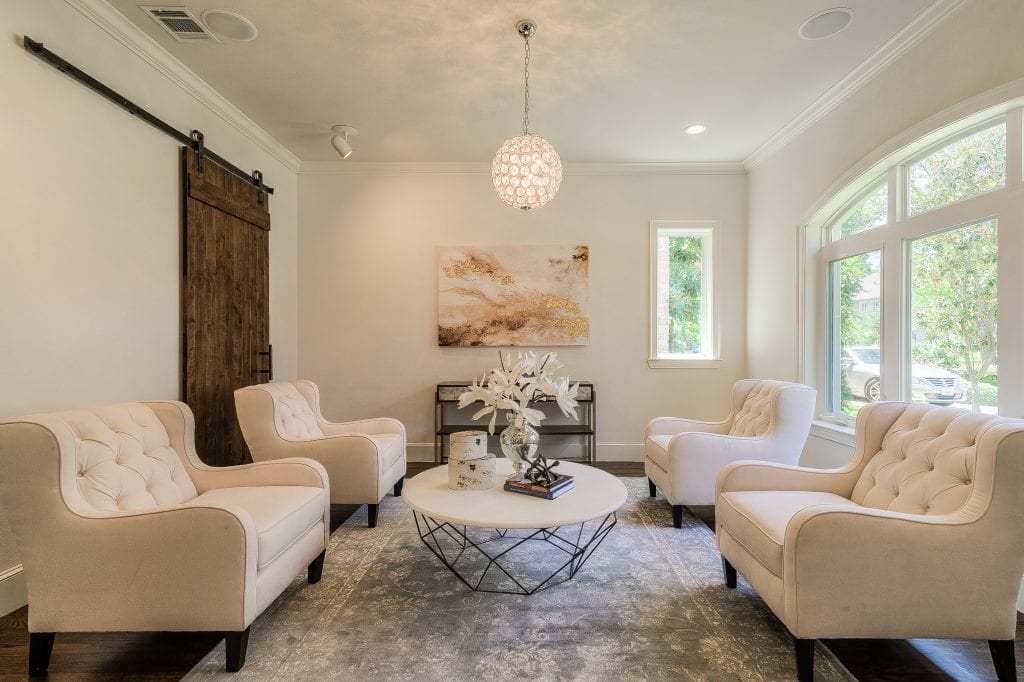 Appropriate Staging creates that lifestyle - that visual and emotional appeal - so that the buyers can emotionally move in. Staging is not decorating or fluffing a house. Rather it is a basic marketing tool that every Realtor who wants to sell fast and for top dollar should use. Thousands of Realtors across the country have discovered the "Magic" of Staging their properties for top dollar sales.
W.I.I.F.M (What's In It For Me) - in other words "What's in it for YOU - the Realtor"?
Staging is a Market Differentiator – you will win listings over non-staging agents because you are offering Staging as a Standard Service
Staging is a Value Added Service – Your listing will sell for more than comparable un-staged homes, AND you will make more money (and so will your sellers) if you Stage
You Get more business – you will get repeat and referral business because Sellers will appreciate the extra effort and the fact that the REA did MORE to Get Them MORE!
Here is my two cents on how to have a "Must Stage" conversation with your sellers so that the property gets packaged, merchandised, i.e. Staged before it goes to market:
-         The way you live in a home and the way you sell your home are two different things
-         Once you have decided to put your home on the market, it immediately becomes a product, therefore it needs to be "packaged" – turned into a home - merchandised ( that's what Staging does – it's the only thing that you can do to  "package" and "merchandise" your listing)
-         Buyers don't like the lived-in look. They only know what they see, not the way it is going to be
-         Buyers need to feel they are AT HOME, not in YOUR Home
-         Staging creates a serious of great impressions throughout the home motivating the buyer to linger; when buyers are browsing for homes in the neighborhood, one of two things will happen; they will either move in or move on!
-         The cost of Home Staging is always less than the 1st price reduction.  On Average, the cost would be anywhere from $250 for a Staging Consultation, to $400 - $1,400 for an Occupied Staging project and up to $5,000 for a Vacant Staging project (which includes rental fees for furniture and accessories).
And for those of you who are all about the numbers, which I think all of us should be, than please click on the link below to be directed to the RESA (Real Estate Staging Association) Staging Calculator. http://www.stagingsavings.com/stagingSavings.html
Stay tuned, next time I will be discussing some pointers on Home Staging that I hope you find beneficial as you list your properties for sale!
Cheers,
Keti,
O:  (214) 814 – 5967
E-mail: keti@designbyketi.com
To invite Keti Abazi, to be a speaker at your meeting or function, you may contact info@designbyketi.com. Your audience will find her presentations on Home Staging not only educational but also amusing, genuine and refreshing.
Many a people have a hard time understanding the concept of home staging. "What is Home Staging anyhow", you may ask?
According to Barb Schwarz, "Home Staging is the act of preparing a home for sale so the buyer can mentally move in." I could not come up with a better definition of what Home Staging is!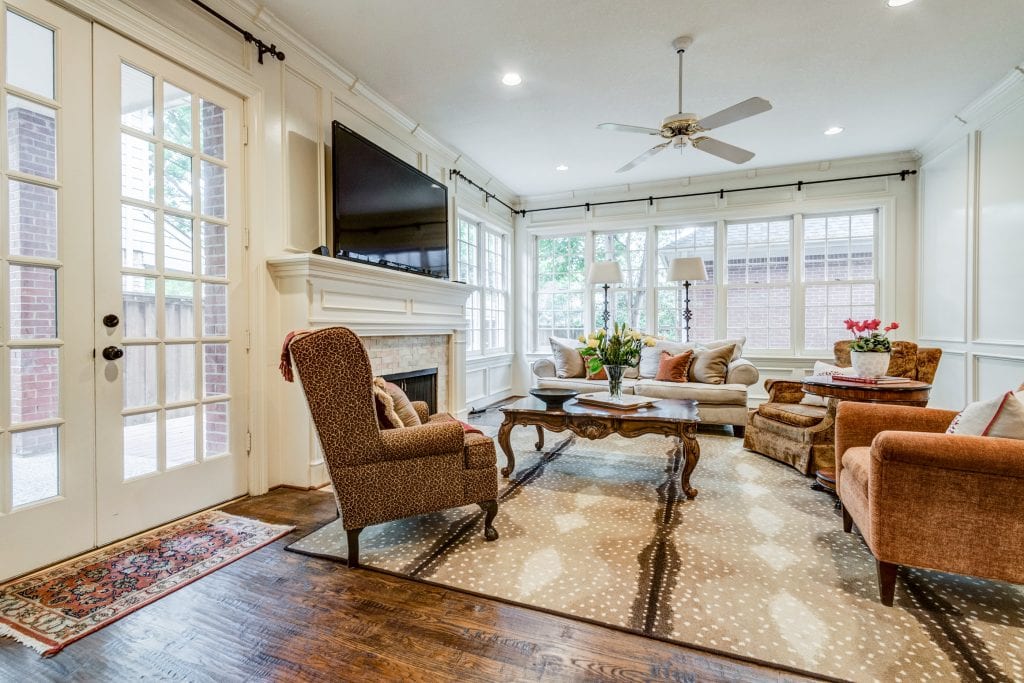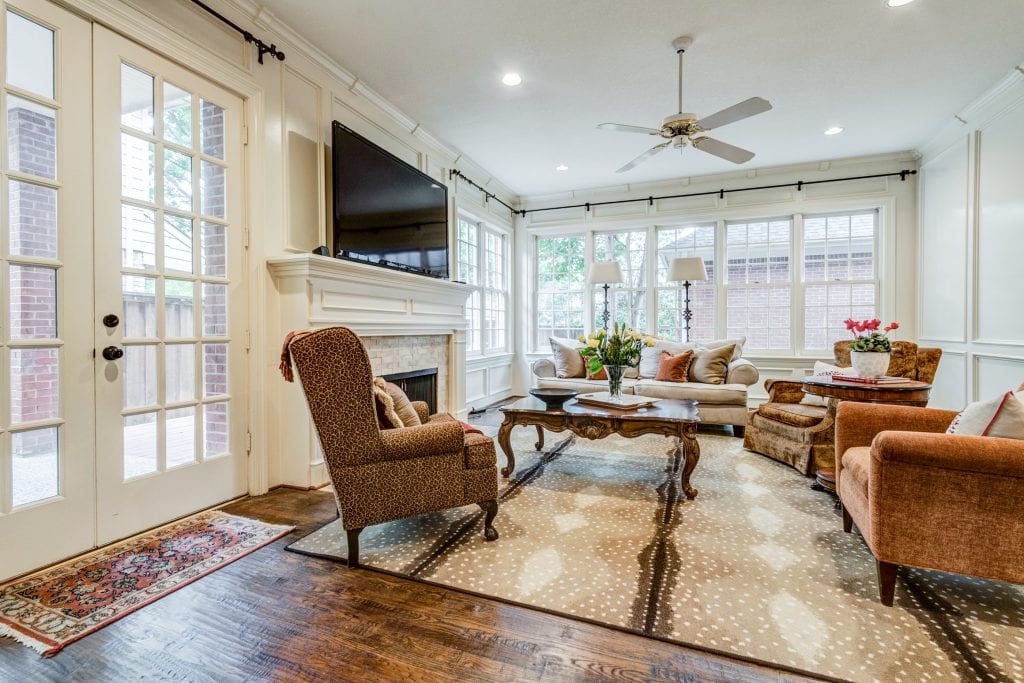 Another question that I hear all the time is: "Do all houses need to be Staged?
All houses need to be staged prior to sale, if you want to sell for top dollar and be in the market for a short time. Secondly 90% of the population can not visualize or imagine spaces. That means 90% of buyers can not visualize spaces or imagine themselves in the house you wish they buy from you.
Home Staging is equivalent to car detailing (the male reader can totally identify with this); you never try to sell your car, whether it is a Kia or a Ferrari, without detailing it first. If we are willing and open to spending money on something that is a liability, (our vehicle), why are we so closed to the idea of investing on maximizing the return on something that for most of us is our most valuable asset (our house)?
"But my Seller has great taste and therefore Staging is not necessary", is something else I hear quite often from Realtors.
Staging has nothing to do with a Seller's taste and a lot to do with the buyer's wants. So the Seller and the Real Estate Agent/Realtor would need to answer the question- who the buyers are and what they want and look for in the specific area or neighborhood- and package and merchandise the house (i.e. stage the home), accordingly.
I went to an open house a few days ago in THE most desirable and affluent neighborhood in my city. The architecture of the house is very traditional-Mediterranean as a matter of fact- and the interior decorating and furnishings are very modern which makes the house very eclectic. First thing you notice as you walk thru the main entrance, are the beautiful expensive art work and furnishings. What happened to highlighting Real Estate (almost 7, 000 sq. feet of Real Estate?). And that is what Staging would do-highlight Real Estate. After all that is what the buyer wants to buy, the house and not the Seller's possessions.
This particular house has been on the market twice in the last two years and did not sell, and now it has been on the market a third time for over 60 days and they have yet to have an offer. Never mind the price reductions of the 7 figure type…The architecture of the house is beautiful (traditional Mediterranean), the interior design and art work are beautiful (ultra modern, minimalist). Spaces "speak" to us and this property speaks "single bachelor who has a very incredible eclectic taste". There is nothing wrong with ultra modern, minimalist design. Personally I love it, as a mater of fact…but I highly doubt that house appeals to the young family who wants to make it a home so they are able to raise their children in the most desirable, affluent neighborhood in the city.
So yes, Staging is needed, if you want to sell quick and for top dollar!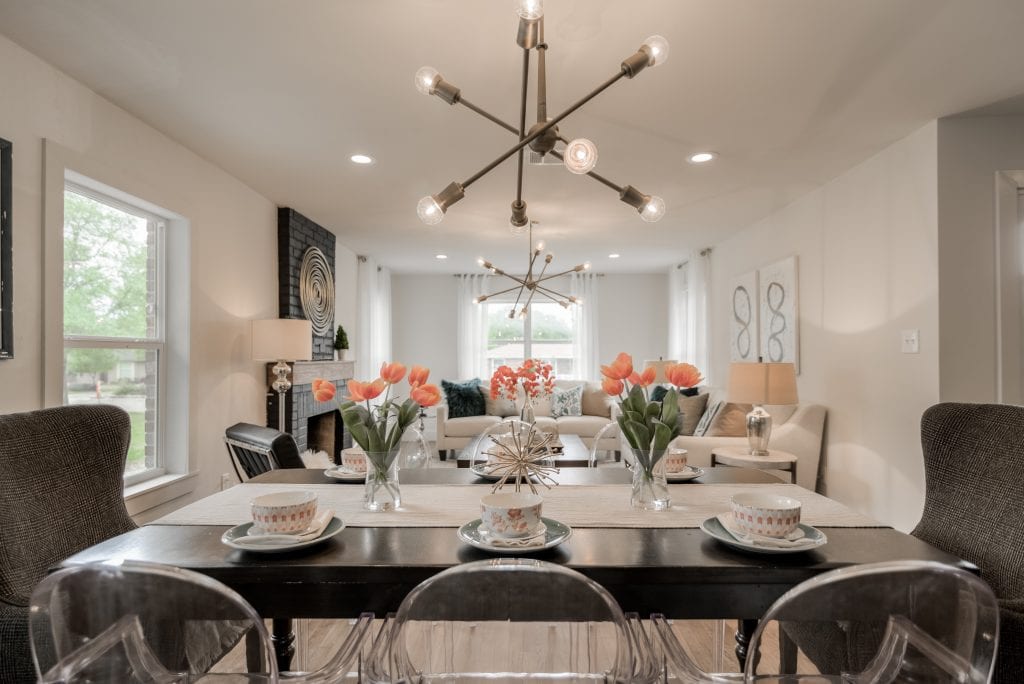 As a seller you can not afford to not Stage because your online photos will stand out (which means more showings/traffic-therefore more offers), your house will sell faster, you will make more money therefore you will get your Return on your Staging investment back-at least a 200% return and up to 576% of it. And did you know Home Staging cost may be deductible in the State of Texas?
Cheers,
Keti
O:  (214) 814-5967
E-mail: keti@designbyketi.com
To invite Keti Abazi, to be a speaker at your meeting   or function, you may contact info@designbyketi.com. Your audience will find her presentations on Home Staging   not only educational but also amusing, genuine and refreshing.