Another day, another before and after — this time for an updated listing in Winterlake. This is a home we resuscitated after it sat on the market for a few good months. Yikes! Spoiler alert: this story has a happy ending. After we were through with the updates and re-staging, the house sold in just 5 DAYS.
I know I've spoiled the grand finale, but I wanted you to know exactly what each of the updates below have helped achieve. But first, every home update and staging needs a smart plan...
Step 1: Meet at the House & Diagnose the Problem Areas
This house belongs to an investment property client we had worked with in the past. They had been trying to sell it as-is with no luck. Since we were able to help them with another property, they decided to reach out to us and trust us with this one. I'm so glad they did! The outside is lovely and charming.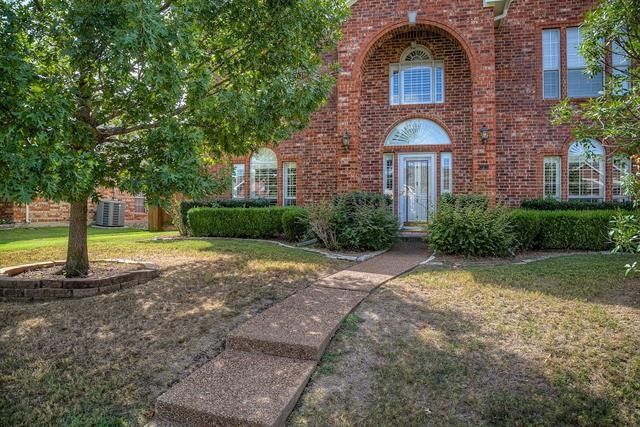 The inside, which you will see in just a minute, felt dated and designed for a very specific taste. We also found damaged flooring, dirty carpets, unsightly wall colors and wall paper, old fixtures, and more. Luckily, the layout of the home had great potential. I knew that strategically updating some of the fixed elements would make this home really shine.
Step 2: Identify the Target Buyers
As soon as we knew what could be improved in this home, we had to consider the ideal buyers. After all, knowing who we will market the home to determines how we will make certain updates. During our consultation, we came to the conclusion that if we were going to invest in renovating this home, it should be marketed to someone who's looking for a move-in ready place, and who's willing to pay a little extra for that.
We decided that young families and first-time home buyers were our target audience. This home would be perfect for them, because it would be easier to spread out the extra cost when getting a mortgage, as opposed to coming up with the hard cash to do the renovation work themselves prior to moving in.
Step 3: Create a Design Plan for the Updated Listing
Once we determined how we would market the home, we got to work! Our design plan was pretty straightforward because most of the issues that needed to be addressed were design-defining elements that would transform the aesthetic of the home. First, we would paint the walls and get rid of wallpapers. Then we would address flooring and carpet. After that, we would update fixtures and bring in furniture.
It all sounds simple enough when you list it out like that, but in reality, it took coordination, strategy, and work — on our part. Our clients got to sit back and relax as we made the magic happen. 😉
Ready to see it? Come take a look at the updated listing...
Before & After: Entryway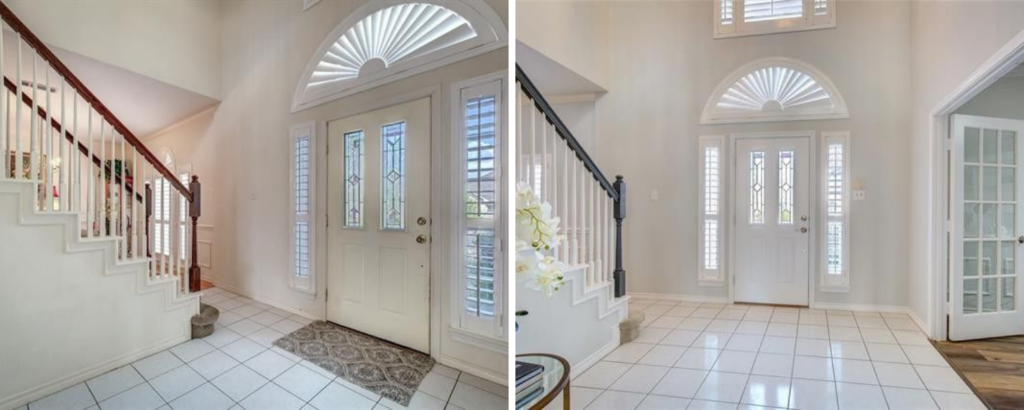 The home had a great open foyer, but I could see that it needed a fresh coat of paint to feel new. If you look at the door and stairway edges (left), you can see that the paint looks tired. Repainted (right), we have a brighter entryway that definitely feels more fresh and inviting, especially in person!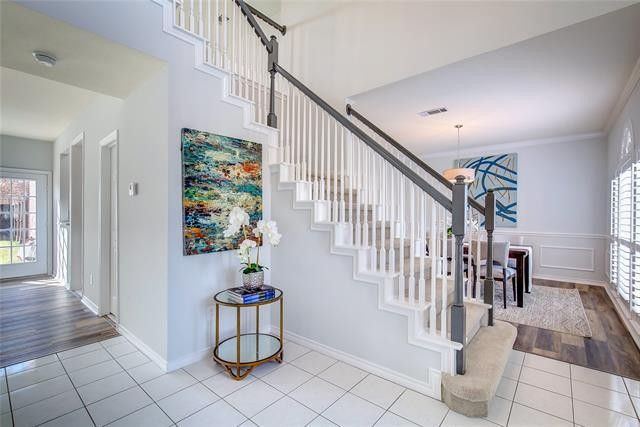 For the staging, we styled the space with more modern and contemporary furnishings, using art and small accessories to add soothing touches of color. Pro Tip: The best colors for staging homes are blues and greens, which are most likely to put homebuyers at ease.
Before & After: Living Room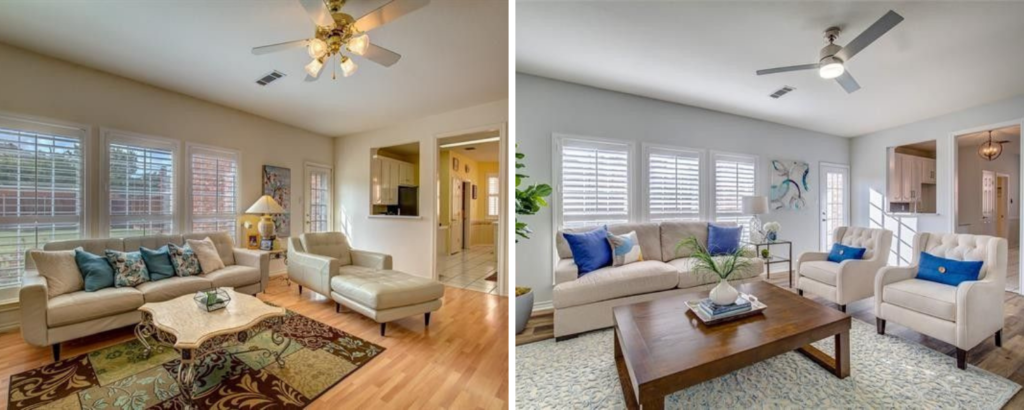 In the original living room, the furniture was way too taste-specific for an updated listing, and the wood flooring needed replacing. The original rug is also too small for this space. With furniture floating around it, it makes the space feel disjointed, dated, and incomplete.
On the right, the living room furniture I selected makes the space feel more open and welcoming. (See how at least two legs of each furniture item is on the rug? That's how it should be!) We used a vibrant blue as an accent color for interest and, of course, brought in some plants for a touch of life and warmth.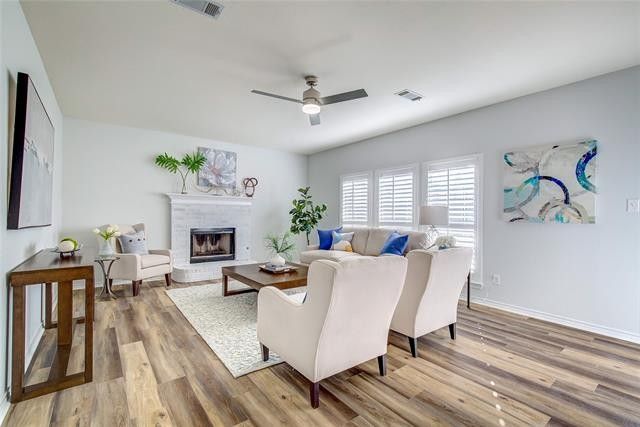 Here's another angle. Doesn't the flooring look so much better?? The flooring was number one on our priority, and we traded the previous engineered wood for this stained oak beauty. The muted tones create a sense of softness in the space that is instantly welcoming. We also refaced (painted over dated brick) the fireplace for a more contemporary look.
Before & After: Kitchen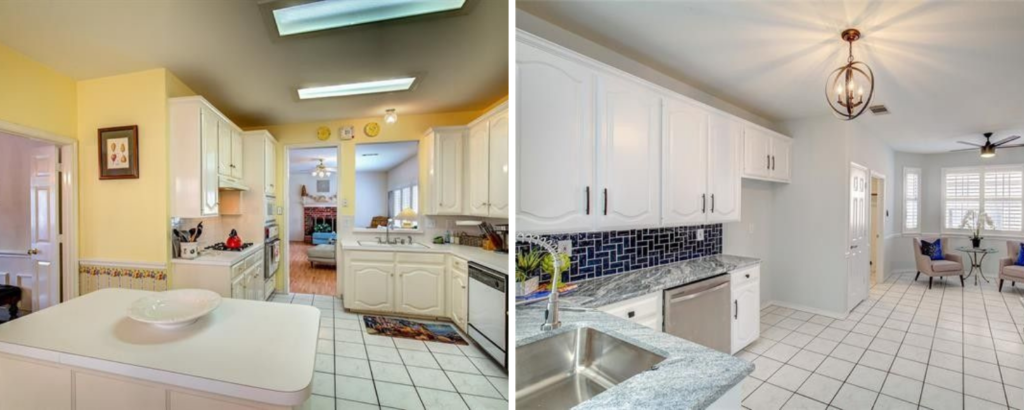 The original kitchen was definitely out of this era, from the yellow walls to the counters to the flooring. For an updated listing, neutrals are your friend! On the right... hello, new kitchen! The kitchen got a full revamp with new countertops, timeless yet on-trend backsplash, and fixtures. We used cool tones to continue the overall sense of freshness in the home.
Before & After: Breakfast Nook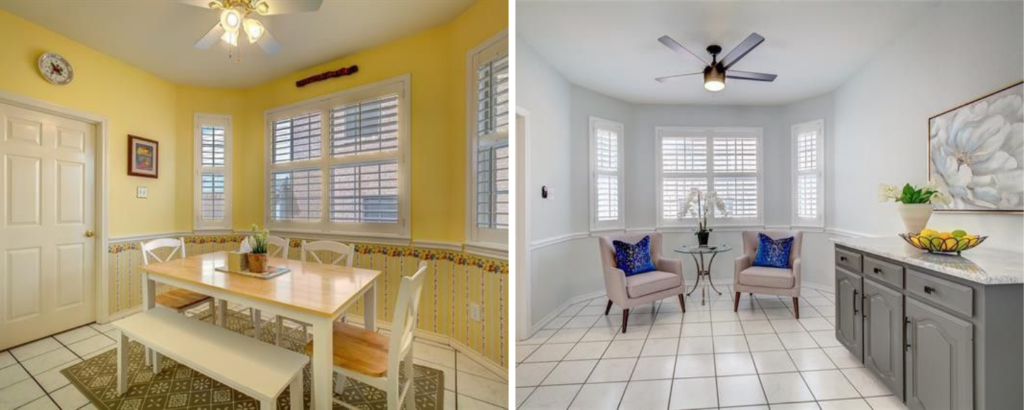 Just off the kitchen, we have the breakfast nook. Originally, the light fixture and wallpaper looked very outdated, and the walls needed updating. After... gone are the yellow walls and scary wallpaper! Welcome to a more modern breakfast nook, where homebuyers can imagine their mornings sipping coffee or reading a good book.
Before & After: Master Bedroom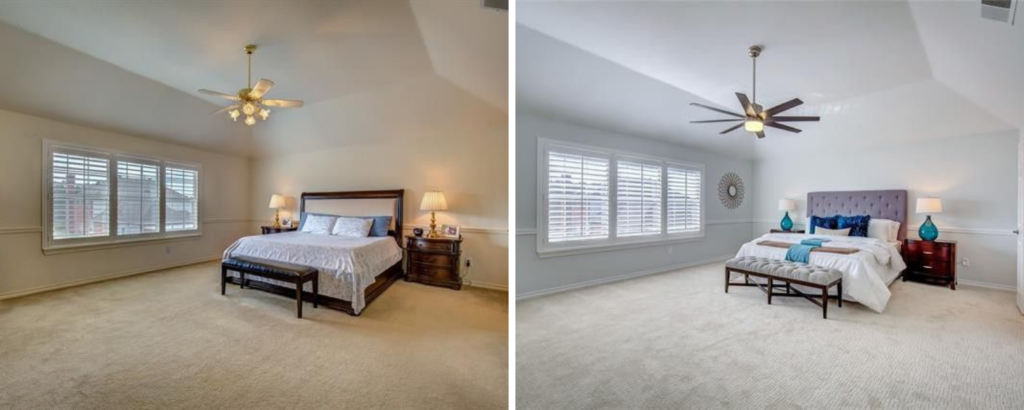 The master bedroom was actually not too bad. It had a lot of space and potential. We added a fresh coat of paint, new lighting, new carpet and less traditional furnishings. Much better!
Before & After: Master Bathroom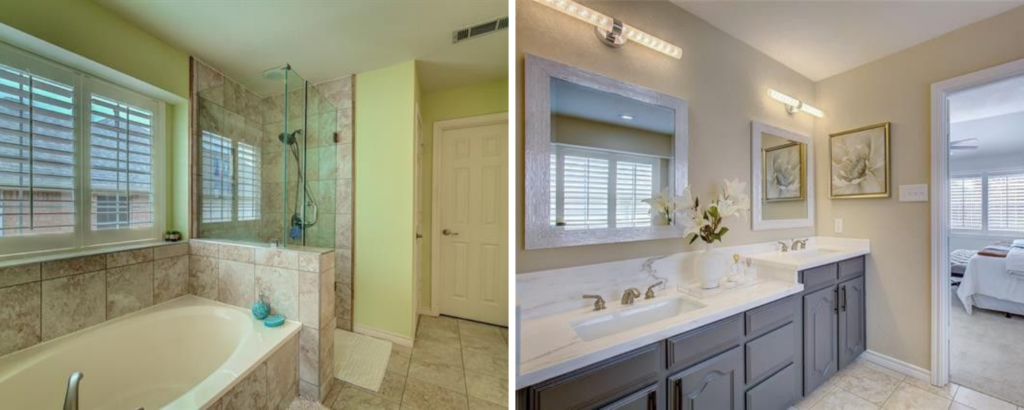 Another spacious room but definitely outdated stylistically. We got rid of the lime-colored walls, added a stylish new countertop, painted the existing vanity and installed these modern cabinet pulls, light fixtures and mirrors. This home has now joined the world in this decade!
Before & After: Home Office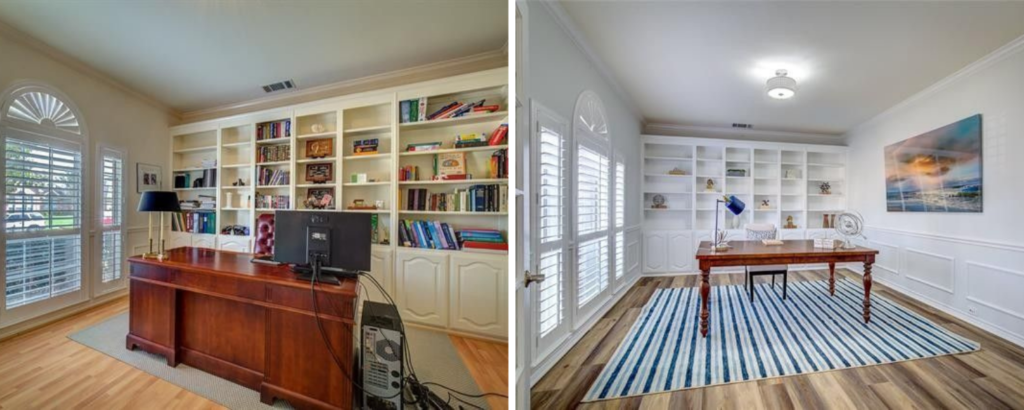 The home office was probably in the best shape of all the rooms. The flooring and color scheme just needed some love. Fresh paint, art, and more oak wood flooring transformed this office instantly!
How Did The Home Sell? What was the ROI?
Well, I know I spoiled the surprise at the beginning, but let me say it again. After sitting stagnant on the Dallas market with zero movement for a long while, this home sold in 5 days after re-listing! Not only that, our client saw a 57% return on their investment to get this home move-in ready. In what stock market do you get that kind of return? 
So what did we learn today? Strategic design and home staging work... and we have the numbers to back it up!
Do you have a property to list? (Or RE-list?) I can't wait to show you how I can help YOU sell your property and get on with your life, too. If you're ready to enlist our help in a speedy and profitable home sale, let's talk.
— Keti
Potential Dallas homebuyers are most likely to make up their minds about your property based on the appearance of… the kitchen, the living room, and the master bathroom. Before you list your property, you have the chance to make these spaces stand out!
Last month, we talked about budget-friendly kitchen makeovers, and I showed you how to revive your living spaces here. So today… let's talk about budget-friendly bathroom makeovers.
Whenever you're updating your property to sell, you don't want to break the bank. The good news — there are many inexpensive yet impactful ways to update your bathroom before listing. People usually assume that upgrading their bathroom is an intensive endeavor that would take tearing it all down and starting from scratch. Not necessarily.
Sometimes the smallest details are what make the design in any space. You just have to be smart with your investment and address the design elements that have the biggest impact. In fact, I'd say you can get away with spending anywhere from $250 to $5,000 to revive an outdated bathroom.
Today, I'm sharing my top 5 budget-friendly tips for a bathroom makeover, of course, using one of our latest projects. Come take a look!
Before: Outdated Bathroom Before Listing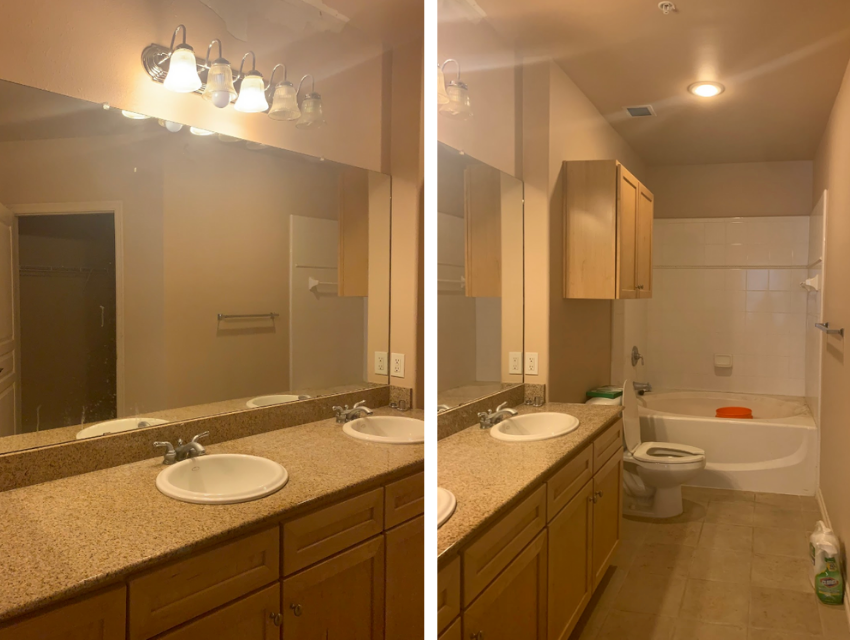 Before even thinking of putting their condo on the market, the owners reached out to me for a renovation and staging consultation and feedback. But what's wrong with it? It is a perfectly functional space and has everything a bathroom needs, but… the walls feel dark, the lighting isn't impressing anyone, and the bathtub feels like a relic of the 1990s. All mixed in with that Tuscan-inspired travertine floor.
When I saw this bathroom, I knew that an update would positively impact the home's overall value. (Spoiler Alert: it did!) And we didn't break the bank to get there...
Tip 1: Paint the Walls a Fresh, Light Color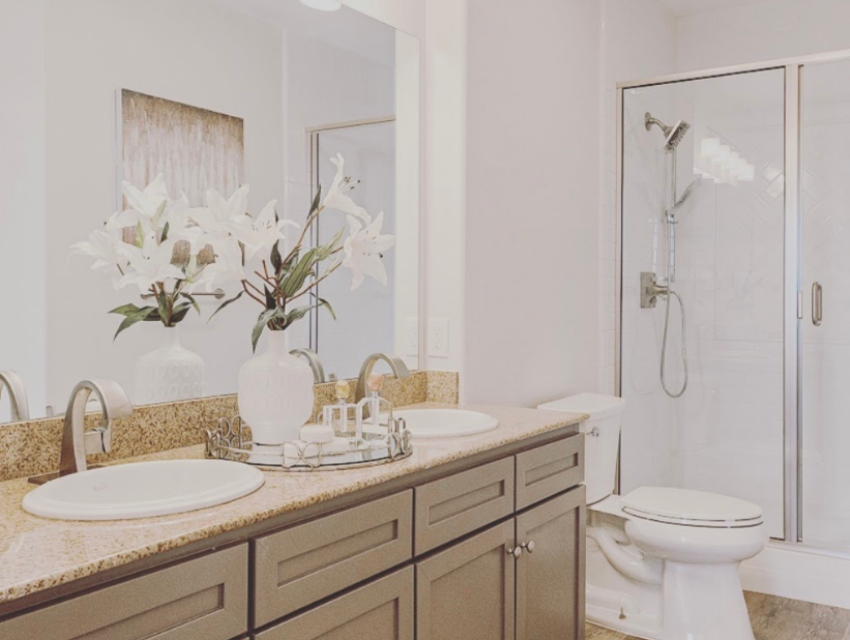 If you've been following me for a while you probably know that I always like to start with a fresh light canvas, AKA bright walls. We painted the walls a light green gray, and instantly, the whole space felt fresh and open. Simply change, completely different feel.
Tip 2: Address Any Functionality Issues, if you can
One thing to keep in mind is that a bathroom makeover is an excellent time to address any functionality or layout issues. Take this bathroom, for instance, My clients both admitted that they had no use for the bathtub and would rather have a decent sized shower. If that's how they feel, future homeowners are likely to feel the same way.
We knew that getting rid of the tub/shower combination would solve two issues in one: it visually opened up the space and made it more functional. We even went one step further and ripped out the dated travertine floor tile and brought in highly-functional and cost-effective LVP. (talk about LVP, Check out my post on why high end homes are giving up hardwood by going HERE)
Bigger investment than painting the walls? Yes. Worth the increase in property value? Absolutely.
Tip 3: Upgrade the Vanity, Lighting & Mirror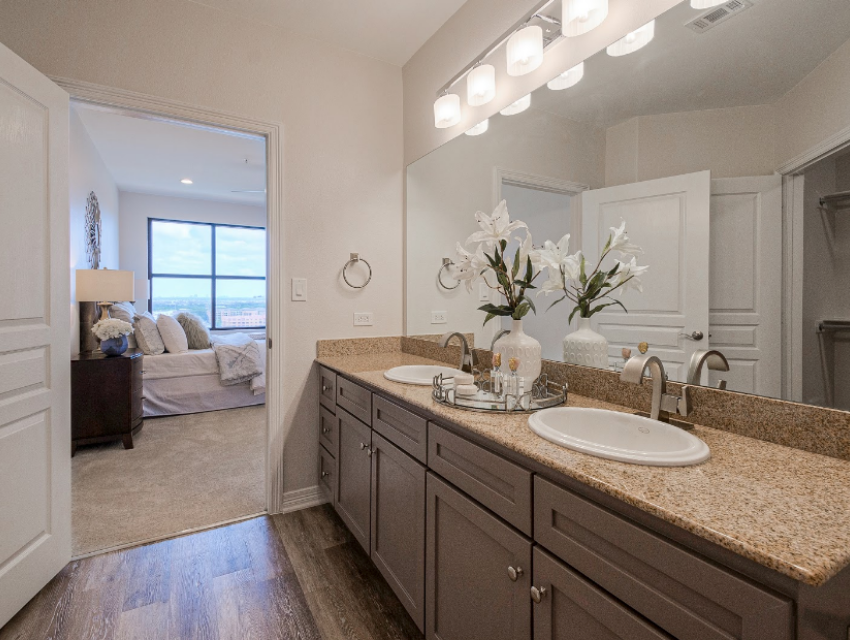 Ah, the vanity, lighting, and mirror! These are the things that can transform your bathroom from builder grade to livable luxury that Dallas homebuyers are willing to pay for. We took out the traditional, lantern-looking lighting that was there previously and installed this more modern fixture in brushed chrome.
We decided to paint the vanity cabinets, as well. With the new flooring, granite counter, and light green gray walls, the color palette (specifically the vanity color) felt a bit off. As a True Color Expert, I was able to pick a neutral shade with an undertone that ties it all together and makes the countertop not look dated at all. Now, it feels light, warm and inviting!
As for the mirror, we actually kept the original mirror in this space because it made the room feel larger. If you're adding your own, bigger is better, so it reflects more light and opens up the space. I suggest picking a mirror with a simple yet classic frame.
Tip 4: Update Faucets & Hardware
If there is one takeaway from this blog post, it's this: no bathroom makeover is complete until you've updated your faucets and cabinet pulls. I know, these items are small, functional elements and easily overlooked — but you wouldn't believe how much of an impact they have on the overall design of the space. Plus, they are easy to swap out (you can even do it yourself) and are budget-friendly. So trust me on this one.
I suggest opting for more modern-style hardware in a metal that complements the color palette of the space.
Tip 5: Update Shower Wall
Painting the bathroom walls a light green gray brought instant freshness and modernity to the space, so we needed to extend that color (or lack of color) to the shower wall, as well. This bathroom originally had subway tiles, but they looked a bit dingy, and we knew they had to go!
No need for Demo Day... we simply glazed the tiles for a cohesive look. Fresh, classic, timeless — wouldn't you agree?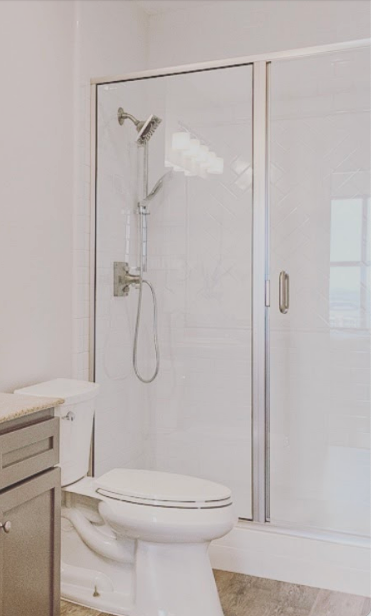 What was the ROI of this redesigned listing?
And now the moment that you've been waiting for...
Once we put the property on the market, it sold in about 5 days from listing! Not only that, we nailed the staging… so much that the new buyer even bought some of our inventory items. How amazing is that?!
If you have a property that's been sitting on the market for months, or if you want to renovate your bathroom (so that it doesn't sit on the market for ages!), I would be delighted to support you.
Book your free discovery call with me here, and let's chat!
— Keti
P.S. Don't forget to sign up here for our Guide to a Stress-Free and Profitable Renovation!
Today I want to share a project we recently completed with excellent results — a design and home staging ROI of 150%. Yes, I know I've spoiled the grand finale of this transformation, but knowing the final result makes it all the more worth seeing...
Project: Reviving a Dead Listing in Dallas
Our clients were out-of-towners who had been trying to sell this house in Dallas with no luck. They were tired and frustrated but mostly eager to sell the property and move on with their lives.
Here's what the property looked like before…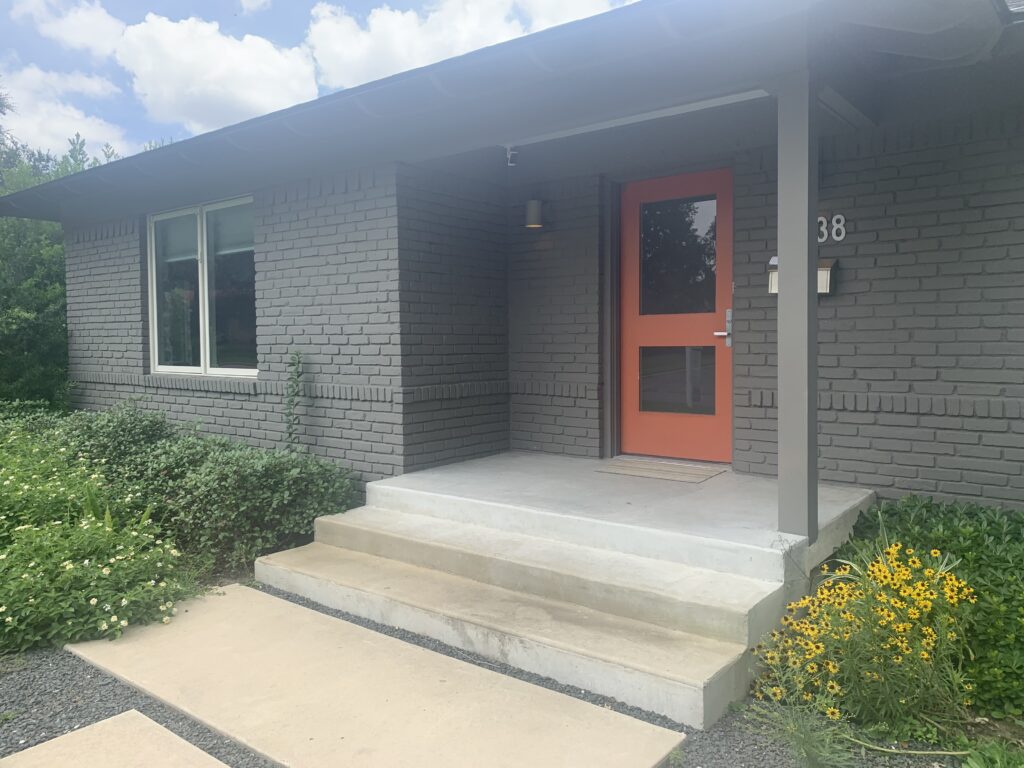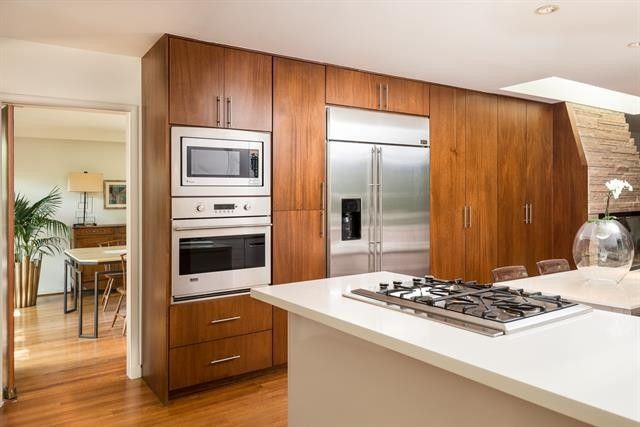 Setting the Design & Staging Strategy
Overall, this home was clearly dated and tailored to a very specific taste, but it also had great potential. Architectural details gave it unique character… if we presented it just right.
Identifying the Home's Ideal Buyers
First, we had to determine how we wanted to market this home. During our home staging consultation, we discussed two options for listing the home: as a bargain home or a move-in ready home. Older homes can be more desirable at a lower price point, but we also know a young professional couple with a family has no time for remodeling or reno work. They are more willing to make an offer on a property that is move-in ready.
Additionally, our clients had already tried the bargain route with no luck. They agreed that designing and staging the home as move-in ready was the way to go.
Creating a Design Plan
Once we reached this decision, we quickly got to work. (We know time is money, and we don't dilly dally!) I put together a design plan for all the make-ready/renovation work that needed to be done.
I provided the design direction and the project management for the staging, whereas my team of subcontractors and tradesmen did the work (which you'll see soon). The plan?
1. The house looked dark, frumpy, and not like it belonged in the luxury home category. We knew we needed to address it right from the curb (appeal) with exterior landscaping and price-conscious paint color selections.
2. With all the fixed features making bold statements, we needed to update the decade-defining features, creating a cohesive interior color palette, and bring light and life into the home.
Ready to see how the home turned out?
Investing in Updates that Pay Big ROI
Welcome to a new front step…
Lighter eaves, better landscaping, and a more inviting front step make this home far more joyful and welcoming to a young family.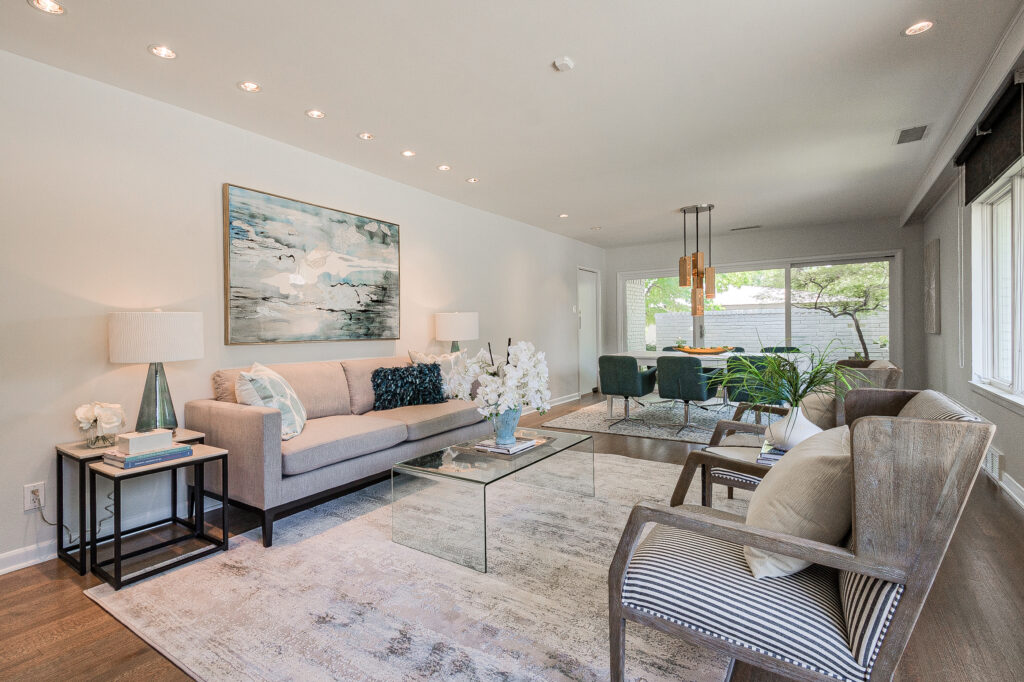 We removed the dark wallpaper and opted for a light blue-gray color, picking up from the blue undertones in the kitchen counters that was used throughout the home. The end result was enormous spaciousness, making it so much lighter, brighter and airy… perfect for today's buyers!
A mix of cool tones in the staging elements and warm lighting help this space feel balanced.
In the living room, more luxurious furnishings in the right scale keep this space looking elevated, not dated.
This dramatic wall feels like a stunning feature instead of an eyesore, largely thanks to lighter flooring and furnishings, and small touches of warm copper in the decor to help it blend in.
Speaking of the flooring, we stripped the wood floors of the old stain and finished them new with a light walnut stain. We know that this stain is on-trend and will be trending at least for the next 10 to 15 years.
Tip: Painting the stair risers the same color as the trim makes for a more classic and timeless look. It was also a great way to blend the light airy feel we wanted to create with the existing warm tones of the wood.
We didn't stage all of the bedrooms (though we certainly got rid of the dated wallpaper), but this master bedroom with a view deserved to be staged for a young couple who may be working from home.
Same with this built-in workspace. As more professionals work from home (and kids "school from home"), spaces like these are essential for selling a home quickly and for profit.
How did this home sell after some strategic design changes and staging?
Well, I know I spoiled the surprise in the beginning, but I'll say it again. After sitting on the market indefinitely, this house sold in less then two weeks of being put back in the market as a newly renovated home.
It listed for $110K more than the old list price.
And — if that wasn't enough — my clients told me that their investment on the reno-work and the repairs paid off BIG time. For every dollar they put into the house via the reno work and staging, they were able to get $1.50 back. That's a 150% return on investment!
Strategic design and home staging work. I can't wait to show you how it can help YOU sell your property and get on with your life, too.
If you're ready to enlist our help in a speedy and profitable home sale, let's talk.
— Keti
You might think a great floor plan, location, or square-footage will sell a property, but trust me, important as that might be, great real estate design is what sells homes. Buyers care what the home looks like, and if it doesn't meet their criteria, they won't be headed to the closing table any time soon. 
I know because we've encountered many situations where homes with great bones and floor plans sat on the market indefinitely until we came in and helped with some much-needed improvements. Design MATTERS. 
Here's what great design can do to sell your property:
Reflects the home's price point but still looks comfortable and livable

Matches what targeted buyer demographics are looking to buy in the area

Plays up the best features of the home (and play down any negative elements the space might have  )

Makes a killer first impression that wins buyers over from the start
If you don't believe me, here's the proof!

Who should you hire to get a professional real estate design for your flip or reno?
If you're serious about your ROI, you'll want to hire a professional in the field. Your first instinct might be to hire an interior designer, but I would caution you against it.  Interior designers, while extremely talented, are experts at creating spaces that are highly personal and specific to the people already living in the home. 
Designing a flip or renovation to sell requires a very different approach. 
Instead of asking the homeowners how they use the space and want to live in it, we have to consider the design from a profit-driven perspective:
Who is the target buyer for this property? Are they career professionals or entrepreneurs? Do they work from home or do they go to their office every day? Is the house located in a great school district and ideal for families with kids? Is the neighborhood seeing high interest from young business professionals? Etc.
What are the selling features of the home, the ones that will make buyers say, "Wow, I can't wait to live here."
What is your investment budget? The amount that you can invest in the home will, of course, dictate what can and can't be done. This is another piece of the puzzle that must be taken into account from the start!
Once these questions have been answered, a real estate design and staging professional will create the right aesthetic AND prioritize your bottom line. 
It's design, but it's also expert business strategy. Your pocket book and future will thank you! 

How do you ensure you have a real estate design that addresses these selling priorities?
If you work with a design and real estate staging professional, they should take you through three steps: a consultation, a design plan, and the final staging to bring everything together. 
The renovation and design consultation is a strategy session. It's the first step to a successful project and is not to be taken lightly! During this on-site meeting, we'll…

During this phase we get into all the design-related specifics, or the HOW of our renovations plan. We'll make all the selections for any new or updated features such as paint, flooring, counter tops, tile, back splash, lighting, hardware, plumbing, etc. 
We will present you with all the specifics of the renovations design plan at which time, we can either source all the material selections for you, or you can do so in collaboration with your GC. During the renovation process we can also make ourselves available to your crew for any installation and design specific inquiries.
Extra step: If desired, our trusted team of subcontractors can carry out the agreed-upon updates and renovations with speed and professionalism. Relax and enjoy letting experts take the wheel!

The design of the home doesn't stop with hardware, flooring, and countertops — what's inside your home matters too. To complete the transformation, you will definitely want to stage the home. (Whether you choose us or not, we still suggest it! It is SO worth it.)
With us, while the minor improvements and renovations are underway, we'll present you with a vacant home staging proposal that highlights the home's selling features and is worthy of its listing price. 
Once the renovations have been finalized, we will begin staging your investment property. This is the moment when the magic happens… the home is transformed and ready to steal the hearts of potential buyers!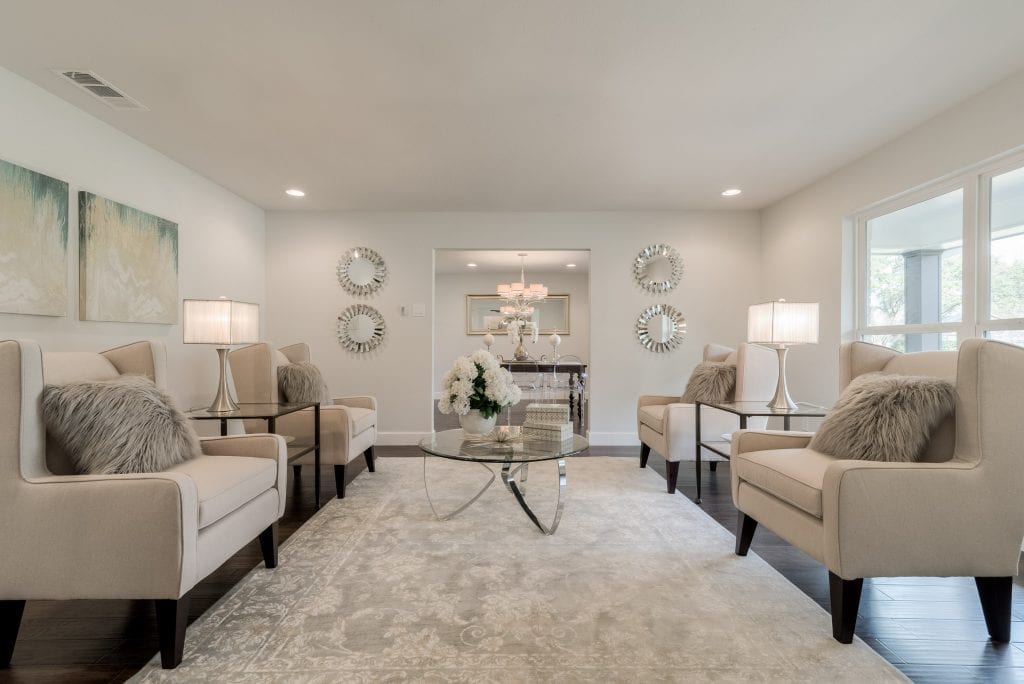 For the best results, we recommend bringing in a design professional from the very beginning, before any updates are made, and taking your project step by step. (This is our Complete Concierge service for investors or homeowners.) 
But if you're looking for design help somewhere in the middle of your project, you can still find any of these as a stand-alone service and see drastic impact. 
Next month, I'll be back here to share a bit more about what really goes on at a home staging consultation. Spoiler… more than you think!
Until then, sign up HERE to grab our free download, How to Prepare for a Remodel!
— Keti
Does your home for sale have outdated kitchen cabinets?
3 Ways to Upgrade Kitchen Cabinets for Resale
 
Kitchen Renovation and Staging Project | Before & After
Instantly Improve the Perceived Value
Instantly Improve the Perceived Value Does your home for sale have cringy or outdated kitchen cabinets? If they don't show significant wear, they are a good candidate for a paint-induced makeover. Remember, kitchens and baths are the main selling points of a home. Ensure that the kitchen, the heart of the home, is looking its best.
Whether you are the homeowner looking to sell or the agent who is handling the listing, the tips we're sharing today will help increase the perceived value of the house, which can result in a higher payoff.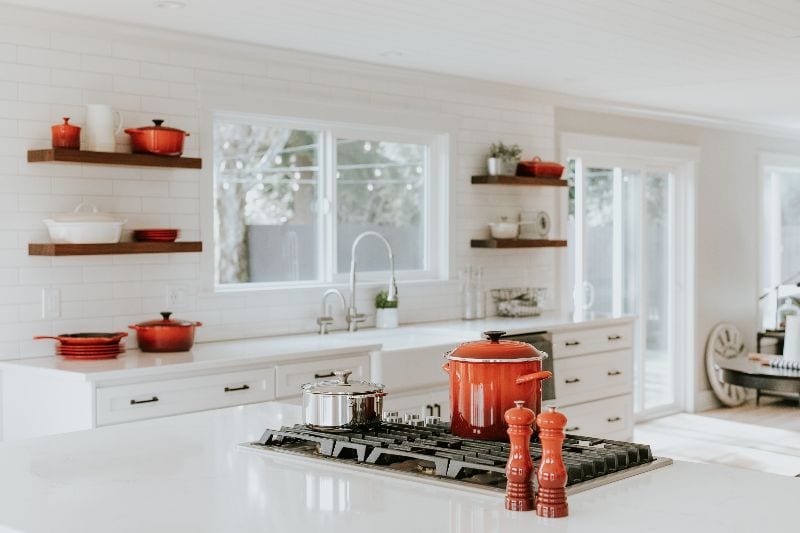 _
SHOULD YOU REPAINT?
Update old or builder-grade kitchen cabinets with high quality paint. If they are already painted, simply refresh their existing color. If they were previously stained, hire a professional re-finisher or take your time to learn the best way to paint your cabinets. Keep in mind that the cabinets must not show significant wear and must not be broken.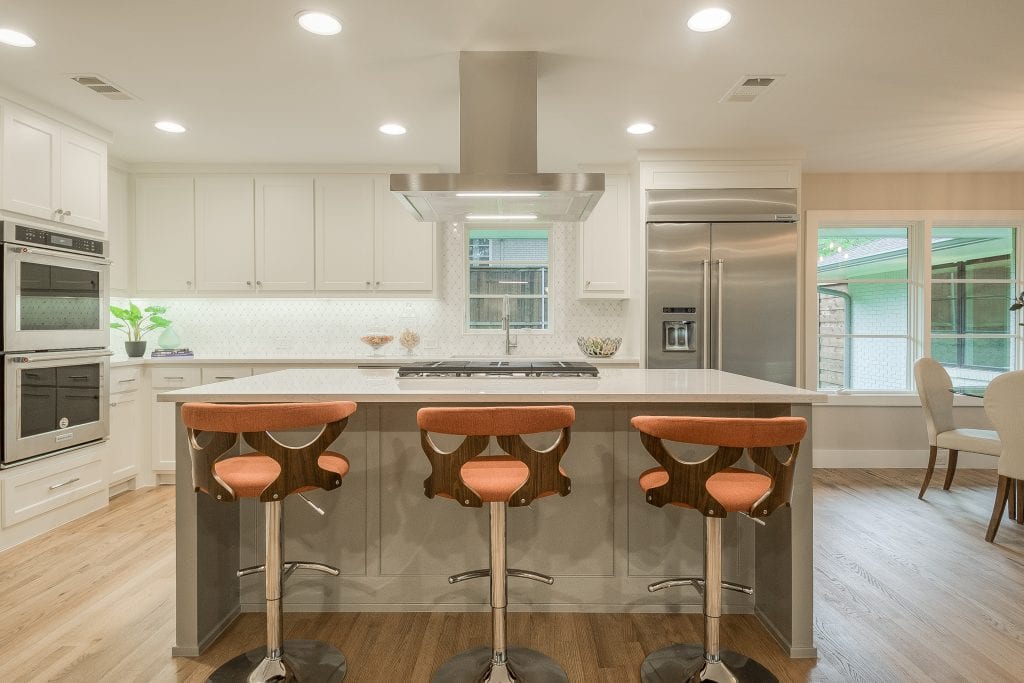 _
PRO PAINT TIPS TO TRY
Make your cabinets look high end by painting a different color on the island or by creating contrasting upper / lower cabinets. (e.g. A tuxedo kitchen has white uppers and black lowers.)
When selecting new paint colors, choose a shade from the existing counter tops and / or back splash tile to ensure that the space still flows well.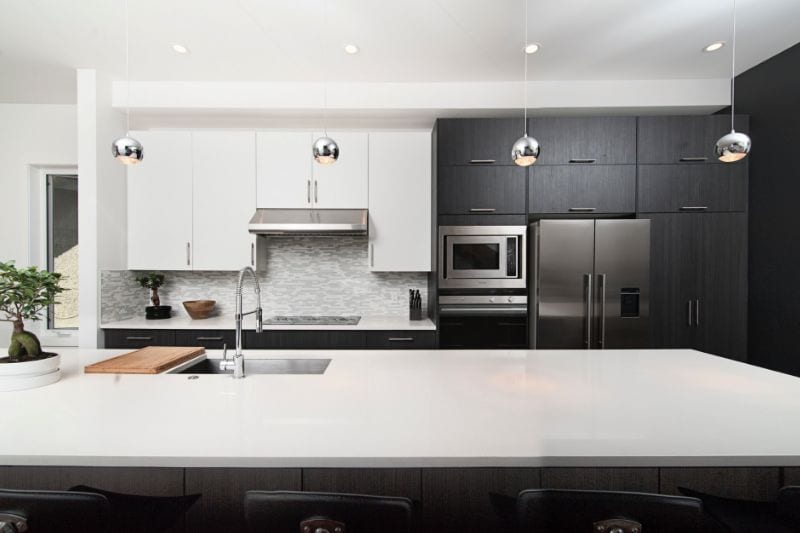 _
ACCESSORIES TO ADD
To further accessorize, line the cabinets with a solid color shelf liner or simply remove any old shelf liners. Your cabinets should look fresh from the inside out. Don't hesitate to give them a thorough interior cleaning.
Lastly, swap out the cabinet and drawer hardware for something new and minimal. This can improve the aesthetic of the entire kitchen by leaps and bounds.
STAGING STATS
95% of home buyers look at MLS photos.
The way your home looks online matters. Ensure that your house gets the attention it deserves (and sells for a great price) by investing in quality staging and styling.
TIP OF THE MONTH
Create a statement piece.
Paint the kitchen island a deep, bold color to make it stand out from the cabinets. Navy, black, or deep green are excellent options.
Cheers,
Keti
O: (214) 814 – 5967
E-mail: info@designbyketi.com
Luxury Vinyl Planks 101
Hardwood has long since been a hallmark in high end, quality homes. Its rich, earthy texture and natural beauty have made it a no-brainer, resulting in refinishing vs. replacing whenever possible to avoid the high cost of replacement.
However, hardwood has caused no small amount of anxiety to homeowners with children and pets. Because hardwood floors can be warped by excess moisture or noticeably scratched, they aren't always the best or most sensible option for busy households.
What is hardwood-loving homeowner to do?
Meet the Luxury Vinyl Plank (LVP).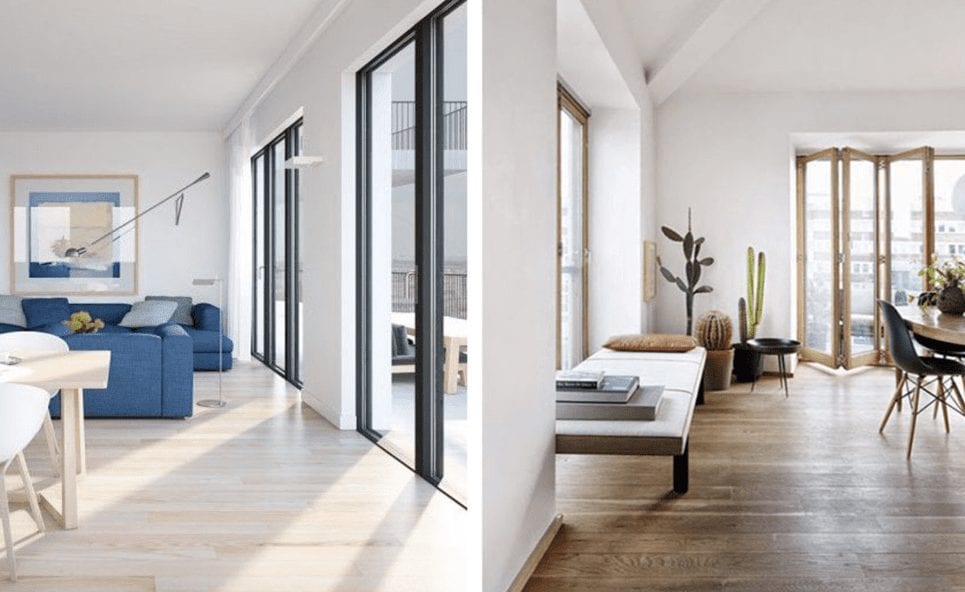 NO MORE SCRATCHES OR MOISTURE DAMAGE
Luxury vinyl planks make for excellent flooring in every room, especially high-moisture areas like kitchens, bathrooms, and laundry rooms. The wood-like appearance of LVP adds warmth and character without succumbing to spilled liquids, heavy use, or frequent cleanings.
Quality LVP will last anywhere from 10-15 years, though could last even longer depending on how it is treated. It also doesn't need to be refinished - ever - and is available in a variety of faux wood species, including maple, oak, walnut, and hickory. Wide and narrow planks are available as well, making it easy to create a truly custom floor.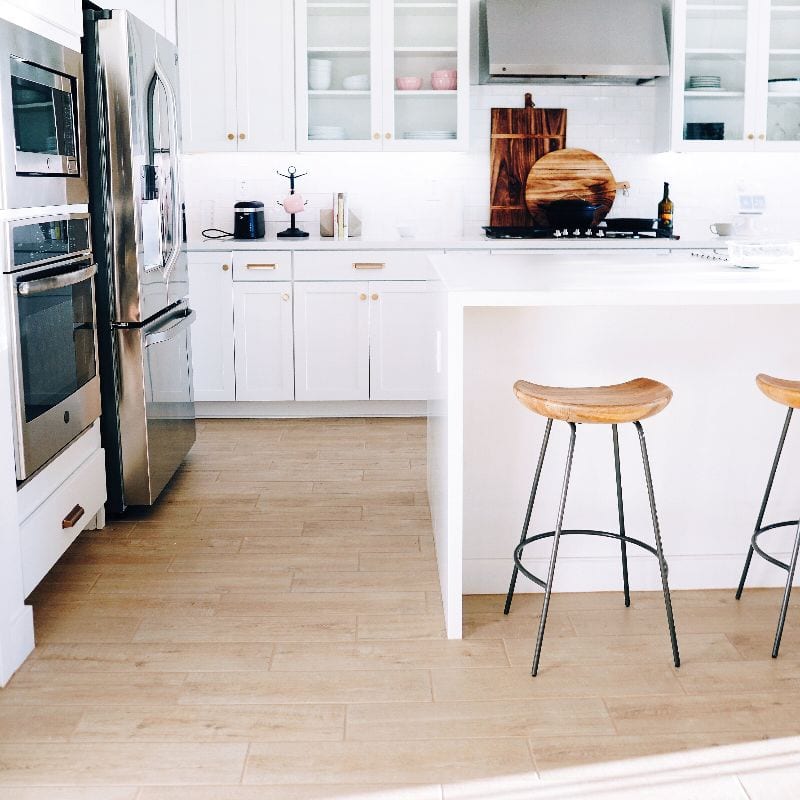 EASY AND QUICK TO INSTALL
Ease of installation matters, even if you're hiring a company to handle the professional installation of your LVP flooring. The more convenient it is for the installers, the faster they will work and the more pleasing your final invoice will be. Happy installers make for good projects - trust us!
LVP snaps together effortlessly but does require some pre-planning, measuring, and cutting to ensure the joints don't end up all in a row (yep, just like hardwood). For best results, use an installer who works with LVP and hardwood frequently.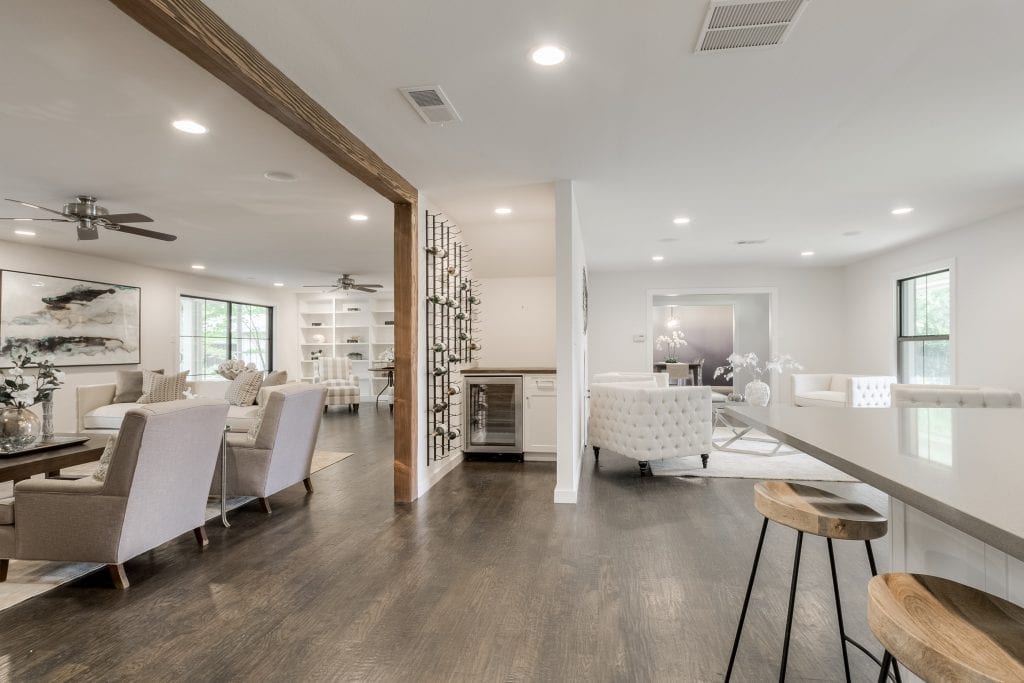 PLAYS NICE WITH YOUR BUDGET
We never suggest that you get stingy when it comes to more permanent materials like flooring, but we also have to admit that LVP is a significantly smaller investment than hardwood.  Happy accident? Not really.
LVP was developed to be an aesthetically pleasing, durable, and affordable alternative to hardwood. It ranges from $2-5 per square foot, while hardwood rings up the bill at $8-25 per square foot. Homeowners who opt for LVP often end up having more funds leftover for other luxuries, such as a curbless shower or elaborate back splash tile.
DESIGN HIGHLIGHTS
LVP Components
Faux wood and waterproof flooring are trending - and for good reason. LVP can often contain recycled PVC, which adds to its durability.
TIP OF THE MONTH
Chemical sensitivities
If you or someone in your home suffers from chemical sensitivities, be sure to treat your new LVP as you would any other building material, allowing it to off-gas in a climate controlled space.
Cheers,
Keti
O: (214) 814 – 5967
E-mail: info@designbyketi.com
The smart and savvy Real Estate sellers realize that putting their home on the market is a two-step process.
First Step Preparation - It includes things like, painting, changing or cleaning carpets, updating hardware and light fixtures, attending to the curb appeal of the home etc.
Next Step Presentation - Otherwise known as Styling and Staging of the home to appeal to the demographic of the neighborhood where the home is located.
Only then your home will outshine the completion in your neighborhood and sell for more and in less time.
Let the experts at Design by KETI help with the entire process and sit back and relax. No need for you to chase after the painter and the carpet guy and the handyman and the professional cleaning crew,  in addition to also finding the right stager for you.
We got it all covered for you!
Our goal is to make your life EASY and make your home selling venture enjoyable and delightful especially once you look back and realize all the extra money you made at the sale of your home, with minimum investment and effort on your part.
Take the home featured in this clip as an example. For a minimum investment and very little effort on the sellers part, it sold shortly after it got relisted as a professionally renovated and staged home.
Cheers,
Keti
O: (214) 814 – 5967
E-mail: info@designbyketi.com
To invite Keti Abazi, to be a speaker at your meeting or function, you may contact info@designbyketi.com.

 Your audience will find her presentations on Home Staging not only educational but also amusing, genuine and refreshing.